Healthy Lemon Snack Cake
On my quest to make Lemon Blondies, I ended up making this Lemon Cake.  Unlike blondies, which are dense and chewy, this cake is incredibly light and fluffy.  It's so sweet, lemony, and refreshing, you'd never know this Healthy Lemon Snack Cake is sugar free, gluten free, and vegan!
I've been craving lemon EVERYTHING lately, which is strange for me, because I wouldn't consider myself a lemon lover…  I am a chocolate addict, forever and always.
I finished off two entire batches of my Vegan Lemon Curd, I've been sneaking a few sips of Limoncello every now and then, and now, this cake.
You'd think that I'd be successful in making Lemon Blondies, especially after making seven blondies before (from Strawberry Blondies to Peach Blondies to Pumpkin to Cherry Chocolate Chunk)!  I knew a lemon variation had to be in the works, but after three failed batches, I finally decided to make a cake instead.  Every failed batch of "blondies" ended up too cakey and too fluffy.  Bad for blondies, perfect for cake.  After one final tweak in the recipe (just a few extra tablespoons of lemon juice), this Healthy Lemon Snack Cake was born!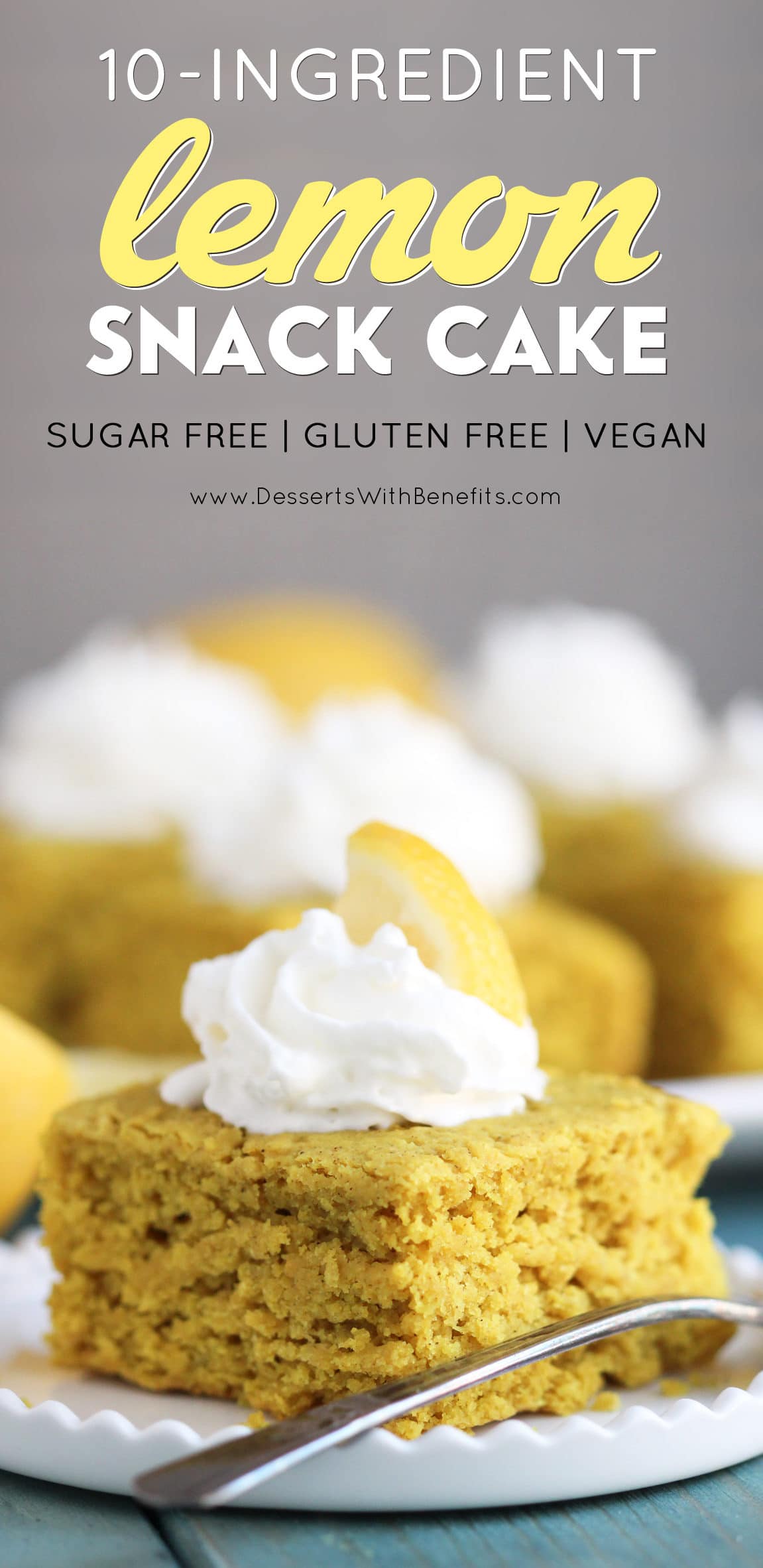 And MAN. OH. MAN.
This Healthy Lemon Snack Cake was a huuuge hit.  My family and I finished off the entire batch in two days.  We all loved the super light and fluffy texture along with the beautiful yellow color and fresh and zingy lemon flavor.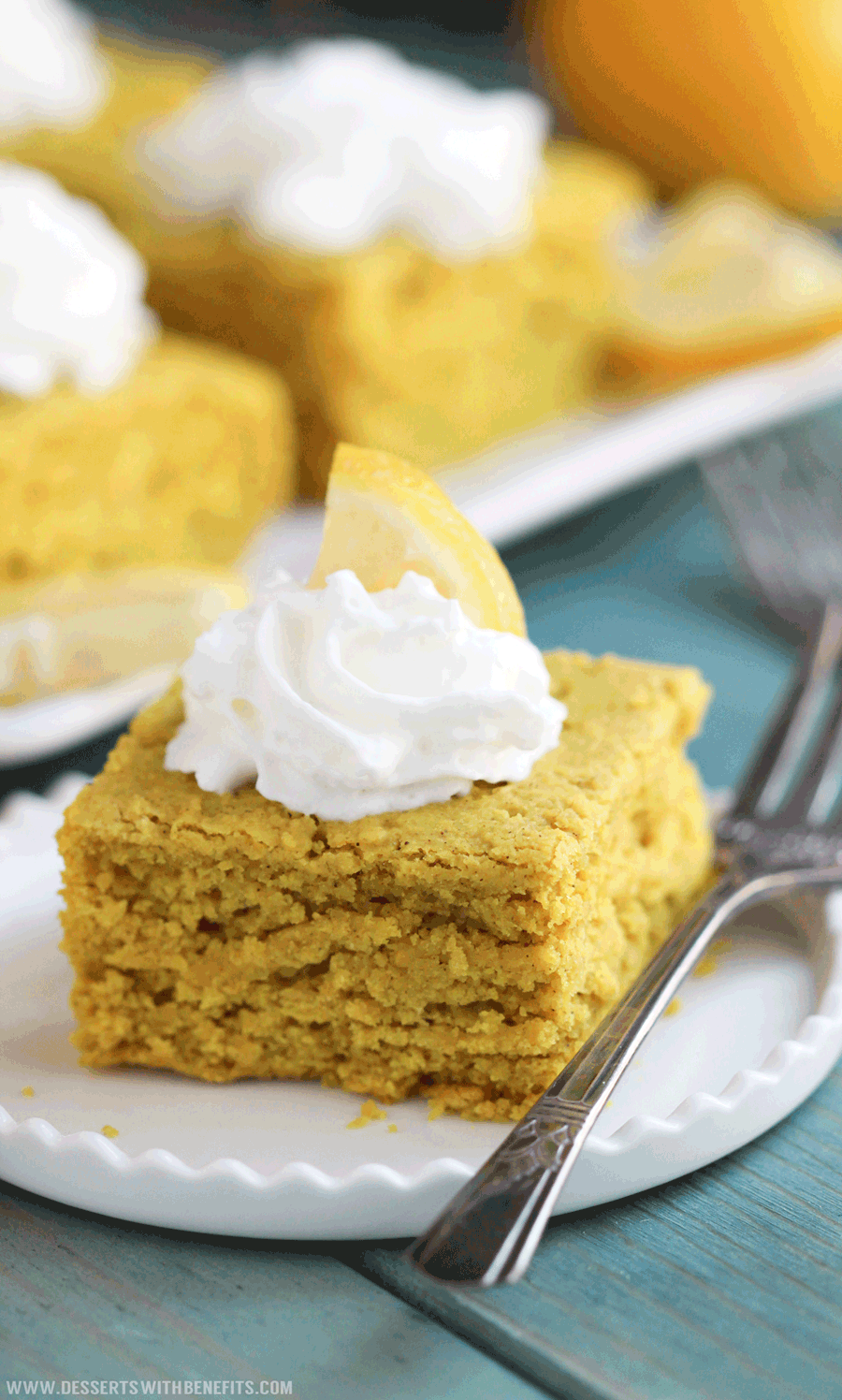 Healthy Lemon Snack Cake
Prep Time: 20 minutes
Cook Time: 30 minutes
Total Time: 1 hour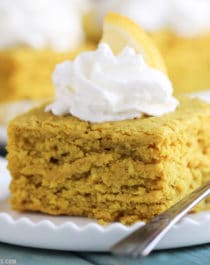 Fat per serving: 8
Calories per serving: 180
Ingredients:
136g (1 cup) Sweet White Sorghum Flour
120g (1 cup) Oat Flour
64g (⅓ cup) Granulated Erythritol
1 tbs Double-Acting Baking Powder
1 tsp Ground Turmeric
¼ tsp Salt
246g (1 cup) Unsweetened Applesauce
⅓ cup Lemon Juice, freshly squeezed
56g (¼ cup) Coconut Oil, melted
1 tbs Lemon Zest
1 tsp Stevia Extract
Directions:
Preheat your oven to 350 degrees Fahrenheit and line an 8×8″ brownie pan with parchment paper.
In a small bowl, whisk together the sorghum flour, oat flour, erythritol, baking powder, turmeric, and salt.
In a large bowl, whisk together the applesauce, lemon juice, melted coconut oil, lemon zest, and stevia extract.  Dump the dry ingredients into the wet ingredients and whisk together.  Whisk vigorously to get rid of any clumps.
Scoop the batter into the prepared pan and spread it out.  Tap the pan on the counter a few times to make sure it's level.  Bake for 30 minutes, or until the surface springs back when tapped.  Let cool completely before slicing.
All images and text ©
.
.
Here is the recipe's nutrition label:

Look at how light and fluffy this Healthy Lemon Snack Cake is!  This is the PERFECT recipe if you're craving something lemony like me.  It's great for the warmer summer months ahead too ☀️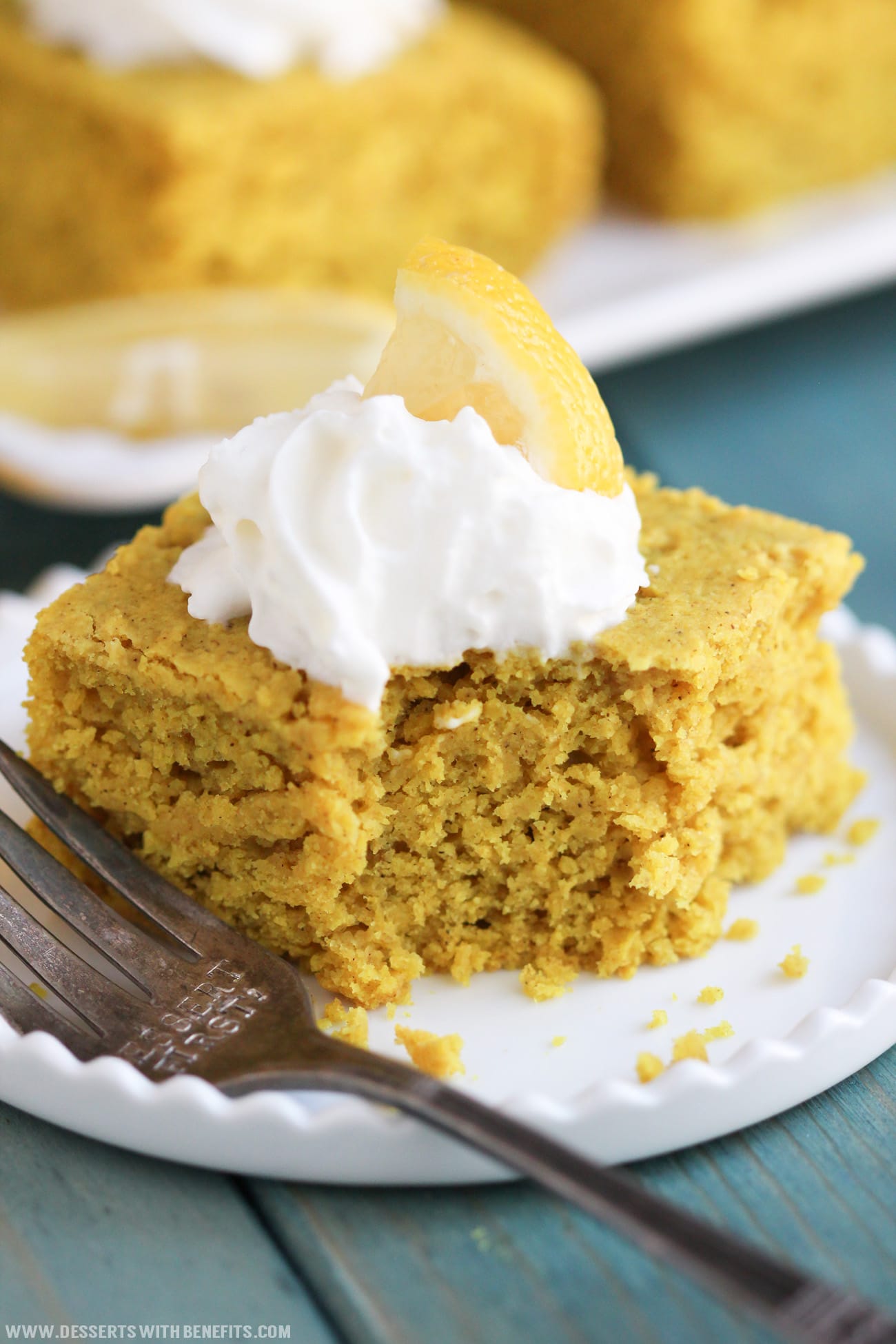 Enjoy!
.
With love and good eats,
.
– Jess
.