Healthy Strawberry Blondies with Strawberry Frosting
These low fat and refined sugar free, chewy and 100% delicious Strawberry Blondies with Strawberry Frosting are deliciously addictive!  They're gluten free, eggless, vegan, and oh, only 160 calories per bar!
You had it coming!  Like I said in my Blueberry Muffin Blondies' post, I'm obsessed with these chewy, dense and fruity squares.  I feel the need to bake them with every fruit I can get my hands on.  I even made a giant list of the flavors I wanted to try.  Embarrassing enough, I've thought of 3 more flavor combinations since that post…
But onto these Strawberry Blondies.  I took my Peach Blondies recipe and swapped a few ingredients to make these super pink and filled with healthy ingredients.  Since food coloring isn't my first choice (even though the kind I have is natural), I opted to use an even better ingredient:  beets.
Even though saying (or typing?) the word makes me gag, and tasting them makes me want to hurl, I really wanted these blondies to be pink pink PINK!  And I didn't have much luck getting a bright pink color from strawberries alone, so I forced myself to use the dreaded ingredient.
However, the result?  Amazing.
At first glance they look like they would be too moist or even mushy (I blame forgetting the ½ teaspoon of baking powder!), but they are actually firm and chewy just like regular blondies.  If you have ever tried mochi, this is kind of like that.  My friend likes mochi and said this was similar, and my mother said the same thing.  I have never tried mochi so I can't vouch for that, but everyone loved these.
I think these blondies are best the day they are baked, they are sweet, soft and absolutely delectable.  Your tastebuds can sense the freshness from the strawberries!  When eating the next day, you may notice a slightly more dense texture but you will also notice a lot less beet flavor and a lot more strawberry flavor.  The frosting especially, it bursts with the true essence of strawberry.
These Strawberry Blondies turned a beet-hater into a beet- ……… okay, I still hate beets, but I actually didn't mind them in here!  The strawberry overpowered the beets in almost every way so this is my go-to recipe when I need to fit that veggie in my diet.  Oh, and the frosting just made everything better.  Because that's what frosting is for.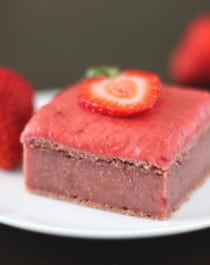 Print Recipe
Pin Recipe
Healthy Strawberry Blondies with Strawberry Frosting
Ingredients
Blondies:
½ cup

+ 2 tbs

Fresh Strawberry Puree

(see Directions)

1

cup 

Beet Puree

(I drained then pureed one 15oz can of sliced beets)

96g

(½ cup)

Granulated Erythritol

(or dry sweetener of choice)

14g

(1 tbs)

Grapeseed Oil

(or any other neutral oil)

2

tsp

Orange Zest

**

¾

tsp

Liquid Stevia Extract

160g

(1 cup)

Brown Rice Flour

120g

(1 cup)

Oat Flour

¾

tsp

Xanthan Gum

½

tsp

Double-Acting Baking Powder

¼

tsp

Salt
Frosting:
130g

(~1 cup)

Powdered Erythritol

¼

cup

Fresh Strawberry Puree

6

tsp

Freeze-Dried Strawberry Powder

(process freeze-dried strawberries in food processor)
Instructions
For the Blondies:
Preheat the oven to 350 degrees Fahrenheit and line an 8" brownie pan (or 9" pan for thinner blondies) with parchment paper both ways (or spray with cooking spray), set aside.

*Rinse the strawberries, cut the greens off and puree in a blender. Measure out ½ cup + 2 tbs and add to a large mixing bowl (reserve an extra ¼ cup for the frosting).  Stir in the beet puree.

Whisk the erythritol, oil, orange zest and stevia into the beet/strawberry puree.

In a medium-sized bowl, whisk together the brown rice flour, oat flour, xanthan gum and salt.

Dump onto the beet/strawberry puree and fold the batter well (batter should be doughy and sticky).  Scoop batter into the prepared brownie pan and spread to the edges (it takes a bit of time to get the surface smooth and even, but there is no gluten or baking soda/powder to worry about so take your time!). Bake for ~55 minutes, or until edges pull away from the pan and surface is firm (you may see an air pocket form under the surface but this is fine, it will deflate).

Let blondies cool in the pan for 20 minutes, then flip onto a wire cooling rack to cool completely.
For the Frosting:
Add the erythritol to a bowl and top with the strawberry puree. Stir together until erythritol dissolves. Add the freeze-dried strawberry powder and stir again (the frosting should now be very thick). Spread onto the cooled blondies, refrigerate for 10 minutes (to firm up the frosting) and slice.
Nutrition Facts
Healthy Strawberry Blondies with Strawberry Frosting
Amount Per Serving (1 blondie with frosting)
Calories 160
Calories from Fat 27
% Daily Value*
Fat 3g5%
Sodium 45mg2%
Carbohydrates 30g10%
Protein 4g8%
Vitamin C 12.4mg15%
Iron 1.1mg6%
* Percent Daily Values are based on a 2000 calorie diet.
Being slightly lower calorie than my Blueberry Muffin Blondies, I had to calculate a little somethin…… and that little somethin is how many calories are in ⅓ of the batch… you know, for when you're ravenous  ;D
GUESS WHAT.
You can eat ⅓ of the batch (3 blondies) for only 480 calories and 9g of fat… plus, you get 9g of fiber and 12g of protein!
If you want to indulge in dessert guilt-free, then these healthy strawberry blondies are for you!
Enjoy  🙂
.
With love and good eats,
.
– Jess
.