Healthy Blueberry Muffin Blondies with Blueberry Frosting
Healthy Blueberry Muffin Blondies with Blueberry Frosting — only 170 calories, refined sugar free, low fat, gluten free, eggless and vegan!
Those peach blondies went faaaast, so to cope with the withdrawal I remade them but instead, a blueberry version!  I don't know what it is about these fruity squares of goodness, I just can't get them off my mind.  Seriously, I want to make blondies out of every fruit possible.  I had to make a list of all the flavors I wanted to bake and slowly cross out one by one so my oven doesn't explode my kitchen doesn't burst with copious trays of desserts.  Want to see my list?  Well here it is (be warned, my flavor combinations get a little funky near the bottom):
Zucchini Bread Blondies with Lemon Glaze
Almond-Pear Blondies with Pear Frosting
Coconut Blondies with Coconut Frosting
Watermelon Blondies with Watermelon Frosting (to make use of my impulse buy: watermelon extract!)
Hummingbird Blondies with Pineapple Frosting
Brownies with Avocado Frosting (weird, but it worked here. I'd totally hide some spinach in these)
If you totally love or hate one of my ideas pleeeeaase let me know.  Sometimes I get a little crazy when I love something (Exhibit A.  Exhibit B).  I really want to utilize the fresh fruits in the grocery store since it's summer and these blondies capture the essence of summer in every bite.  They are nice and light and totally refreshing.  If you have any blondie flavor ideas, feel free to add them to my long list  ?
These Healthy Blueberry Blondies have a delicious muffin texture with the sweetness level of a cupcake.  Yum!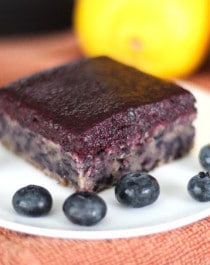 Print Recipe
Pin Recipe
Healthy Blueberry Muffin Blondies with Blueberry Frosting
Ingredients
Blondies:
160g

(1 cup)

Brown Rice Flour

120g

(1 cup)

Oat Flour

½

tsp

Xanthan Gum

½

tsp

Double-Acting Baking Powder

¼

tsp

Salt

1½

cups

Fresh Blueberry Puree

(see directions*)

96g

(½ cup)

Granulated Erythritol

(or dry sweetener of choice)

14g

(1 tbs)

Coconut Oil

(soft)

1

tbs

Lemon Zest

¾

tsp

Liquid Stevia Extract
Instructions
For the Blondies:
Preheat the oven to 350 degrees Fahrenheight and line an 8" brownie pan with parchment paper both ways (or spray with cooking spray), set aside.

In a medium-sized bowl, whisk together the brown rice flour, oat flour, xanthan gum and salt, set aside.

*Rinse the blueberries and puree them in a blender. Measure 1+1/2 cups and pour into a large mixing bowl. Whisk in the erythritol, oil, lemon zest, stevia and food coloring.

Dump the dry ingredients over the wet and fold the batter until thoroughly mixed.  Scoop into the prepared brownie pan and spread to the edges using an offset spatula, making sure the surface is flat.

Bake for ~55 minutes, or until the edges pull away from the sides and the surface is firm.  Let blondies cool in the pan for 20 minutes, then transfer to a wire cooling rack to cool completely.
For the Frosting:
Measure 1/4 cup of the blueberry puree and stir in the food coloring. Stir in the erythritol.

Stir in the blueberry powder 1-2 tsp at a time (frosting should be very thick). Spread onto the cooled blondies, refrigerate for 10 minutes to firm up the frosting, slice and serve.
Recipe Notes
**I blended one 2oz bag of freeze-dried blueberries in a food processor, 3 tbs was about half the bag.
Nutrition Facts
Healthy Blueberry Muffin Blondies with Blueberry Frosting
Amount Per Serving (1 blondie)
Calories 170
Calories from Fat 27
% Daily Value*
Fat 3g5%
Sodium 100mg4%
Carbohydrates 34g11%
Protein 4g8%
Vitamin C 8.3mg10%
Iron 1.1mg6%
* Percent Daily Values are based on a 2000 calorie diet.
WOW.
So, I may be the only one to actually calculate this (hah, yeah right) but you can eat ⅓ of the entire pan for only 510 calories and 9g of fat…  plus, you get 12g of fiber and 12g of protein!  That meets "breakfast standards" right?  Right.