Healthy Vanilla Quinoa Cupcakes
I planned on baking my Apple Pie Blondies (idea courtesy of commenter miss Karin!) so I could cross it off my "Blondie Flavors To-Bake List" but completely forgot to buy the apples (doh).  I was at home with barely any ingredients on hand, and then I remembered I had saved a blog post wayyyy back when with a pretty intriguing recipe:  Quinoa Bread.  The blog is sadly no longer active, but the recipe used 100% quinoa flour rather than a blend of flours and required very few ingredients.  Now this was a recipe I could make with so few ingredients on hand!  Here are the recipe adjustments I made:
omitted the seeds and raisins
replaced half of the quinoa flour with sorghum flour (2 cups of quinoa flour has a really overpowering flavor!)
replaced buttermilk with a mixture of dairy-free coconut yogurt and coconut milk
added stevia extract for sweetness
baked the batter in a cupcake tin instead of a loaf pan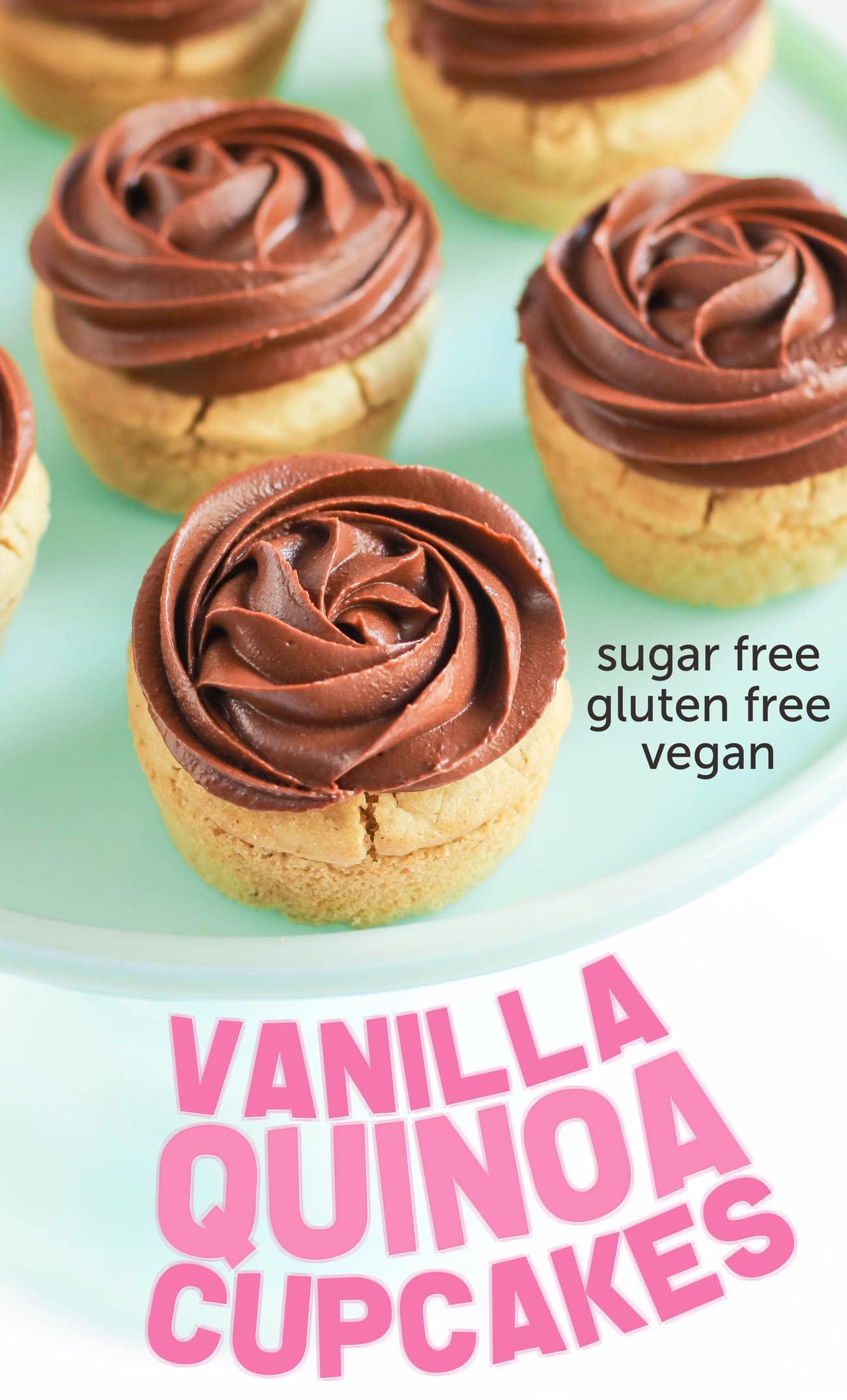 I was planning on the recipe to make muffins, but the texture ended up being much more like cake than a muffin.  And that's a win in my opinion  😉
I made a few more recipe modifications for the next trial and BAM, I got the best cupcakes in the world!
Okay, that might be a controversial statement, especially in my household.  My mother, sister, and I loved these cupcakes, but my father was undecided as he could detect the quinoa flour.  Straight out of the package, quinoa flour has a pretty strong grassy smell.  After baking, it has somewhat of a bitter flavor, but as long as you counteract it with a sweetener of some sort (my favorite is stevia) and another flavor such as chocolate or peanut butter, you should be good!  That's why I chose to frost the cupcakes with chocolate frosting.  The frosting overpowers the bitterness of the quinoa flour.
My dad said that he would definitely reach for another cupcake, but if it was served without the frosting, he probably wouldn't grab a second serving.
Without frosting, these are more like muffins.  Super fluffy, mildly sweet…  and obviously made the best they can be when topped with frosting  😉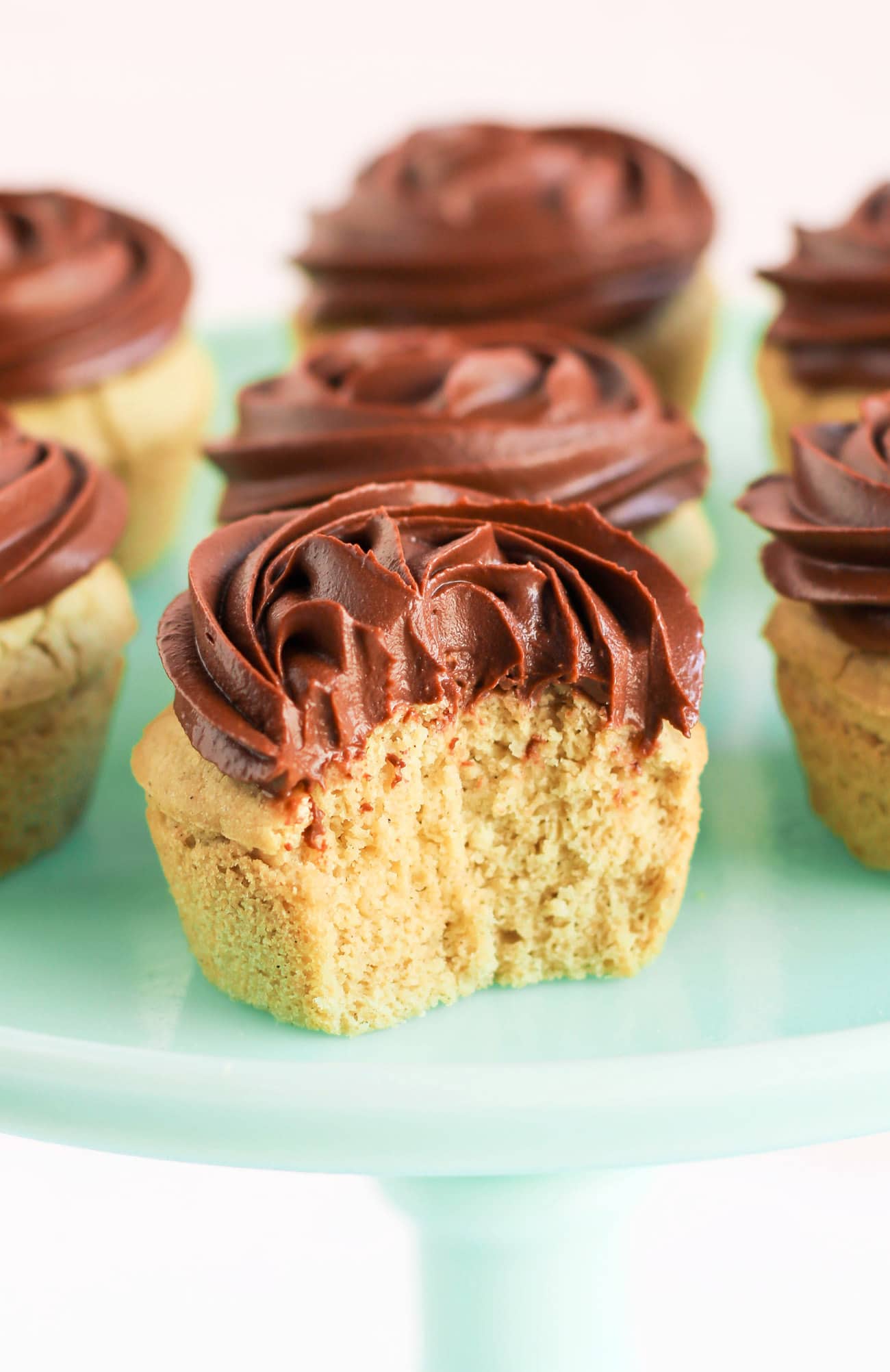 I have to admit, I'm on the fence with quinoa, I like it sometimes and I don't like it other times.  I cringe from the smell of quinoa flour straight out of the package, yet I can down all eleven three of these cupcakes in one sitting  😉
If you hate quinoa, these cupcakes probably aren't for you.  But if you love quinoa, you will adore these!
These Vanilla Quinoa Cupcakes are super fluffy, springy, and moist.  Top it with some healthy frosting and you've got the most nutritious, guilt-free treat ever!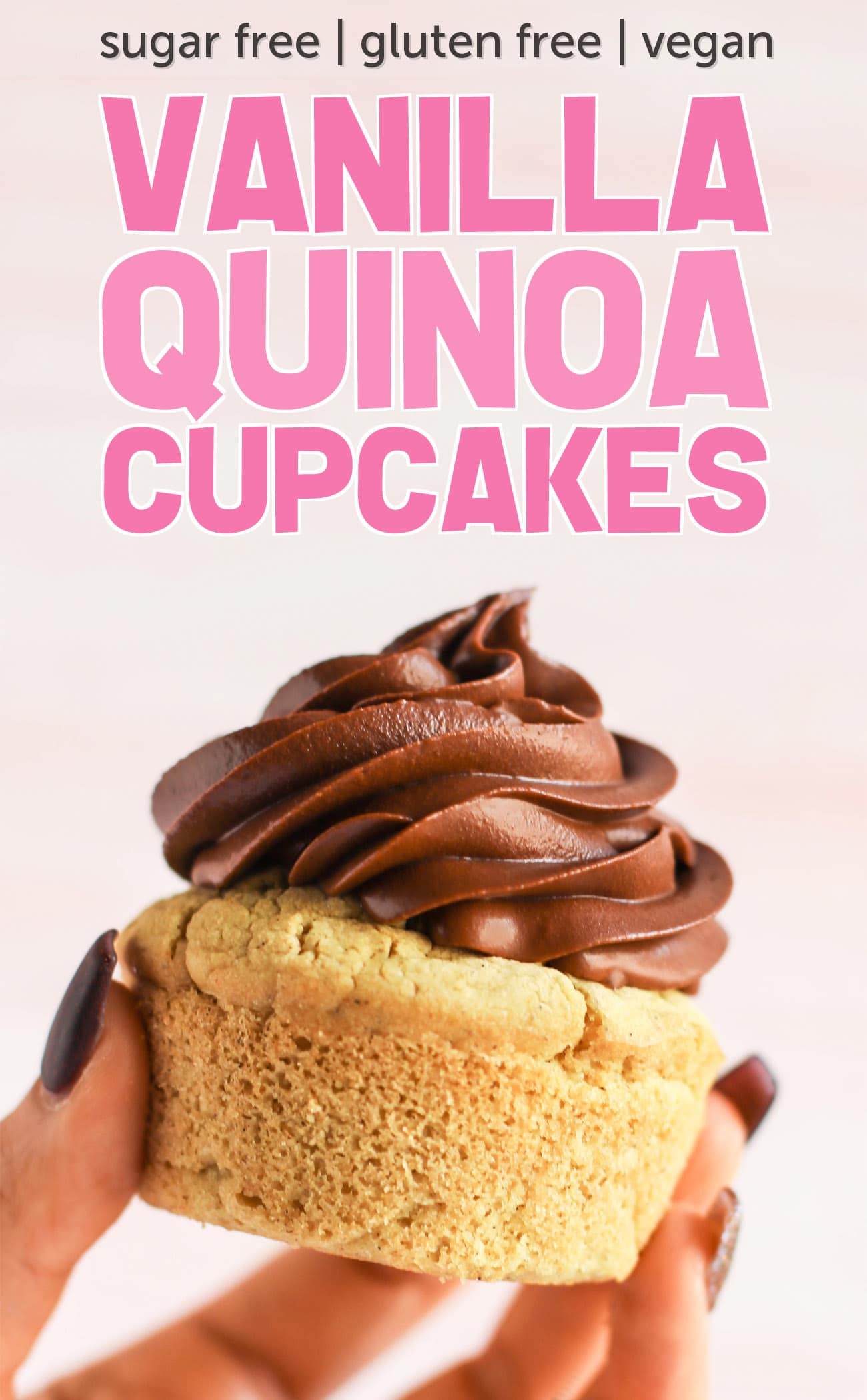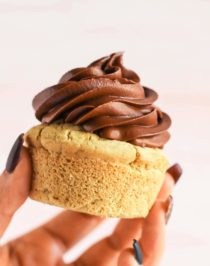 Print Recipe
Pin Recipe
Healthy Vanilla Quinoa Cupcakes
These Vanilla Quinoa Cupcakes are super fluffy, springy, and moist, yet they're gluten free, vegan, sugar free, and low fat too! Top it with some healthy frosting and you've got the most nutritious, guilt-free treat ever!
Instructions
Preheat the oven to 350 degrees Fahrenheit and line a cupcake tin with parchment paper liners (make sure to use parchment liners, not paper liners, because paper liners might stick!)

In a small bowl, whisk together the quinoa flour, sorghum flour, baking powder, baking soda, salt, and xanthan gum.

In a large bowl, whisk together the yogurt, milk, vanilla paste, stevia, and butter flavor.

Dump the dry ingredients over the wet ingredients and whisk until everything is incorporated and any clumps are gone.

Scoop batter into the prepared cupcake tin, then bake for ~27 minutes, or until surface of cupcakes spring back when tapped. Transfer the cupcakes to a wire cooling rack to cool completely. Frost with your frosting of choice, then serve and enjoy!
Recipe Notes
I frosted my cupcakes with the Healthy Chocolate Frosting from my Naughty or Nice Cookbook.  I also have a ton of frosting recipes here on the blog!
Store cupcakes in a tightly sealed container in the fridge for up for 4 days.
Nutrition Facts
Healthy Vanilla Quinoa Cupcakes
Amount Per Serving (1 cupcake)
Calories 110
Calories from Fat 18
% Daily Value*
Fat 2g3%
Sodium 250mg11%
Carbohydrates 19g6%
Protein 2g4%
Vitamin A 50IU1%
Calcium 110mg11%
Iron 1.1mg6%
* Percent Daily Values are based on a 2000 calorie diet.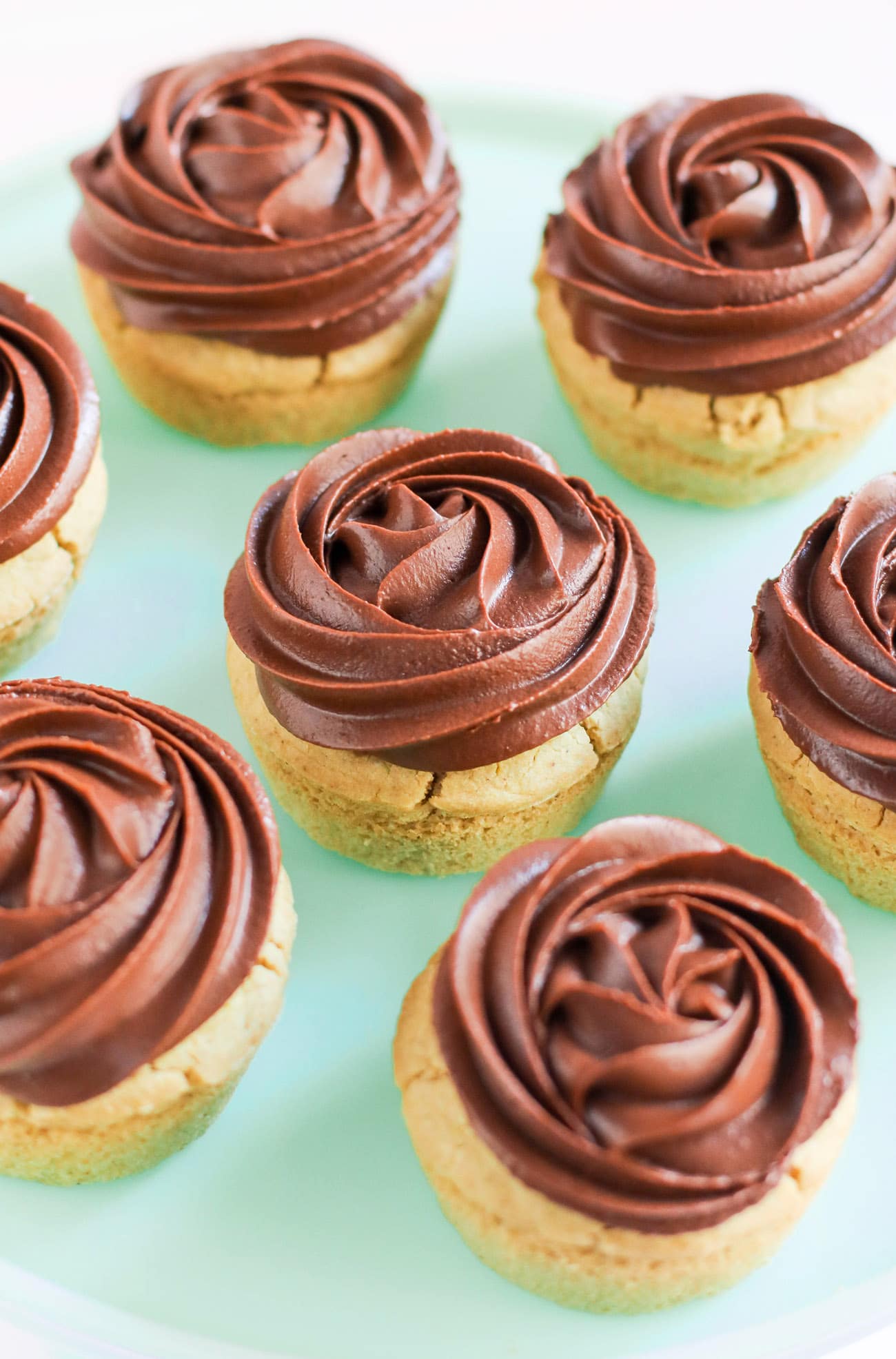 I honestly wanted to eat the entire batch.  I wanted all eleven cupcakes.  I cursed at the world wondering why calories matter *shakes fist at sky* but then I calculated the nutrition facts.  Each cupcake has only 110 calories!!  So I ate three cupcakes in a row.  Didn't feel bad one bit  😉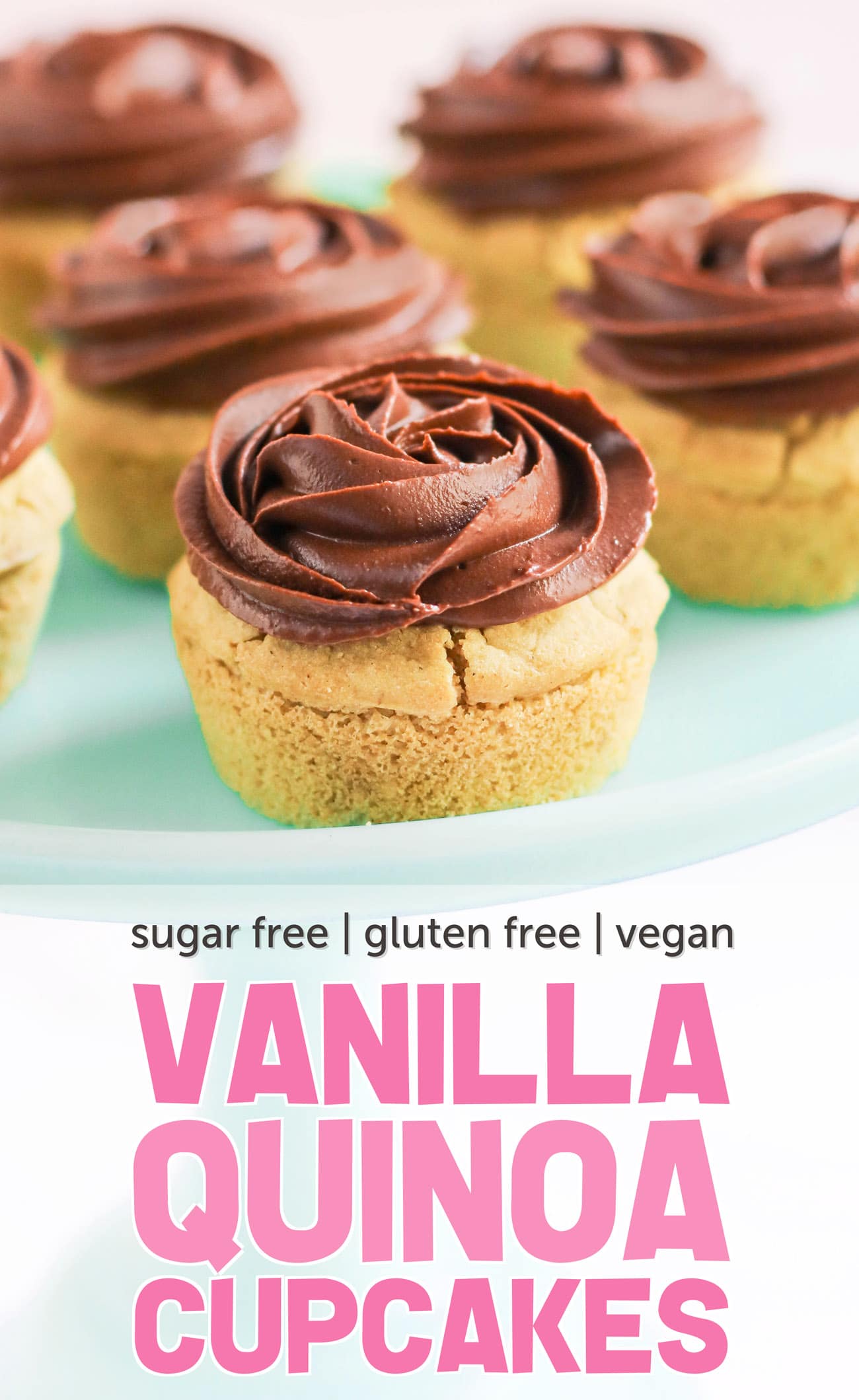 Hope you enjoy the cupcakes 🙂
.
With love and good eats,
.
– Jess
                                                                                                                          .