Healthy Coconut Quinoa Cupcakes
There are two types of people:  people who go with the flow and do things on the fly, and people who are totally anal rigid and need to plan things.
I'm the planning type.  Like, I need to schedule things or know of something in advance.  If it's not on my calendar, on my to-do list or reviewed fourteen times in my mind, it's not happenin' buddy.  Maybe this is my way of conquering my former habit of procrastinating?  Because if I mastered one skill (curse?) in my early life, it would be that.
My planning led me to make those yummy Vanilla Quinoa Cupcakes.  However, the unplanned and alarming rate at which we finished off those cupcakes screwed up my baking schedule (yes, that exists).  My calendar told me that I should have a steady supply of dessert for a week when I really had disorder, chaos, despair zero cupcakes and a garbage full of cupcake wrappers.
Insanity.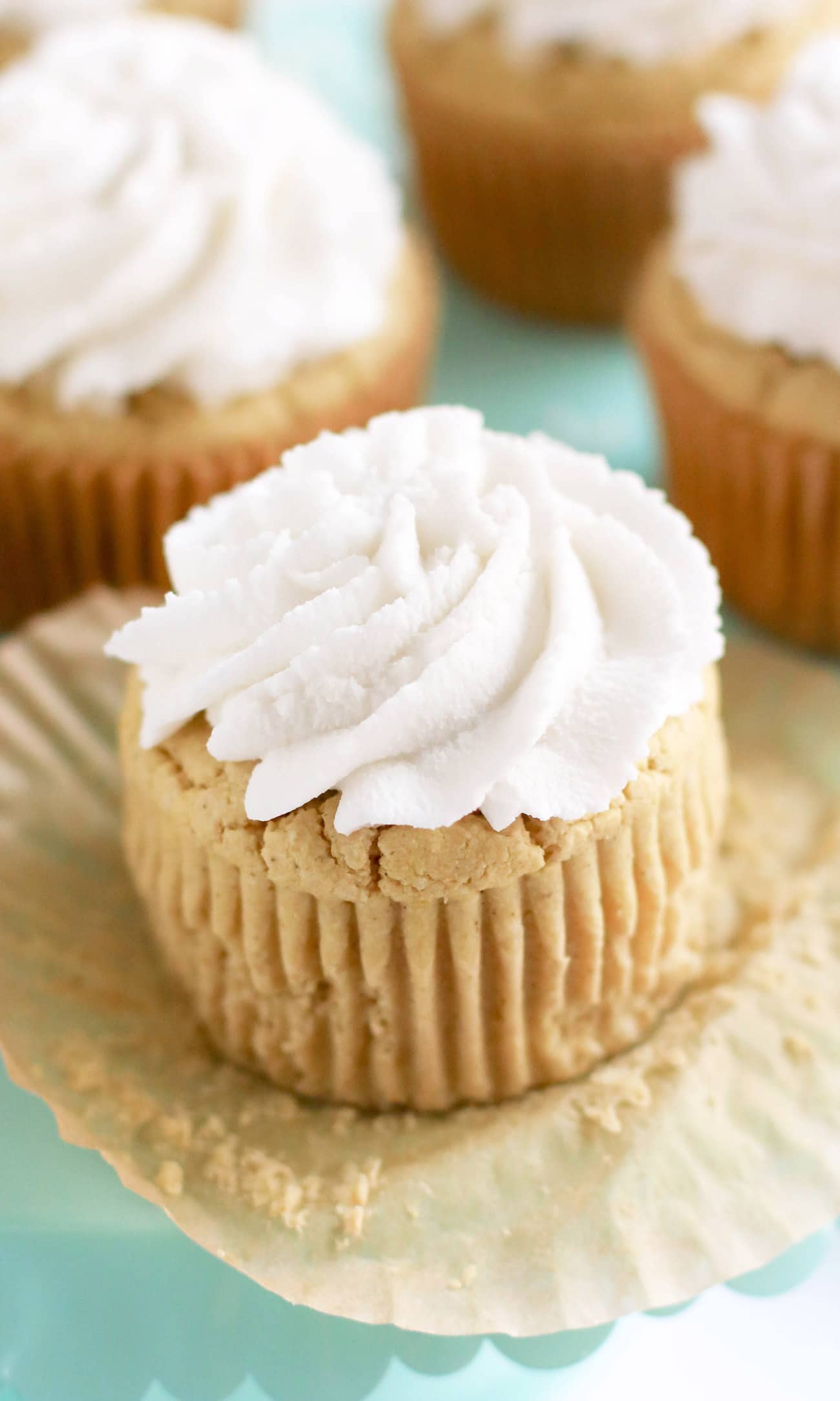 So due to my cupcake withdrawal, I needed to make the recipe again.  I wanted to test out a new flavor and was also craving coconut, so I made Coconut Quinoa Cupcakes.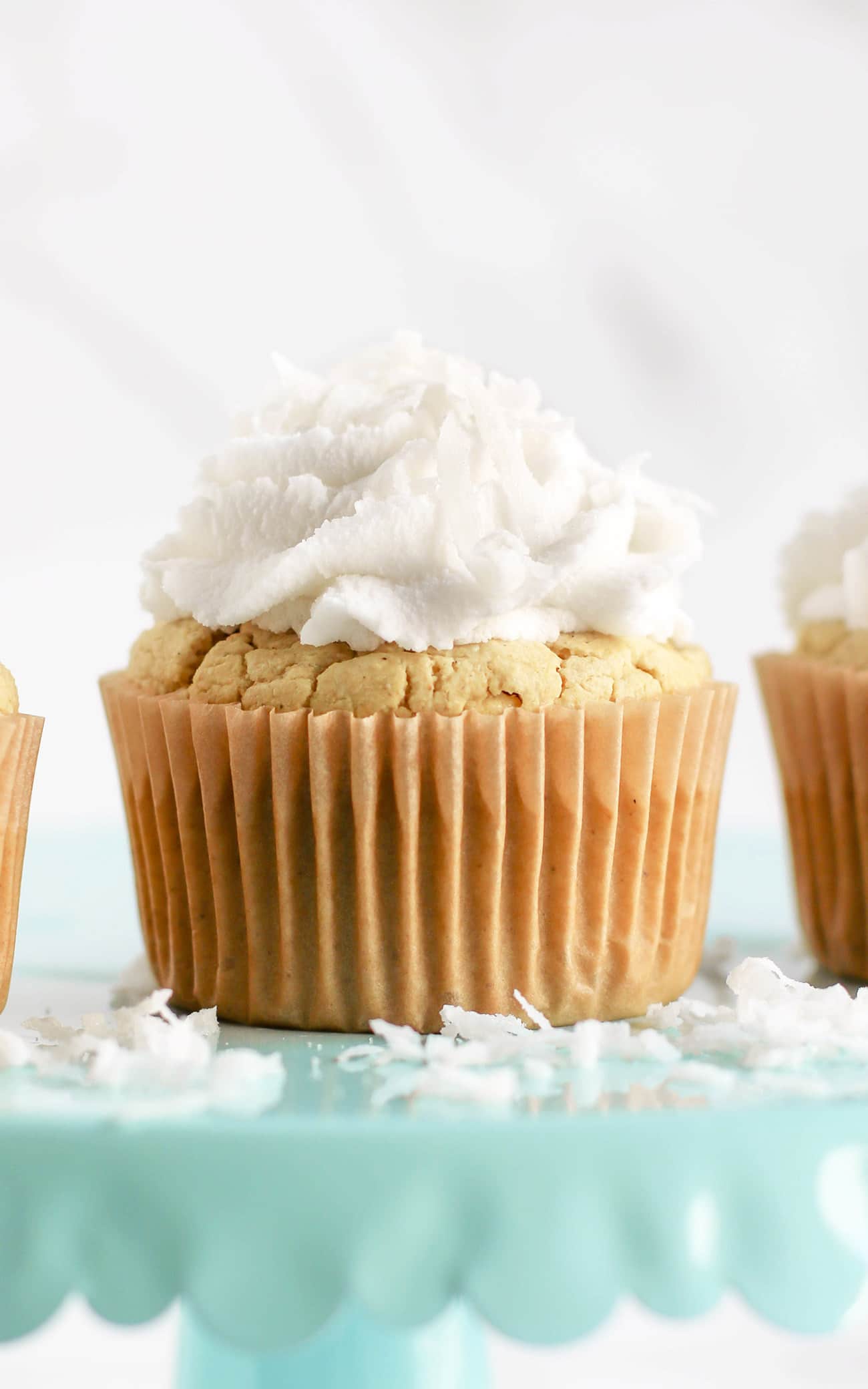 These cupcakes are incredibly moist, soft, and springy.  It's shocking that you can actually feel good about eating them!
These are equally as sweet and delicious as the original recipe it is based off of.  It still has that distinct quinoa flavor, but that's not a bad thing.  The coconut and the frosting together come together to make the finest cupcake of all  🙂
For the frosting, I was actually just messing around throwing things in a bowl.  I started with some coconut yogurt (the same kind used in the cupcakes) and whisked in powdered erythritol. I then whisked in melted coconut oil so it could firm up. It looked fine but after some more whisking it looked like the yogurt was separating or "curdling" …  eh, not good.  But I didn't want to toss it so I tried to salvage it by tossing it all in a blender.  And BAM!  I got a smooth and creamy frosting!  I gave it a taste and ended up adding coconut extract for more flavor, plus natural butter flavor to make it taste more "buttercream-y" delicious.  I refrigerated the entire mixture for a little, until it was firm enough to pipe, then piped the frosting onto the cupcakes using my favorite star tip.  You can obviously use whatever frosting you like though.  I've got a ton of healthy frosting recipes on the blog!
Coconut and cupcakes is a match made in heaven, except now YOU are part of the equation!
That's math we can all appreciate  😉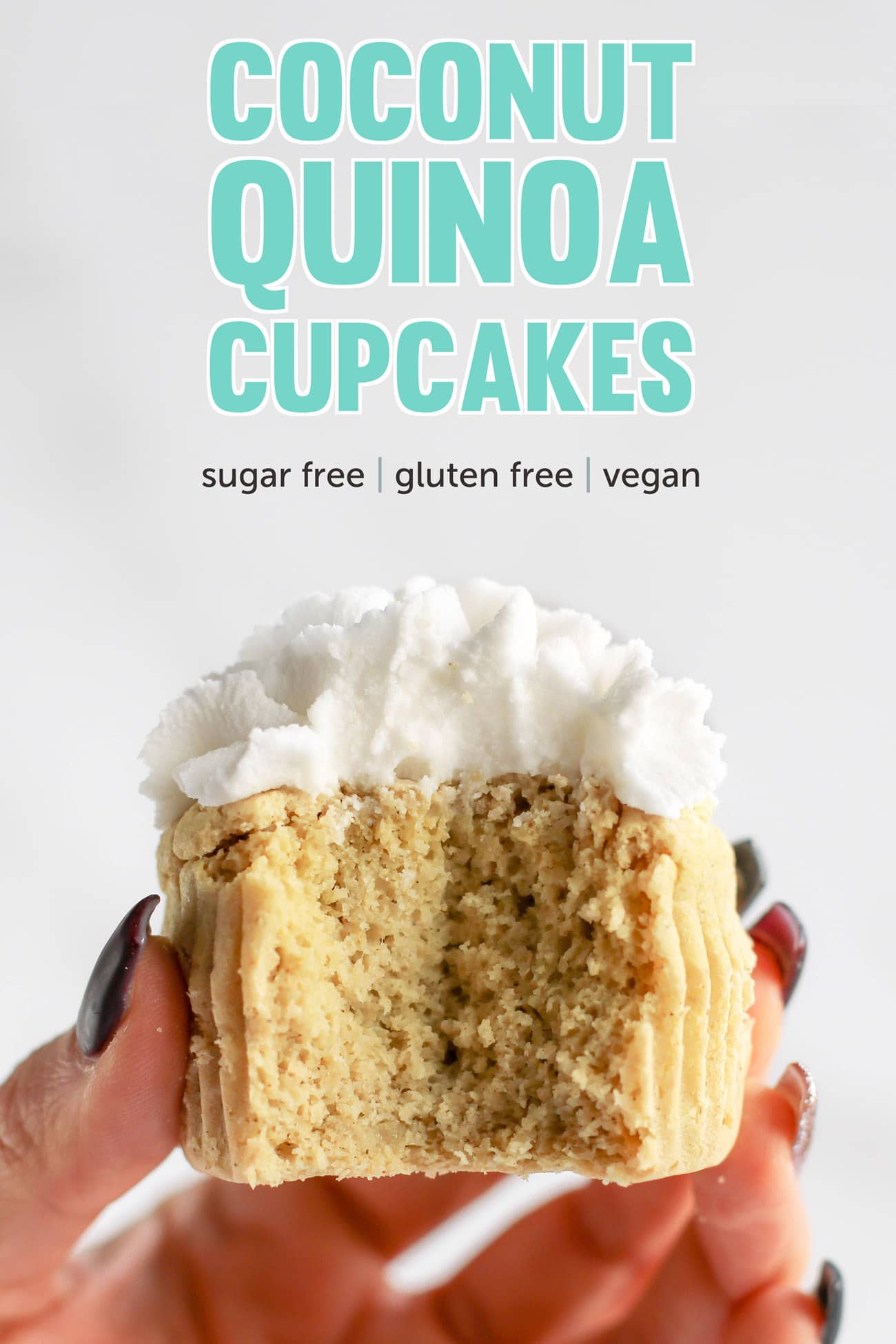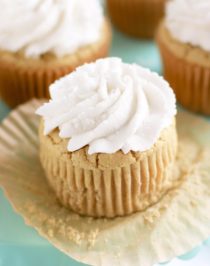 Print Recipe
Pin Recipe
Healthy Coconut Quinoa Cupcakes
These Coconut Cupcakes are a fluffy, moist, sweet, guilt-free treat! Made with quinoa flour, sorghum flour, coconut yogurt, and coconut milk, so they're gluten free, dairy free, vegan, and sugar free!
Instructions
Preheat the oven to 350 degrees Fahrenheit and line a cupcake tin with parchment paper liners (make sure to use parchment liners, not paper liners, because paper liners might stick!)

In a small bowl, whisk together the quinoa flour, sorghum flour, baking powder, baking soda, salt, and xanthan gum.

In a large bowl, whisk together the yogurt, milk, stevia, butter flavor, and coconut extract.

Dump the dry ingredients over the wet ingredients and whisk until everything is incorporated and any clumps are gone.

Scoop batter into the prepared cupcake tin, then bake for ~27 minutes, or until surface of cupcakes spring back when tapped. Transfer the cupcakes to a wire cooling rack to cool completely. Frost with your frosting of choice, then serve and enjoy!
Recipe Notes
Store cupcakes in a tightly sealed container in the fridge for up for 4 days.
Nutrition Facts
Healthy Coconut Quinoa Cupcakes
Amount Per Serving (1 cupcake)
Calories 110
Calories from Fat 18
% Daily Value*
Fat 2g3%
Sodium 250mg11%
Carbohydrates 19g6%
Protein 2g4%
Vitamin A 50IU1%
Calcium 110mg11%
Iron 1.1mg6%
* Percent Daily Values are based on a 2000 calorie diet.
I think these cupcakes are best eaten the day after baking… the quinoa flour flavor weakens (which is a good thing, since it's a bit grassy).
OH!  Can you believe a delicious cupcake has only 110 calories??  And 2g of fat, 2g of fiber, and no added sugar?  Ummm, yes please.  I don't think anyone could feel bad about eating a couple (or three) in a row  😉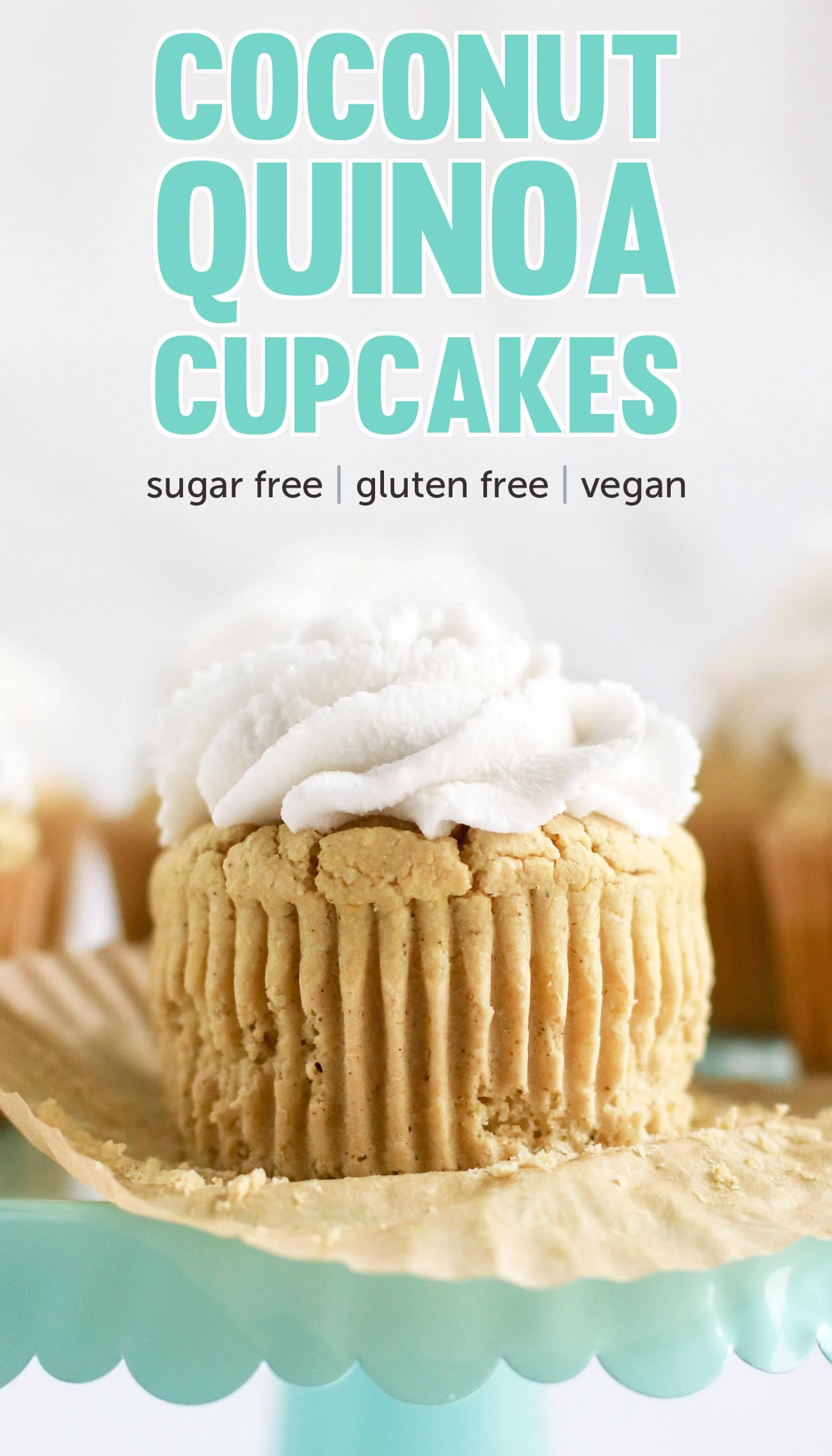 Enjoy!
.
With love and good eats,
.
– Jess
.