Healthy Banana Cake with Cream Cheese Frosting
This Healthy Banana Cake with Cream Cheese Frosting is so sweet, moist, fluffy and delicious, it's like Banana Bread in cake form, made secretly refined sugar free, high protein, high fiber, and gluten free too!
Fo realz y'all.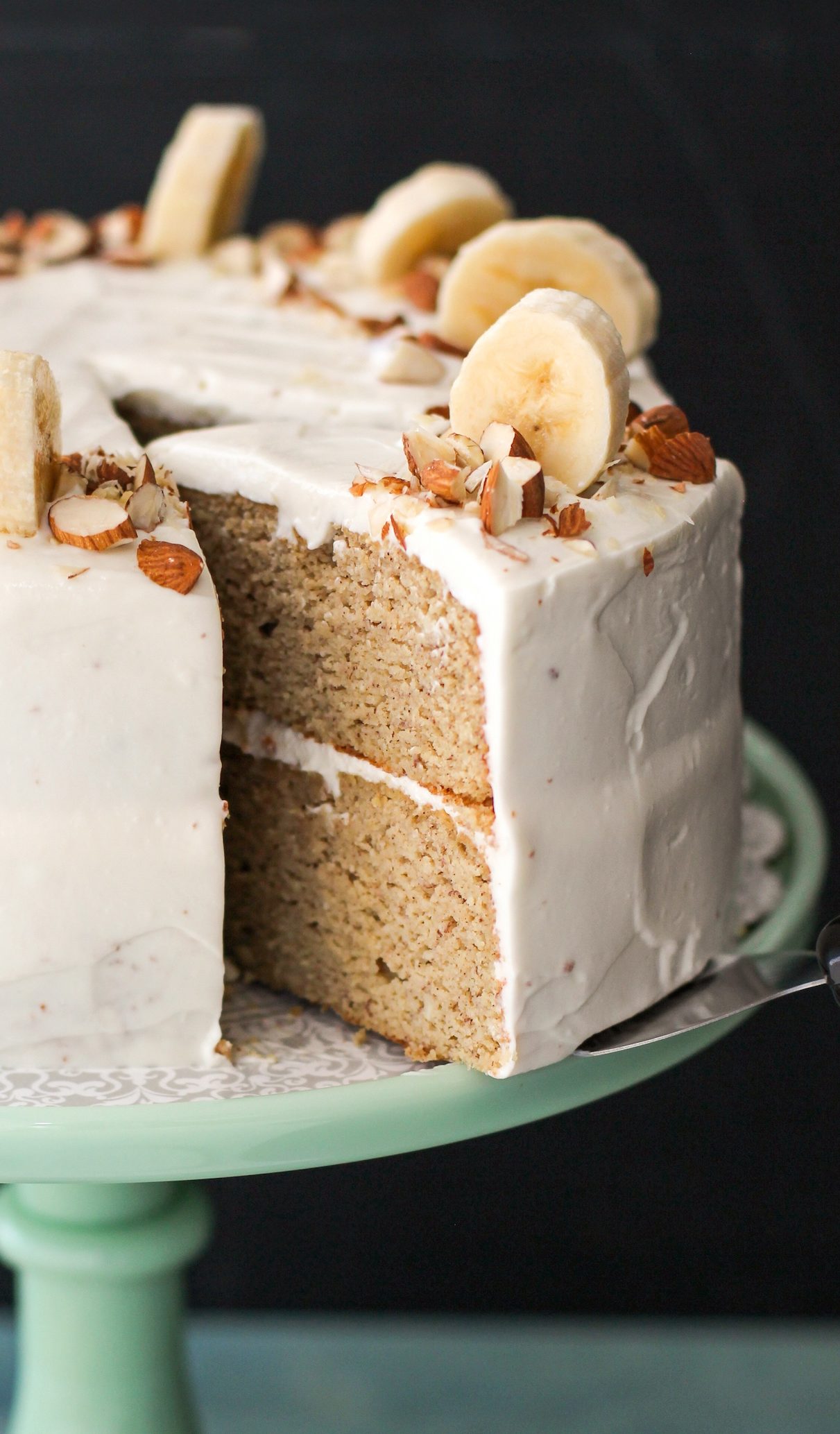 Easter is coming up in just a couple of weeks.  While my family and I never really had any Easter traditions, whenever I think of Easter, I automatically think of 2 things:
1.  Cadbury Mini Eggs
2.  2007's Easter Sunday service
Now, I should probably explain #1.  As a kid, I was obsessed with basically everything that was terrible for me (aka storebought chocolates and candies of all kinds).  I would get these Cadbury Mini Eggs in the Costco-sized bags and go through about 1 bag per week.  I'm talking the 36oz bag people.
*whistles and looks away*
So anyways.  Moving onto #2.  The Easter Sunday service from 2007.  Back in 2007, I still lived in Connecticut and my family and I attended a service that was held at the beach.  Back then, it used to get crazy cold from October all the way up to April.  And March 2007 was furrreeeeeezing.  A few steps out of the car and my face was already frozen and felt like it was about to fall off my face.
We had arrived early and I decided to volunteer and help serve the attendees hot chocolate.  Not because I was such a good kid and wanted to help out (hehehe), but because the volunteers got to stay slightly sheltered by the weather near the cabana, all alongside a big thermos tub thing full of delicious, sugary hot cocoa.
HOW COULD I SAY NO TO SUCH AN OPPORTUNITY.
Anyways, this Easter?  I'll be indulging in something much tastier, much more satisfying, and secretly, oh so secretly, much healthier:  this Healthy Banana Cake with Cream Cheese Frosting.  Join me, will ya?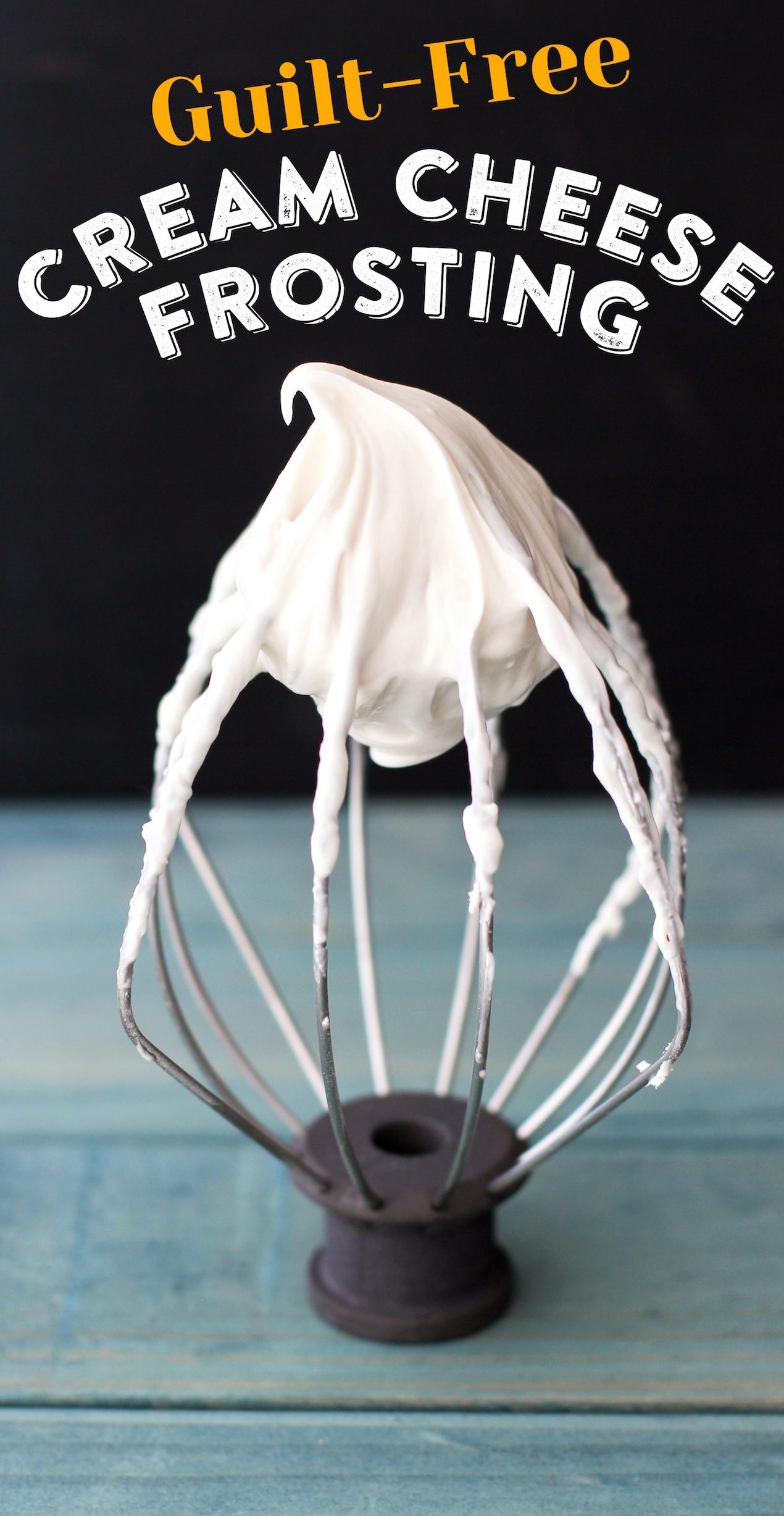 I solemnly swear that I am up to no good… just eatin' frosting straight up.  Hehehe.
With each bite of this cake, with each banana bread-like bite, you'll be instantly addicted.  You'll need another bite.
And another bite.
And another bite.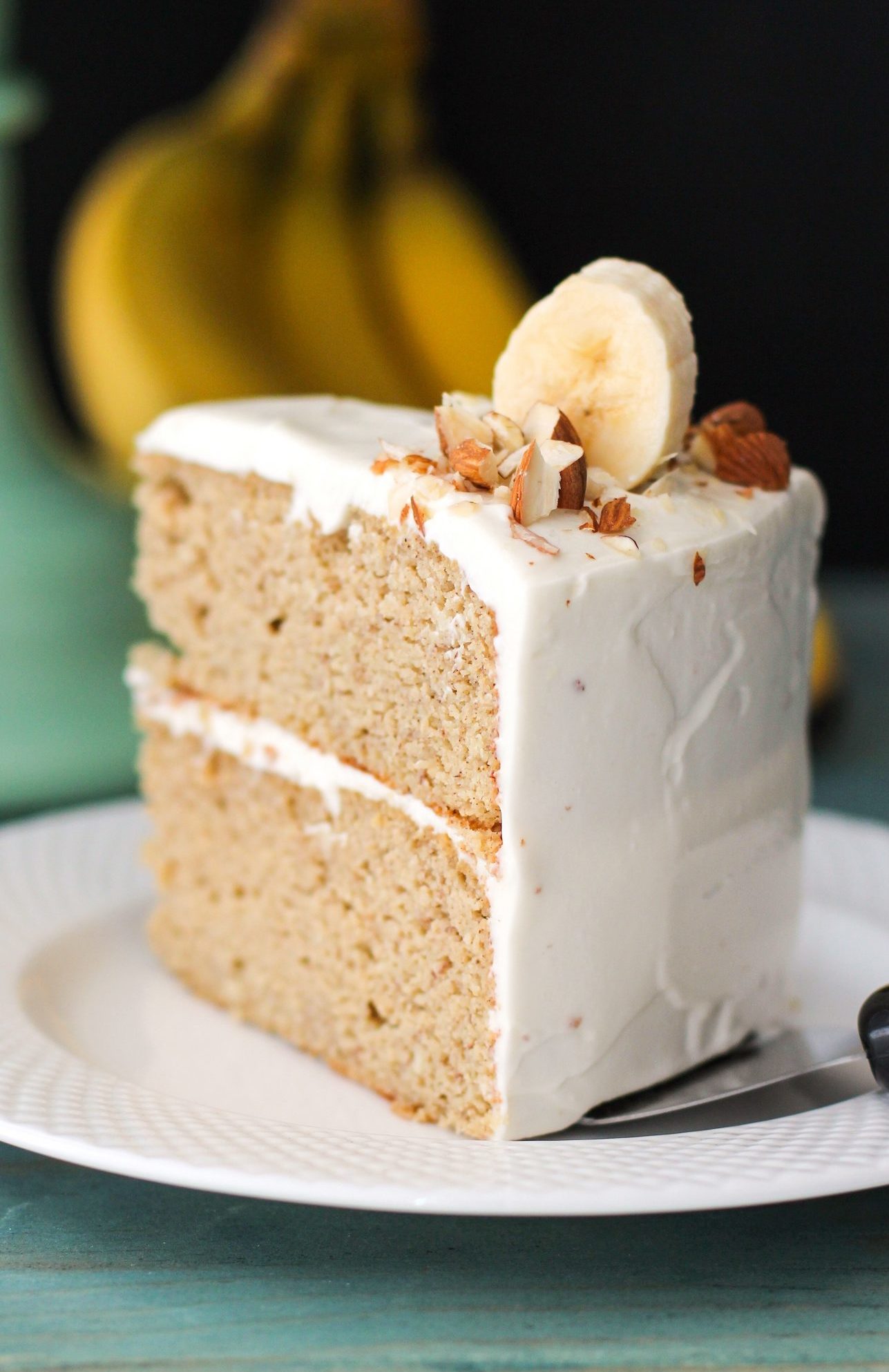 But don't you worry now.  This cake is good for ya.  It doesn't taste like it, but it is.
Dreams?  They've come true!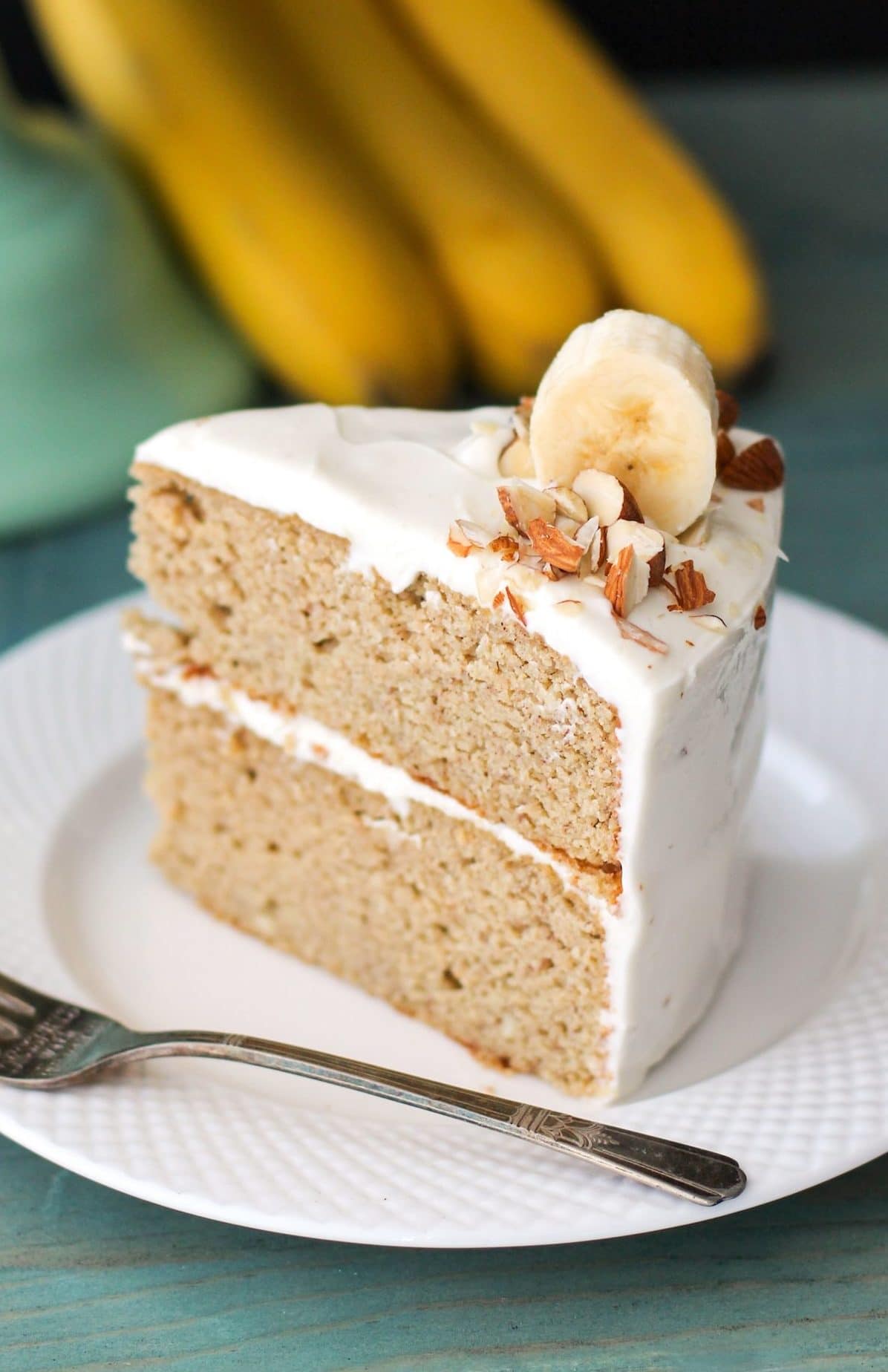 Healthy Banana Cake with Cream Cheese Frosting
Prep Time: 30 minutes
Cook Time: 1 hour
Total Time: 1 hour 30 minutes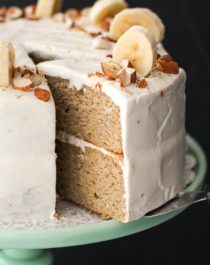 Fat per serving: 13
Calories per serving: 310
Ingredients:
Cake:
224g (2 cups) Coconut Flour
96g (½ cup) Granulated Erythritol
56g (½ cup) Almond Meal
4 tsp Double-Acting Baking Powder
1 tbs Ground Cinnamon
1 tsp Baking Soda
¼ tsp Salt
320g (~3 large) Mashed Bananas, very ripe
227g (1 cup) Plain, Nonfat Greek Yogurt
1¼ cups Unsweetened Vanilla Almond Milk
6 Large Eggs
5 Large Egg Whites
1 tbs Vanilla Extract
2 tsp Natural Butter Flavor (or more Vanilla Extract)
Frosting:
8oz Neufchâtel Cream Cheese, room temp
6oz Plain, Nonfat Greek Yogurt
1 tsp Vanilla Extract
88g (~⅔ cup) Powdered Erythritol
Directions:
For the Cake:
Preheat the oven to 350 degrees Fahrenheit.  Spray 2 8" cake pans with cooking spray and line with 8" circle parchment paper liners.
In a medium-sized bowl, whisk together the coconut flour, erythritol, almond meal, baking powder, cinnamon, baking soda and salt.
In an electric stand mixer bowl fitted with a whisk attachment, add the mashed bananas, yogurt, almond milk, eggs, egg whites, vanilla extract, stevia extract and butter flavor.  Mix on low speed until completely even.  Turn off the mixer and dump in the dry ingredients.  Mix on medium speed, then high speed, until the ingredients are fully incorporated.
Pour the batter into the prepared cake pans.  Tap the pans on the counter a few times to level out the batter.  Bake for 55 minutes, or until the surface springs back when tapped.  Let cool completely in the pan.
For the Frosting:
In an electric stand mixer bowl fitted with a whisk attachment, add all of the ingredients and mix on high speed.  Scrape down the sides of the bowl and mix until completely smooth.
Frost the cake, then refrigerate for 1 hour to firm up.  Slice and serve!
Notes:
Keeps in the fridge covered with a cake dome for up to 3 days.
.
Here is the recipe's nutrition label:
Yes people.  A large slice of sweet and delicious Banana Cake with a rich and luxurious Cream Cheese Frosting has only 310 calories.  Plus, 11g of filling fiber and a whopping 18g of protein.  BOOM.
Much better than the alternative, which has 560 calories, 94g carbohydrates, and 68g sugar.  That's more than ⅓ cup sugar in one slice.  Yeah, I'll GLADLY skip all that unhealthy nonsense and instead, eat a slice (or two) of my healthified cake.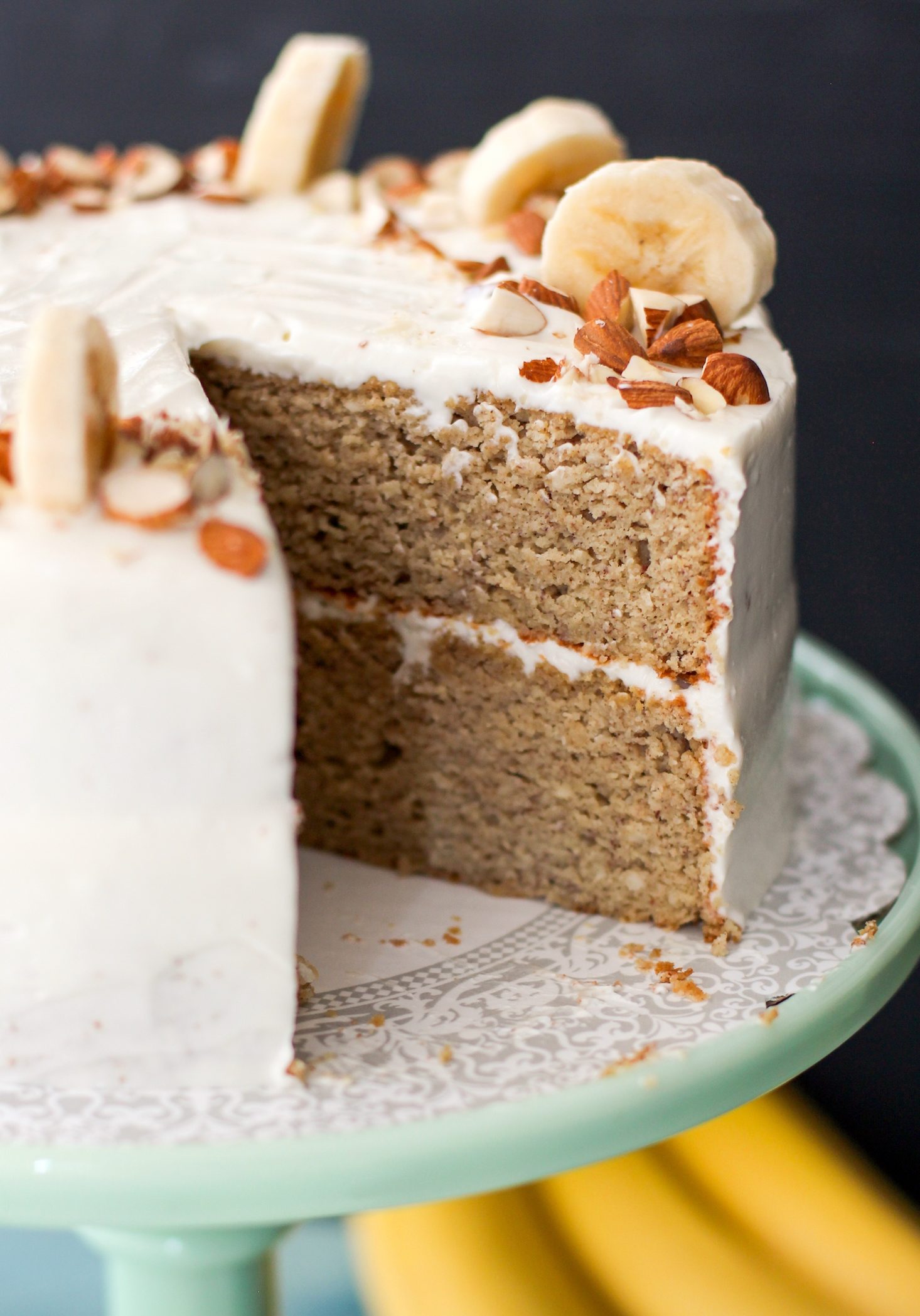 I feel my conscience saying, "Eat another slice."
I shall obey.
Always listen to your conscience people.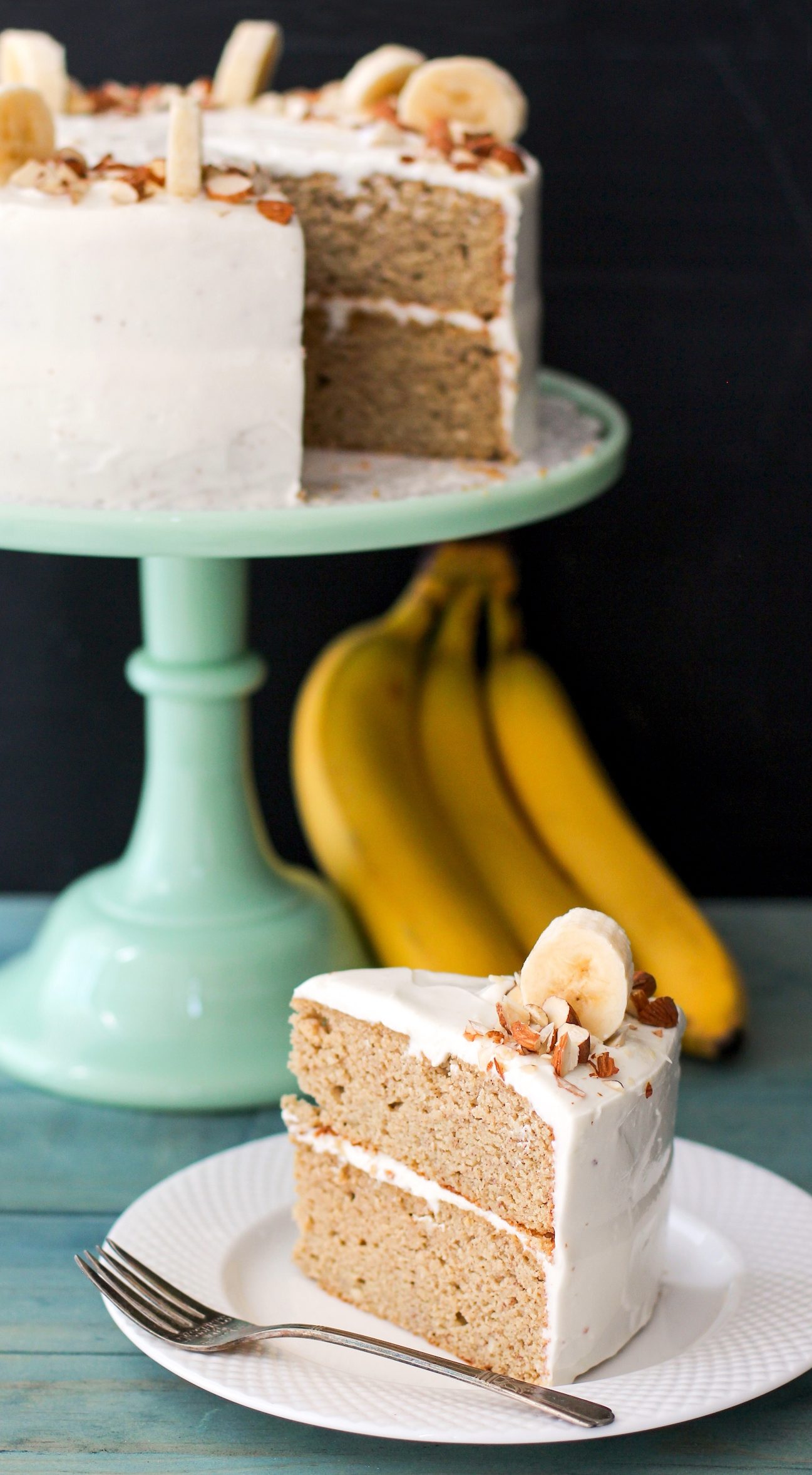 This stuff is just good for the soul.
.
With love and good eats,
.
– Jess
.