Healthy Matcha Green Tea French Macarons
These Healthy Matcha Green Tea French Macarons aren't your typical French Macarons…  these are made without the bleached white sugar, artificial flavorings, and artificial food dyes!  Yup, that vibrant green you see here is all natural.  These sweet bite-sized treats are unique and sophisticated, but also low fat and gluten free too!
Look at how picture perfect these little green babes are.  Don't you just wanna sink your teeth in them?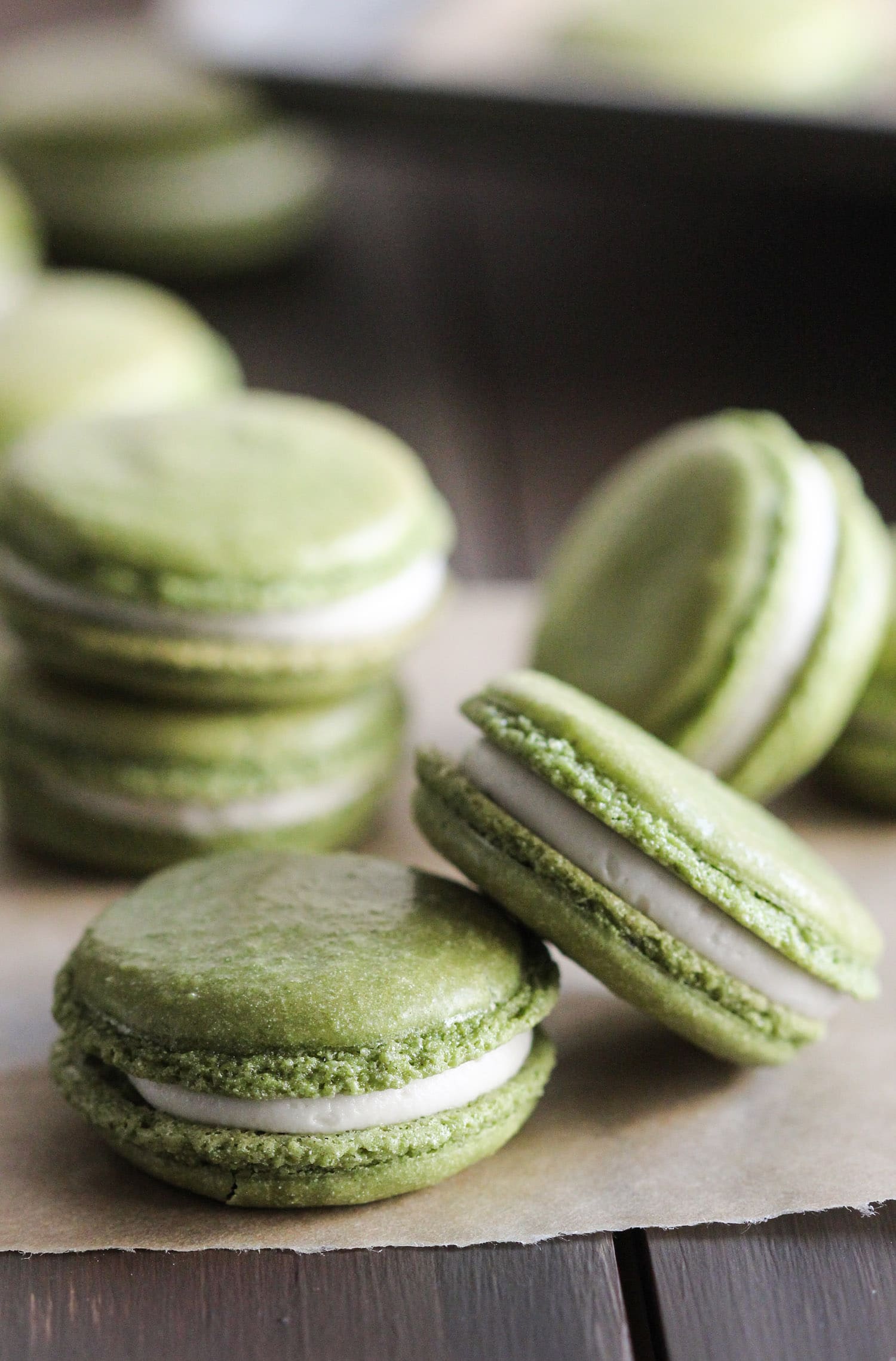 The macaron shells are full of matcha tea flavor, and the almond extract helps brighten up the overall flavor.  You can fill these Healthy Matcha Green Tea French Macarons with whatever frosting you like, but I chose Cream Cheese Frosting.  Because Cream Cheese Frosting is the bomb.
And these are comin' to ya just in time for Christmas.  These would make for the PERFECT edible holiday gift, potluck treat, or "thank you" dessert.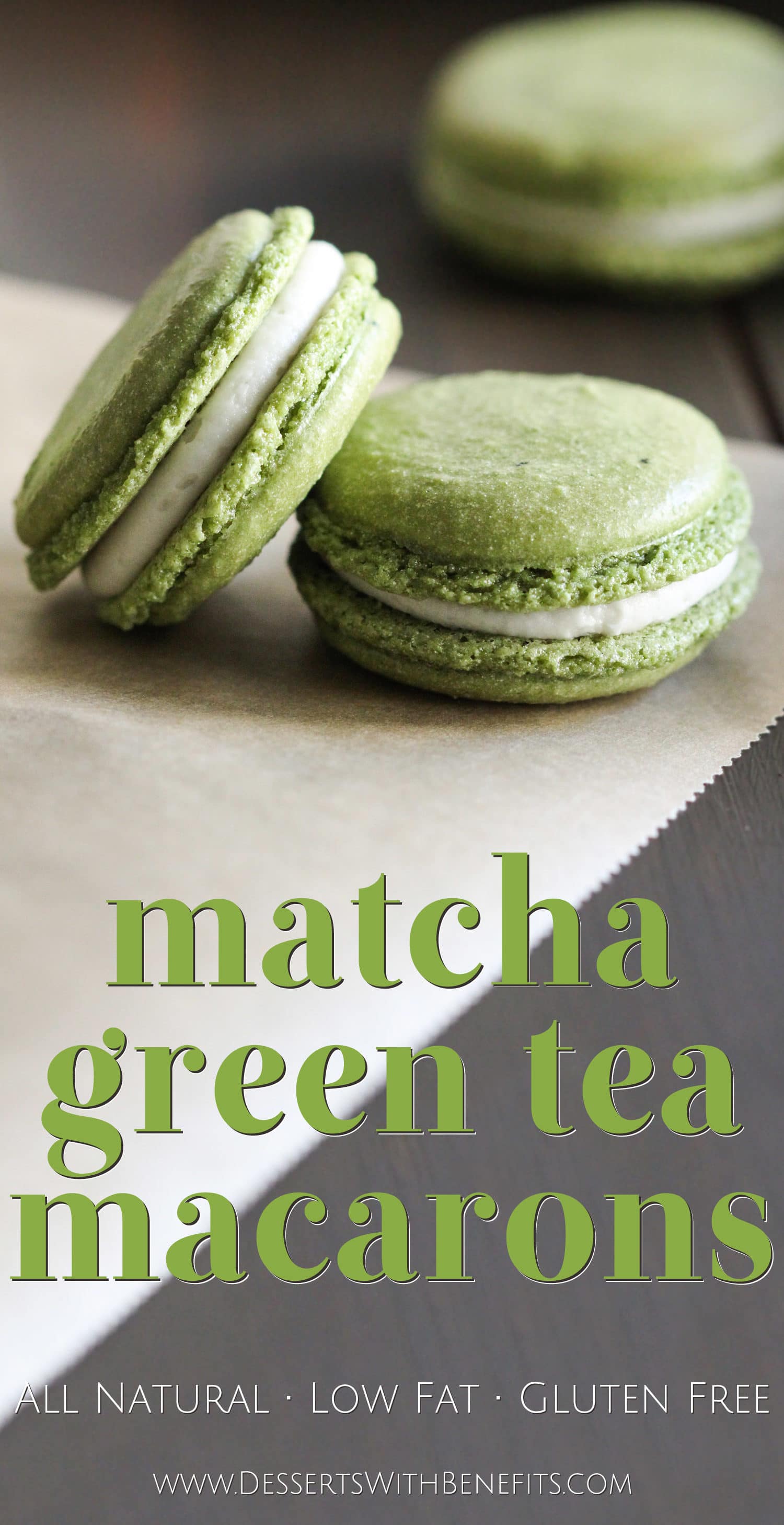 Healthy Matcha Green Tea French Macarons
Prep Time: 1 hour 30 minutes
Cook Time: 8 minutes
Total Time: 2 hours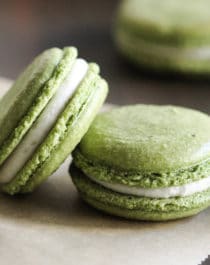 Ingredients:
200g Evaporated Cane Juice, powdered in a high-speed blender (measure after grinding)
120g Almond Meal
105g Egg Whites (fresh, not cartoned)
¼ tsp Salt
50g Evaporated Cane Juice
½ tsp Vanilla Extract
½ tsp Almond Extract
Directions:
Line 3 cookie sheets with silicone baking mats or parchment paper. Prepare a piping bag with round tip (#804).
In a small bowl, add the powdered evaporated cane juice, almond meal, and matcha powder. Set aside.
In an electric stand mixer bowl fitted with a whisk attachment, add the egg whites and salt. Turn the stand mixer on high speed and start a timer.
Slowly sprinkle in the 50g of evaporated cane juice.  Whip this mixture for 5 minutes. Mixture should form stiff peaks.
Add the vanilla extract and almond extract and whip for 1 more minute.
Sift the dry ingredients into the stand mixer and fold by hand with a silicone spatula until fully incorporated. Do not under mix and do not over mix. Mixture should be in between "plopping" off the spatula and "flowing" like a thick ribbon.
Scoop the batter into the prepared piping bag and pipe 1" buttons onto the prepared cookie sheets, each about 2" apart.
Tap the pans on the counter HARD a few times to deflate any air pockets.
Preheat the oven to 350 degrees Fahrenheit. Let the piped macarons sit at room temperature for ~45 minutes. Shells should form on the surface of the macarons (when you can tap the surface, they shouldn't stick to your finger at all). Bake one tray at a time for ~8 minutes, or until the fluffy "feet" form and the surfaces of the macarons turn a very light golden brown. Let cool completely on the cookie sheets.
Pipe your frosting of choice onto half of the macaron shells, then sandwich the remaining shells on top. Serve immediately.
Notes:
This recipe makes 50 macaron shells.  You'll be able to make 25 macarons total.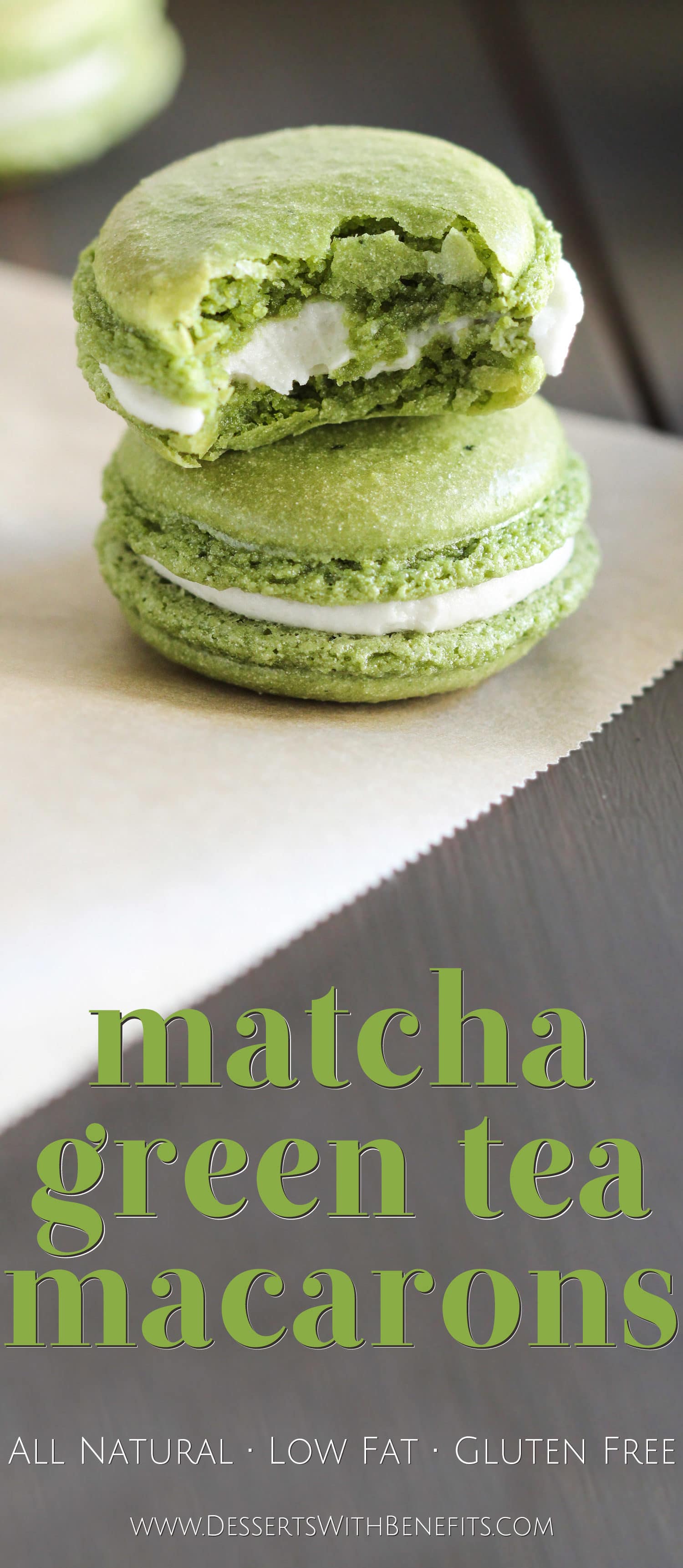 Enjoy!
.
With love and good eats,
.
– Jess
.