Healthy Homemade French Macarons
These Healthy Homemade French Macarons are low fat and gluten free, but you'd never know it — they taste like the kinds you'd get in a bakery!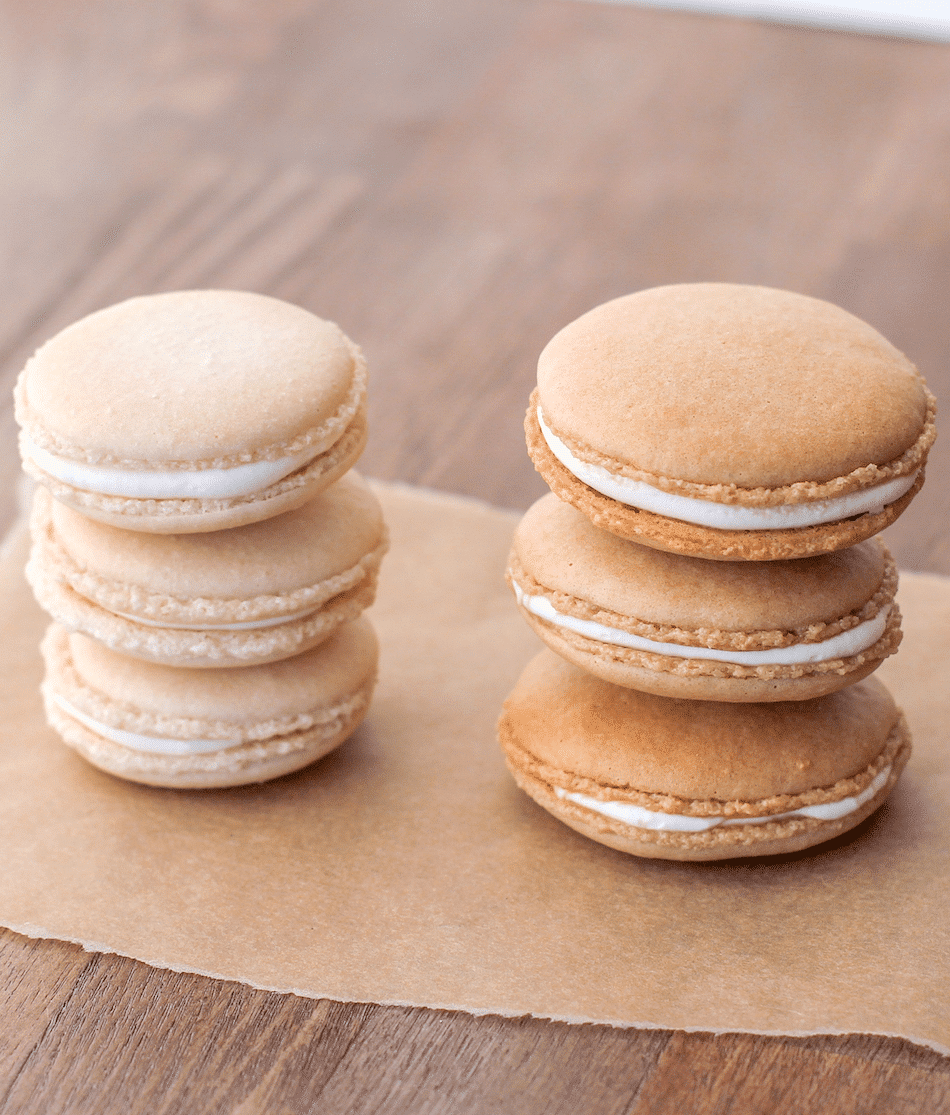 I have made (failed) macarons over thirty times.  Yes, thirty.  The number of trials is quite laughable to me now, but looking back I remember the frustration of each and every failed batch.  I was hopeful when I folded the batter perfectly, I was anxious as I let the macarons dry on the trays for thirty minutes to an hour, I was let down when I checked on the macarons baking in the oven without any sign of the classic "feet," and then I was crushed as I set the hot pans on my counter…  yet another failed macaron.  It's like a slap in the face, a shattered dream, a total defeat.
Here is (just) one of my failures: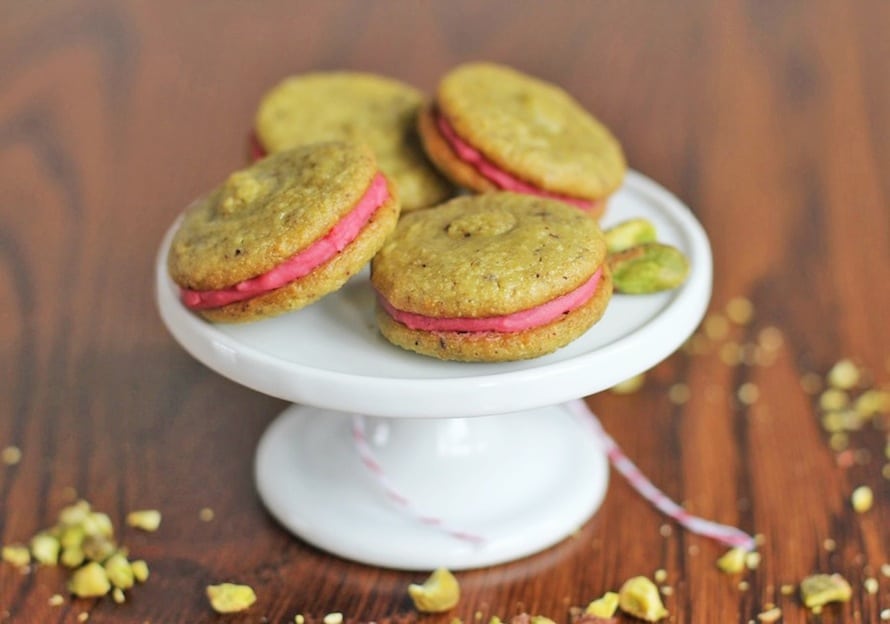 In the beginning, I set myself up for failure by using powdered coconut sugar.  The coconut sugar turned the batter brown and they flattened completely in the oven (to ~2 millimeters in height!) into gooey caramel-like discs of sugar.
Here is some background info of my failed trials:
I have tested real white sugar to erythritol to sucanat to coconut sugar (some batches using all granulated sweetener, some using all powdered, some using both and one batch using a stovetop cooked syrup… I even tested out different powdered sugars, one 100% cane sugar and another laced with starch)
I have used almond flour, almond meal and pistachio flour
I have used cold egg whites, room temperature egg whites, and aged egg whites
I have tested batches with no added flavorings or food colorings along with batches with some of both
I have undermixed, overmixed, and mixed perfectly
I let the macaron batter rest on the pans from zero minutes to more than an hour
I tested a range of temperatures, from 220-350 degrees Fahrenheit (I always use an oven thermometer to be sure)
I baked the macarons on both Silpats and parchment paper
I have baked these trials over a span of two years, from cold weather to warm weather (neither of which is humid)
Some batches of macarons spread into thin wafers, some poofed up into what looked like sugar cookies, some were crunchy throughout, some never solidified and stayed chewy and bendable.  My closest batch looked like macarons but without the feet and had huge air pockets in them, despite tapping the pans on the counter and witnessing air pockets rise to the surface (grrr)
I seem to fail at French Macarons despite how much research I have completed, videos I have watched and recipes I have tried…  ugh!
After years of failure, I finally perfected my Homemade French Macarons recipe.  And they're amazing.  They are light, petite and sweet.
*falls to knees and bows down to the baking gods*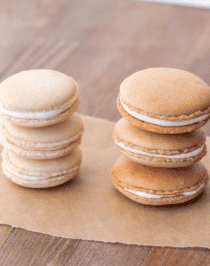 Print Recipe
Pin Recipe
Healthy Homemade French Macarons
These Healthy Homemade French Macarons are low fat and gluten free, but you'd never know it -- they taste like the kinds you'd get in a bakery!
Ingredients
210g

Evaporated Cane Juice

(powdered in a high-speed blender; measure after grinding)

120g

Almond Meal

(sifted through a fine mesh sieve to remove any chunks; measure after sifting)

100g

Egg Whites

(fresh, not cartoned)

¼

tsp

Salt

50g

Evaporated Cane Juice

½

tsp

Vanilla Extract
Instructions
Line 3 cookie sheets with silicone baking mats or parchment paper. Prepare a piping bag with round tip (#804).


In a small bowl, add the powdered evaporated cane juice and sifted almond meal. Set aside.

In an electric stand mixer bowl fitted with a whisk attachment, add the egg whites and salt. Turn the stand mixer on high speed and start a timer. Slowly sprinkle in the 50g of evaporated cane juice. Whip this mixture for 6 minutes. Mixture should form stiff peaks.

Add the vanilla extract and whip for 1 more minute. Dump the set aside evaporated cane juice/almond meal mixture into the stand mixer and fold by hand with a silicone spatula until fully incorporated. Do not under mix and do not over mix. Mixture should be in between "plopping" off the spatula and "flowing" like a thick ribbon.

Scoop the batter into the prepared piping bag and pipe 1" buttons onto the prepared cookie sheets, each about 2" apart. Tap the pans on the counter HARD a few times to deflate any air pockets. Preheat the oven to 350 degrees Fahrenheit. Let the piped macarons sit at room temperature for ~1 hour. Shells should form on the surface of the macarons (when you can tap the surface, they shouldn't stick to your finger at all).

Bake one tray at a time for ~8-10 minutes, or until the fluffy "feet" form and the surfaces of the macarons turn a very light golden brown. Let cool completely on the cookie sheets.

Pipe your frosting of choice onto half of the macaron shells, then sandwich the remaining shells on top. Serve immediately.
Recipe Notes
I originally wasn't going to share the recipe here because I worked so incredibly hard on publishing Naughty or Nice.  But I wanted to provide it here because that way, you can determine whether or not the cookbook is for you!
Nutrition Facts
Healthy Homemade French Macarons
Amount Per Serving (4 French Macaron Shells (does not include frosting)
Calories 120
Calories from Fat 36
% Daily Value*
Fat 4g6%
Sodium 50mg2%
Carbohydrates 19g6%
Protein 3g6%
* Percent Daily Values are based on a 2000 calorie diet.
Recipe Notes:
1- Do not replace the Powdered Evaporated Cane Juice with any other sweetener!  You can replace the 50g of Granulated Evaporated Cane Juice with Sucanat.  Just note that they take a longer time to dry before baking (~30 minutes more), and the resulting color will be a dark tan.
2- Use an oven thermometer to ensure your oven is exactly 350 degrees Fahrenheit.
3- Use a kitchen scale to make this recipe.  It is veeeeeryfinicky!
4- Do not use dark colored pans to bake the macarons on.  use a light colored pan.
5- Do not attempt this recipe on a humid or rainy day.  Humidity and macarons are not friends!
.
Recipe republished with permission from the Naughty or Nice Cookbook!
.
Enjoy  🙂
.
With love and good eats,
.
– Jess
.