Funfetti French Macarons (To Celebrate My 7th Blogiversary!)
Today is a huge, HUGE day.  April 20th, 2018 marks the day of my blog's 7th birthday!!  Holy sh*t, holy sh*t, holy sh*t, have I seriously been blogging for seven years now??  Since the age of eighteen…  since I was a freshman in college!  To celebrate this special day, I made these Funfetti French Macarons.  I made these for two reasons:
Ya can't have a birthday without some rainbow sprinkles!
To me, macarons symbolize both overcoming an obstacle (like finally making a successful batch of macarons after thirty failures) and pulling off a huge feat (like overcoming my fear of public speaking by frosting macarons on live TV)
So today, I'm celebrating with an insane amount of macs  😉
These Funfetti French Macarons are THE perfect treat to celebrate
Desserts With Benefits

turning

7

!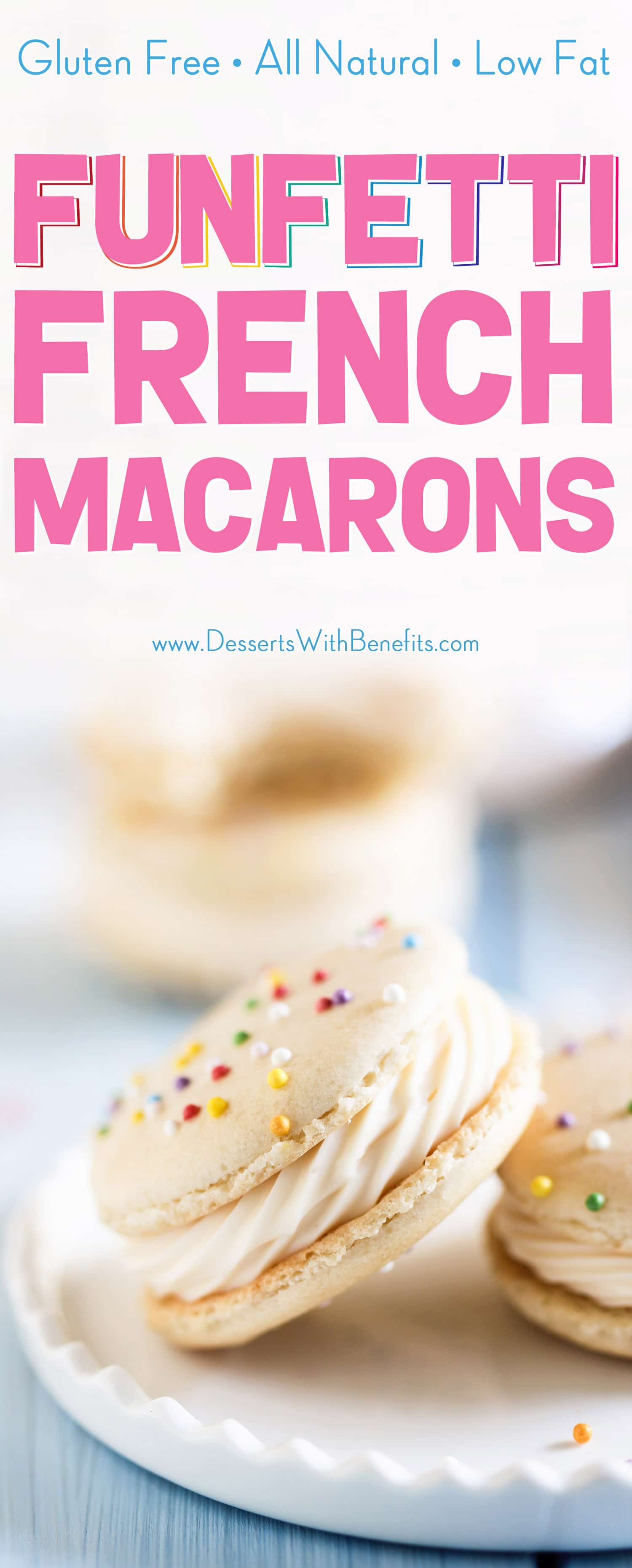 If you've read My Story, then you know when and why I started blogging.  Long story short, I was a freshman in college looking for a way to procrastinate studying from finals (why yes, I am a professional procrastinator, thank you very much).  After finishing my first year as a Nutritional Sciences major, I realized I didn't want to become a dietician.  I wasn't exactly sure what I wanted to do after I graduated, all I knew was that I love food, love nutrition, and love helping people bring dessert back into their lives — the healthy way!
After two years of blogging as an outlet for school stress (by the way, I still hate you chemistry and o-chem), my blog really started to take off.  This is when I finally realized what I wanted to do after graduating.  I wanted to become a full-time blogger!  It took a while longer than I expected, but as of January 2017, I achieved that goal!
This might sound crazy, but this blog has turned my life right side up.  You have no idea.
I am truly grateful for you.  YOU are the reason I am lucky enough to do what I love for a living.
This blog has given me strength, direction, hope, and a future.
There was a time in my life when I thought you had to give up sweets in order to be healthy.  That was probably the most depressing time of my life.  Before I started blogging, I was completely lost.  I'm not gonna lie, I had zero drive, zero passion, zero ambition…  I didn't take school seriously.  I didn't want to go to college (I only applied because I felt pressured by my parents).  As it turns out, moving across the country to a state I'd never step foot in before to attend school, away from my friends and family, was the reason this blog came to be.
These past seven years have had its bumps and hurdles, but I wouldn't change any of it even if I could.  Despite the hiccups, blogging has made me brand new.  So thank you!  Thank you all!!  I can't tell you how many lovely emails, comments, and direct messages readers send me on a daily basis.  I've received hundreds of reader testimonials saying my recipes have changed their lives for the better — whether that's weight loss, more balanced eating, indulging in dessert without feeling guilty, etc.
You all fill me with so much love and joy.  My heart will probably explode one of these days!  *virtual hug*
Even when I'm down in the dumps and share some of my personal struggles with you, you're always there to provide support, encouragement, and wise words.  You're there to remind me that I'm a business owner, my own boss, a trademark holder, university graduate, and cookbook author…  like, WHAT?!?  What the heck happened???  At age seventeen, I literally sat on the couch watching TV all day.  At age twenty-five, I work daily (and funny enough, I don't even own a TV anymore).  What happened?  FOOD happened.
My love for dessert, passion for nutrition, and affinity for combining the two sparked something inside me to create this blog.
Your constant positive vibes and love for healthy treats are what keeps me and this blog going!
I have poured every ounce of my being, my heart, and my soul, into this blog (and its 600+ recipes!) over the last seven years.  Because people who give their food, give their heart.  Desserts With Benefits is a happy medium that connects me to you, and you to me.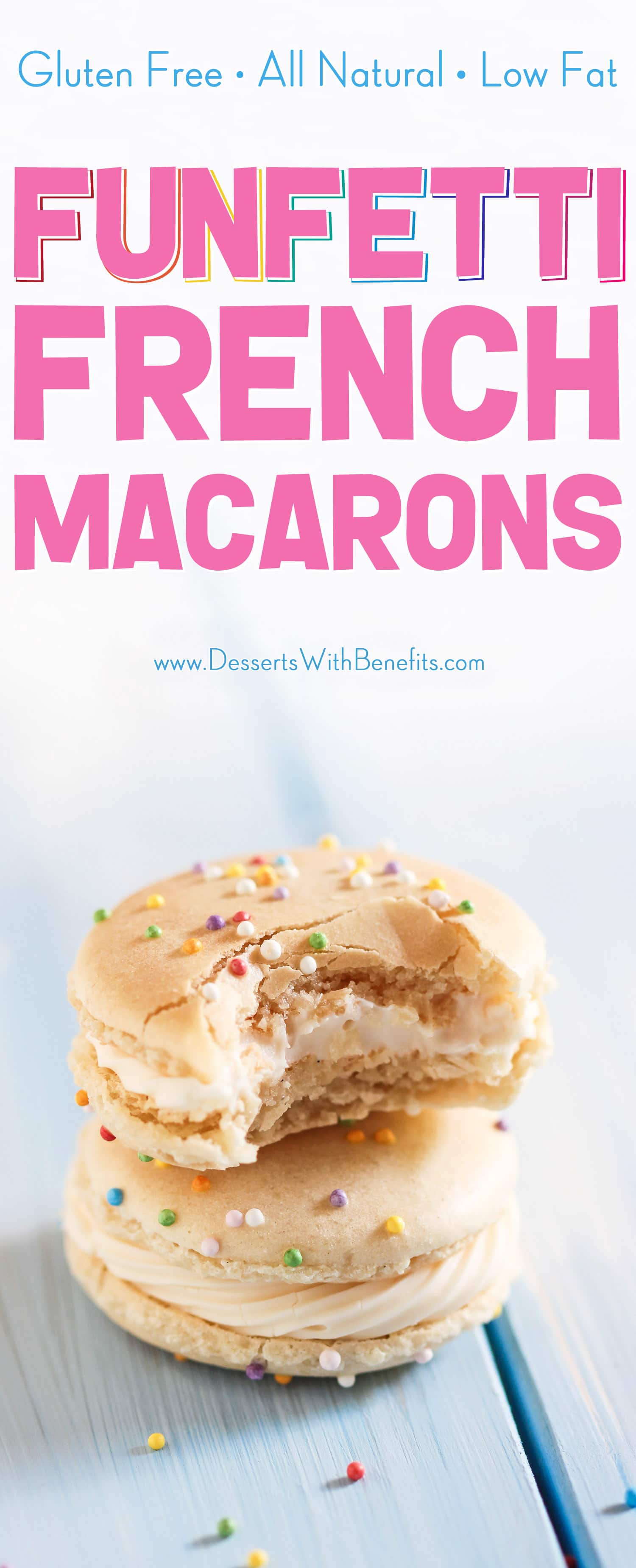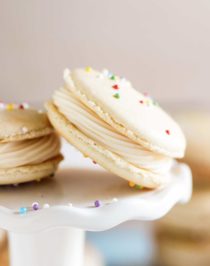 Print Recipe
Pin Recipe
Funfetti French Macarons
These bakery-worthy Funfetti French Macarons are adorable, bite-sized, sweet perfection! You'd never know they're all natural, low fat, gluten free, and dairy free too. No need for the bleached white sugar, artificial flavorings, or artificial food dyes.
Ingredients
200g

Evaporated Cane Juice

(powdered in a high-speed blender** (measure after grinding)

120g

Almond Meal

105g

Egg Whites

(fresh, not cartoned)

¼

tsp

Salt

50g

Evaporated Cane Juice

½

tsp

Vanilla Paste

¼

tsp

Almond Extract
Instructions
Line 3 cookie sheets with silicone baking mats or parchment paper. Prepare a piping bag with round tip (#804).

In a small bowl, add the powdered evaporated cane juice and almond meal. Set aside.

In an electric stand mixer bowl fitted with a whisk attachment, add the egg whites and salt. Turn the stand mixer on high speed and start a timer.

Slowly sprinkle in the 50g of evaporated cane juice.  Whip this mixture for 5 minutes. Mixture should form stiff peaks.

Slowly add the vanilla paste and almond extract and whip for 2 more minutes.

Sift the dry ingredients into the stand mixer.  Fold the batter by hand with a silicone spatula until everything is fully incorporated. Do not under mix and do not over mix! Mixture should be in between "plopping" off the spatula and "flowing" like a thick ribbon.

Scoop the batter into the prepared piping bag and pipe 1" buttons onto the prepared cookie sheets, each about 2" apart.  Tap the pans on the counter HARD a few times to deflate any air pockets.  Sprinkle on the rainbow nonpareils.

Preheat the oven to 350 degrees Fahrenheit. Let the piped macarons sit at room temperature for ~1 hour. Shells should form on the surface of the macarons (when you can tap the surface, they shouldn't stick to your finger at all). Bake one tray at a time for ~8 minutes, or until the fluffy "feet" form and the surfaces of the macarons are dry and turn a VERY light golden brown (they go from perfect to an unappealing tan in less than a minute, so keep those eyes peeled!). Let cool completely on the cookie sheets.

Pipe your frosting of choice (

Cream Cheese Frosting

is delicious!) onto half of the macaron shells, then sandwich the remaining shells on top. Serve immediately.
Recipe Notes
**Such as a Vitamix or NutriBullet.
This recipe makes 56 macaron shells.  You'll be able to make 28 macarons total.
You know that magical land where all of your wildest dreams come true?  Yeah, that land is over at my place.  These Funfetti French Macarons are the literal equivalent of magical-unicorns-flying-over-cotton-candy-clouds-raining-gummy-bears-directly-into-your-pie-hole.
These bakery-worthy Funfetti French Macarons are adorable, bite-sized, sweet perfection!
You'd never know they're all natural, low fat, gluten free, and dairy free too.  No need for the bleached white sugar, artificial flavorings, or artificial food dyes.
You gotta make a batch of these Funfetti French Macarons!  Because every day should be "healthy dessert day."
And now you can!  Use a high-speed blender like a Vitamix to make homemade powdered sugar from unbleached, organic sugar (or "evaporated cane juice").  I've made my own powdered sugar for years now, and every batch of macarons I make with it is a success!
.
Desserts With Benefits 7th Blogiversary Giveaway: Win a Vitamix!

Every day is "healthy dessert day" in my household.  I'm glad my boyfriend finally learned this and lets me eat ice cream for dinner sometimes.  I think he knows the road to my heart involves cake (with excess amounts of frosting), homemade protein bars, and ice cream.  Oh, and macarons.  Lots and lots of French Macarons.  Ina Garten sure knew what she was talking about when she said that giving people dessert is "the culinary equivalent of a low-cut dress."
.
With love and good eats,
.
– Jess
.