Healthy Black Velvet French Macarons (To Celebrate My 25th Birthday!)
When you think of French Macarons, you probably think about those cute, pastel-colored treats lined up in a rainbow fashion at your favorite bakery.  Of course, I went the complete OPPOSITE route and made them jet-black (or gothic, if you will).  These Healthy Black Velvet French Macarons are just as light, sweet, and delicate as your typical macarons, except these are all natural (no artificial food dyes here!), low fat, gluten free, and made without any of the bleached, highly-refined white sugar.
French Macarons hold a lot of symbolism for me.  Perfecting my recipe for Classic French Macarons was one huge feat.
In case you're up for a good laugh, I go into some depth about how many trials (aka failures) it took me to finally make a batch of perfect macarons in this post.
(Spoiler alert, it took me over thirty failed batches to make a SINGLE successful batch.  Yes.  Over thirty.  I'm shocked I didn't quit baking for good after like, try #15?)
If you've been following me on Instagram or Facebook, then you know that I made these Healthy Black Velvet French Macarons for my first LIVE TV debut back in August.  I was contacted by the station to make a dessert to celebrate the recent, first-time-in-38-years, solar eclipse.  Since you have all gone crazy for my black velvet recipes, I thought I'd make something along those lines.  Black Velvet French Macarons seemed perfect because once they're filled with frosting, they kind of look like a solar eclipse with the black "moon" macaron and white "sun" frosting peaking through around the rim.
Feeling both nervous and excited, I tried my hand at adapting my French Macarons recipe.  I tweaked the recipe a bit to add in cocoa powder, activated charcoal powder, and a little extra vanilla extract.
To my surprise, IT WORKED.  And ON A WHIM, no less.
Maybe I've gotten rid of my failed macaron hex??  PRAISE THE LAWD.  I'm excited to celebrate yet another feat in the macaron-baking sector of my life, as well as my 25th birthday  🙂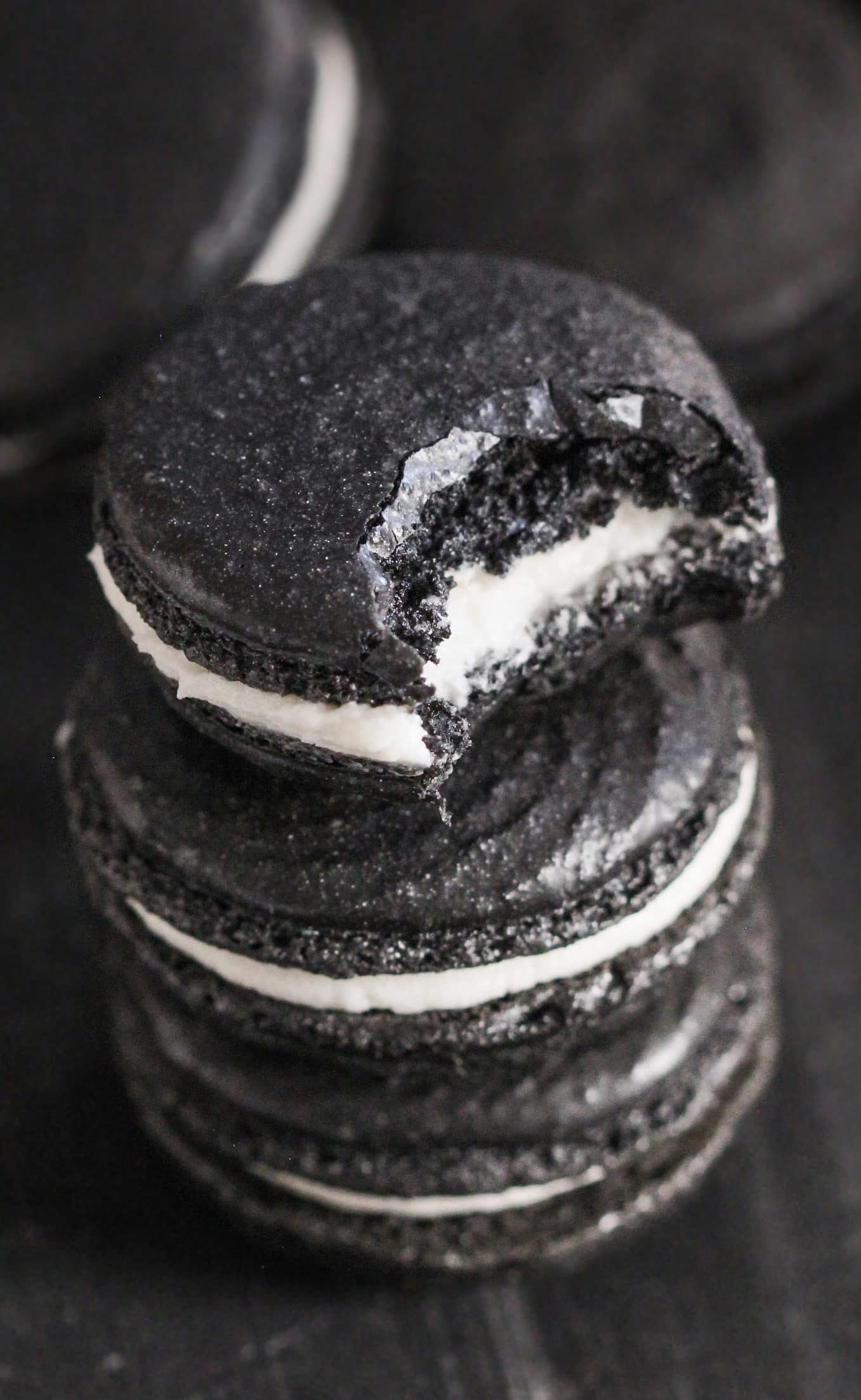 Healthy Black Velvet French Macarons
Prep Time: 30 minutes
Cook Time: 8 minutes
Total Time: 1 hour 30 minutes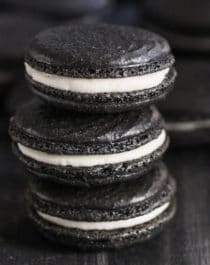 Ingredients:
200g Organic Evaporated Cane Juice, powdered in a high-speed blender (measure after grinding)
120g Almond Meal
6g Unsweetened Dutch Processed Cocoa Powder
105g Egg Whites (fresh, not cartoned)
¼ tsp Salt
50g Organic Evaporated Cane Juice
1 tsp Vanilla Extract
Directions:
Line 3 cookie sheets with silicone baking mats or parchment paper. Prepare a piping bag with round tip (#804).
In a small bowl, add the powdered evaporated cane juice, almond meal, cocoa powder, and charcoal powder. Set aside.
In an electric stand mixer bowl fitted with a whisk attachment, add the egg whites and salt. Turn the stand mixer on high speed and start a timer.  Slowly sprinkle in the 50g of evaporated cane juice.  Whip this mixture for 5 minutes. Mixture should form stiff peaks.
Add the vanilla extract and whip for 1 more minute.  Turn off the mixer and scrape the fluff off the whisk attachment into the stand mixer bowl.
Sift the dry ingredients into the stand mixer bowl and fold in by hand with a silicone spatula until fully incorporated. Do not under mix and do not over mix!! Mixture should be in between "plopping" off the spatula and "flowing" like a thick ribbon.
Scoop the batter into the prepared piping bag and pipe 1" buttons onto the prepared cookie sheets, each about 2" apart.  Tap the pans on the counter HARD a few times to deflate any air pockets.
Preheat the oven to 350 degrees Fahrenheit. Let the piped macarons sit at room temperature for ~45 minutes. Shells should form on the surface of the macarons (when you can tap the surface, they shouldn't stick to your finger at all). Bake one tray at a time for ~8 minutes, or until the fluffy "feet" form and the surfaces of the macarons turn a very light golden brown. Let cool completely on the cookie sheets.
Pipe your frosting of choice onto half of the macaron shells, then sandwich the remaining shells on top. Serve immediately.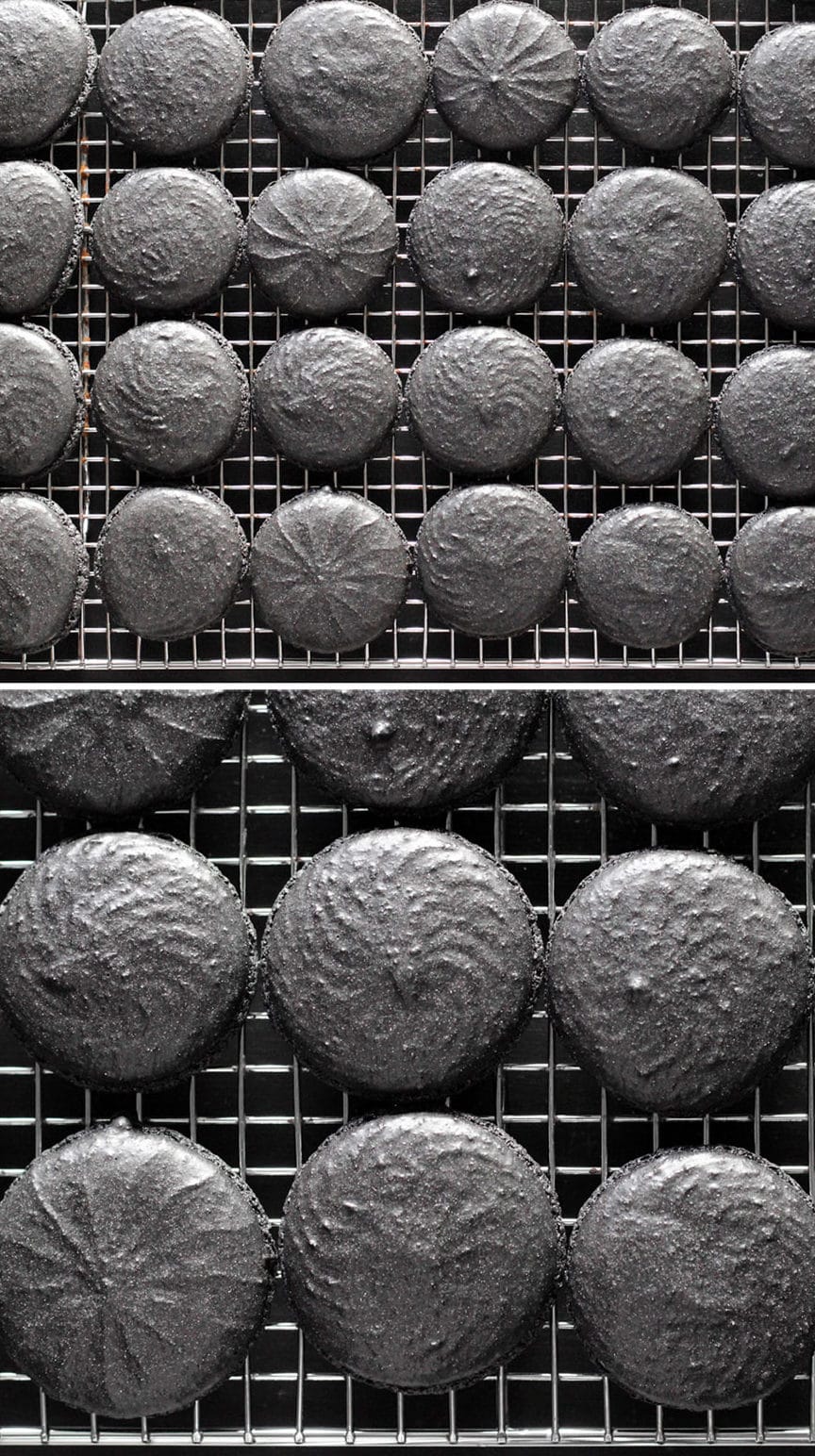 I realized my #804 round piping tip was in the dishwasher right as I was about to pipe the macaron batter, so I substituted it with a #845 closed star tip.  This is why you see the crazy (cool?) star/swirl patterns on the macarons.  If you want perfectly smooth tops, use the #804 round tip  🙂

Enjoy!
.
With love and good eats,
.
– Jess
.