Healthy Chocolate Hazelnut Biscotti
This Chocolate Hazelnut Biscotti is firm, crunchy, and not tooth-achingly sweet — just like all biscotti should be.  The only difference between this recipe and the prepackaged biscotti you'll find at the grocery store is that this one has seriously delicious flavor AND it's good for you!  It's rich from the hazelnuts and decadent from the chocolate, while also being refined sugar free, gluten free, dairy free, and vegan!

When it comes to baking, Biscotti has always been the kind of dessert recipe to psych me out.  Kind of like French Macarons, Angel Food Cake, and Marshmallows.  They may seem like a simple baked good, but oh no, they are not…
First, the dough.  The dough can't spread, like how Chocolate Chip Cookies will, in the oven.  The dough also needs to be pretty firm because you need to form it into a log, bake it, and have it retain its shape while you slice it, and then RE-bake it.
Second, the texture.  Unlike most baked goods, like cakes, cookies, and brownies, which are all supposed to stay soft and moist after baking, Biscotti is supposed to be firm, sturdy, and crunchy.
I pinned a recipe YEARS ago from The Spunky Coconut and finally decided to bite the bullet and try it out.  But you know me, I made a few ingredient swaps (of course) before I baked 'em off.
When I really looked the recipe over, I'm not exactly sure where any sweetness was coming from since there was no sweetener added at all.  A scanty ¼ cup of applesauce and a one-sided dip in very dark (read:  80% cacao) chocolate definitely wouldn't cut it for me — a professed sweet tooth and chocoholic.  So, I added in some coconut sugar for a natural, brown-sugar-like sweetness.
The recipe also called for ground chia seeds aaaaaand I was too lazy to grind up chia seeds so I swapped in ground flaxseed instead.  I find chia to thicken much more than flax, so I replaced the 1 tbs of ground chia seeds with ¼ cup of ground flaxseed.  I increased the amount of applesauce from ¼ cup to ½ cup to add a bit more moisture since I was adding quite a bit more flax.  I also replaced the baking soda with baking powder and added some salt for a more balanced, rounded out flavor.
After baking, slicing, and baking yet again, it was time for the taste test.
Dun, dun, dunnnnn.

And DAMN Y'ALL.  Like, HOLY BISCOTTI guys.  This Chocolate Hazelnut Biscotti is the bomb dot com.
(Sorry, it's hard to form sentences right now because I'm just so dang excited about this recipe!)
THIS CHOCOLATE HAZELNUT BISCOTTI IS WHAT DREAMS ARE MADE OF!  It's tender yet crunchy, it's rich and decadent, and it's perfectly sweet.
Oh, and another bonus?  It's refined sugar free, gluten free, dairy free, and vegan too.  Yes, I'm serious.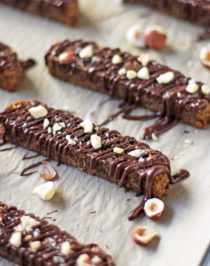 Print Recipe
Pin Recipe
Healthy Chocolate Hazelnut Biscotti
This Healthy Chocolate Hazelnut Biscotti is crunchy and perfectly sweet, you'd never know it's refined sugar free, gluten free, dairy free, and vegan too!
Ingredients
Biscotti:
224g

(2 cups)

Hazelnut Meal

80g

(½ cup)

Coconut Sugar

28g

(¼ cup)

Ground Flaxseed

1

tsp

Double-Acting Baking Powder

¼

tsp

Salt

123g

(½ cup)

Unsweetened Applesauce
Garnish:
2

oz

70% Cacao Chocolate

(melted)

2

tbs

Chopped Hazelnuts
Instructions
Preheat your oven to 325°F and line a cookie sheet with parchment paper.

In a large bowl, stir together the hazelnut meal, coconut sugar, ground flaxseed, baking powder, and salt.

Stir in the applesauce and mix until you get a uniform dough.

Scoop the dough onto the cookie sheet and shape into a log (roughly 4"x8"). Bake for 25 minutes.

Let cool for 20 minutes, then using a sharp knife, slice into ~½" strips. Carefully lay the strips on their sides, then bake for 10 minutes.

Carefully flip the biscotti (I used tongs at first but they're a bit too rough, so just be quick with your hands and you won't burn yourself!) and bake for another 10 minutes. Let cool completely.

Drizzle the melted chocolate over the biscotti and sprinkle with the chopped hazelnuts. Refrigerate until the chocolate firms, then serve and enjoy!
Nutrition Facts
Healthy Chocolate Hazelnut Biscotti
Amount Per Serving (1 piece)
Calories 190
Calories from Fat 108
% Daily Value*
Fat 12g18%
Sodium 100mg4%
Carbohydrates 15g5%
Protein 4g8%
Vitamin C 1.7mg2%
Calcium 60mg6%
Iron 1.8mg10%
* Percent Daily Values are based on a 2000 calorie diet.

Enjoy!
.
With love and good eats,
.
– Jess
.