Healthy Homemade Marshmallows
This recipe for fluffy Healthy Homemade Marshmallows is SUPER quick and easy with just 5 simple ingredients (and no high fructose corn syrup in sight)!
Knowing how utterly obsessed I was with sugar as a child, it's a given that I adored those jet puffed marshmallows from the grocery store.  Seriously, they are pure sugar.  Prooobably the main reason I liked them so much…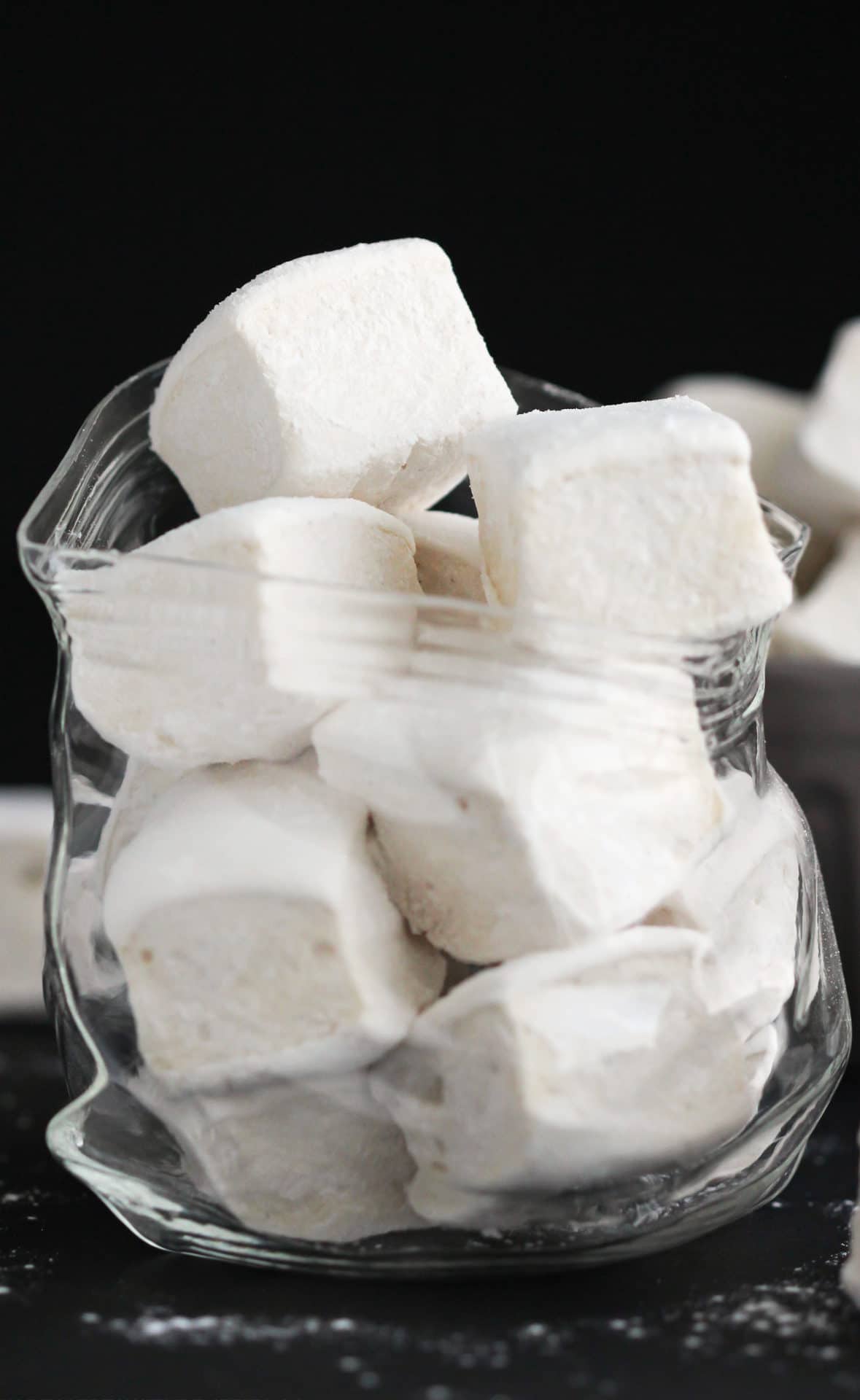 Every time I walk by a bag of marshmallows, I remember sitting on the couch with my friends at a sleepover, popping those white orbs of fluffy clouds into my mouth.  While normal people would eat popcorn or chips during a movie, I'd be over there with my big bag of mallows.  For some reason, I liked that I could down an entire bag without feeling a tad bit full.  I sure did get quite the sugar rush (and crash), though…  tsk tsk, good ol' Jessica, tsk tsk.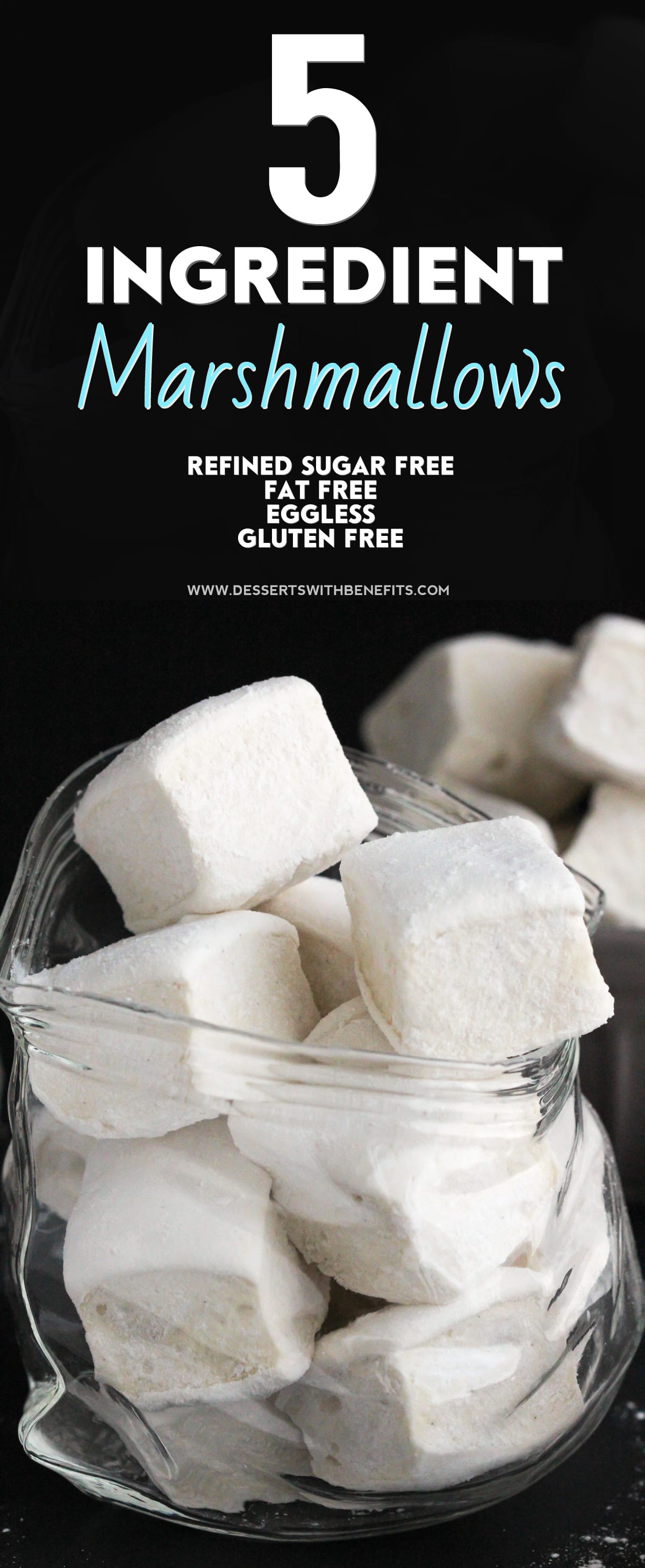 I have been seriously craving marshmallows lately, so I satisfied that craving with these Healthy Homemade Marshmallows.  They're made without the refined white sugar, high-fructose corn syrup, and artificial food dyes too!
Don't let the word "healthy" turn you off.  These marshmallows are just as soft, fluffy, airy, and delicious as the storebought kinds.  And just as sweet, of course!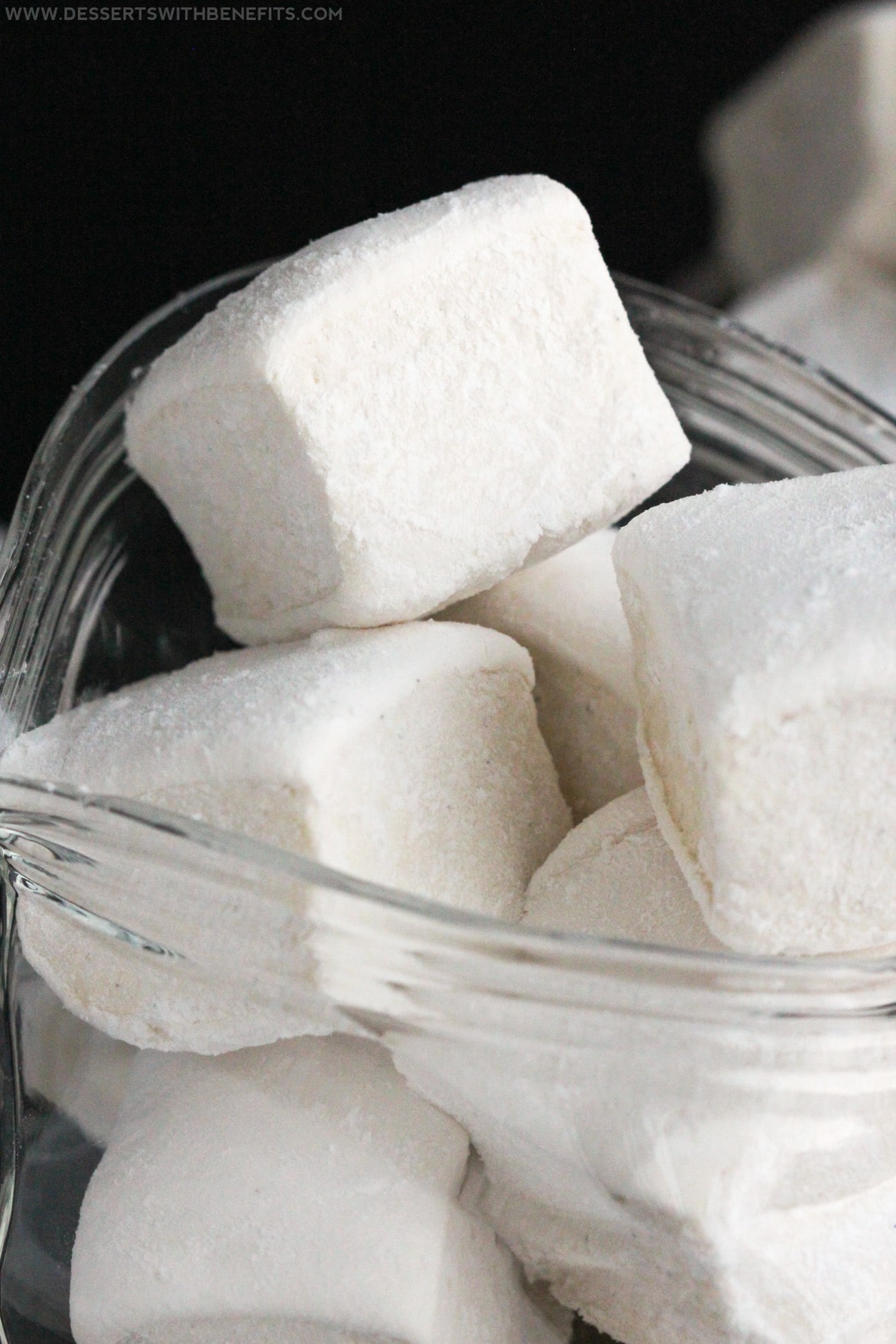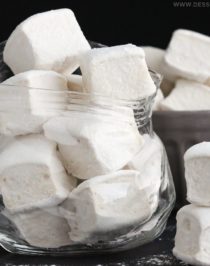 Print Recipe
Pin Recipe
Healthy Homemade Marshmallows
This recipe for fluffy Healthy Homemade Marshmallows is SUPER quick and easy with just 5 simple ingredients (and no high fructose corn syrup in sight)!
Instructions
Spray an 8x11″ rectangle pan with cooking spray and line with parchment paper one way for easy removal later.

In a large stand mixer bowl with whisk attachment, add the gelatin and water.

Place the agave nectar in a small saucepan (I used a

2-quart pan

).  Add a candy thermometer to the pan and place over medium heat. Bring it to a boil.  Remove from the heat when the temperature reaches 230°F.

Turn the stand mixer on low speed and carefully pour in the hot syrup.  Cover the stand mixer with a kitchen towel to avoid any splatters on your counter, and increase the mixer speed to high.  Beat for 8 minutes, or until very thick, shiny and voluminous.

Add the vanilla paste and salt and beat for 1 more minute.

Working quickly, scoop the mixture into the prepared pan and spread it out using an offset spatula.  Let sit for 5+ hours, or overnight.

Dust your countertop with the arrowroot starch.  Gently flip the marshmallows onto the counter and slice the marshmallows.  Toss the marshmallows around in the starch.  Serve and enjoy!
Nutrition Facts
Healthy Homemade Marshmallows
Amount Per Serving (2 marshmallows)
Calories 70
% Daily Value*
Sodium 20mg1%
Carbohydrates 17g6%
Protein 1g2%
* Percent Daily Values are based on a 2000 calorie diet.
I never cave into buying a bunch of junk food at the store anymore, even when I walk by Hershey bars or big bags of marshmallows, because I know how terrible quality the ingredients are.  I feel like if a company uses crap ingredients, they think of their customers as crap (actually, they probably don't think about their customers at all…).
My "rule" is that if I'm going to eat sugar, I gotta make it myself and from scratch using the best quality ingredients available to me!  While these Healthy Homemade Marshmallows may not be those most nutritionally balanced snack you can find, I think the main point is that it's a much better option than anything you can buy from the store.  We aren't ingesting any genetically modified high-fructose corn syrup, artificial food dyes, bleached sugars, or preservatives.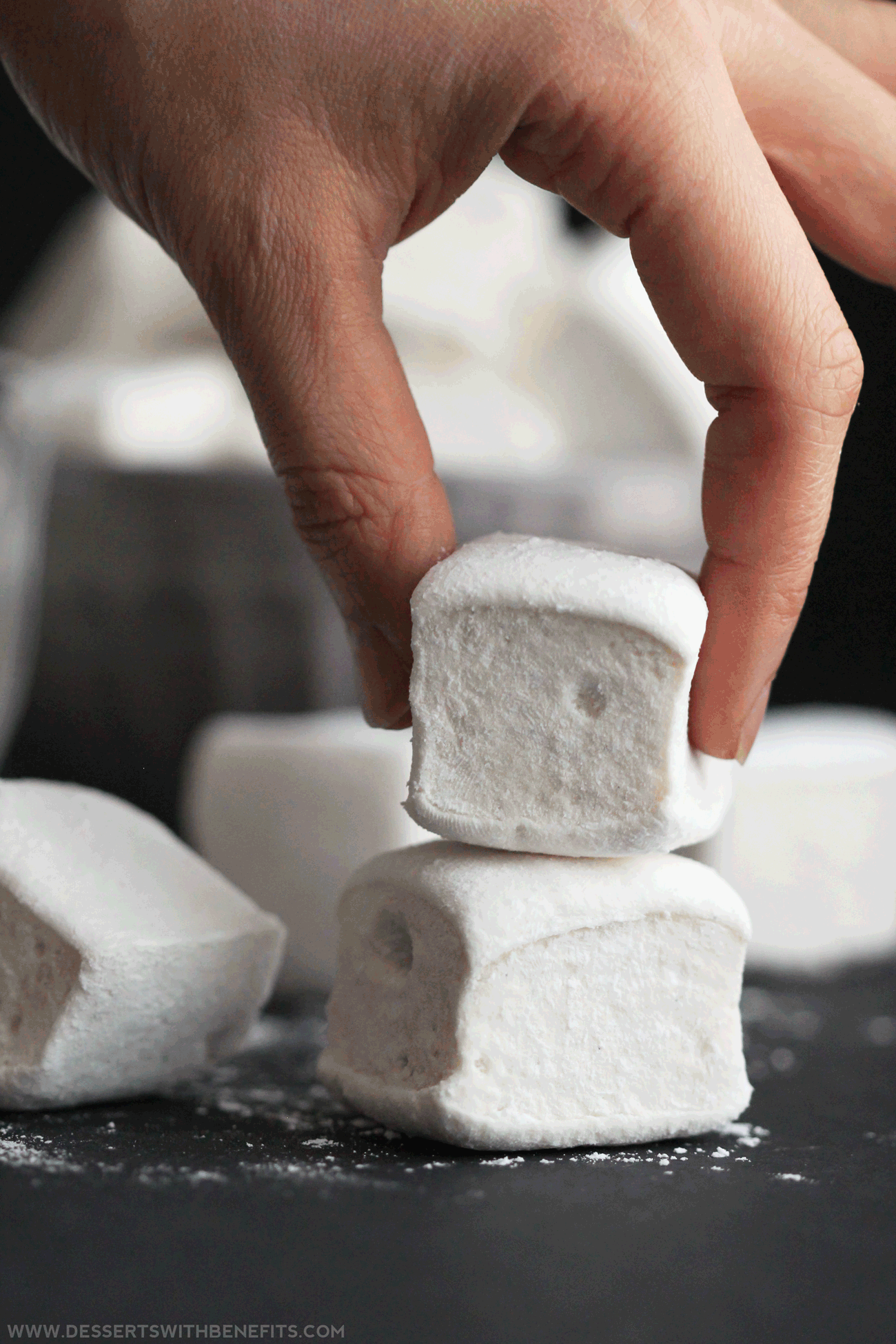 These were so good, I know I'm going to make them again soon!  I might want to try a peppermint-swirled variation or incorporate chocolate somehow.   Mmmmm.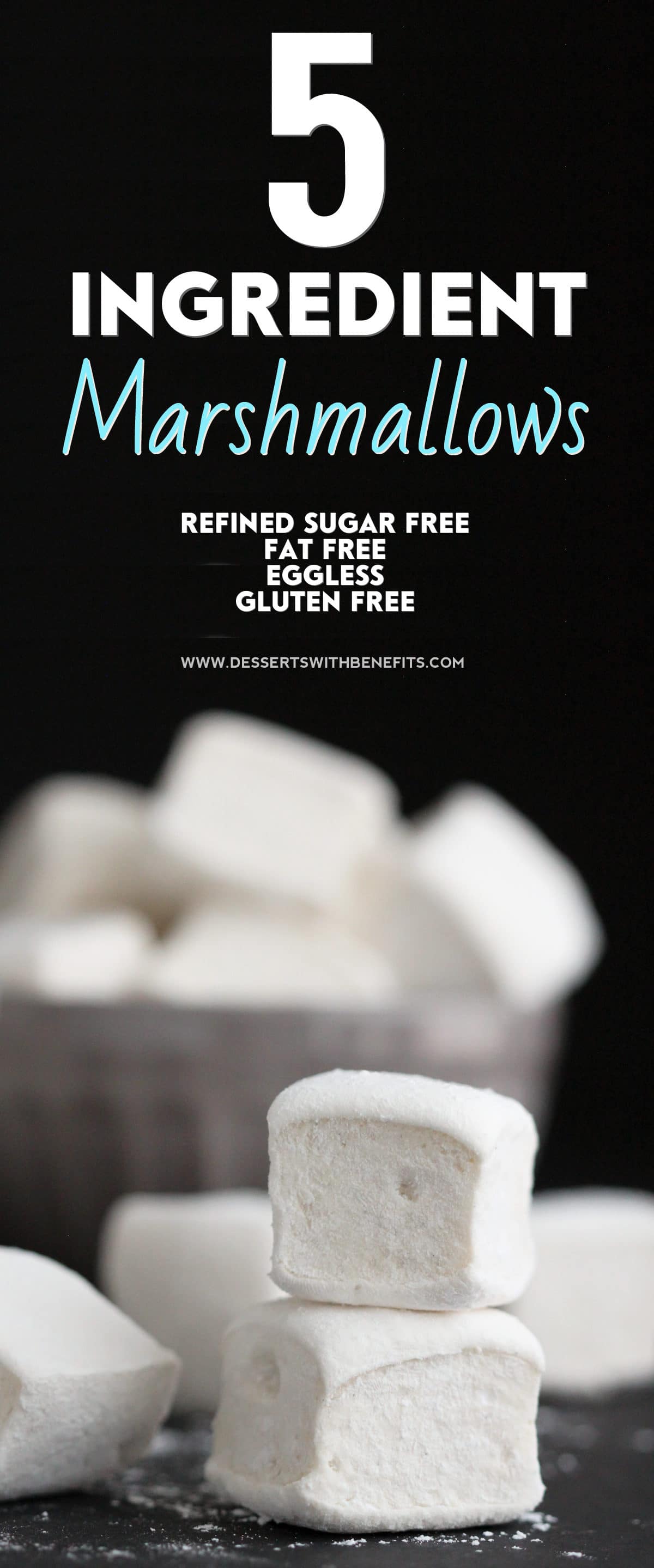 Enjoy the recipe!
.
With love and good eats,
.
– Jess
.
PS:  Love marshmallows but don't want any of the sugar?  Check out my Healthy Sugar-Free Marshmallows!
.