Healthy Homemade Hot Cocoa
I used to drink Swiss Miss hot cocoa all. the. time.  I am so ashamed.  Who knows how much white sugar and dangerous hydrogenated oil I drank from that.  I remember I used to buy the hot cocoa envelopes in the summer, just so I could snack on those dehydrated mini marshmallows.  Are you laughing at me?  Because I'm kind of laughing at myself right now.
So if you are like me, and love hot chocolate (and anything else chocolate, for that matter), you will love this easy Healthy Homemade Hot Cocoa!  I really hope that we can all stop buying those unhealthy hot cocoa mixes from the grocery store.  This Hot Cocoa is just as sweet and creamy as Swiss Miss, requires only 3 ingredients, and takes the same amount of time to make as the stuff in the envelope.  It is absolutely delicious on its own, but even more authentic with some 
homemade marshmallows
  😉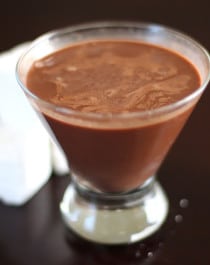 Print Recipe
Pin Recipe
Healthy Homemade Hot Cocoa
Ingredients
Instructions
In a small saucepan, whisk together the cocoa and sweetener. Add about ¼ cup of the almond milk and whisk together until smooth. Slowly whisk in the remaining almond milk.

Place pan over medium heat and whisk occasionally until hot. Remove from the heat, pour into a cup, and enjoy!
I am sorry for not sharing this recipe sooner.  I know a lot of you froze your butts off over the last few months.  And maybe some of you are still freezing.  I know I am with New York's 40 degree weather!  Oh, how I miss Arizona…  but better late than never I suppose.  The main point is that there is finally a Healthy Homemade Hot Cocoa recipe to warm your frozen solid hands 😉
.
With love and good eats,
.
– Jess
.