Healthy Homemade Pumpkin Spice Marshmallows
These Healthy Homemade Pumpkin Spice Marshmallows are literally the fluffiest, most flavorful, and FUN mallows I've ever made!  Delicious and packed with spices, such as cinnamon, ginger, and nutmeg, and perfectly sweet too.  One mallow and you'll seriously have a hard time believing these are refined sugar free, fat free, gluten free, and all natural.
*happy dances*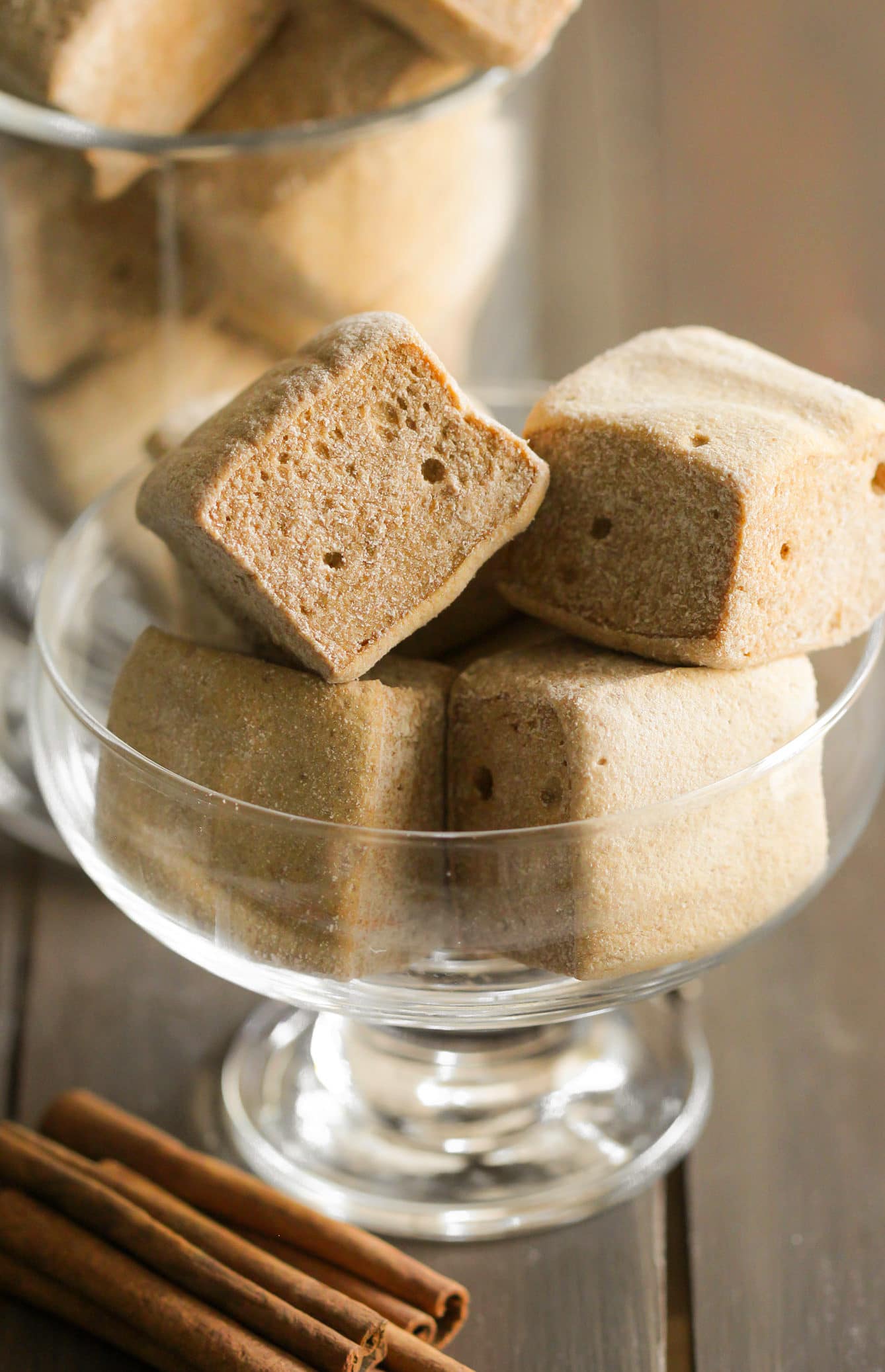 Forget Kraft's Pumpkin Spice Marshmallows, which are filled with corn syrup, sugar, artificial flavors, and synthetic food dyes, and make 'em at home!
Dress up your Hot Cocoa and dunk a couple of these Healthy Homemade Pumpkin Spice Marshmallows inside.  You could probably add these to a hot cup of coffee too.
Just sayin'  😉
I'm also sure that these would make THE best S'mores ever.  Like, ever.
It's about to get real pumpkin-y in here…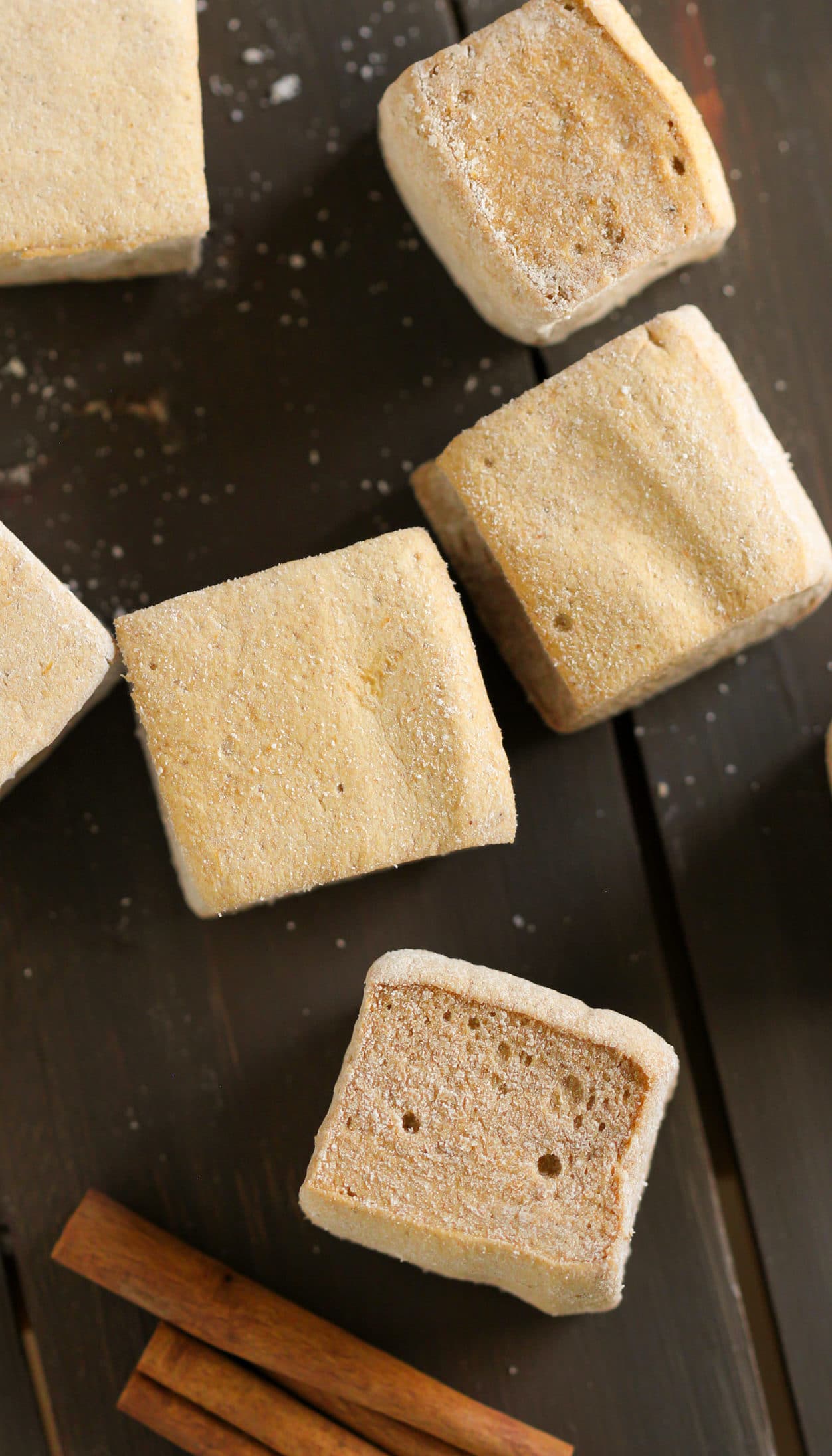 Healthy Homemade Pumpkin Spice Marshmallows
Prep Time: 30 minutes
Cook Time: 15 minutes
Total Time: 1 hour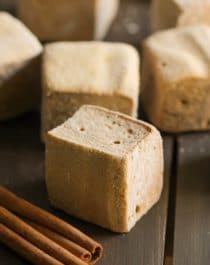 Ingredients:
Marshmallows:
6 tbs Cold Water
82g (⅓ cup) 100% Pure Pumpkin Puree
¼ cup (40g) Unflavored Gelatin
315g (¾ cup + 3 tbs) Agave Nectar
21g (1 tbs) Molasses
1 tsp Vanilla Extract
1½ tsp Ground Cinnamon
¾ tsp Ground Ginger
⅛ tsp Nutmeg
⅛ tsp Cloves
⅛ tsp Salt
Coating:
Directions:
Spray an 8×11″ rectangle pan with cooking spray and line with parchment paper one way for easy removal later.
In a large stand mixer bowl with whisk attachment, add the water, pumpkin, and gelatin.  Mix on low speed until completely combined, then turn the mixer off.
Place the agave nectar and molasses in a small saucepan (I used a 2-quart pan).  Add a candy thermometer to the pan and place over medium heat. Bring it to a boil.  Remove from the heat when the temperature reaches 230°F.
Turn the stand mixer on low speed and carefully pour in the hot syrup.  Cover the stand mixer with a kitchen towel to avoid any splatters on your counter, and increase the mixer speed to high.  Beat for 8 minutes, or until very thick, shiny and voluminous.
Turn the mixer on low speed and add the vanilla extract, cinnamon, ginger, nutmeg, cloves, and salt.  Increase the mixer speed back to high and beat for 2 more minutes.  Scoop the mixture into the prepared pan and spread it out using an offset spatula.  Let sit overnight.
In a small bowl, whisk together the starch, erythritol, and cinnamon.  Dust your countertop with the mixture.  Gently flip the marshmallows onto the counter and slice (I sliced my mallows 7×5 to get 35 large mallows, but you can slice them however you like).  Toss the marshmallows around in the starch mixture and dust off the excess.  Serve and enjoy!
Notes:
Store in a tightly sealed container in the fridge for ~1 week.
Unfortunately, due to these containing pumpkin puree, these do not work in Krispy Treats.  I tried, and failed…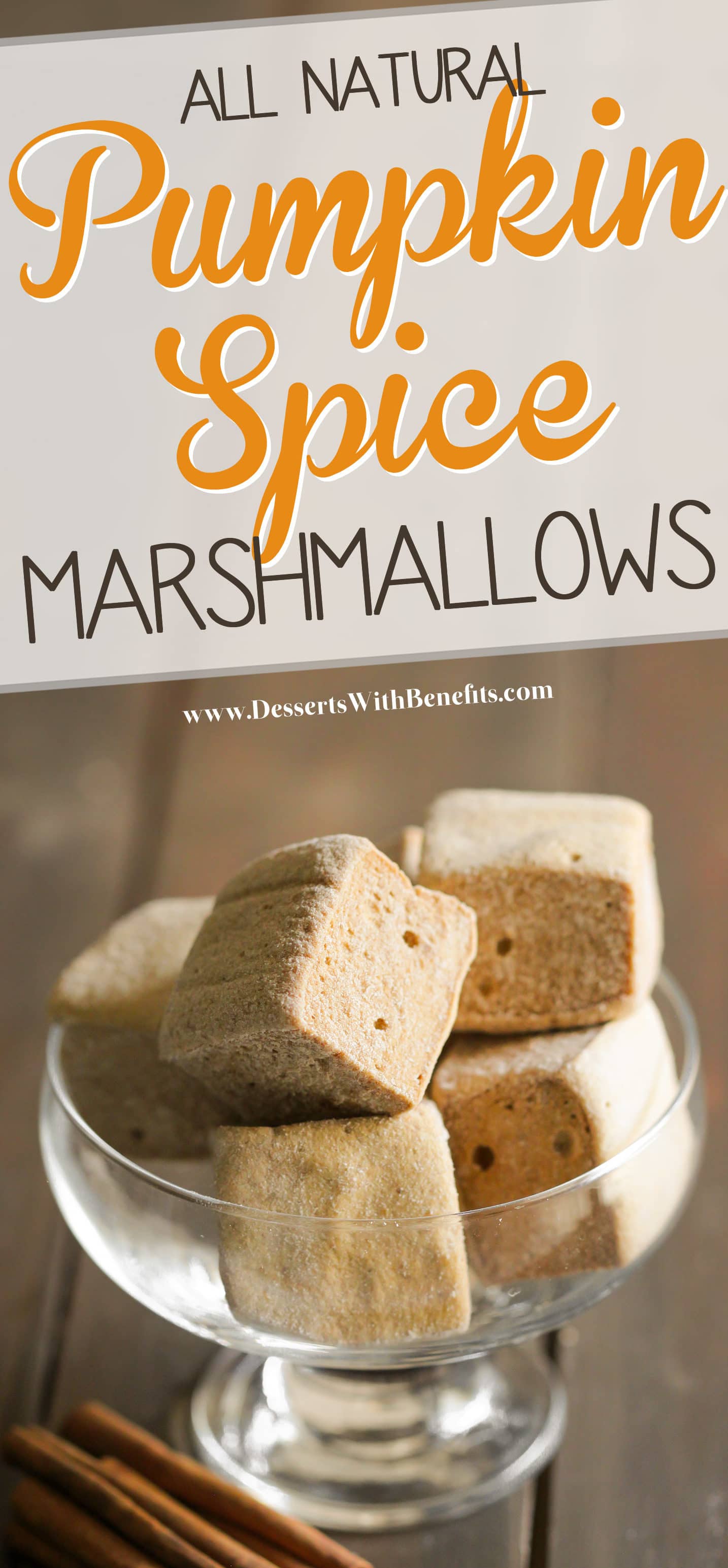 It's magic in a mallow.  Enjoy!
.
With love and good eats,
.
– Jess
.