Healthy Homemade Sugar Free Marshmallows
These Healthy Homemade Sugar Free Marshmallows have everything you could ever want in a marshmallow — they're light, they're fluffy, they're springy, they're sweet, and they're delicious!  They just happen to be all natural, fat free, sugar free, low carb, eggless, and gluten free too!
Please please pleeeease don't laugh at me, but it took me thirteen trials to perfect these stupid Healthy Homemade Sugar Free Marshmallows (!!!)
*rolls eyes*
After trial seven, I wanted to rip my hair out, but I kept on trying.  As I always do, like with my (finally) healthified 
Red Velvet Cake
 that refused to turn out bright red until basically trial eight hundred thousand.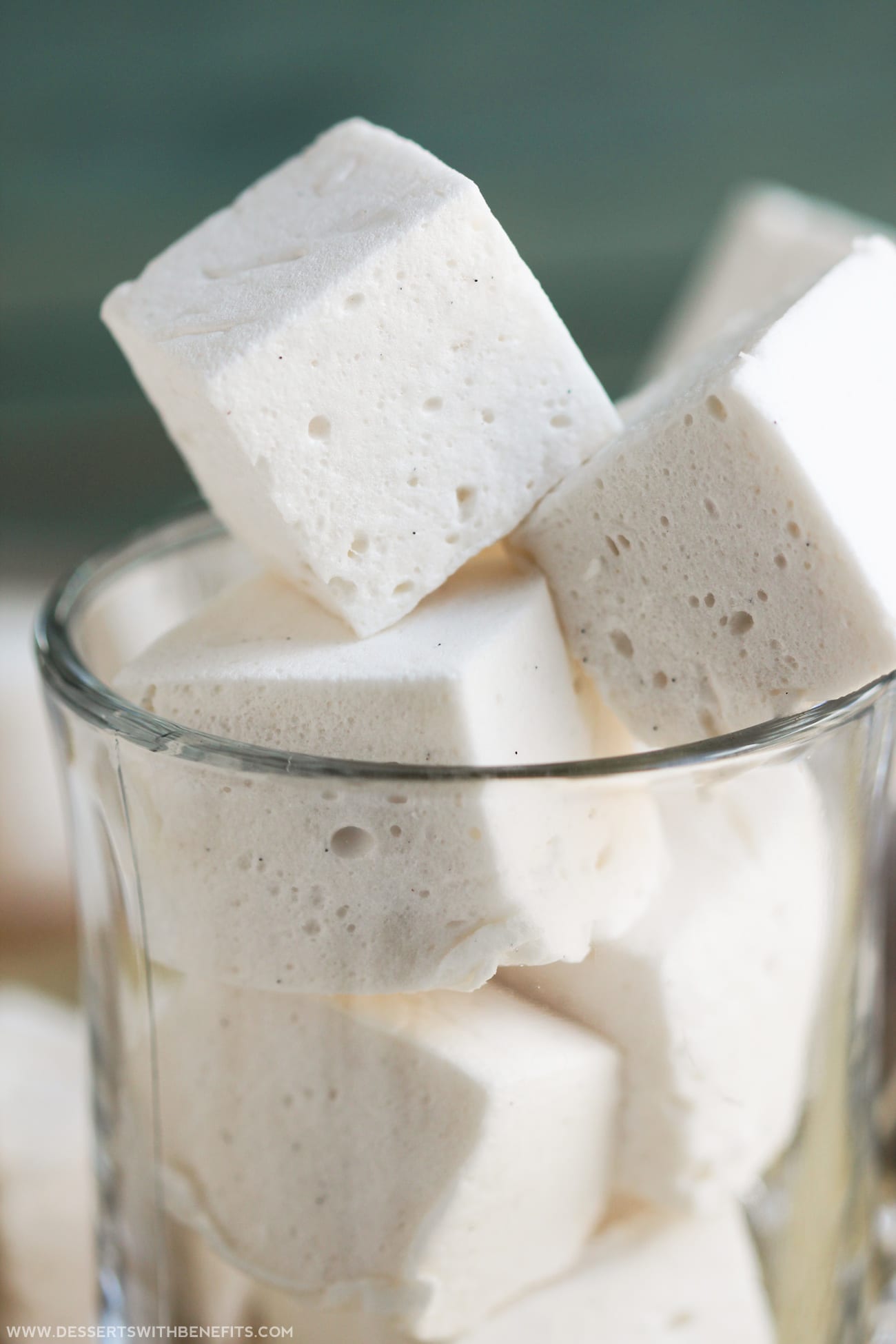 I'm sure you're wondering why it took me so long to perfect this recipe.  Well, I first tried making my classic 
Homemade Marshmallows
 using vegetable glycerine (a natural, sugar free syrup) in place of the agave.  The marshmallows turned out really lightweight and they deflated easily.  They were sweet but had a bitter aftertaste which I was not fond of.  I tried a few more batches reducing the water content and increasing the gelatin, but that either made the marshmallows really sticky and not slice properly or it made them dry out the next day.  All of the batches had a strange "off" taste (kind of like when you sip diet soda after regular soda…  you can just 
tell
).
I started from scratch and tried developing a brand new recipe.  I omitted the vegetable glycerine and tried using granulated erythritol instead.  The marshmallows looked really good as I spread them into the pan — I was so excited to slice them!  After they had set and I sliced them all up, I took a bite.
They were terrible.
Well, they actually tasted amazing but the granulated erythritol stayed granulated.  The marshmallows were crunchy.  Gross.  I did some research and found out that cream of tartar could prevent this so I tried that in a couple more batches.  Didn't work.  Just my luck!
I then tried a couple batches using both vegetable glycerine and granulated erythritol.  They turned out alright, but the marshmallows deflated and the erythritol always stayed granulated!  Oh, my poor broken heart…

I was fresh out of ideas.  Or at least I was until I referred back to my original marshmallow recipe.  I decided to use vegetable glycerine instead of the agave, use powdered erythritol, and add a bit of stevia.
It worked out perfectly!!  I was SO so happy I almost ate half of the entire batch in one sitting, hehehe.  I couldn't believe the marshmallows finally turned out.  I was honestly expecting to make another flop, as sad as that is.  These marshmallows are light and fluffy, yet firm enough to slice.  And they're sweet with just the right amount of vanilla, but not overly sweet like the storebought kinds.
If you are craving marshmallows but don't want all of the calories, sugar, high-fructose corn syrup, and artificial food dyes, you've gotta give these Healthy Homemade Sugar Free Marshmallows a try!
Healthy Homemade Sugar Free Marshmallows
Prep Time: 30 minutes
Cook Time: 15 minutes
Total Time: 1 hour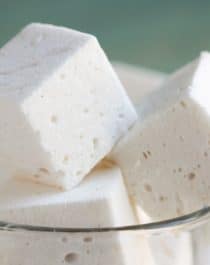 Calories per serving: 40
Ingredients:
Directions:
Spray an 8×8″ brownie pan with cooking spray and line with parchment paper one way for easy removal later.
In a large stand mixer bowl with whisk attachment, add the gelatin and water.  Mix on low until all the gelatin has soaked up the water, then turn the mixer off.
In a small saucepan (I used a 2-quart pan), whisk together the glycerine, erythritol, and water.  Add a candy thermometer to the pan and place over medium-high heat. When the temperature reaches 175°F, cook for 3 minutes, then increase the heat to high.  Cook until the temperature reaches 200°F then remove from the heat.
Turn the stand mixer on low speed.  Carefully and slowly pour in the hot syrup.  Increase the mixer speed to high.  Beat for 4 minutes, or until very thick, shiny and voluminous.
Add the vanilla paste and salt and beat for 2 more minutes.  GET READY.  STARTING NOW, YOU MUST WORK QUICKLY.  If not, your marshmallow will immediately start to set and be impossible to spread into the pan.
The second you turn off the mixer, scrape down the whisk attachment, and scoop the mixture into the prepared pan.  Spread it out using an offset spatula.  My marshmallow was already starting to set in the pan so I ended up pressing the offset down on the marshmallow to level it out and try to get rid of air pockets.  Cover with a sheet of parchment paper and another brownie pan the same size.  Place something heavy on the top-layer brownie pan (I used a 5lb weight).  Let sit for overnight.
Transfer the marshmallow out of the pan and onto a cutting board.  Slice the marshmallows and toss them in a bowl with the starch.  Enjoy!
Notes:
To store, place the marshmallows in an airtight container for up to 1 week.
These marshmallows do not work in homemade krispy treats…  I tried it.
All images and text ©
.
.
Here is the recipe's nutrition label: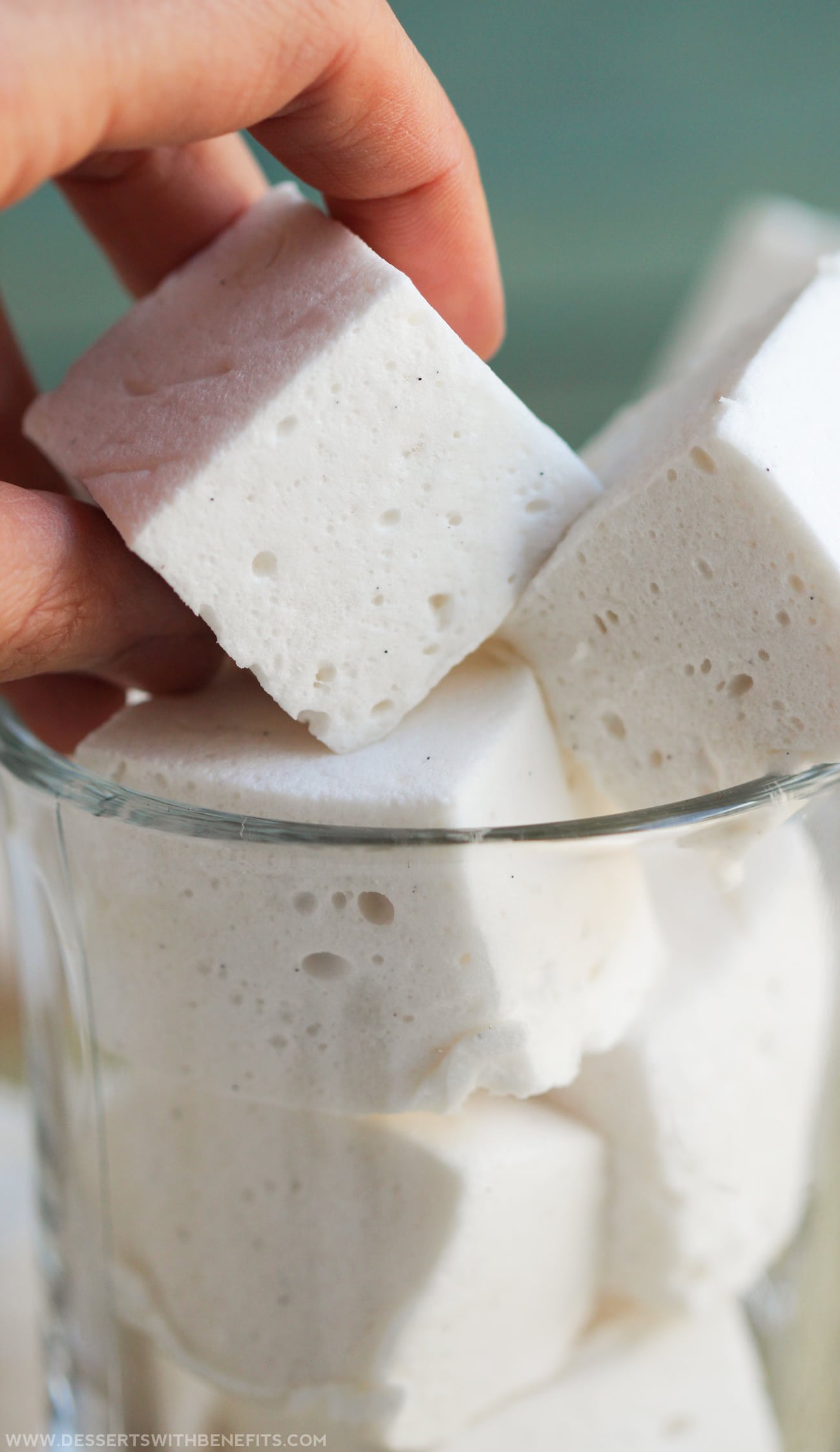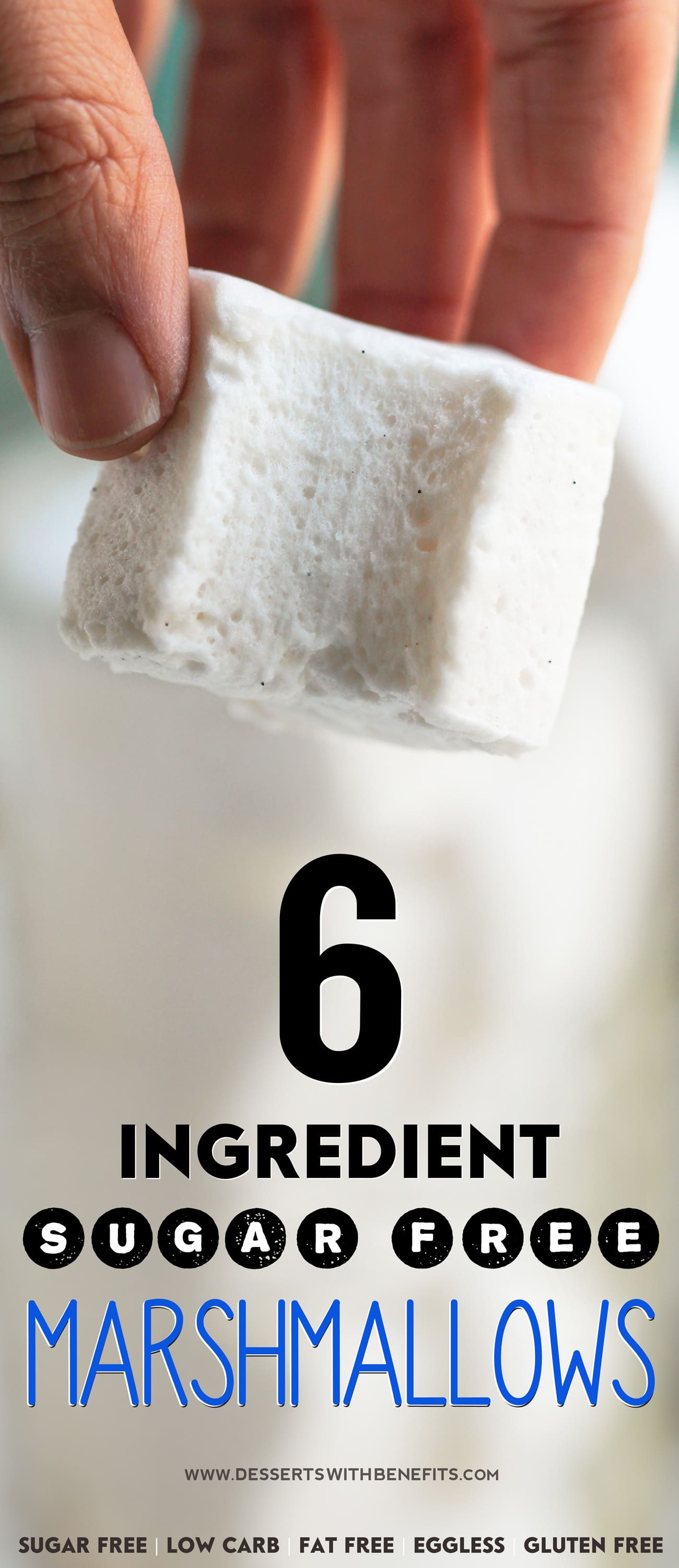 .
With love and good eats,
.
– Jess
.