Healthy Matcha Green Tea Marshmallows (+ Video!)
This recipe for UBER fluffy and cloud-like Healthy Matcha Green Tea Marshmallows is surprisingly fun to make and has just 6 ingredients…  with no high-fructose corn syrup in sight!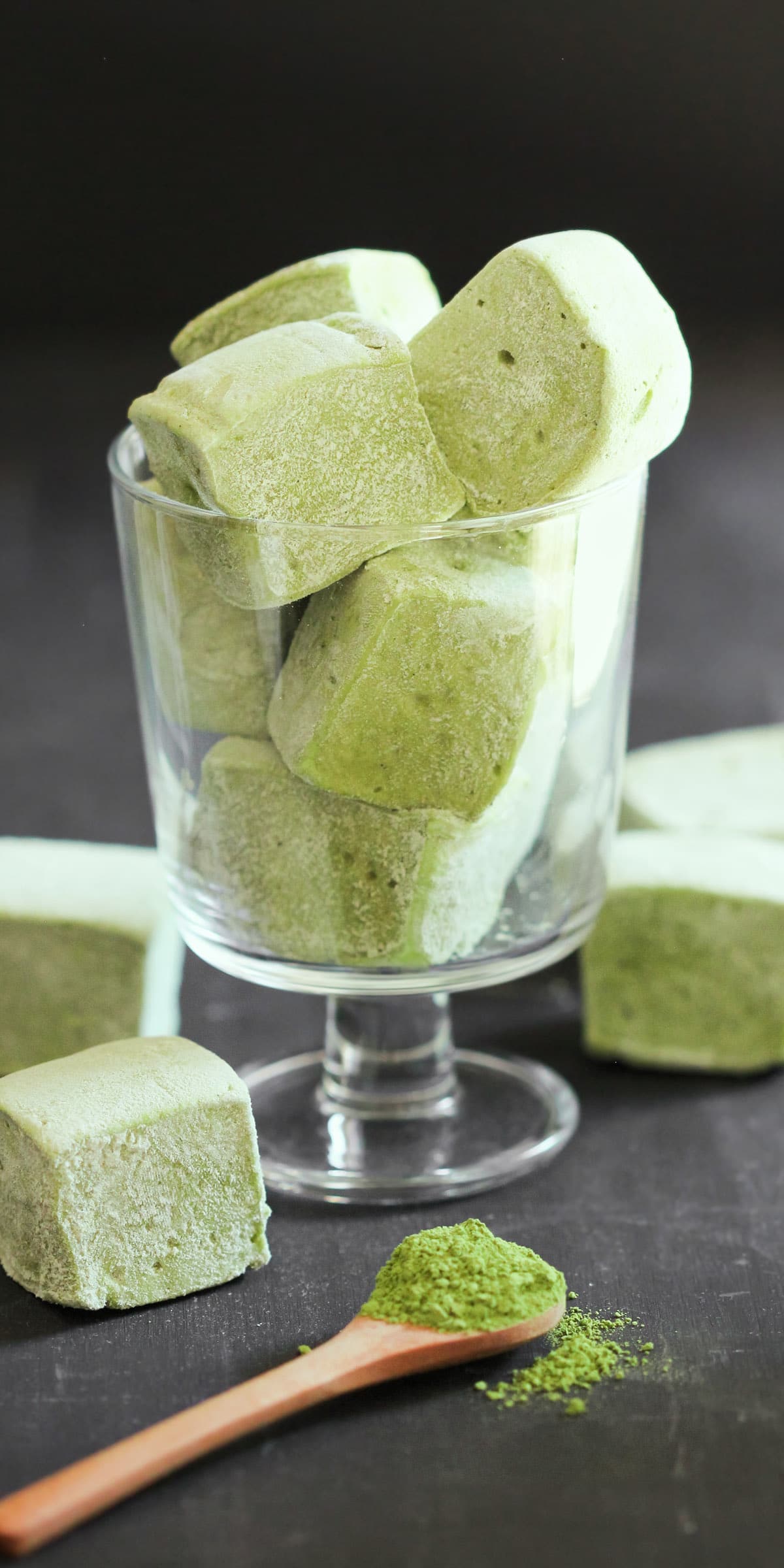 Did you know that storebought marshmallows are made with many, many, less than ideal ingredients?  Let me list 'em here just in case you were curious:
Corn Syrup, Sugar, Modified Corn Starch, Dextrose, Water, Gelatin, Tetrasodium Pyrophosphate, Natural and Artificial Flavor, Blue 1.
YUMMY!
(That was sarcasm, by the way…)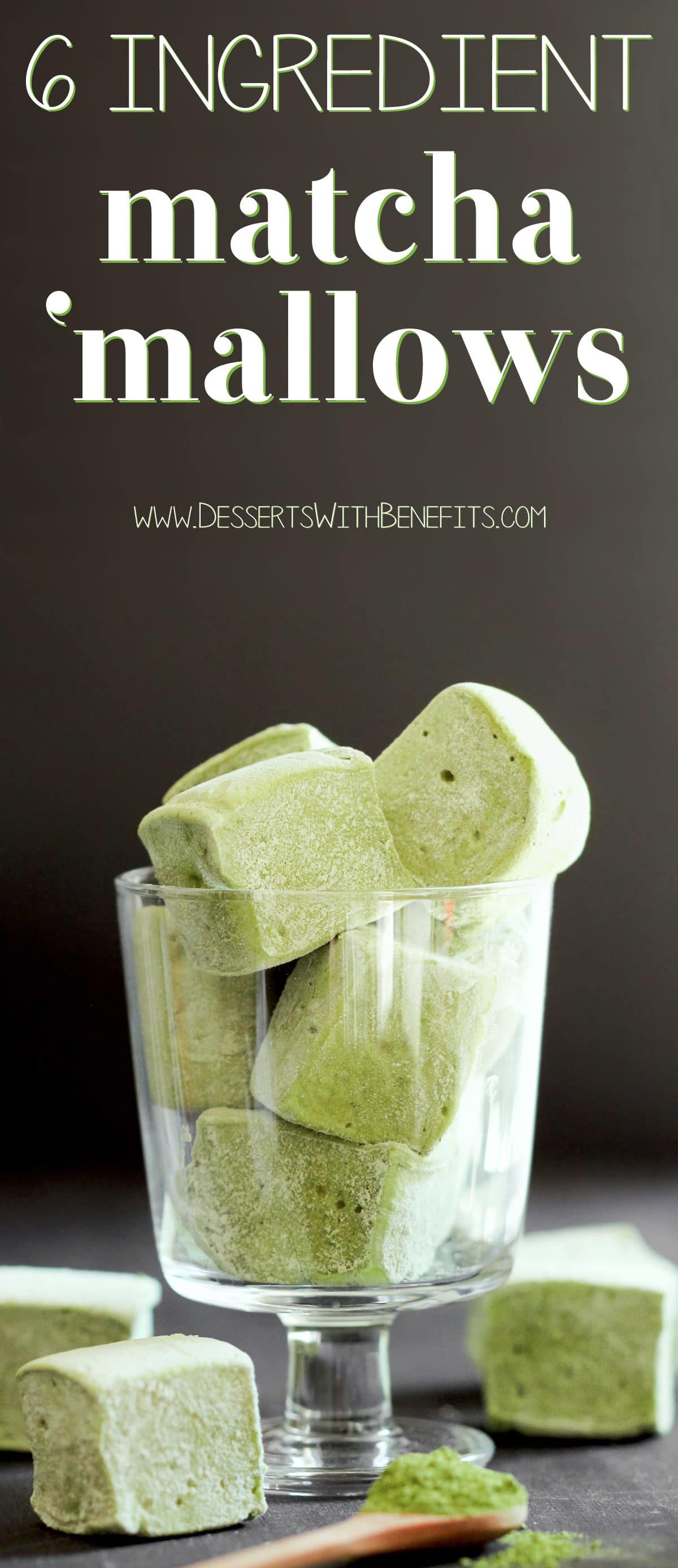 Storebought marshmallows are made with three different kinds of refined sugars, genetically modified corn starch, and artificial food coloring.  Yes, there's food dye in those white mallows.  Apparently blue dye makes them appear more white.
*rolls eyes*
These Healthy Matcha Green Tea Marshmallows sure don't need any food coloring to look this green, can you believe it?  These are naturally colored with matcha, naturally flavored with vanilla and almond extract, and naturally sweetened with agave nectar.
If you're craving something sweet, sophisticated, and unique, but don't want to consume a bunch of white sugar and corn syrup, then these mallows are for you!
Don't let the word "healthy" turn you off.  These Healthy Matcha Green Tea Marshmallows are just as soft, fluffy, airy, and delicious as the storebought kinds.  And just as sweet, of course!
Healthy Matcha Green Tea Marshmallows
Prep Time: 30 minutes
Cook Time: 30 minutes
Total Time: 1 hour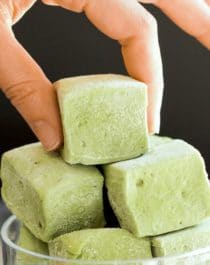 Calories per serving: 70
Ingredients:
Marshmallows:
Coating:
⅓ cup Arrowroot Starch
¼ cup Powdered Erythritol (optional, but recommended)
½ tbs Matcha Powder
Directions:
Spray an 8×11″ rectangle pan with cooking spray and line with parchment paper both ways for easy removal later.
In a stand mixer bowl with whisk attachment, add the gelatin and water.
Place the agave nectar in a small saucepan (I used a 2-quart pan).  Add a candy thermometer to the pan and place over medium heat. Bring to a boil.  Remove from the heat when the temperature reaches 230°F.
Turn the stand mixer on low speed and slowly and carefully pour in the hot syrup.  Cover the stand mixer with a kitchen towel to avoid any splatters on your counter, and increase the mixer speed to high.  Beat for 3 minutes.
Working quickly, turn off the mixer, add the matcha powder, and turn mixer on medium-low speed.  Mix until the matcha is combined, then return speed to high.  Beat for 5 minutes, or until very thick, shiny, and voluminous.
Add the vanilla paste, almond extract, and salt and beat for 1 more minute.
Working quickly, scoop the mixture into the prepared pan and spread it out.  Let sit for 5+ hours, or overnight.
In a bowl, whisk together the starch, erythritol, and matcha powder.  Dust your countertop with the mixture.  Gently flip the marshmallow block onto the counter and coat in the starch.  Slice the marshmallows and coat them completely in the starch.  Enjoy!
Notes:
To store, place the marshmallows in an airtight container for up to 1 week.
.
Here is the recipe's nutrition label: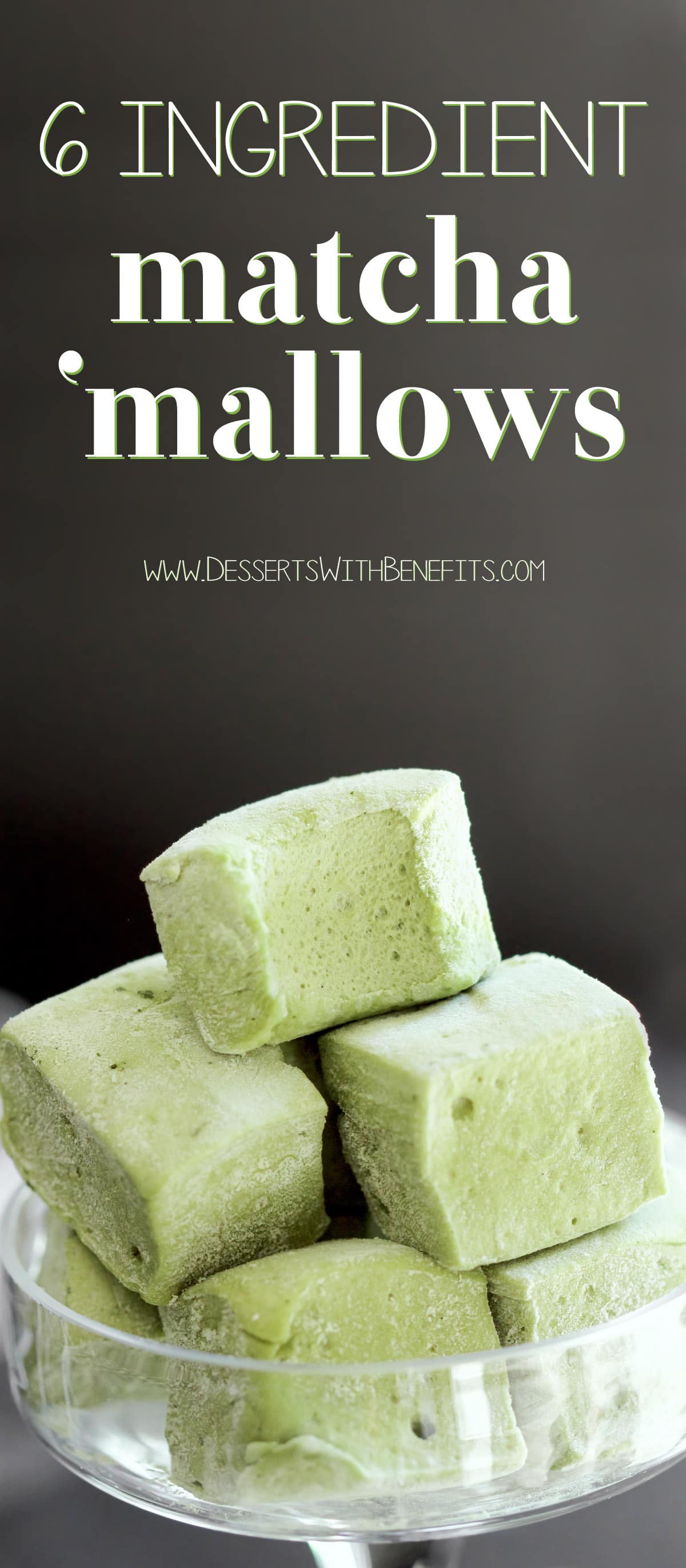 You've gotta give these Healthy Matcha Green Tea Marshmallows a try.  Enjoy!
.
With love and good eats,
.
– Jess
.
PS:  If you're looking for classic mallows, I've got 'em!  I also have a sugar-free version for ya  🙂
.