Healthy Mocha Cake with Mocha Frosting
This post has sponsored by Collective Bias, Inc. and Starbucks®.  All opinions are mine alone!  #SavorHolidayFlavors #CollectiveBias
This Mocha Cake with Mocha Frosting is infused with enough coffee and chocolate to make your taste buds fall in love.  Coffee enthusiasts, gather around and rejoice!  You get TWICE the coffee flavor in this double whammy mocha dessert.  This cake is super fluffy and moist and the frosting is perfectly chocolatey and sweet, you'd never know it's all sugar-free, low-carb, high-protein, and gluten-free too!
This Mocha Cake is just plain addictive.  It tastes like it's full of sugar, but really, it doesn't have any sugar added!  I wish I could hand you a slice right now through the screen so you can taste it for yourself, but that technology doesn't exist.  YET.
The cake itself is soft and delicate with a moist crumb, and is packed with deliciously sweet coffee-enhanced chocolate flavor.  The frosting is smooth and creamy, and just like the cake, it's got enough coffee and chocolate flavor that will make you go:  one bite, two bites, thirtieth bite  😉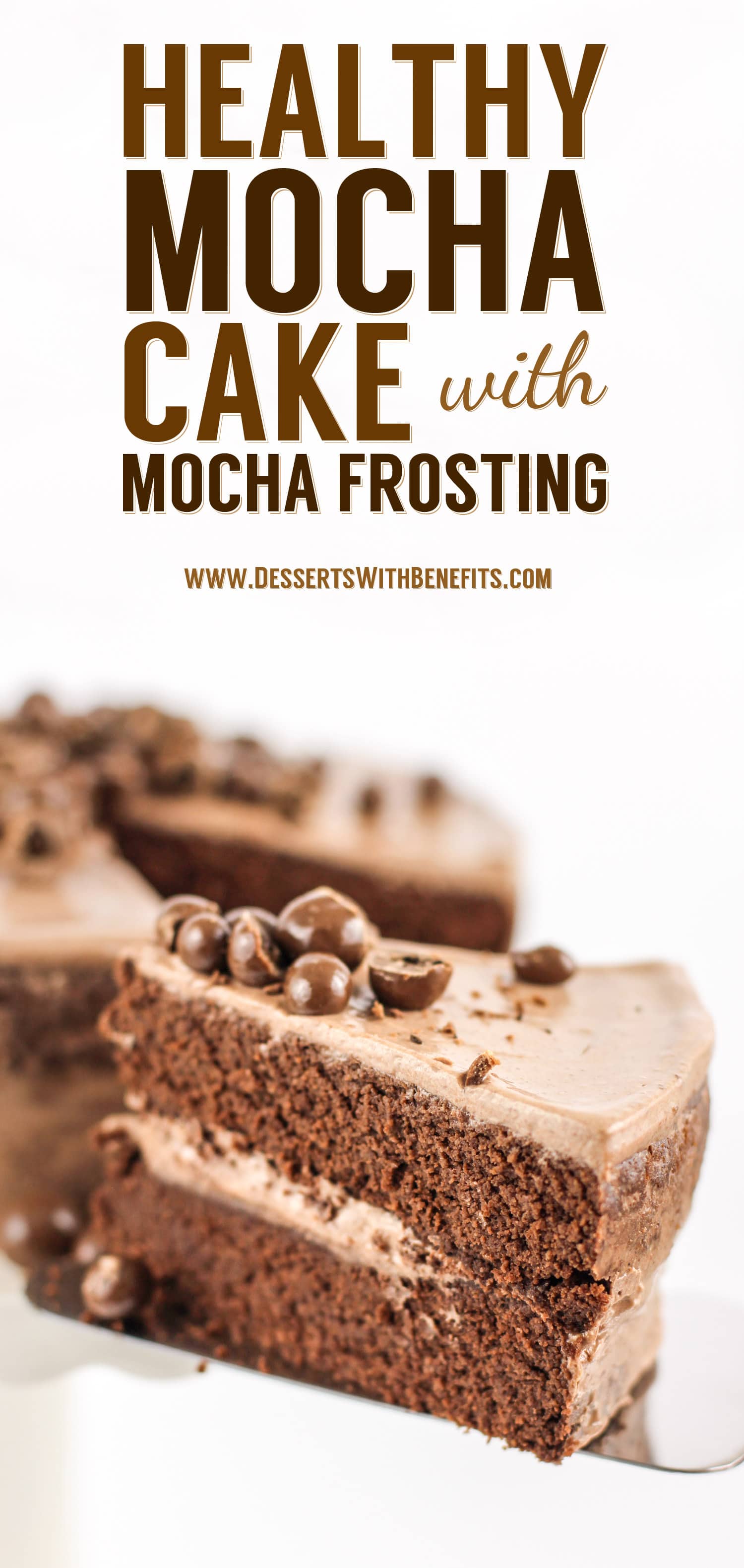 November is ending and December is upon us, so that means…  bring on the desserts and hot mugs of coffee and holiday gift shopping!!!  *jumps up and down*
If you're like me and have surpassed the "coffee lover" nickname (I prefer "coffee QUEEN"), then getting coffee and coffee accessories for the holidays is always THE. BEST.
PERIOD.
Are you getting ready for a holiday gathering with friends and family?  Or do you know someone as in love with coffee as some people are to their spouses?  Then you should definitely take a glance through this gift guide — made by a coffee lover (me), for coffee lovers (you)!

I have never really appreciated how thoughtful personalized mugs were until my boyfriend got me one.  It has my 3 favorite pictures of Cherry (my adorable pup!) on it.  I loved it so much that he got me another, and another.  I'm pretty sure another one is in my future…
And the syrups and ground coffee really depend on each person's preferences.
Personally, I just like vanilla syrup in my coffee (I like to use my Homemade Vanilla Syrup!).  I almost exclusively drink medium roast coffee, and I just found my go-to for the holidays:  the Starbucks® Holiday Blend!  It's smooth, balanced, and rich, with sweet maple notes.  Every sip celebrates the joy of the season.
Hover over the image below to look through Starbucks® coffee blends!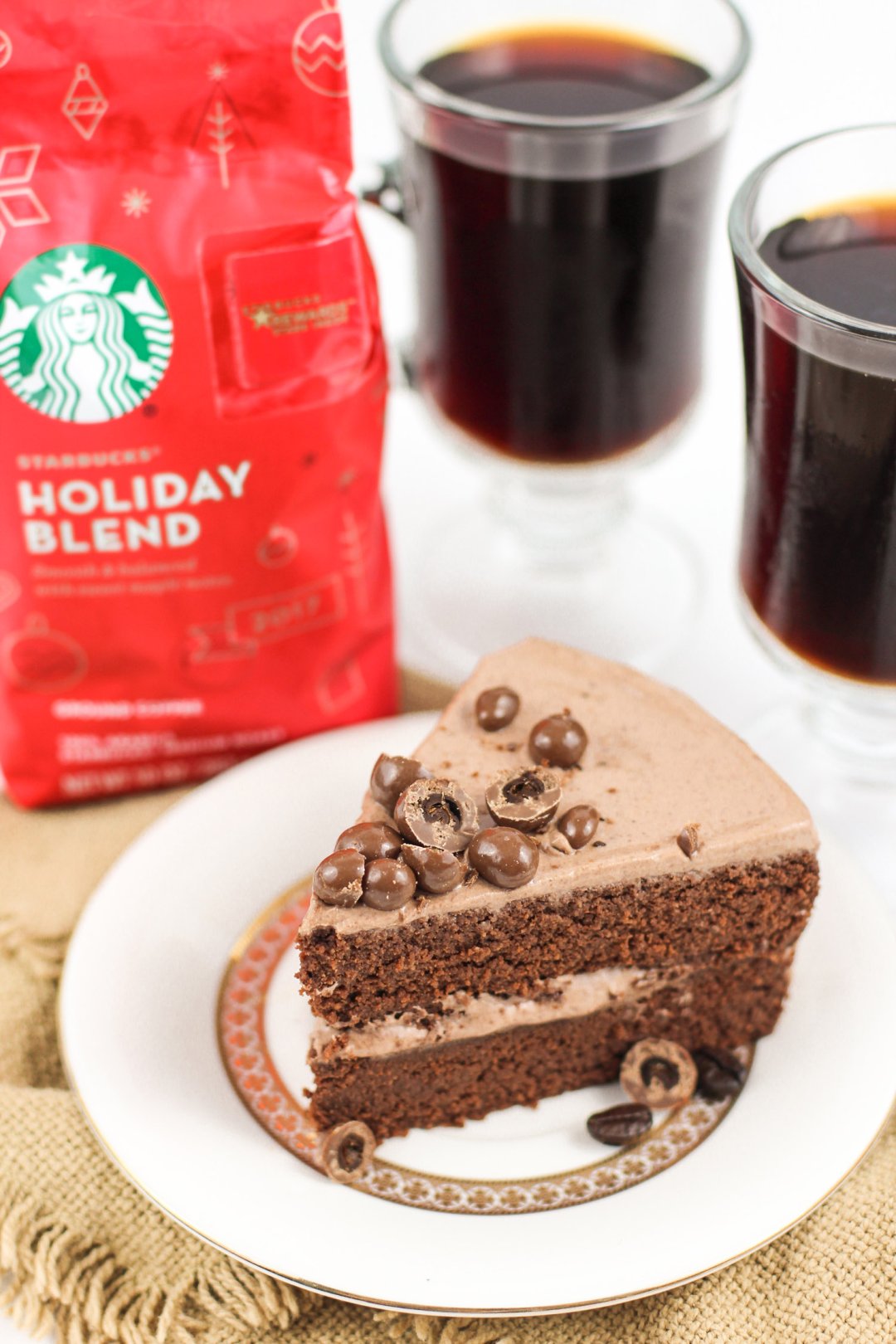 You'll be sure to find something on the Starbucks® Holiday coffee line that fits perfectly into your holiday season, whether it's getting together for coffee at a friend's house, or making this coffee-infused dessert for your family. Purchase three (3) qualifying Starbucks® coffee (10-20oz), Starbucks® K-Cup® packs (9-32ct.), VIA® Instant (5-8ct), Starbucks® Syrups (12.17oz), or Starbucks® Cookie Straw packs (9.17oz) products in a single transaction at Walmart stores from 11/1/17-12/26/17 and receive 75 bonus stars when you upload your receipt at Starbucks-Stars.com.
The holidays are about togetherness.
Pair a hot mug of freshly brewed Starbucks® Holiday Blend with a slice of this Healthy Mocha Cake, and you're ready to take on the day.
Coffee + Healthy Dessert = HEAVEN!
You can't go wrong with something a little lighter for the holiday season  🙂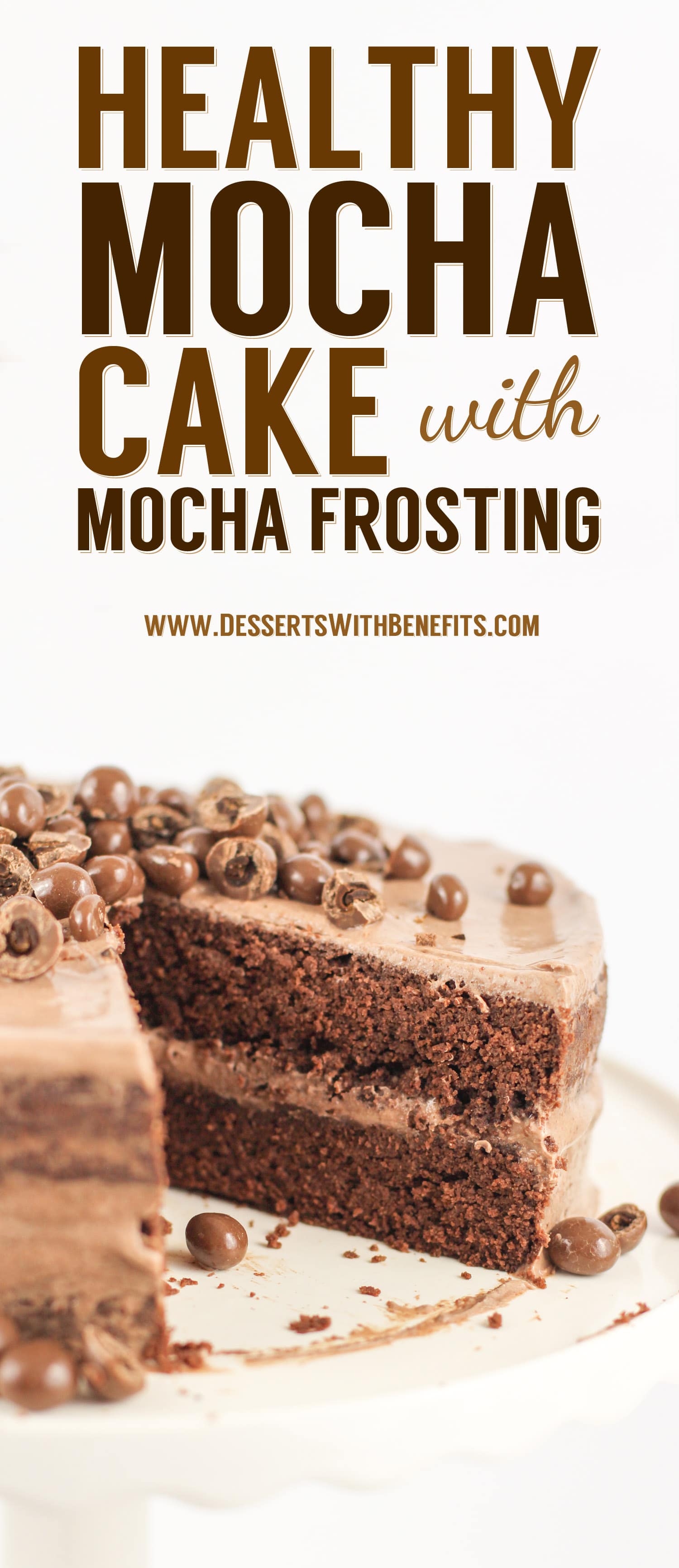 Healthy Mocha Cake with Mocha Frosting
Prep Time: 1 hour
Cook Time: 50 minutes
Total Time: 2 hours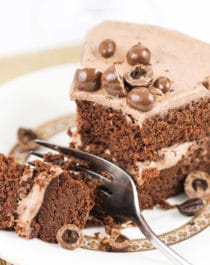 Fat per serving: 9
Calories per serving: 200
Ingredients:
Cake:
3 tbs Starbucks® Holiday Blend Ground Coffee
1¼ cups Boiling Water
430g (1¾ cups) Unsweetened Applesauce
⅓ cup Unsweetened Vanilla Almond Milk
4 Large Eggs
2 Large Egg Whites
1 tbs Vanilla Extract
1 tbs Stevia Extract
224g (2 cups) Coconut Flour
144g (¾ cup) Granulated Erythritol
80g (1 cup) Unsweetened Dutch Processed Cocoa Powder
1 tbs Double-Acting Baking Powder
¼ teaspoon Salt
Frosting:
6oz Neufchâtel Cream Cheese, room temperature
4oz Plain, Nonfat Greek Yogurt
¾ tsp Vanilla Extract
35g (¼ cup) Powdered Erythritol
1 tbs Unsweetened Dutch Processed Cocoa Powder
⅛ tsp Espresso Powder (or to taste)
2oz No Sugar Added Dark Chocolate, melted
Directions:
**Make the frosting first!
For the Frosting:
In an electric stand mixer bowl fitted with a whisk attachment, add the cream cheese, yogurt, and vanilla extract.  Turn the stand mixer on medium speed and beat until completely smooth.
Turn off the mixer and add the erythritol, cocoa powder, and espresso powder.  Beat until completely smooth.
Turn the mixer on low speed and slowly add the melted chocolate.  Mix until completely smooth.  Scrape down the sides of the bowl and mix one last time.  Cover and refrigerate while you make the cake.
For the Cake:
In a french press, add the Starbucks® Holiday Blend Ground Coffee and boiling water.  Let brew for ~6-8 minutes, then press.  Measure 1 cup of the coffee and set aside to cool.
Preheat the oven to 350 degrees Fahrenheit.  Spray 2 8" cake pans with cooking spray and line with 8" circle parchment paper liners.
In an electric stand mixer bowl fitted with a beater attachment, add the applesauce, almond milk, eggs, egg whites, vanilla extract and stevia extract.  Mix on low speed.  Add in the cooled brewed coffee.  Keep the mixer running while you prepare the dry ingredients.
In a medium-sized bowl, sift together the coconut flour, erythritol, cocoa powder, baking powder, and salt.
Turn off the mixer and dump in the dry ingredients.  Increase the mixer speed to medium and mix until all the ingredients are fully incorporated.  Scrape down the sides of the bowl and mix one last time.
The batter will be very thick, so scoop it into the pans and spread it out evenly with an offset spatula.  Bake for 50 minutes, or until the surface springs back when tapped.  Let cool completely in the pan.
Flip one cake layer onto a cake pedestal, peel off the parchment paper cake liner, and scoop on some of the frosting.  Flip the other cake layer onto a parchment paper-lined cookie sheet, peel off the parchment paper cake liner, then carefully slide it onto the frosted bottom cake layer (this is a delicate cake, so be careful!).  Frost the remainder of the cake.
Refrigerate uncovered for 1 hour, then slice and serve, or store in the fridge covered with a cake dome for up to 5 days.
Recipe adapted from the Chocolate Cake and Cream Cheese Frosting in the Naughty or Nice Cookbook.
All images and text © .
.
Here is the recipe's nutrition label:
I totally ate way more than my "cake quota" this week, thanks to this cake.  But it's totally healthy so I don't feel bad in the slightest.  Nope, not one bit.
Word to the wise:  this Healthy Mocha Cake makes for the BEST breakfast  😉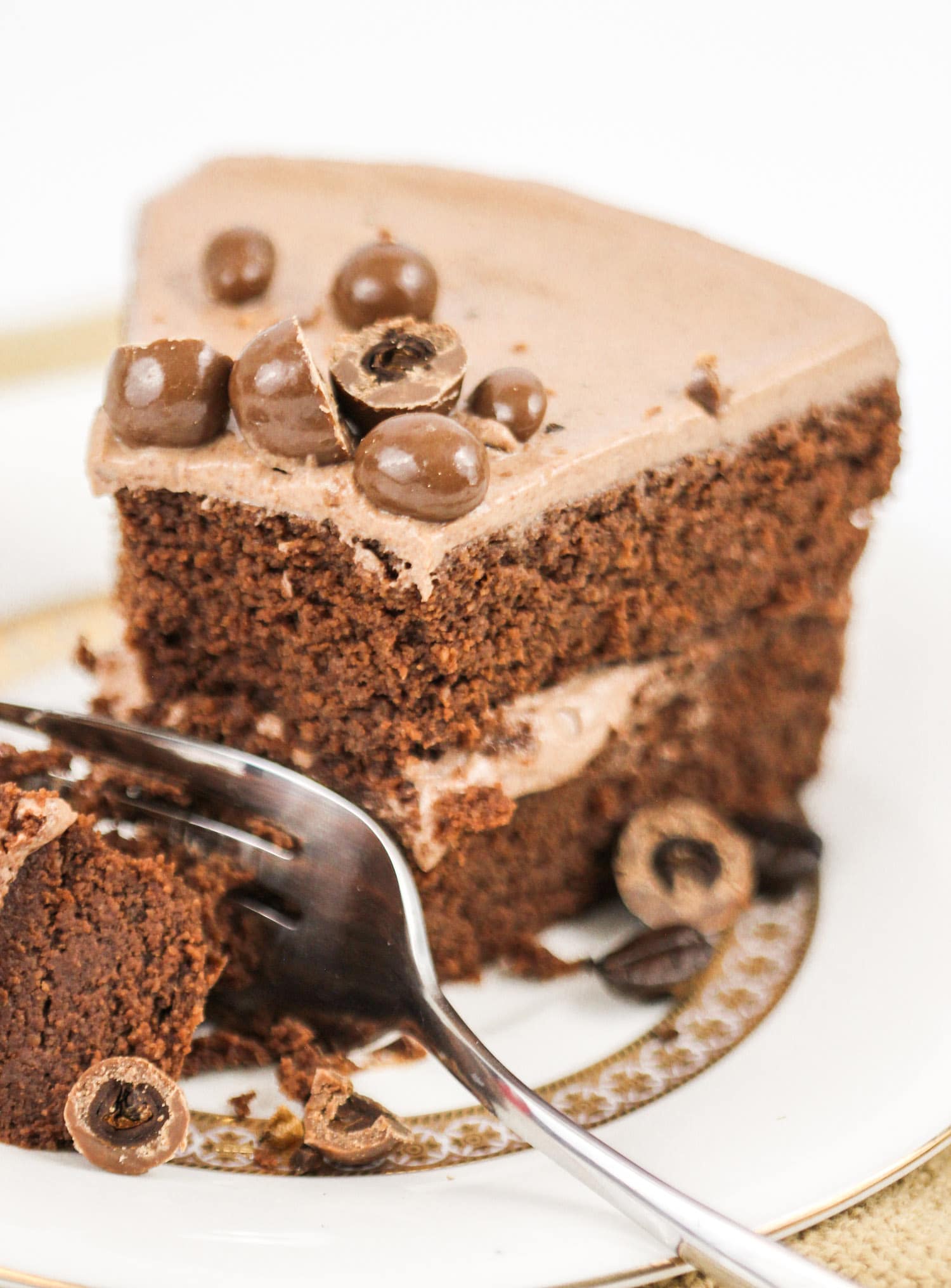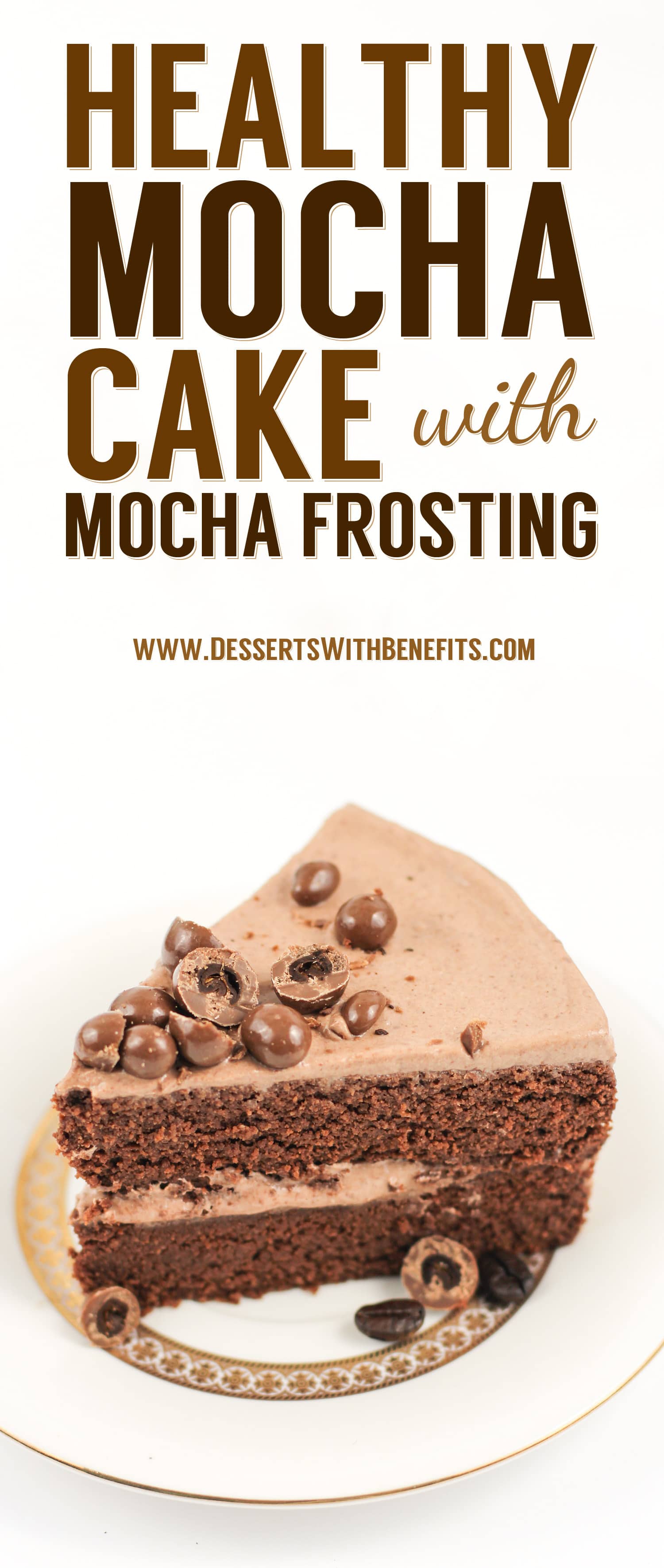 Enjoy!
.
With love and good eats,
.
– Jess
.