Healthy Gingerbread Cookies
Healthy Gingerbread Cookies — lightly sweet, rich, and robust cookies full of molasses, ginger, cinnamon, nutmeg, and cloves.  Unlike typical Gingerbread Cookie recipes, this version is refined sugar free, gluten free, dairy free and vegan!
Gingerbread Cookies were never the kind of treat I craved all year around (that's what Sugar Cookies and Peanut Butter Cookies are for).  It's the kind of cookie that only used to cross by mind during the winter holidays.  And not even as a snack, more as the structural pieces in a Gingerbread house…  nothing more.  But, I received a few requests to make Healthy Gingerbread Cookies and thought I'd give it a go.  And my oh my, these are deeeeelicious!
I've been missing out, man.  My thoughts on Gingerbread have totally changed.  They're not cardboard-colored and cardboard-flavored, no siree.  These are some damn good Gingerbread Cookies.
These Healthy Gingerbread Cookies are treats that your friends and family (and you!) will love during the holidays.
Made with almond meal, oat flour, ground spices, molasses, and coconut oil, these are guilt-free treats that you can enjoy snacking on.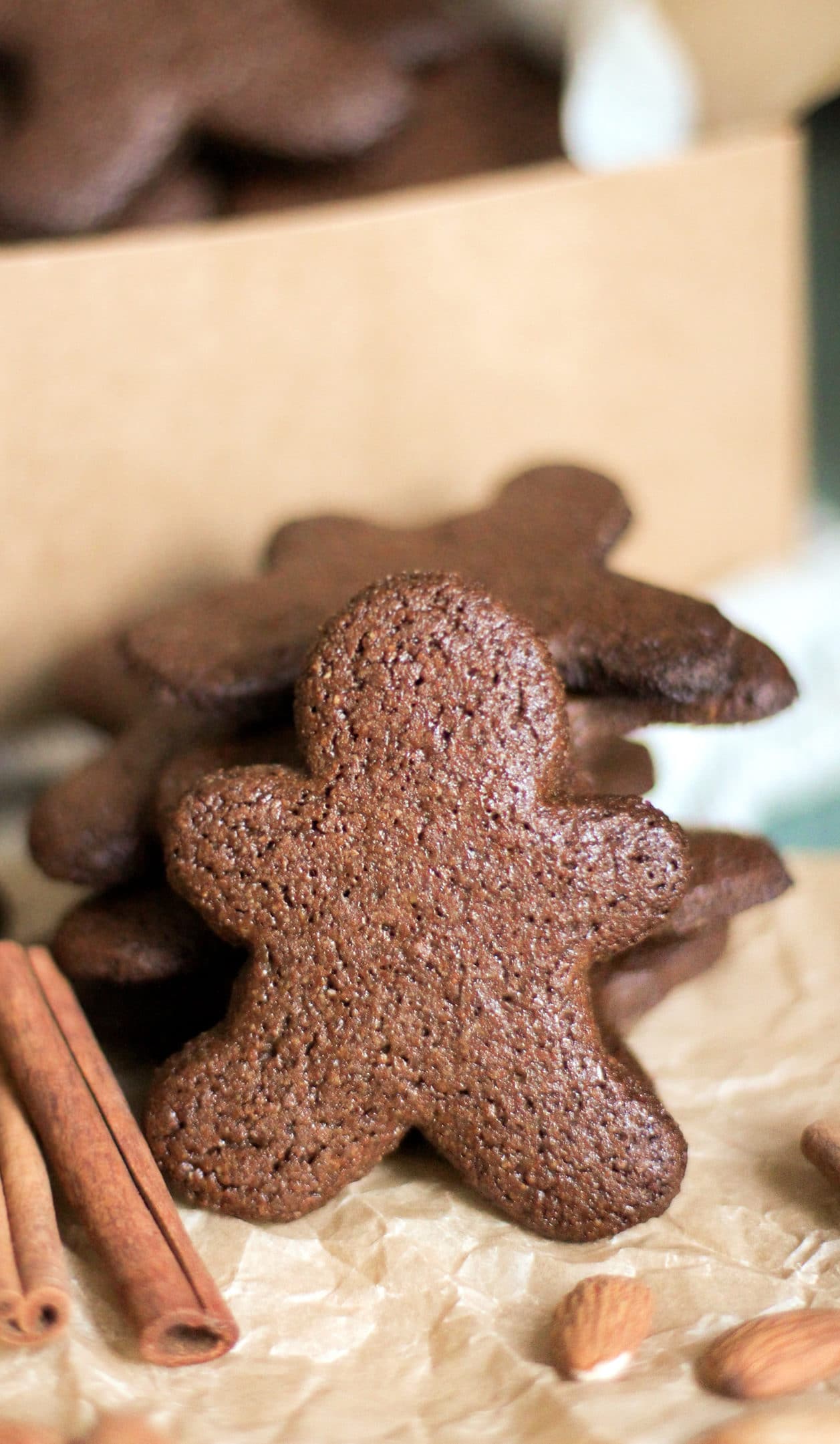 Healthy Gingerbread Cookies
Prep Time: 45 minutes
Cook Time: 12 minutes
Total Time: 1 hour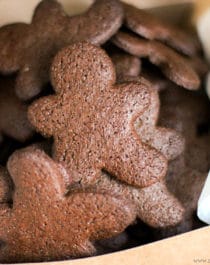 Fat per serving: 8
Calories per serving: 130
Ingredients:
140g (1¼ cups) Almond Meal
120g (1 cup) Oat Flour
96g (½ cup) Granulated Erythritol (or dry sweetener of choice)
1 tbs Ground Ginger
2 tsp Ground Cinnamon
⅛ tsp Ground Nutmeg
⅛ tsp Ground Cloves
1 tsp Double-Acting Baking Powder
½ tsp Salt
168g (½ cup) Molasses
75g (⅓ cup) Coconut Oil, melted
2 tsp Vanilla Extract
1 tsp Stevia Extract
Directions:
Preheat your oven to 350 degrees Fahrenheit.
In a small bowl, whisk together the almond flour, oat flour, erythritol, ginger, cinnamon, nutmeg, cloves, baking powder and salt.
In a stand mixer bowl with beater attachment, add the molasses, coconut oil, vanilla and stevia.  Mix on low speed until completely mixed.
Dump the dry ingredients in the stand mixer and mix until completely mixed.  Dough should be dark, sticky, and sweet.
Roll ⅓ of the dough in between two silicone baking sheets until ~⅛" thick.
Sprinkle some extra oat flour on a small plate or shallow dish and dip your gingerbread man cookie cutter instead.  Dust off the excess flour and punch cookie shapes into the dough.  Peel away the dough surrounding the gingerbread man cookies and transfer the silicone sheet onto a cookie tray.
Bake for 12 minutes, then carefully transfer the silicone sheet onto your counter or a wire cooling rack to cool completely.  Keep re-rolling the dough and baking until all the dough is used up.  These cookies are best served the day they are made, but will keep in an airtight container at room temperature for ~3 days.
Notes:
Decided to document the baking/rolling-the-dough process for ya (these cookies are so much fun to make!):
All images and text ©
.
.
Here is the recipe's nutrition label: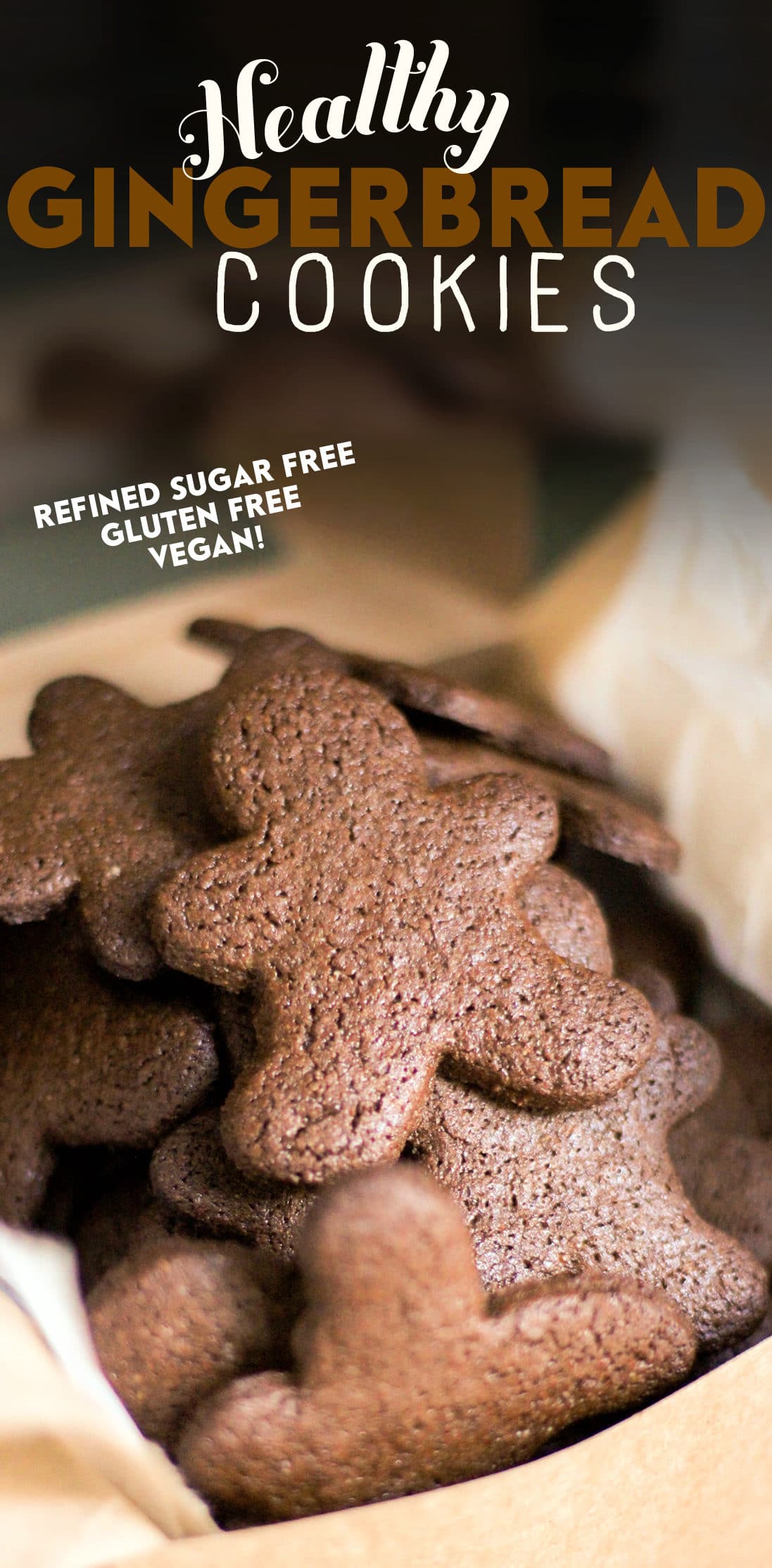 These little guys will bring joy and holiday cheer — 100% guaranteed!  Hope y'all enjoy them as much as we did  🙂
.
– Jess
.