Healthy Maple Pecan Pie
Time is flying by.  It's already November and it feels like the end of August!  Here in Arizona, the mornings are chilly but it manages to hit somewhere in the 70s or 80s by the afternoon.
I know, jealous?
My family isn't as lucky though.  They're in the Northeast in New York and Connecticut!
I am definitely looking forward to Thanksgiving.  I can hug my family, I can see how our house is holding up (and check on that broken fence…), I can wear boots and walk in the snow, I can breathe in the cool, crisp air… and I can wear a real jacket!
And "looking forward" to Thanksgiving means I'm prepping, and "prepping" means I'm baking  🙂  My family isn't big on pumpkin, we aren't lovers of fruitcake and we aren't fans of jiggly gelatin desserts, so Pecan Pie is our best bet.  I've wanted to healthify Pecan Pie for quite some time now but just never got around to it, mostly because of all the substitutions I would have to make scared me a bit.  Traditional Pecan Pie contains corn syrup, sugar, eggs and butter.  No, no, no… and no.
I'm so glad my sister requested me to make Pecan Pie, otherwise I probably never would have "gotten around to it" from my fears.  To make the recipe a little healthier I used a whole grain pie crust instead of a white flour crust, to make it a little more nutritious I used pure maple syrup and sucanat instead of corn syrup and sugar, to make it cholesterol-free I used egg whites and coconut oil instead of whole eggs and butter.
This Healthy Maple Pecan Pie is an all natural, good-for-you dessert that is perfect for Thanksgiving, Christmas, birthdays…  actually, any day for that matter  😉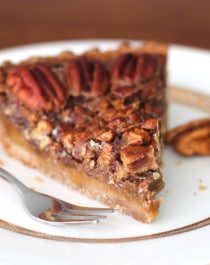 Healthy Maple Pecan Pie
Ingredients
1

Deep Dish Whole Grain Pie Crust**

½ cup

+ 2 tbs

Egg Whites

1

cup

Pure Maple Syrup

2

tbs

Coconut Oil

(melted)

1

tbs

Molasses

1

tsp

Vanilla Paste

⅔

cup

Granulated Erythritol

¼

cup 

Sucanat

1

tbs

Brown Rice Flour or Oat Flour

1

cup

Chopped Pecans

Pecans

(for topping)
Instructions
Preheat the oven to 350 degrees Fahrenheit and put the pie crust on a cookie sheet.

In a large bowl, whisk together the egg whites, maple syrup, coconut oil, molasses, vanilla paste, erythritol, sucanat, and flour. Stir in the chopped pecans.

Pour the filing into the pie crust and top with pecans. Bake for ~1 hour, or until the pecans are fragrant and turn a rich brown (but NOT burnt!). The pie should poof up due to the egg whites but will sink down as it cools. Let cool completely, then slice and serve!
Recipe Notes
**I bought a frozen whole grain crust from Whole Foods and thawed it in the refrigerator uncovered for a few hours, however it wasn't that deep so the filling came right up to the top.
This pie freezes well, just thaw in the fridge for ~4 hours, then continue thawing at room temperature after that.
Everyone adored this Healthy Maple Pecan Pie, I can't wait to make it for my family during Thanksgiving.  It's like a pecan bar but in pie form.  My friend likes to zap a slice in the microwave for 20 seconds, or until hot, then top with a giant scoop of Vanilla Ice Cream.  Does that sound amazing or what?
This is definitely going to be on our holiday spread, and hopefully yours too!
.
With love and good eats,
.
– Jess
.