Easy Vegan Sticky Buns
You'll wow everyone with these soft and fluffy Sticky Buns!  They're perfectly spiced with cinnamon and topped with sweet, caramel-pecan goodness.  No one will believe these are dairy free, vegan, and low in sugar.
Best of all, no one will know they took you less than 30 minutes to put together!  😉
Thanks to Immaculate Baking Co. for sponsoring this post, and thank YOU for supporting the brands that keep Desserts With Benefits going!  All opinions are mine and mine alone.

What are Sticky Buns?
Sticky Buns are basically Cinnamon Rolls, but instead of being topped with a thick Cream Cheese Frosting, they're covered with a thick cloak of pecan-studded caramel.  Ohhhh yeahhhh.
Typical Sticky Buns are made with not-so-good ingredients like margarine, corn syrup, and brown sugar (and LOTS of it).  But not this one.  This recipe is made with coconut oil, organic crescent roll dough, and naturally sweetened with pure maple syrup and coconut sugar.
First, you start off with the caramel-pecan topping.  Unlike a frosting, which is spread on after baking, the Sticky Bun "topping" is poured into the bottom of the baking pan and baked with the buns placed on top.  After baking, you invert the pan so that the caramel-pecan mixture is now a topping, and the ooey gooey goodness slowly oozes into every crevice of the buns.
Did your mouth just flood like Niagara Falls?  Yeah, mine too.
Before last week, the last time I made Sticky Buns was when I was in 10th grade (back in 2008)!  This was a pivotal year in my life — I tried out going vegan for the first time, and this was when I started to really get into baking.  About a month into going vegan, my sister bought me the Joy of Vegan Baking Cookbook.  While this book taught me a lot about baking, especially when it comes to vegan substitutes, the recipes are certainly anything but healthy.  Almost all of the recipes call for white flour, white sugar, and shortening.
Anyways, I probably baked my way through ¾ of the entire book before finally realizing that, shocker, vegan does not equal healthy!  All that sugar made me feel like an emotional roller coaster.  After a while, I didn't even get sugar rushes, just sugar crashes.  As a sweet tooth/dessert monster, I cannot give up sweets.  I refuse to.  This is what made me start incorporating more natural, less processed ingredients in my baking and my life in general.  A prime example of this is this recipe!  Instead of using white sugar, brown sugar, and corn syrup, I sweetened these Sticky Buns with pure maple syrup and coconut sugar.  Don't worry, though, you'll still end up with the softest, fluffiest, caramelly Sticky Buns EVER!

Easy Vegan Sticky Buns
Prep Time: 30 minutes
Cook Time: 30 minutes
Total Time: 1 hour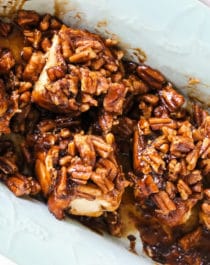 Ingredients:
Buns:
½ cup Coconut Sugar
1 tbs Ground Cinnamon
1 tbs Coconut Oil, melted
Topping:
¼ cup Coconut Sugar
2 tbs Pure Maple Syrup
1 tbs Coconut Oil, melted
1 tsp Vanilla Extract
pinch of Salt
1 cup Chopped Pecans
Directions:
Preheat the oven to 350 degrees Fahrenheit.  Spray an 8×5″ loaf pan with cooking spray and line one way with parchment paper.
For the topping-  In a medium-sized bowl, stir together the coconut sugar, maple syrup, melted coconut oil, vanilla extract, and salt.  Stir in the chopped pecans.  Scoop the mixture into the prepared loaf pan.
For the buns-  Unroll the crescent roll dough on top of a silicone baking mat.  Crimp the perforations together so there are no holes or separations between the dough.  In a small bowl, whisk together the coconut sugar and cinnamon.  Brush the melted coconut oil over the rolled out dough, then sprinkle on the coconut sugar.  Tightly roll the dough as if you were rolling cinnamon rolls.  Slice into 8 rolls, then place inside the prepared loaf pan.  Bake for 30 minutes.  Let cool for ~15 minutes.
Place a serving tray over the loaf pan then quickly invert it.  Remove the pan and parchment, then serve and enjoy!
All images and text ©
.
In a hurry?  Make these 30-minute no-rise Sticky Buns!
To make this recipe super easy — like, seriously easy…  no stand mixer required, no need to wait for proofing and rising, no kneading whatsoever — I used my favorite crescent roll dough by Immaculate Baking Co.  It's organic, all-natural, and made without the bleached flour, hydrogenated oils, and artificial ingredients.  You can feel good about eating these crescent roll Sticky Buns!
I even deem them breakfast-worthy  😉

They're the bomb.  BOOM!!
Enjoy  🙂
.
With love and good eats,
.
– Jess
.