Healthy Chocolate Coconut Cake
This Chocolate Coconut Cake is super fluffy, supremely chocolatey, and speckled with shredded coconut throughout.  It seriously doesn't taste like it's low in sugar, high in protein, or gluten free whatsoever!
This Healthy Chocolate Coconut Cake was a looooong time coming.  I first posted this recipe WAY back in 2011.  Yes, 2011!  Even then, it took 4 trials to perfect.  While I proudly posted the recipe and kept it up all these years, there was always something nagging me about it — it called for way too many ingredients and required far too many steps to make.  I went back to the drawing board to try and make it simpler and easier for y'all.
And boy, am I glad I did.  I thought the cake was good back then, but now it's GREAT.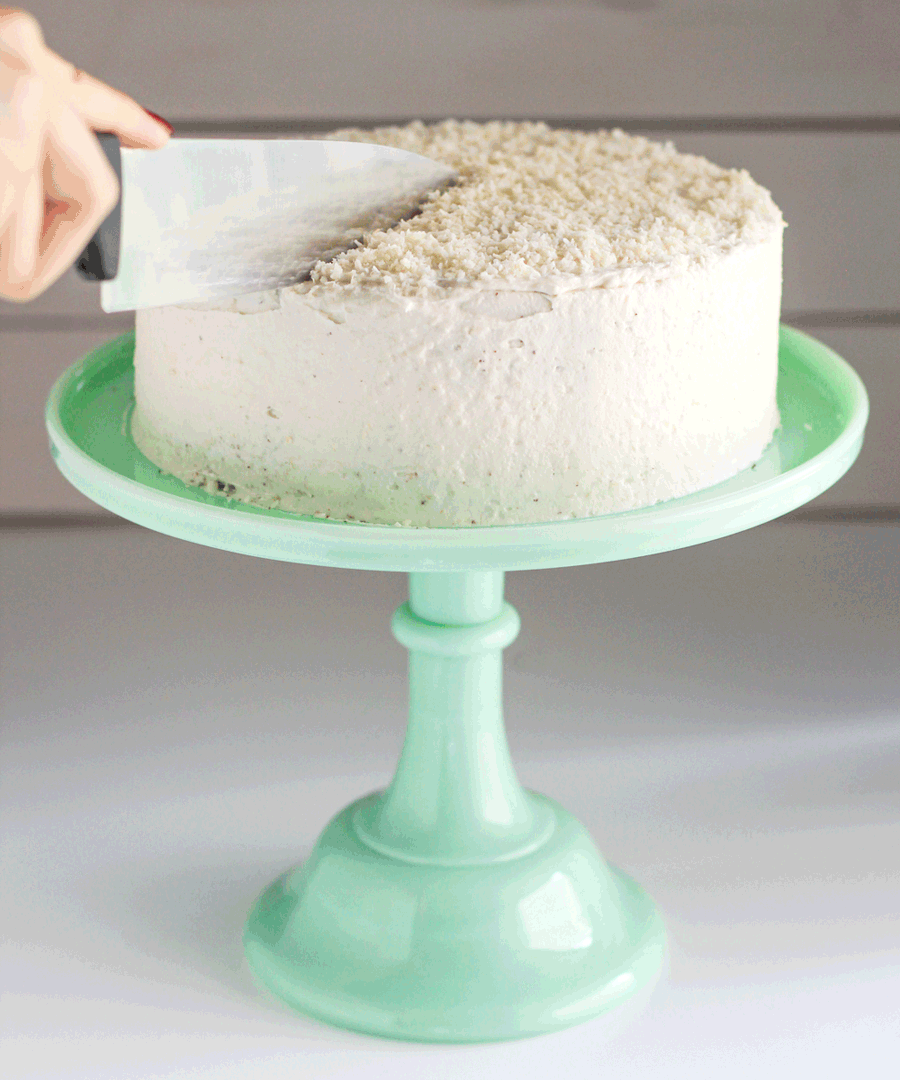 These are the changes I made to the recipe:
Increased Unflavored Whey Protein Powder, ½ cup to ⅔ cup
Increased Applesauce, ½ cup to ¾ cup
Increased Stevia Extract, 1¼ tsp to 2 tsp
Increased Vanilla Extract, 1 tsp to 1 tbs
Replaced 1¼ cups Whole Wheat Pastry Flour with ⅔ cup Sorghum Flour + ½ cup Oat Flour
Replaced Sucanat with Granulated Erythritol
Replaced 85g pureed Tofu with 3 Eggs
Replaced 1 tsp Coconut Extract with ½ cup Unsweetened Shredded Coconut
Omitted 3 tbs Honey
Omitted 3 tbs Arrowroot Starch
Yeah.  I altered the recipe quite a bit, but it's all for the better.
You know when you're making a Chocolate Cake and the batter seems absolutely perfect?  It's thick, but smooth and pours into the pan like warm ganache.  As you gently push the pan onto the oven rack, you think, "Oh, this is gonna taste amazing!"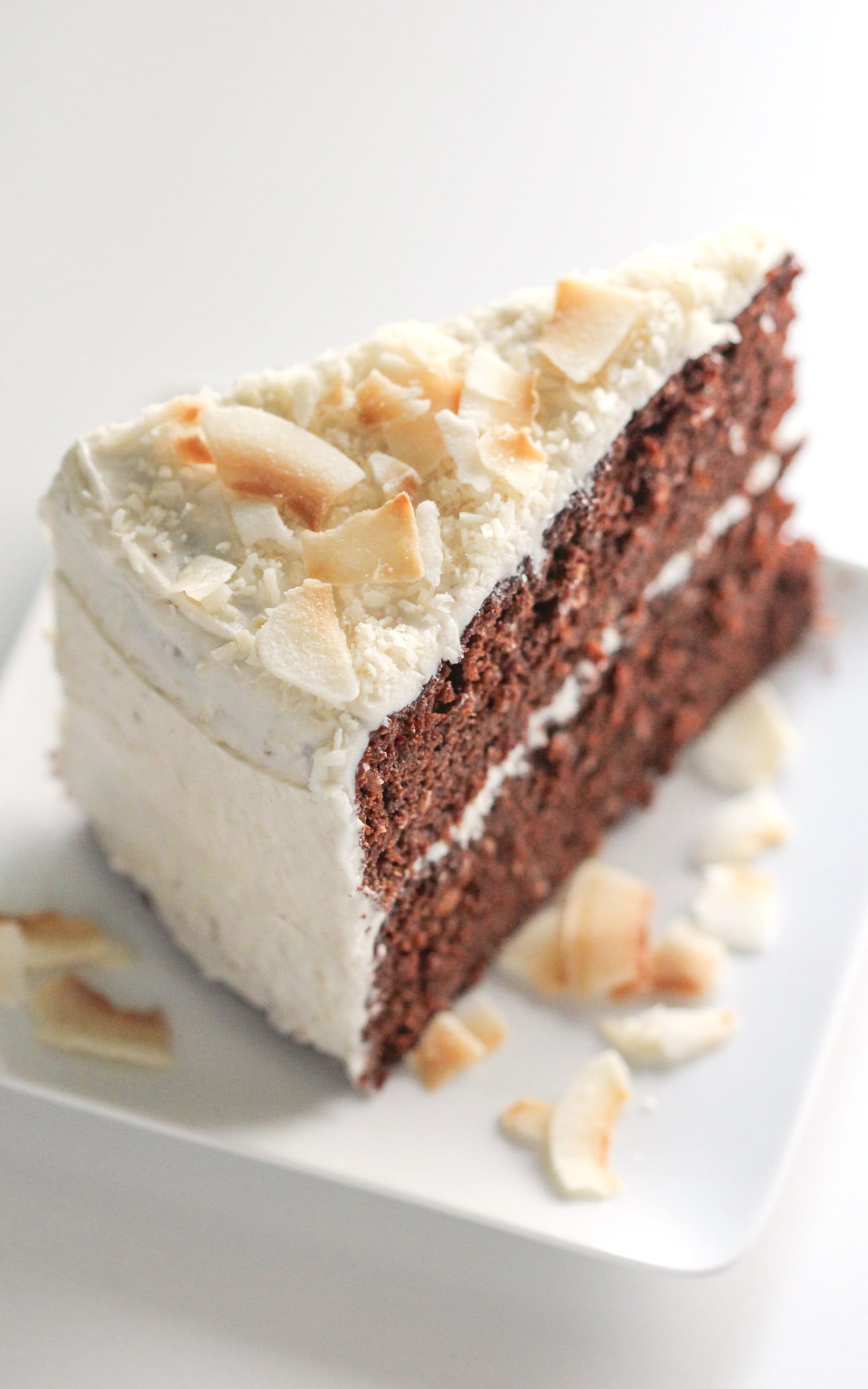 If you're like me, you peer through the oven window every 5 minutes like clockwork and smile as you see it rising.  When the toothpick comes out clean and the cake has cooled, it's finally time for the taste test.  For those of you who develop your own recipes or alter others' recipes drastically, you know the anxiety that comes along with the first bite…  as more often than not, you taste the saddening first bites of an experiment gone wrong.  This cake?  This cake was one of them.  In total, this recipe took 6 trials to perfect.  *wipes brow*
Let's go through the trial results, shall we?
.
Trial #1:
This cake was far too airy and dry.  It's hard to explain, but it was like a slice of bread that was left out overnight.  The texture was terrible and it tasted really bitter.  Due to my fervent need to lower the sugar levels in all of the recipes I make, I lowered this one a little too much.  The original recipe called for a whopping 1½ cups of sugar, which I reduced to a measly ¼ cup of Sucanat.  I knew beforehand that I lowered the sugar level by a lot, so I added ¼ tsp of stevia extract, which was clearly not enough.  I replaced the regular cocoa powder with dark cocoa powder, used whole wheat pastry flour instead of bleached all purpose flour, and coconut oil + applesauce instead of butter.  I used canned coconut milk in the recipe but it didn't seem to provide any flavor or moisture.  After sampling that slice of cake, I was so ready for the next trial.
.
Trial #2:
Since the 1st trial was too airy and dry, I researched some healthy ingredients that can add moisture to baked goods.  Tofu was one of them.  I blended up 85g silken tofu and added that to the recipe.  I also doubled the stevia extract from ¼ tsp to ½ tsp, and added a ½ tsp of coconut extract to enhance the coconut flavor (or, lack-thereof from the 1st trial).  This cake was still a little on the dry side, but was at least a tad bit sweeter and more flavorful!  It was better, but still not something I'd be proud of serving to friends and family.
.
Trial #3:
I increased both the stevia extract and coconut extract to ¾ tsp, as well as the tofu to 170g.  My dad wanted a treat with some protein in it, so I replaced some of the whole wheat pastry flour with protein powder.  Once again, the cake turned out dry, but the flavor was improving!
Trial #4:
Mmmm!  Finally, a cake that I can share with loved ones with my head held high!  This cake is much, much better than the previous trials — more dense, more moist, more sweet, and more chocolatey!
.
Trial #5:
In an attempt to make Trial #4's recipe a little easier to make with fewer ingredients and less steps (and also make it gluten-free because I was out of whole wheat pastry flour), I replaced the 1¼ cups whole wheat pastry flour with ¾ cup sweet white sorghum flour + ½ cup oat flour.  I replaced the tofu with an egg, omitted the honey and increased the stevia extract to 2 tsp, used erythritol instead of sucanat, increased the vanilla extract from 1 tsp to 2 tsp.  I used the same brand of coconut extract in this trial as I did way back in 2011 in the 4th trial, however, it seems as if they changed their product's recipe because it did NOT taste anything like coconut.  It tasted like straight up coconut alcohol.  My first taste tester thought it was a boozy cake, that's how strong it was.  The cake also turned out dry.  Back to the drawing board, once again!
.
Trial #6:
I reduced the sweet white sorghum flour from ¾ cup to ⅔ cup, omitted the starch, increased the applesauce from ½ cup to ¾ cup, increased the vanilla extract from 2 tsp to 1 tbs, added 2 more eggs, and replaced that terrible coconut extract with ½ cup unsweetened shredded coconut.  This cake, mah peeps, this cake is PURELY DELICIOUS.  It's not only light and fluffy, but it's moist too!  It's chocolatey and coconutty and sweet all at the same time.  You better slice a big ol' slice for yourself, because this is not a cake to miss out on.  This cake required a little too much trial and error for my liking, but in the end, it was so, so worth it!  🙂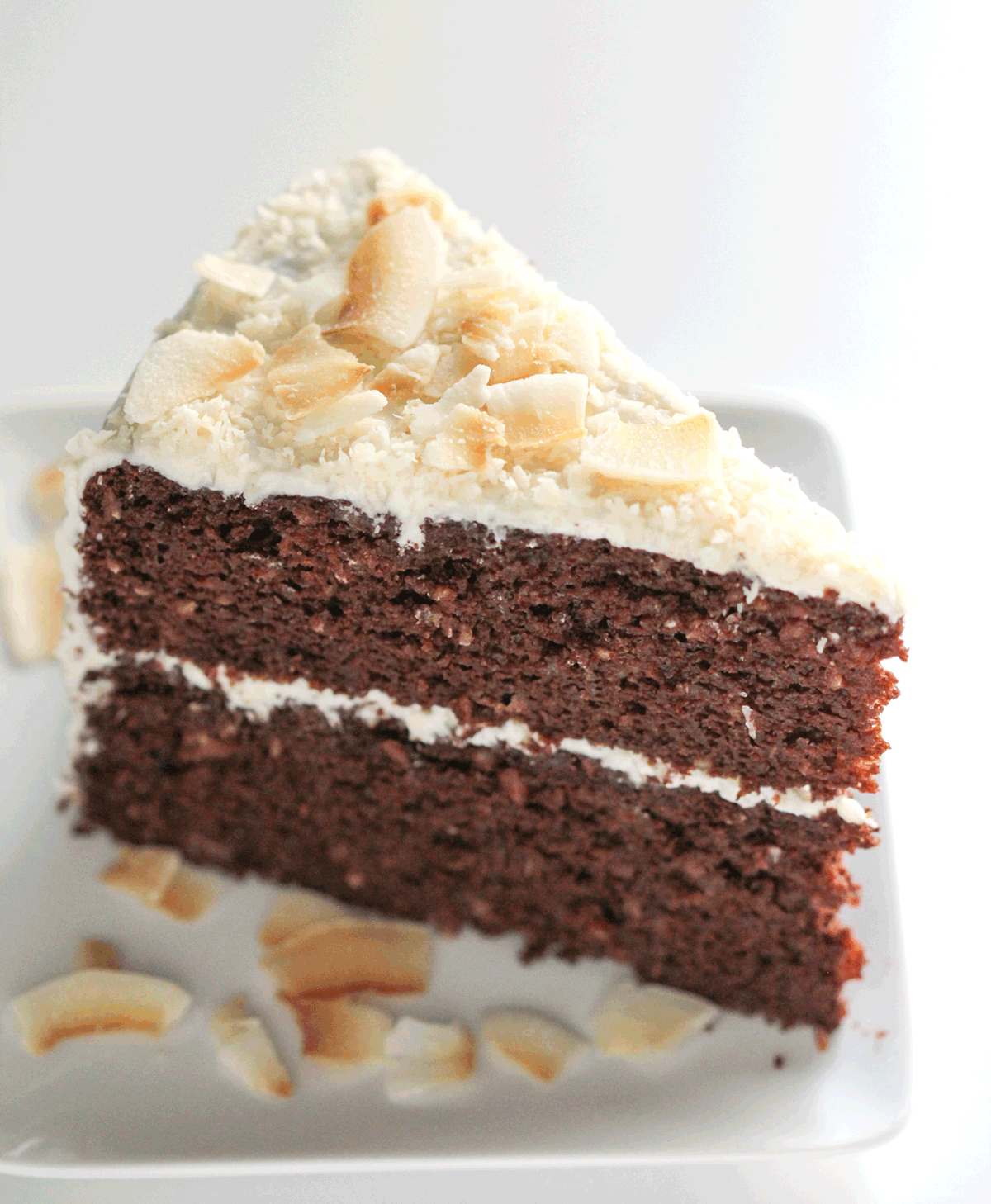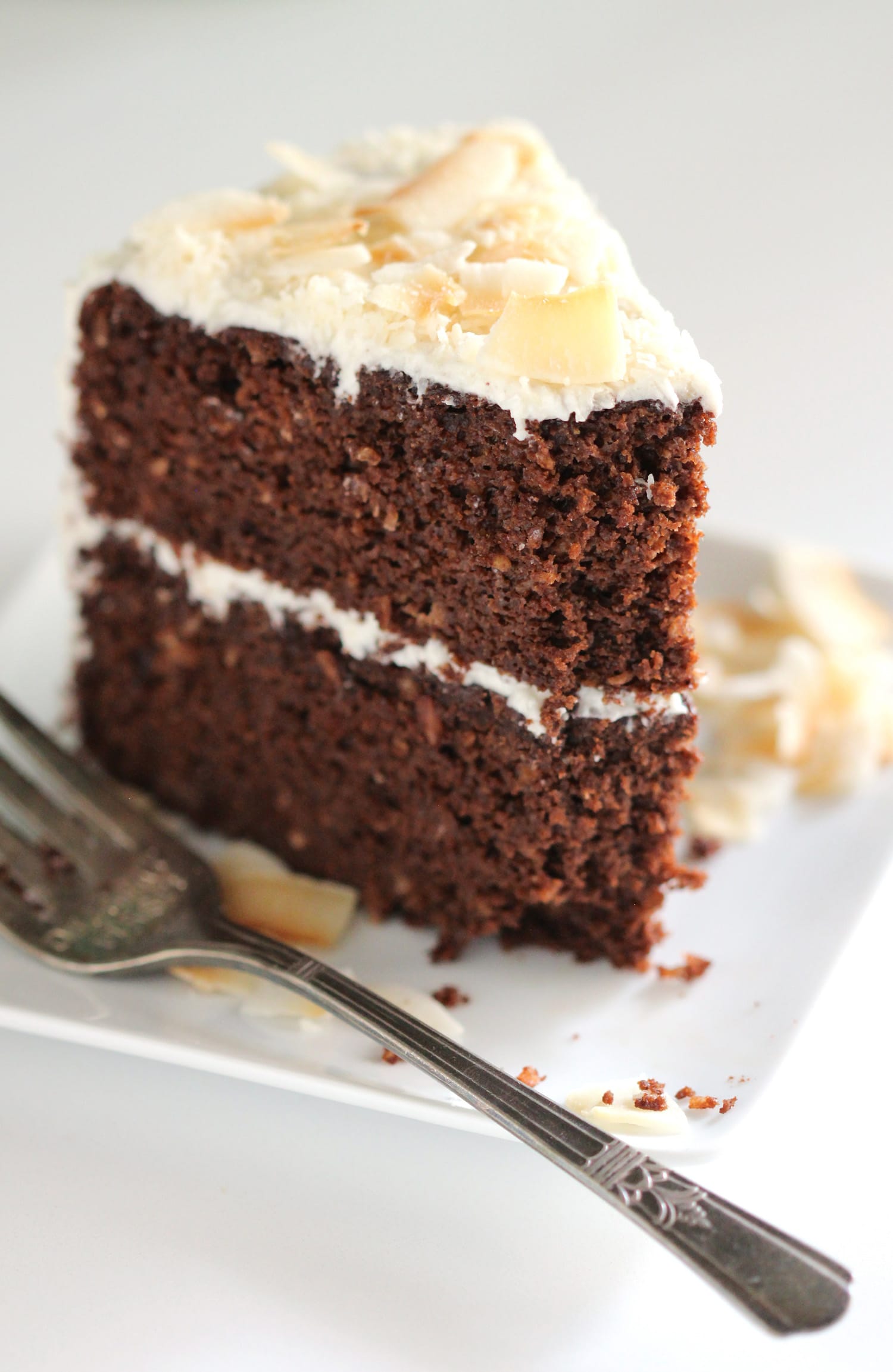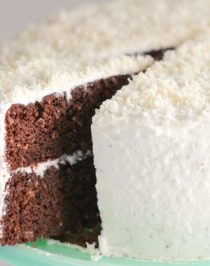 Print Recipe
Pin Recipe
Healthy Chocolate Coconut Cake
This Chocolate Coconut Cake is super fluffy, supremely chocolatey, and speckled with shredded coconut throughout. It seriously doesn't taste like it's low in sugar, high in protein, or gluten free whatsoever!
Ingredients
91g

(⅔ cup)

Sweet White Sorghum Flour

64g

(⅔ cup)

Unflavored Whey Protein Powder

60g

(½ cup)

Oat Flour

45g

(½ cup)

Unsweetened Shredded Coconut

1

tsp

Baking Soda

½

tsp

Double-Acting Baking Powder

¼

tsp

Salt

1

cup

Organic 2% Milk

(or canned Light Coconut Milk)

185g

(¾ cup)

Unsweetened Applesauce

48g

(¼ cup)

Granulated Erythritol

3

Large

Eggs

1

tbs

Vanilla Extract

2

tsp

Liquid Stevia Extract

4

oz

Bittersweet Chocolate Chips

(melted)

42g

(3 tbs)

Coconut Oil

(melted)

½

cup

Boiling Water

60g

(¾ cup)

Unsweetened Natural Cocoa Powder
Instructions
Preheat the oven to 350 degrees Fahrenheit.  Spray two 8" cake pans with cooking spray and line with

parchment paper circles

.

In a small bowl, whisk together the sorghum flour, protein powder, oat flour, shredded coconut, baking soda, baking powder, and salt.

In a stand mixer bowl with whisk attachment, add the milk, applesauce, erythritol, eggs, vanilla extract, and stevia extract.  Mix on low speed.

In a medium-sized bowl, stir together the chocolate and melted coconut oil.  Add the boiled water and cocoa powder and whisk until smooth (it should look like ganache). With the mixer running on low speed, slowly scoop this mixture into the mixer.

Dump the dry ingredients in the stand mixer and let mix until just mixed through. Scrape down the sides of the bowl and mix one last time.

Pour batter evenly into the prepared pans and bake for ~30 minutes, or until the surface of the cakes spring back when tapped.  Let cool completely, then frost and serve!
Nutrition Facts
Healthy Chocolate Coconut Cake
Amount Per Serving (1 serving = 1/10th slice of cake without frosting)
Calories 260
Calories from Fat 135
% Daily Value*
Fat 15g23%
Cholesterol 75mg25%
Sodium 250mg11%
Carbohydrates 23g8%
Protein 10g20%
Vitamin A 100IU2%
Vitamin C 3.3mg4%
Calcium 80mg8%
Iron 1.8mg10%
* Percent Daily Values are based on a 2000 calorie diet.
This label is for realz peeps.  Only 260 calories and 7g of sugar, plus 5g of fiber and 10g of protein.  In a CAKE.  As a comparison, the same serving size of a typical Chocolate Coconut Cake (without frosting) will have around 400+ calories, 16g fat, and 26+g sugar.  Um, no thank you.
We can indulge in this Healthy Chocolate Coconut Cake instead.  Would you believe me if I told you this is healthy enough for breakfast?  Oh yes, I'm serious.
It's got oats, so it's basically like a morning bowl of oatmeal 😉
It's got protein powder, like a breakfast smoothie!
It's got applesauce and coconut, so you're getting in some fruit.
It's got chocolate, so, you know, antioxidants!
The list goes on, but I'll cut it short there…  I guess what I'm trying to say is, you just can't miss out on this chocolatey goodness!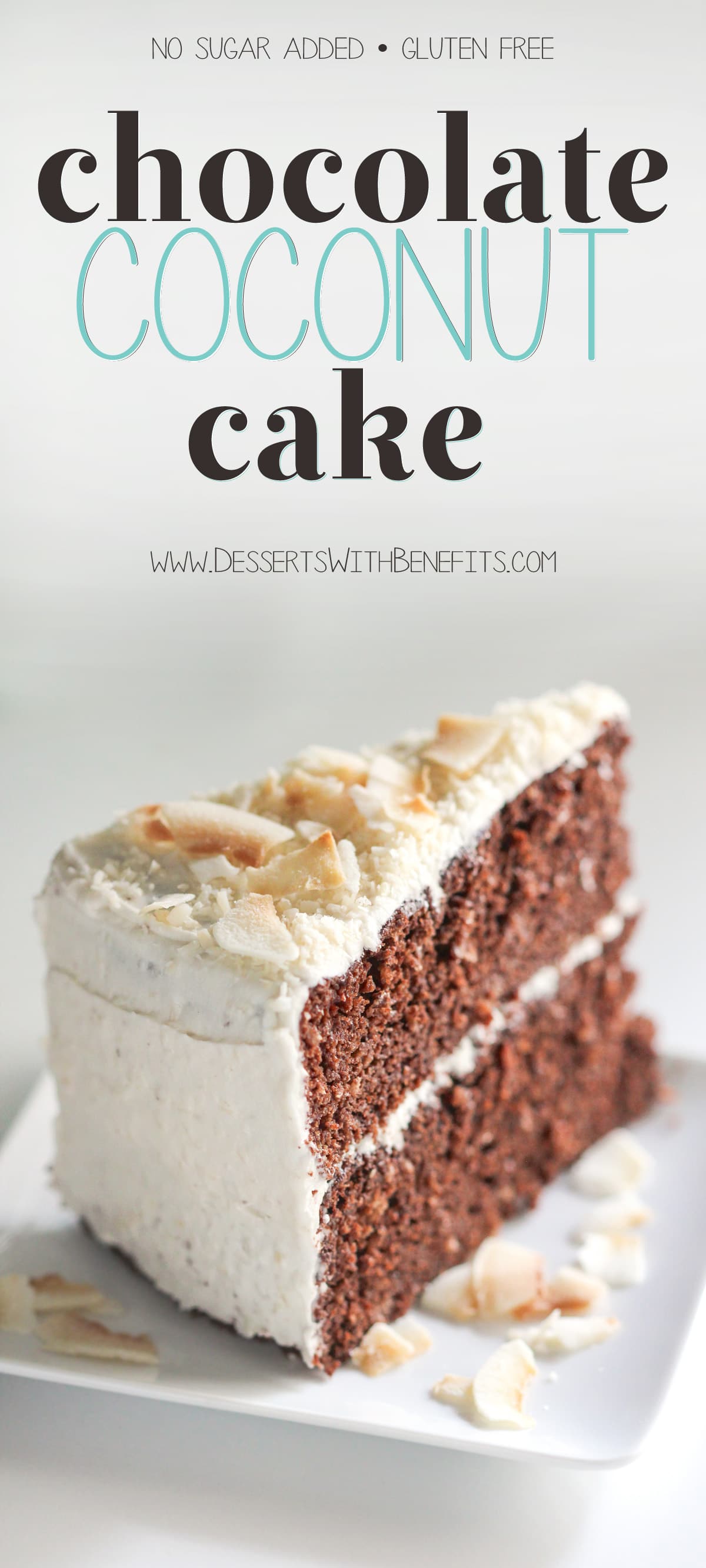 Enjoy!
.
With love and good eats,
.
– Jess
.