Healthy Chocolate Cake with Peanut Butter Frosting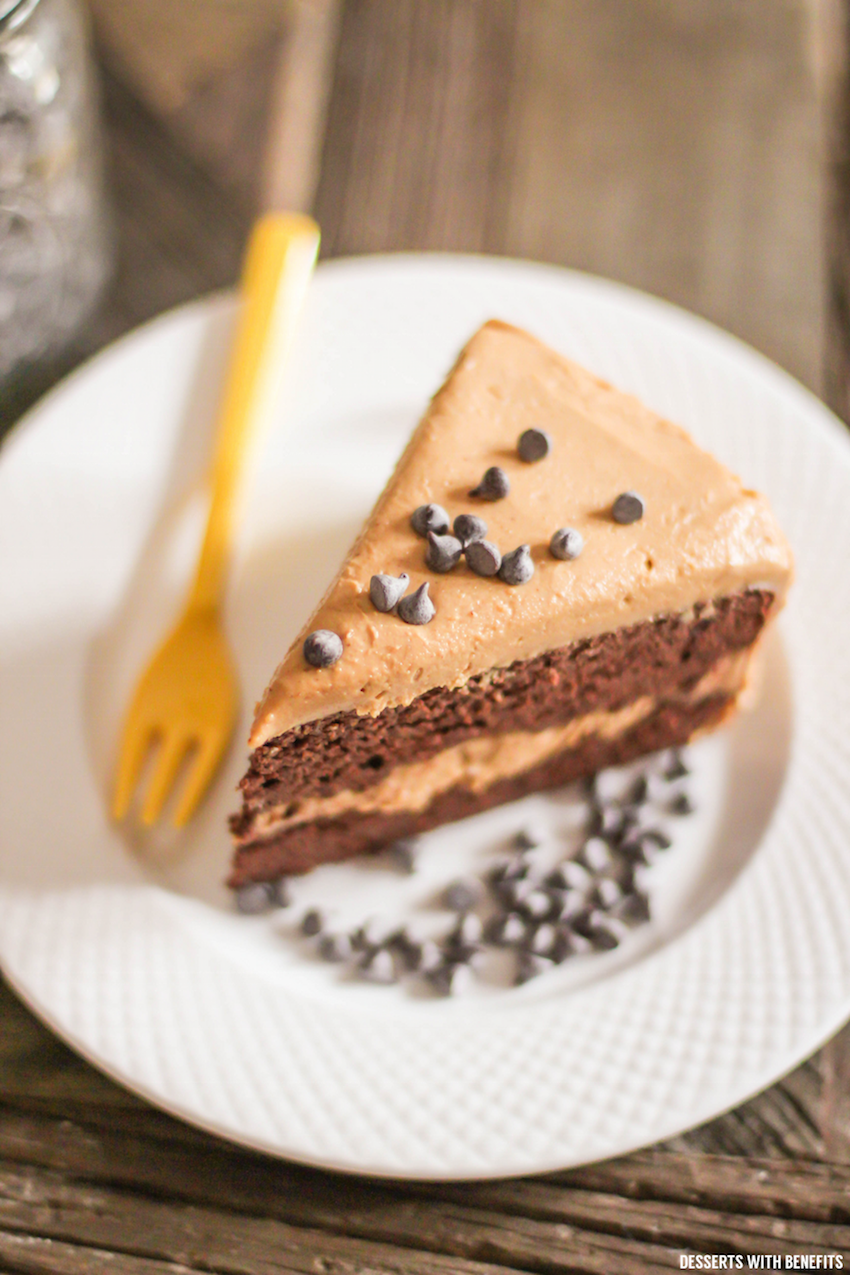 Healthy Chocolate Cake with Peanut Butter Frosting — the cake is super moist and chocolatey, the frosting is incredibly rich and sweet and PACKED with peanut butter flavor…  you'd never know the slice in front of you is sugar free, low carb, high protein, high fiber and gluten free!
Ohhhh yes baby.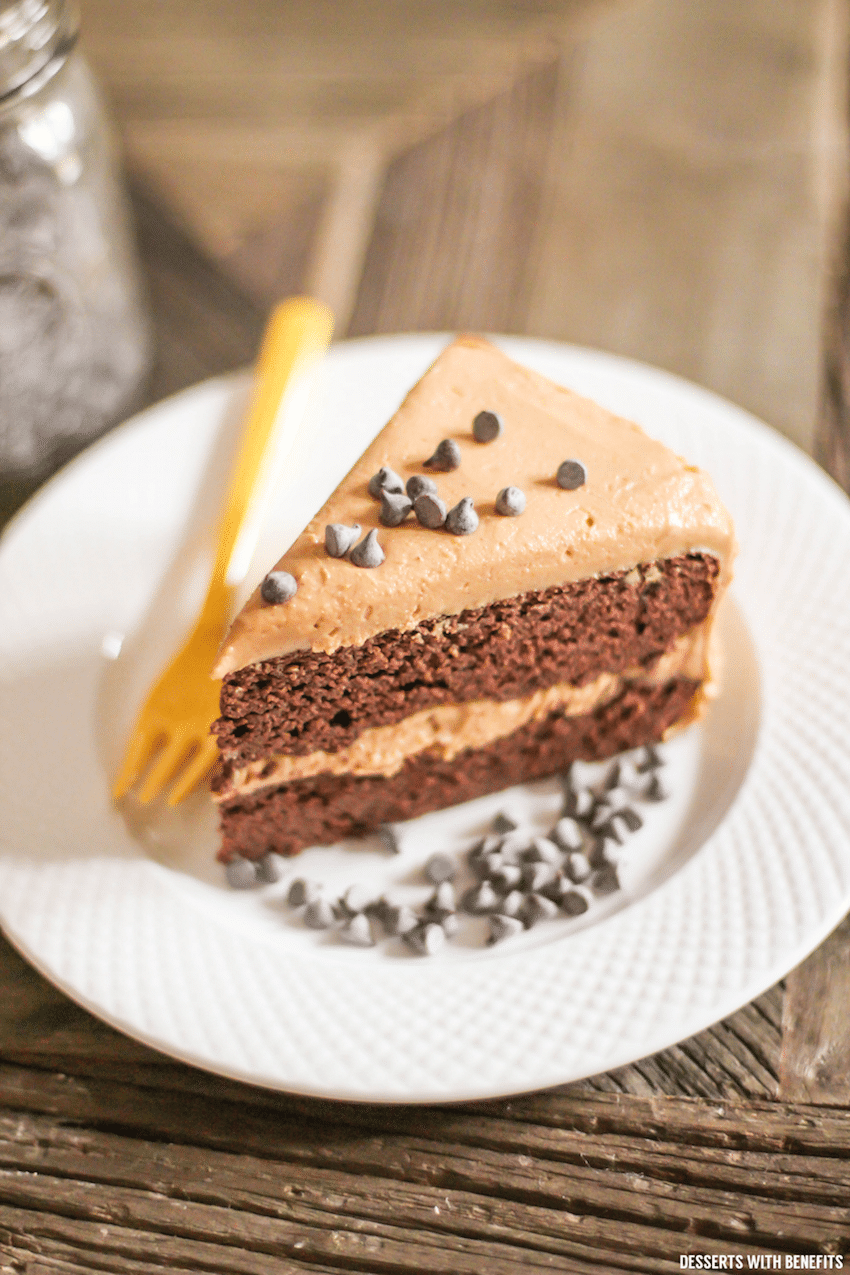 I was in the mood for Chocolate Cake, but I was also kinda in the mood for peanut butter…  just like every other day.  So I made this Healthy Chocolate Cake with Peanut Butter Frosting.  And it's the bomb.
This isn't like any other Chocolate Cake, this is a HEALTHY Chocolate Cake!  It's super chocolatey, moist and decadent like those storebought mixes.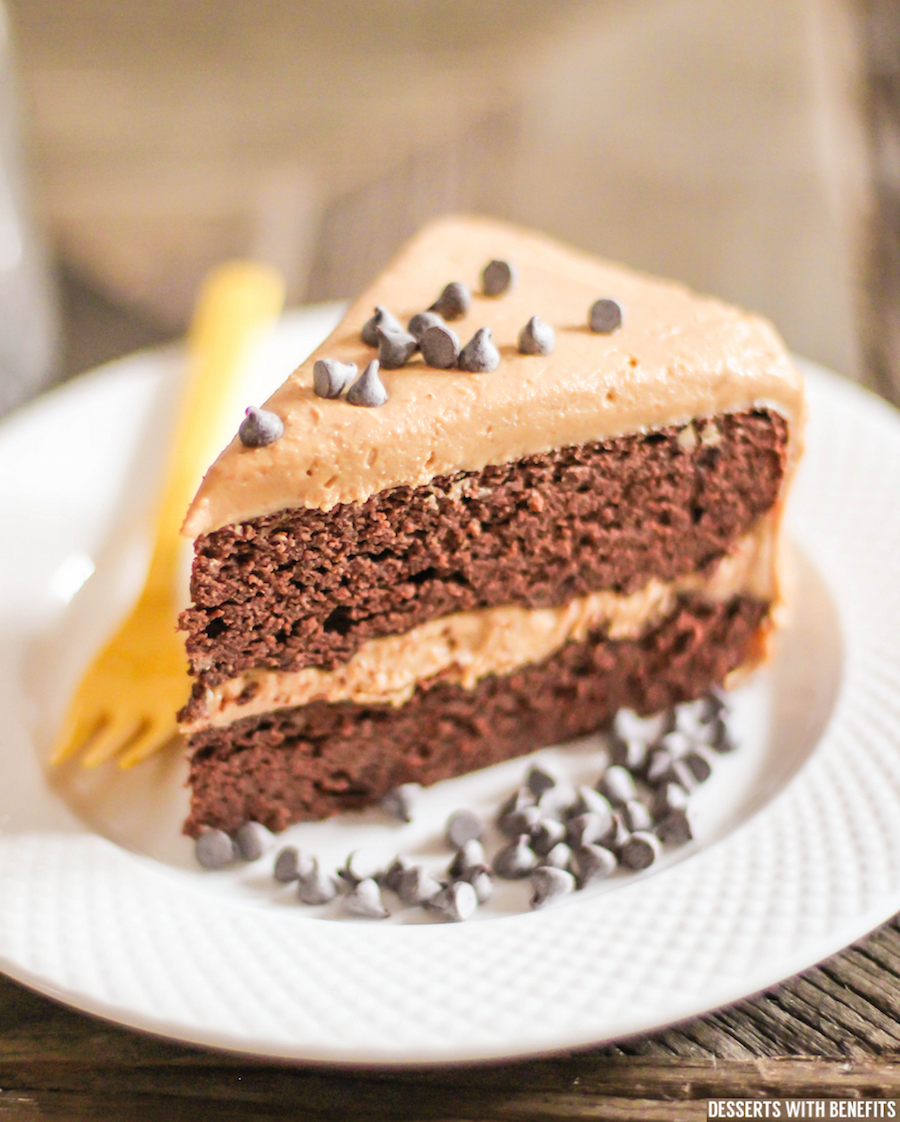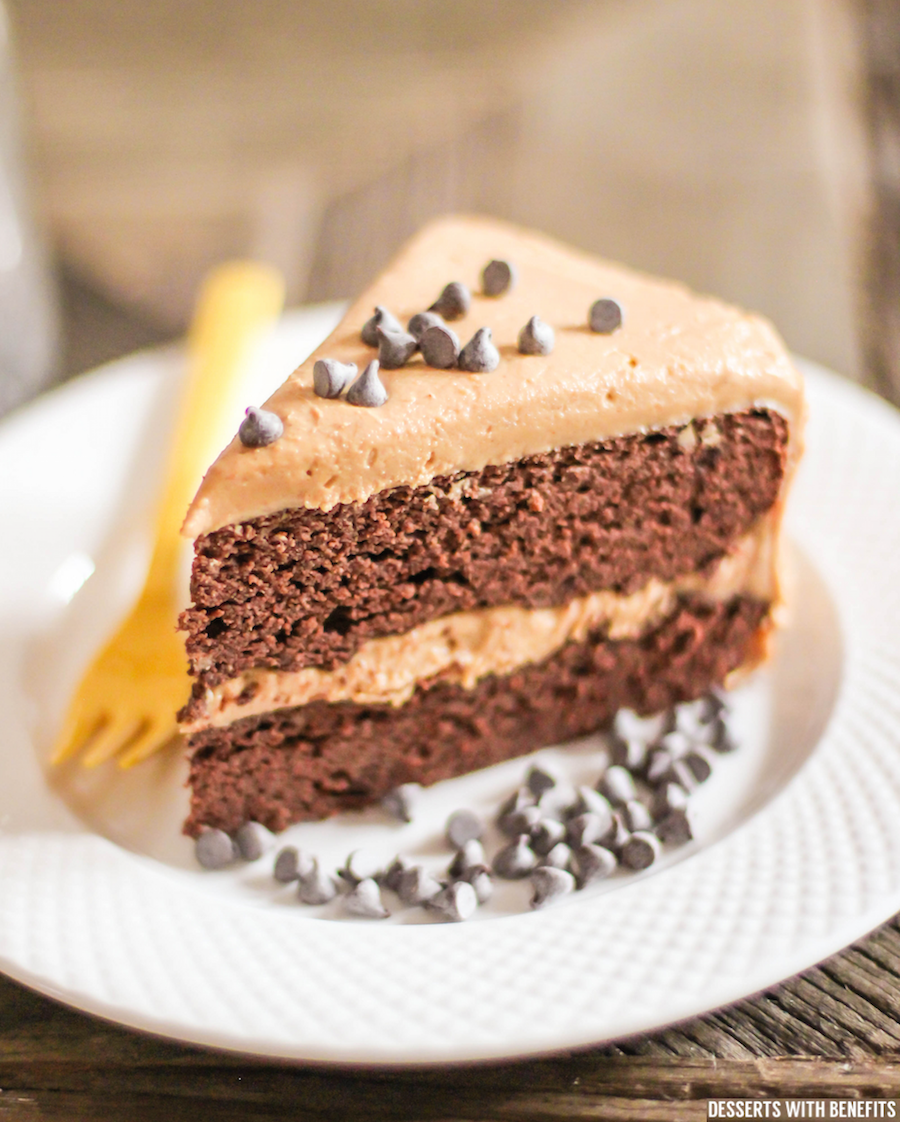 And the frosting?  OH. MY. GOODNESS. GRACIOUS.
It's like heaven.  Wait no, it's not "like" heaven, it IS heaven.  And that's a fact.
I'll let you in on a little secret here too:  When I was about to make the peanut butter frosting, I remembered I had run out of peanut butter the day before (crying and screaming occurred here, obviously).
And then I remembered my Peanut Butter Frosting made without peanut butter.  Peanut flour literally saved my life this cake.  Peanut flour is like peanut butter in powder form.  You can use it in baked goods and frostings, you can even reconstitute it with water or milk to make "instant peanut butter."  I use peanut flour quite often in my recipes and I used it in my cookbook, DIY Protein Bars.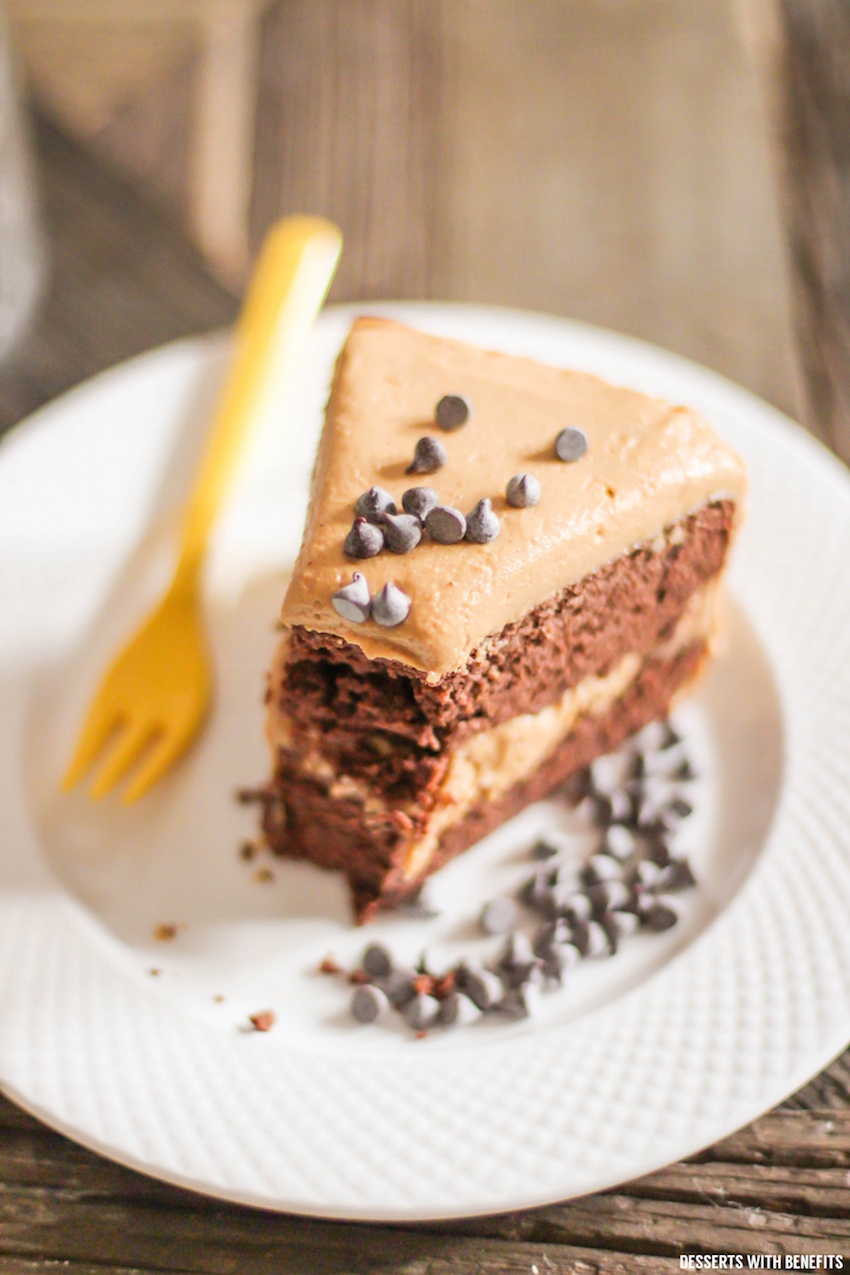 Can I tell you another secret?  I ate this cake for breakfast.  Like, three days in a row.  And I'm pretty sure those three days were the best days of my life  😉
So I'm just doing my duty — sharing the good news with y'all.  I think you should make this cake too.  It makes life infinitely better.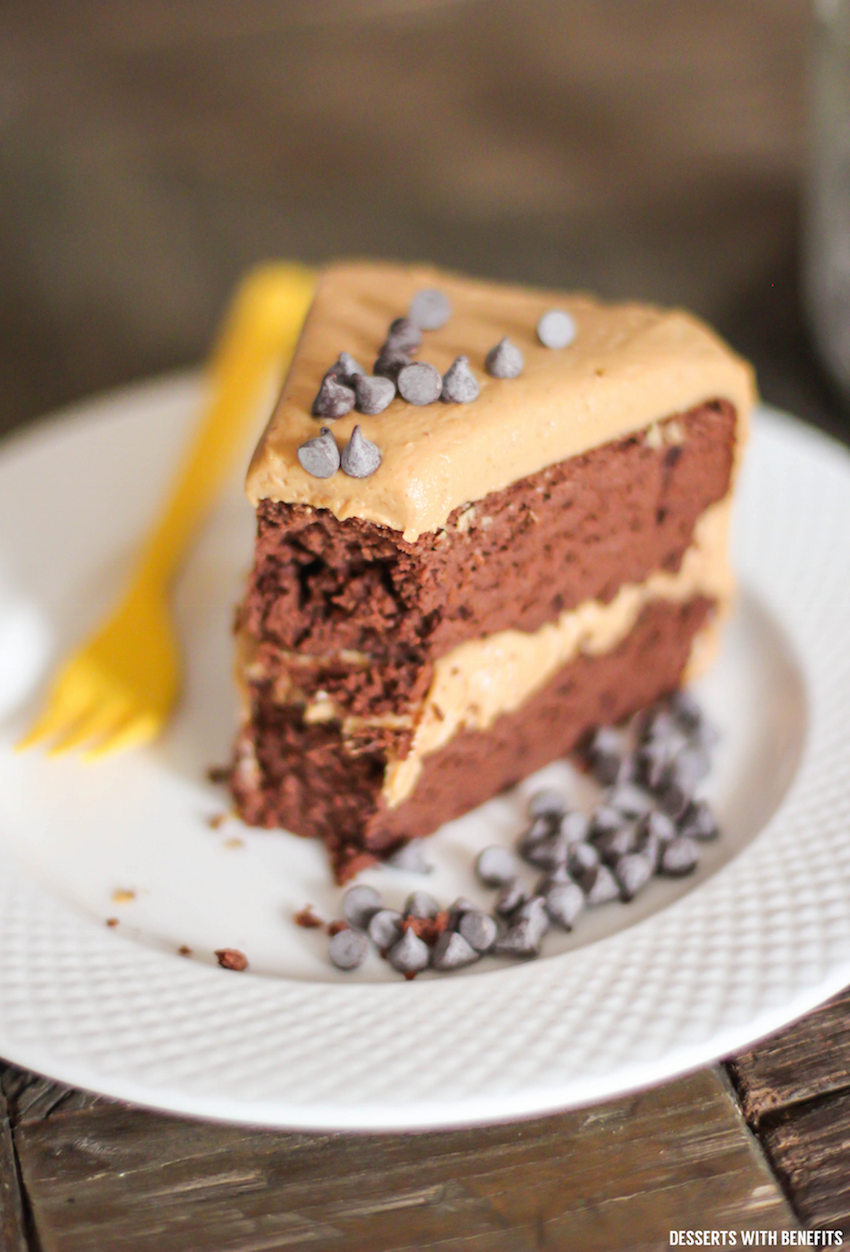 Imagine this in your face.
Healthy. Chocolate. Cake.
With Peanut Butter Frosting.
Sounds great, doesn't it?
Yes, of course.  Because it is  😉
Healthy Chocolate Cake with Peanut Butter Frosting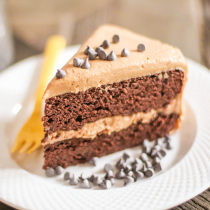 Ingredients:
Coconut Flour
Granulated Erythritol
Unsweetened Dutch Processed Cocoa Powder
Double-Acting Baking Powder
Baking Soda
Salt
Unsweetened Applesauce
Unsweetened Vanilla Almond Milk
Organic Eggs and Egg Whites
Vanilla Extract
Stevia Extract
Directions:
Notes:
I originally wasn't going to share the recipe here because I worked so incredibly hard on publishing 
Naughty or Nice
.  But, I understand not having a recipe here can be frustrating.  So, I'll meet you halfway...  how does that sound?  I'll show you all the ingredients I use in the recipe.  That way, you can determine on your own whether or not the cookbook is for you!