Healthy Shortbread Cookies
These Healthy Shortbread Cookies are sweet, simple, buttery, and delicious.  You'd never know they're sugar free, gluten free, dairy free, and vegan!
If you've ever had Shortbread Cookies, then you know they're not crazy flavor bombs like Skinny Minties or a decadent Chocolate Cake with Peanut Butter Frosting.
BUT, you'll also know how addicting they can be.  Despite being so simple and so basic, there's something about them that makes you reach back for another cookie.  And another.  And another.
Simplicity isn't always necessarily a bad thing.
In the case of these Healthy Shortbread Cookies, you'll find yourself in love at first bite.  You'll keep returning for more and more.  But no worries, y'all.  These are good for you.  Instead of being made with bleached all purpose flour, refined white sugar, and far too many sticks of butter, these cookies are made with whole grain oat flour, all-natural and sugar-free erythritol, and a small amount of coconut oil.
These ingredient swaps make these Shortbread Cookies guilt-free and lower calorie than their sugar- and butter-infused counterpart, yet just as tasty!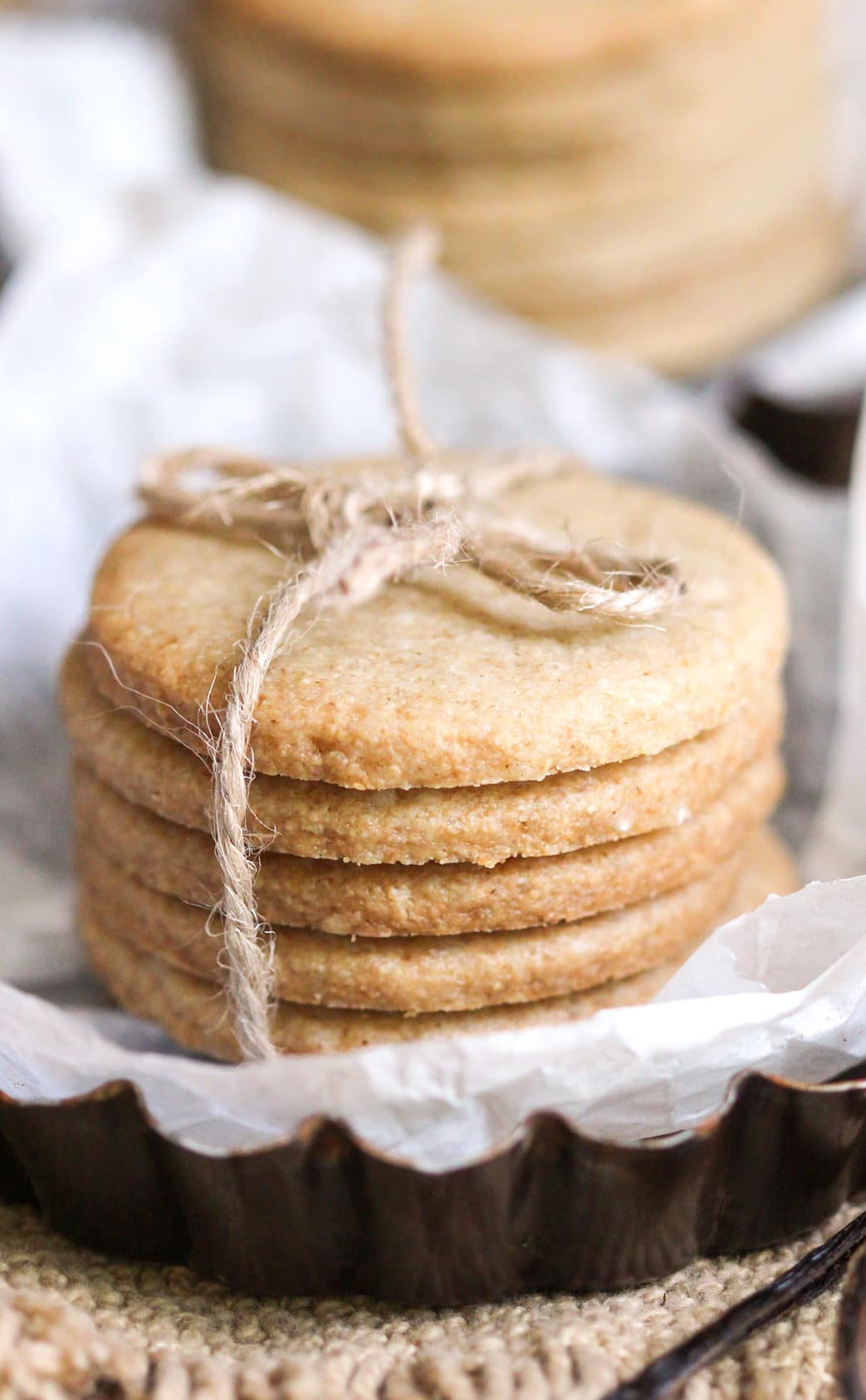 Healthy Shortbread Cookies
Prep Time: 30 minutes
Cook Time: 12 minutes
Total Time: 45 minutes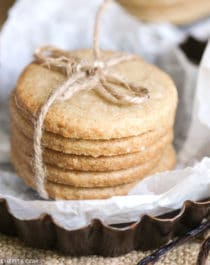 Fat per serving: 9
Calories per serving: 130
Ingredients:
Directions:
Preheat your oven to 350 degrees Fahrenheit.
In a small bowl, whisk together the oat flour, erythritol, baking powder, and salt.
In a stand mixer bowl with beater attachment, add the coconut oil, almond milk, vanilla extract, butter flavor, and stevia extract.  Mix on low speed until completely mixed.
Dump the dry ingredients into the stand mixer and mix until completely mixed.  Cover the bowl and refrigerate for 1 hour.
Roll ⅓ of the dough in between two silicone baking sheets until ~⅛" thick.  Use a 2″ circle cookie cutter to punch circles into the dough.  Peel away the dough surrounding the circle shapes, putting the dough back into the stand mixer bowl, and transfer the silicone sheet with the circles onto a cookie tray.
Bake for ~12 minutes, or until the cookies are golden brown around the edges.  Carefully transfer the silicone sheet onto your counter or a wire cooling rack to cool completely (the cookies will be soft out of the oven, but will firm up as they cool).  Keep re-rolling the dough and baking until all the dough is used up.
Notes:
To store, keep cookies in an airtight container at room temperature for up to 3 days.
All images and text ©
.
.
Here is the recipe's nutrition label:
Yes, THREE Healthy Shortbread Cookies for just 130 calories!  On the other hand, three cookies of Keebler's Sandies Classic Shortbread has 240 calories, 13.5g fat, and 10.5g sugar.
For the same amount of cookies, this healthier homemade version will save you 110 calories.  That means you can have a few more, guilt-free, yes?
YES.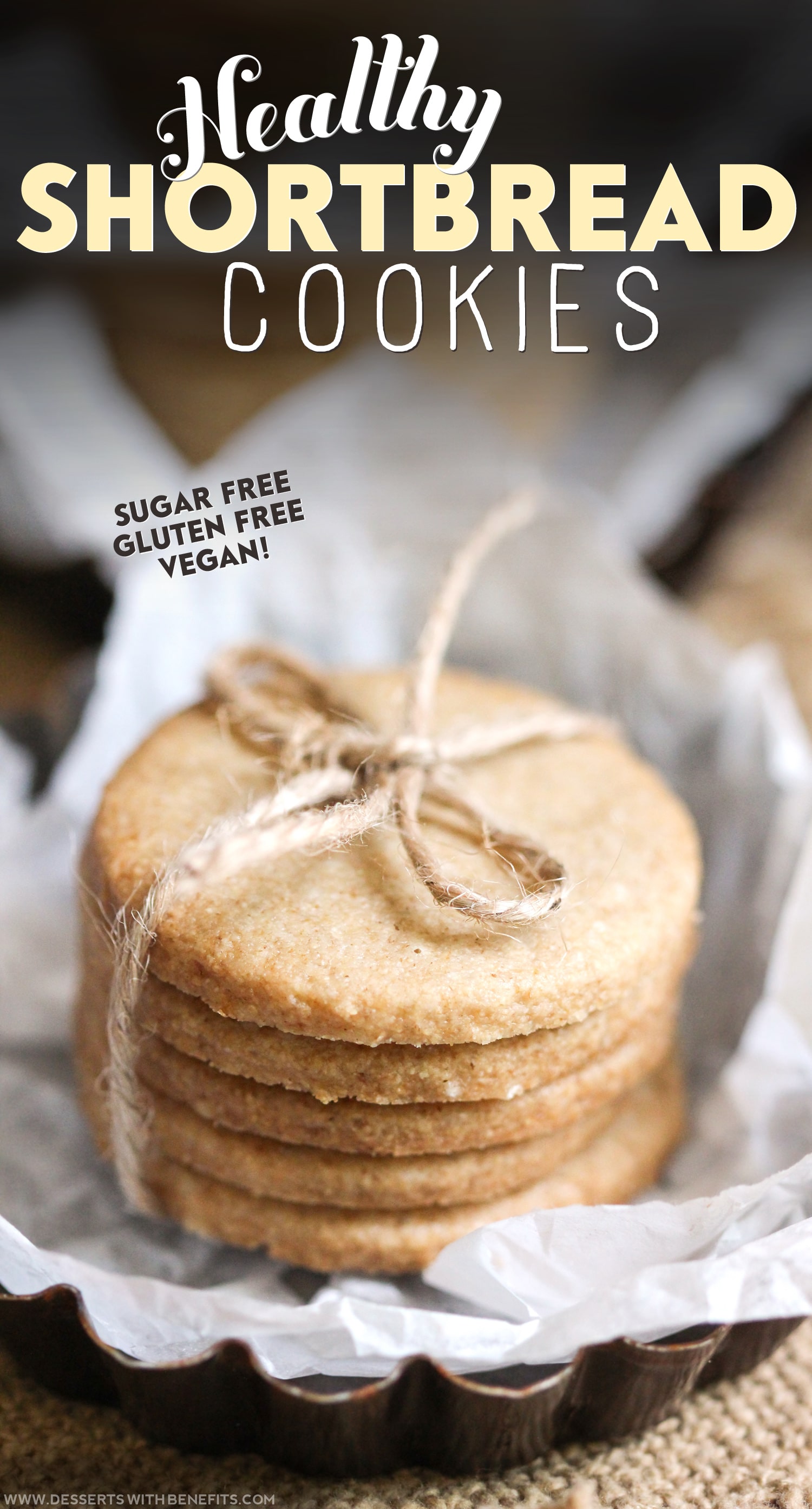 Enjoy!
.
-Jess
.