Healthy Banana Cupcakes (sugar free, gluten free, vegan) + A GIVEAWAY!
These healthy Banana Cupcakes are light, fluffy, sweet, and comforting.  They're frosted with the creamiest and richest Peanut Butter Frosting you could dream of too.  One bite and you'd never suspect it's a nutritionally balanced treat filled with healthy fats, complex carbs, fiber, and protein!
These cupcakes will fill you up rather than fill you out.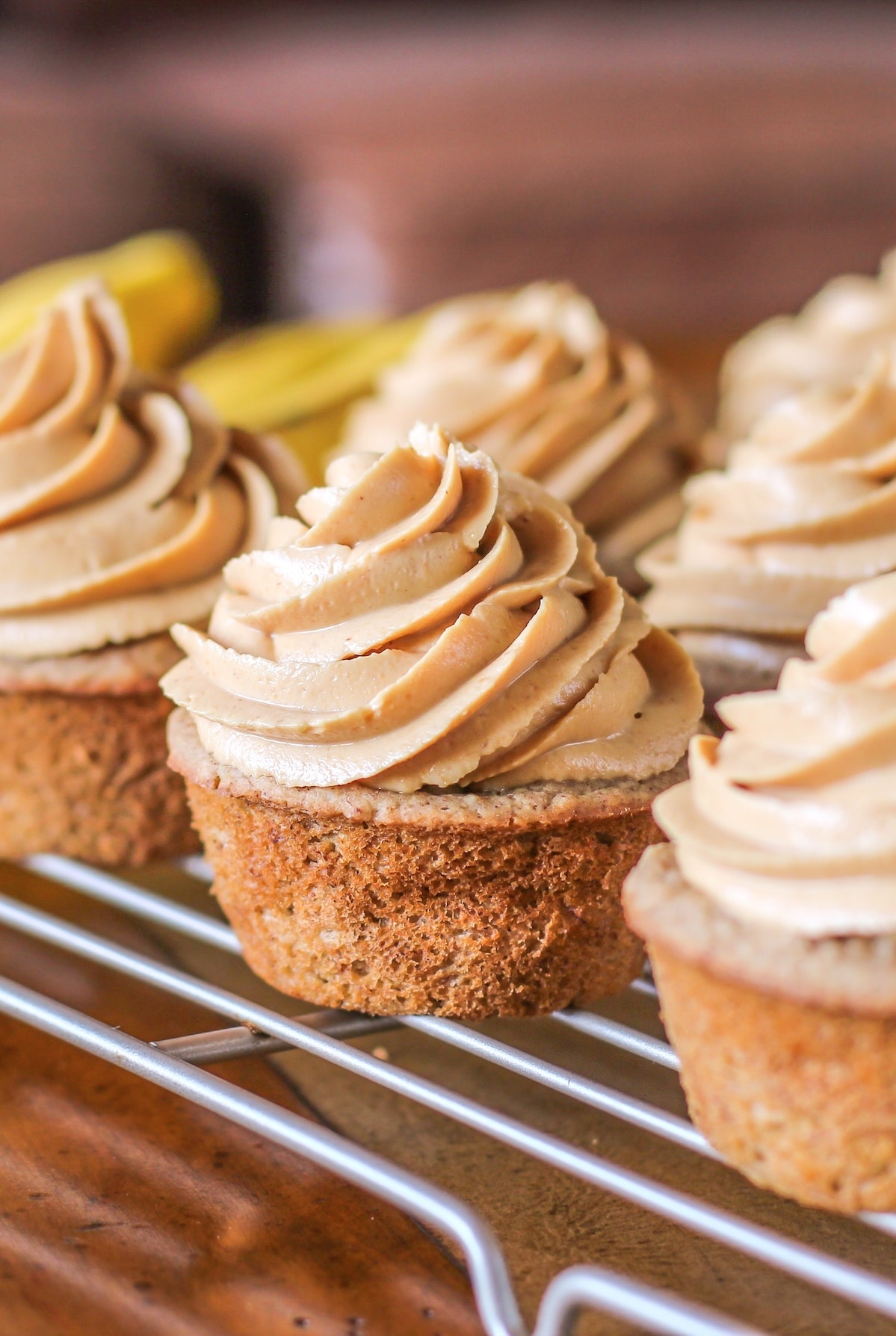 You know how it's always tempting to eat multiple cupcakes?  Especially the typical unhealthy bakery-style cupcakes?  They may satisfy your cravings initially, but you always get hungry again half an hour later.  They're so full of sugar and quickly digestible ingredients, that they simply can't keep you full.  That's why the temptation to keep eating cupcakes is always there.
Trust me, I think I've eaten like, seven store-bought cupcakes in a row once…
ANYWAYS.  With these healthy Banana Cupcakes, it's physically impossible to eat an entire batch!
Each cupcake has just 120 calories and 3.5g of fat, along with ZERO added sugar!
My eyes are bigger than my stomach.  I wanted to eat all of the cupcakes in one sitting but I was absolutely stuffed after eating just two!
I left two cupcakes on a plate for my parents.  My dad (who, keep in mind, does not even like sweets) ate BOTH before my mother made it to the kitchen.  My mom walked in to see cupcake wrappers on the plate and said, "Hey!  Where's mine?!"  My dad just stood there, wide-eyed, "Ummm."
But don't worry, my mom got her cupcake(s)  😉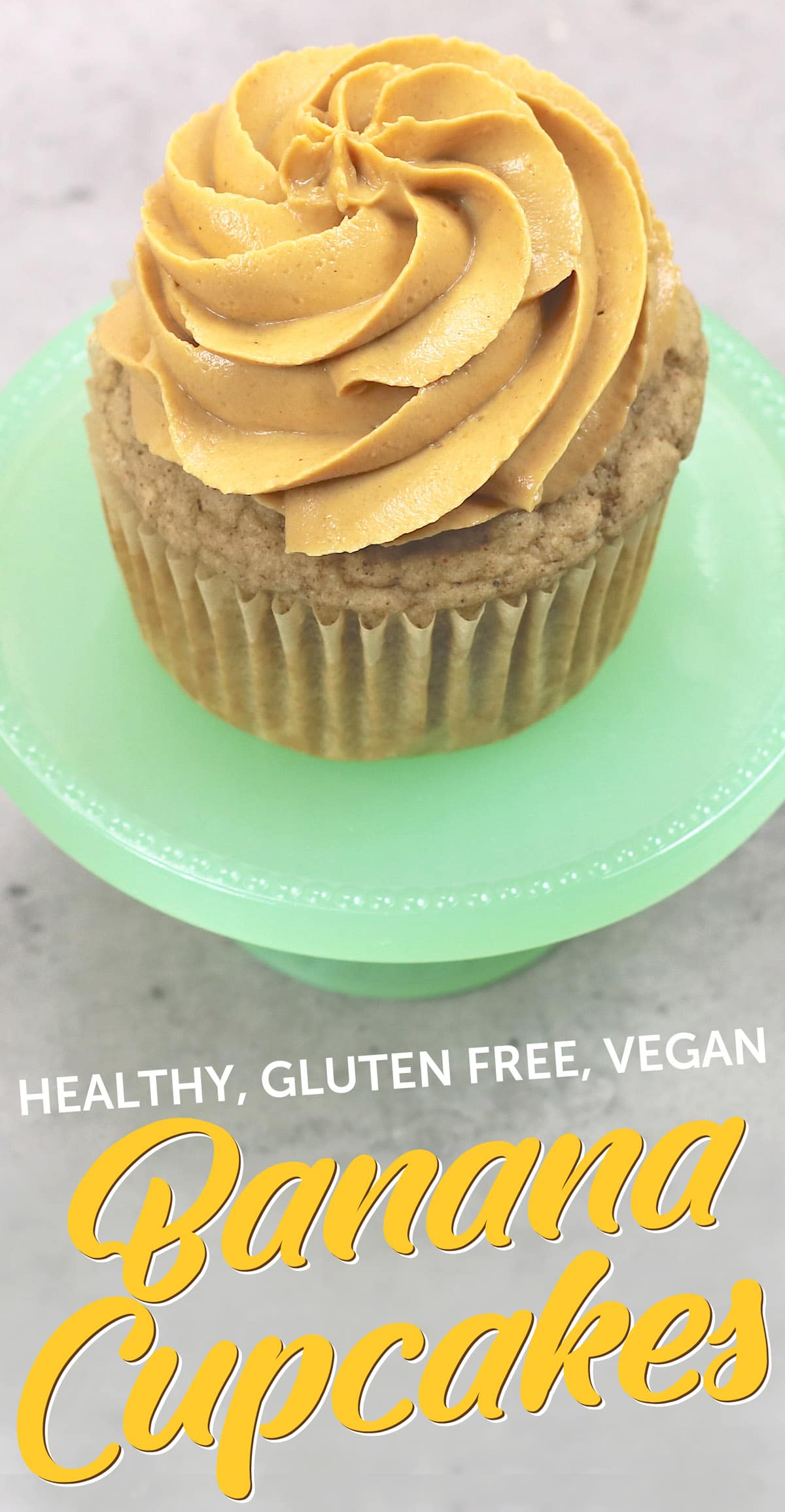 Can you guess the secret ingredient used to make these healthy Banana Cupcakes?
Watch me make the cupcakes on video, start to finish, and see what secret ingredient I used  😉
I wish I could magically hand you a cupcake through the screen you are looking at but technology hasn't caught up to that yet.  What a shame, more for me I guess…  😉
These cupcakes are packed with banana flavor, reminiscent of Banana Bread just in a smaller package.  These crave-able cupcakes provide a hint of quinoa with a rich peanut butter frosting — they are not your typical overbearingly sweet cupcakes so they are perfect for breakfast and a snack throughout the day.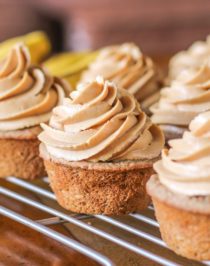 Print Recipe
Pin Recipe
Healthy Banana Cupcakes with Peanut Butter Frosting
These healthy Banana Cupcakes are light, fluffy, sweet, and comforting. They're frosted with the creamiest and richest Peanut Butter Frosting you could dream of too!
Instructions
Preheat the oven to 350 degrees Fahrenheit and spray 2 standard cupcake pans with cooking spray (this recipe makes 14 cupcakes, so you'll only need to spray 14 cavities). If you want to use cupcake liners, use parchment paper liners (these cupcakes might stick to paper liners).

In a medium-sized bowl, whisk together the oat flour, erythritol, sorghum flour, quinoa flour, baking powder, cinnamon, and salt.

In an electric stand mixer bowl fitted with a beater attachment, add the almond milk, mashed bananas, vanilla extract, butter flavor, and stevia extract. Mix on low speed. While mixing, pour the coconut oil into the stand mixer.

Add the dry ingredients to the stand mixer and increase the mixer speed to medium. Mix until the ingredients are fully incorporated. Scrape down the sides of the bowl if necessary.

Pour the batter into the prepared cupcake pans. Bake for 20 minutes, or until the surface springs back when tapped. Let cool slightly in the pans, then transfer the cupcakes to a wire cooling rack to cool completely.
Nutrition Facts
Healthy Banana Cupcakes with Peanut Butter Frosting
Amount Per Serving (1 cupcake)
Calories 120
Calories from Fat 32
% Daily Value*
Fat 3.5g5%
Sodium 180mg8%
Carbohydrates 18.5g6%
Protein 3g6%
Vitamin C 3.3mg4%
Calcium 150mg15%
Iron 1.1mg6%
* Percent Daily Values are based on a 2000 calorie diet.
Recipe republished with permission from the Naughty or Nice Cookbook!
.
I wanted to show you how thankful I am for all of your love and support and encouragement over the 8½ years that I've been blogging (yes, 8½!), so, to celebrate my newly published Naughty or Nice Cookbook, I'm hosting a giveaway!
Naughty or Nice Cookbook Giveaway!

.
Good luck!!
.
With love and good eats,
.
– Jess
.