Healthy Banana Cupcakes with Peanut Butter Frosting
Healthy Banana Cupcakes with Peanut Butter Frosting …  made with quinoa!
Quinoa cupcakes…  probably not the most appetizing phrase you have ever heard, and certainly not something you hear everyday!  But trust me, these cupcakes are 100% delicious.  I mean, can you really go wrong with bananas, peanut butter and a little dose of healthy?
I wish I could magically hand you a cupcake through the screen you are looking at but technology hasn't caught up to that yet (what a shame, more for me I guess…)
These cupcakes are packed with banana flavor, reminiscent of banana bread just in a smaller package.  These crave-able cupcakes provide a hint of quinoa with a rich peanut butter frosting — they are not your typical overbearingly sweet cupcakes so they are perfect for breakfast and a snack throughout the day  🙂
My eyes are bigger than my stomach.  I wanted to eat all of the cupcakes in one sitting but I was absolutely stuffed after eating just two!
These Healthy Banana Cupcakes with Peanut Butter Frosting are nutritionally balanced, filled with healthy fats, complex carbs, fiber and protein, so these cupcakes will fill you up rather than fill you out.  I bet it's physically impossible to eat the entire batch, like how we would be able to with the typical unhealthy bakery-style cupcakes (trust me, I think I've eaten like, seven storebought cupcakes in a row once…)
I left two cupcakes on a plate for my parents.  My dad (who, keep in mind, does not even like sweets) ate BOTH before my mother made it to the kitchen.  My mom walked in to see cupcake wrappers on the plate and said, "Hey!  Where's mine?!"  My dad just stood there, wide-eyed, "Ummm…"
But don't worry, my mom got her cupcake(s)  😉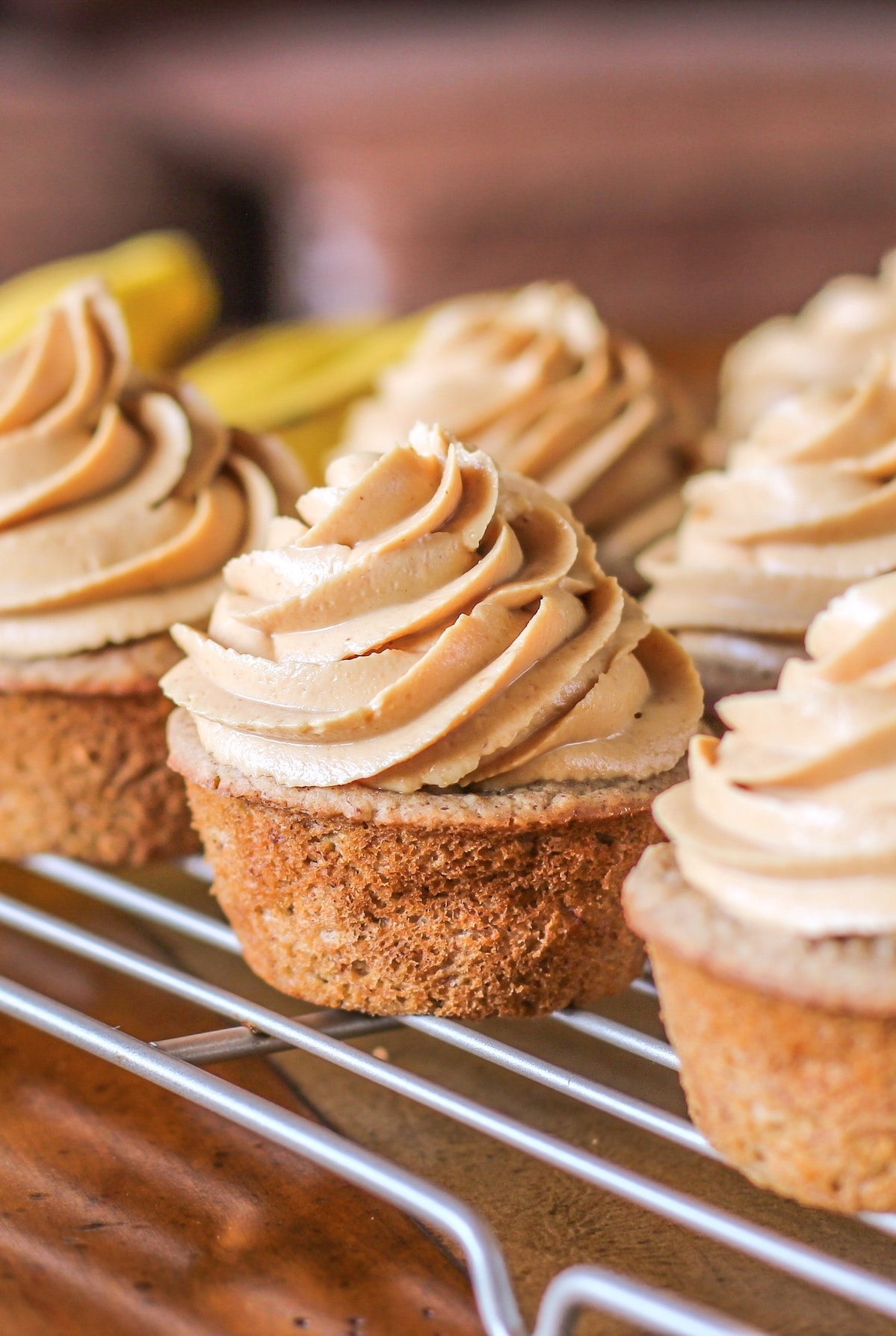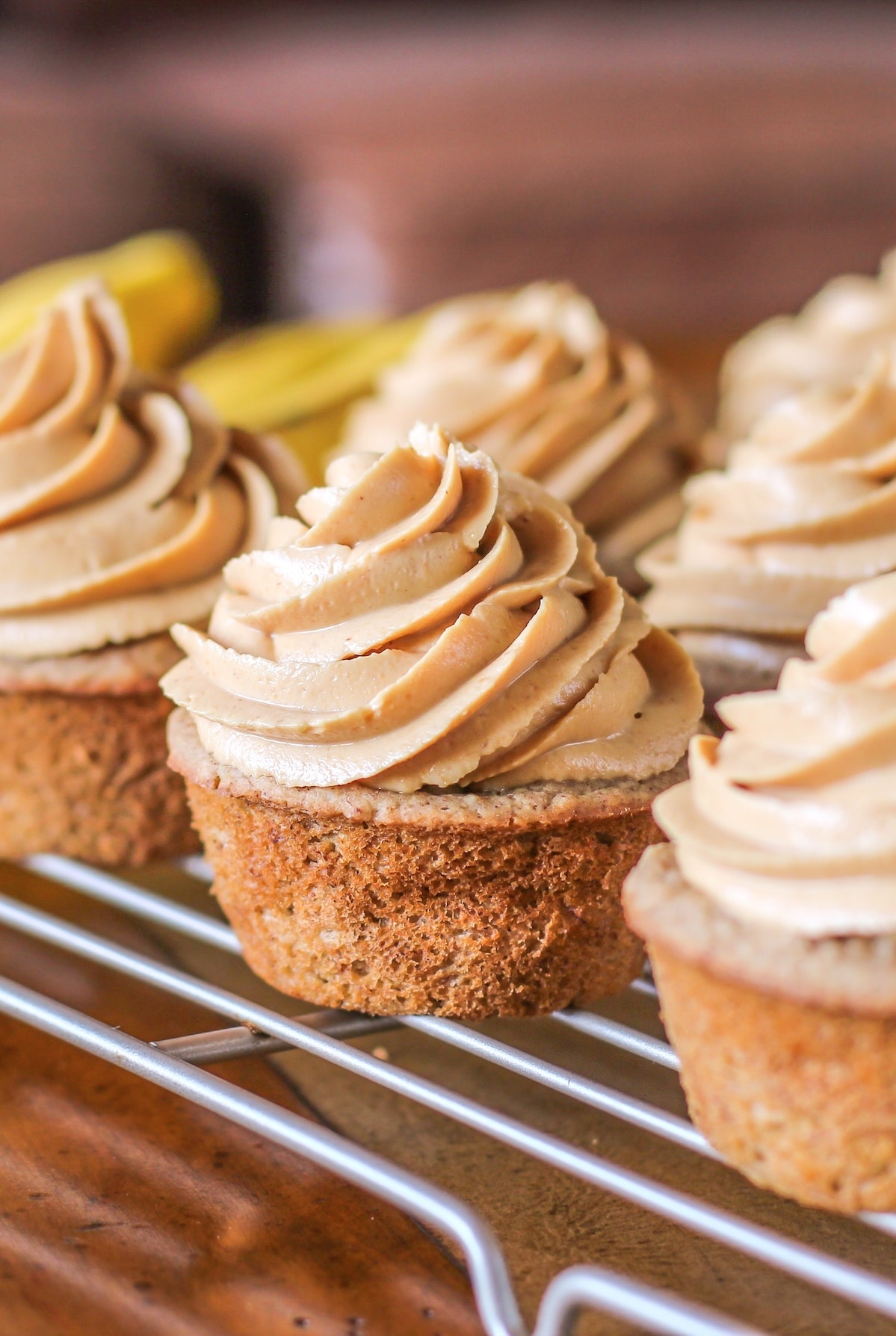 Healthy Banana Cupcakes with Peanut Butter Frosting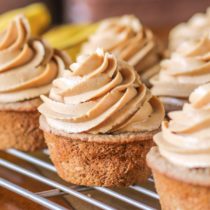 Ingredients:
Oat Flour
Granulated Erythritol
Sweet White Sorghum Flour
Quinoa Flour
Double-Acting Baking Powder
Ground Cinnamon
Salt
Unsweetened Vanilla Almond Milk
Bananas
Vanilla Extract
Natural Butter Flavor
Liquid Stevia Extract
Coconut Oil
Directions:
Notes:
I originally wasn't going to share the recipe here because I worked so incredibly hard on publishing 
Naughty or Nice
.  But, I understand not having a recipe here can be frustrating.  So, I'll meet you halfway...  how does that sound?  I'll show you all the ingredients I use in the recipe.  That way, you can determine on your own whether or not the cookbook is for you!