Healthy Pumpkin Ice Cream
I have to admit, I have never really been a fan of pumpkin.  Or pumpkin pie spice.  Or pumpkin spice lattes.  I'm sure you're looking at your screen with a look of shock — eyes wide, eyebrows high.  I mean, am I even a millennial if I don't order my daily PSL from Starbucks?  I'm only kidding  😉  And before you start thinking I'm some freak of nature, I'd like to clarify that I've come around to pumpkin flavor.  I don't love it, but I don't hate it anymore.  Similar to how I've come around to whipped cream, cream cheese, Crème Brûlée, oatmeal, and in this season's case, Pumpkin Pie!  Even though a cold front came through Texas, the weather channel says it'll start to warm back up again soon.  And what better way to celebrate warmer weather than with ice cream??  Pumpkin Ice Cream, that is!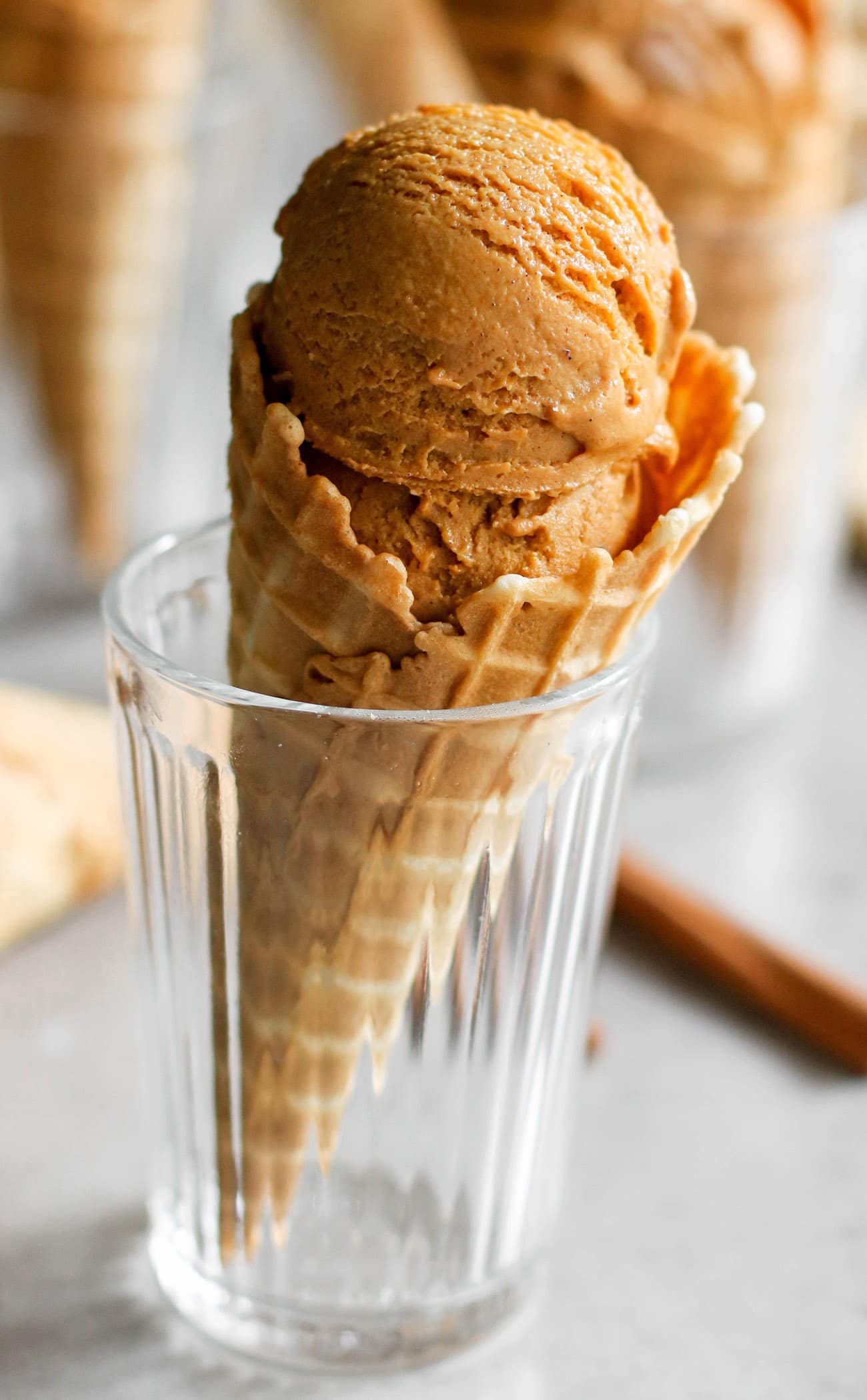 This Pumpkin Ice Cream is ULTRA creamy, perfectly spiced, and sweet enough to satisfy your sweet tooth.  Best of all, it's made with 100% healthy ingredients!
Typical ice cream is made with heavy cream, egg yolks, and enough sugar to make your dentist cry.  But not this one.  This one is made with healthier swaps to make it fat free, refined sugar free, high protein, and eggless.
Instead of heavy cream, I used a mixture of evaporated fat free milk and fat free cream cheese.  Instead of egg yolks, I added whey protein powder (I honestly didn't think this was going to work, but it did!).  Instead of white sugar, I used pure maple syrup, a tiny bit of molasses, and organic stevia extract.
A creamy and uber flavorful ice cream without all the heavy cream, sugar, and artificial ingredients?  Yes, it IS possible!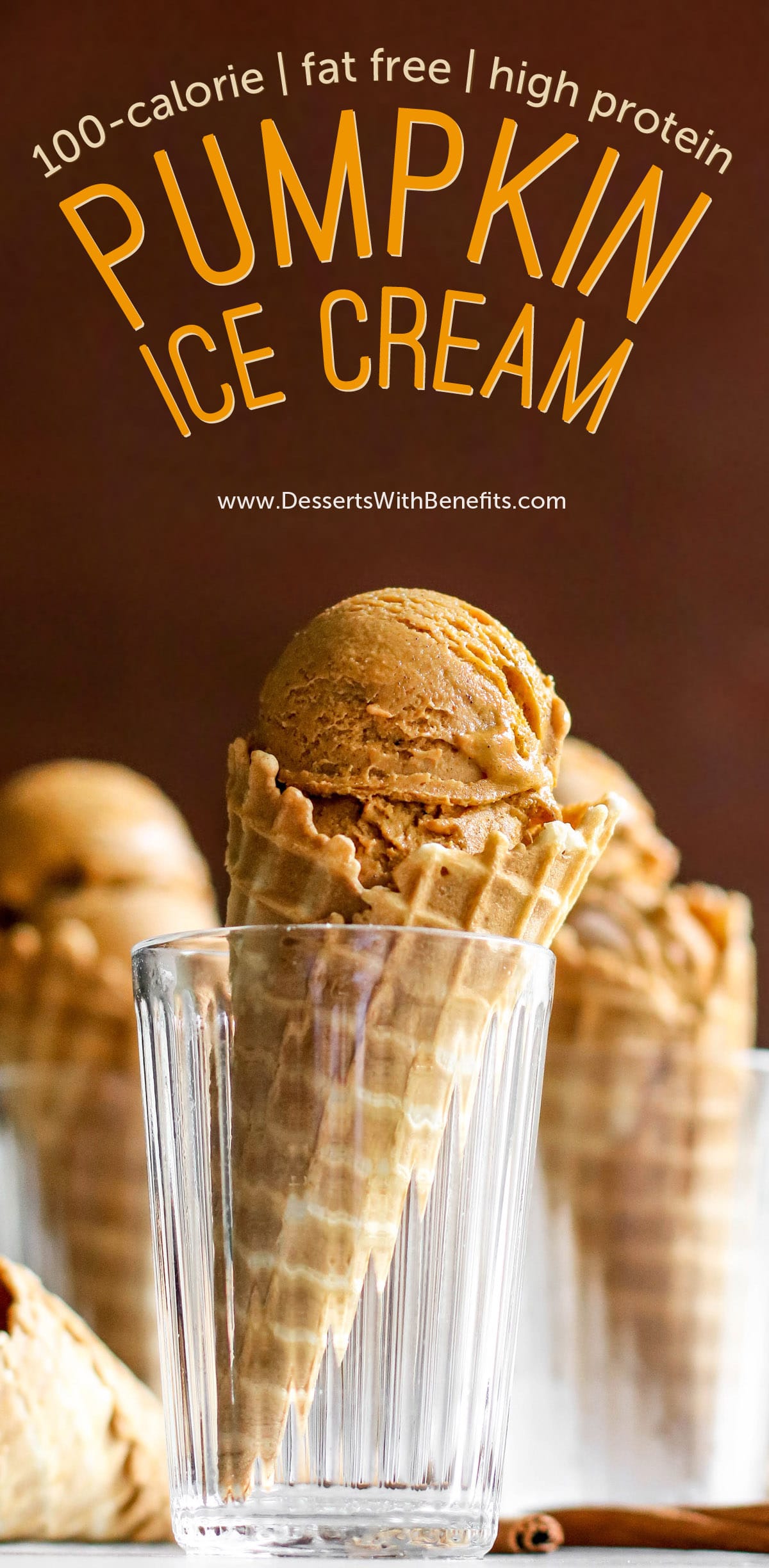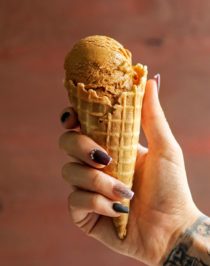 Print Recipe
Pin Recipe
Healthy Pumpkin Ice Cream
This ultra creamy, sweet, and spicy Pumpkin Ice Cream is a secretly healthy treat! Perfect for the holidays (or any time, really)!
Ingredients
1

12oz can

Evaporated Fat Free Milk

8

oz

Fat Free Cream Cheese

1¼

cups

100% Pure Pumpkin Puree

⅓

cup

Pure Maple Syrup

1

tbs

Molasses

2

tsp

Vanilla Extract

1

tsp

Liquid Stevia Extract

1

tsp

Natural Maple Flavor

1

cup

Unflavored Whey Protein Isolate

(75g)

1

tbs

Pumpkin Pie Spice
Instructions
In a large blender (I used my Vitamix), add the evaporated milk, cream cheese, pumpkin puree, maple syrup, molasses, vanilla extract, stevia extract, and maple flavor. Blend until smooth.

While blending, add the whey protein powder and pumpkin pie spice.

Follow your ice cream maker's instructions to churn. Transfer the mixture into a freezer-safe container and freeze for ~3-5 hours, or until it's the consistency you prefer. Serve and enjoy!
Nutrition Facts
Healthy Pumpkin Ice Cream
Amount Per Serving (1 serving = ½ cup)
Calories 100
% Daily Value*
Cholesterol 4mg1%
Sodium 205mg9%
Carbohydrates 15g5%
Protein 9.5g19%
Vitamin A 4000IU80%
Vitamin C 1.2mg1%
Calcium 190mg19%
Iron 0.7mg4%
* Percent Daily Values are based on a 2000 calorie diet.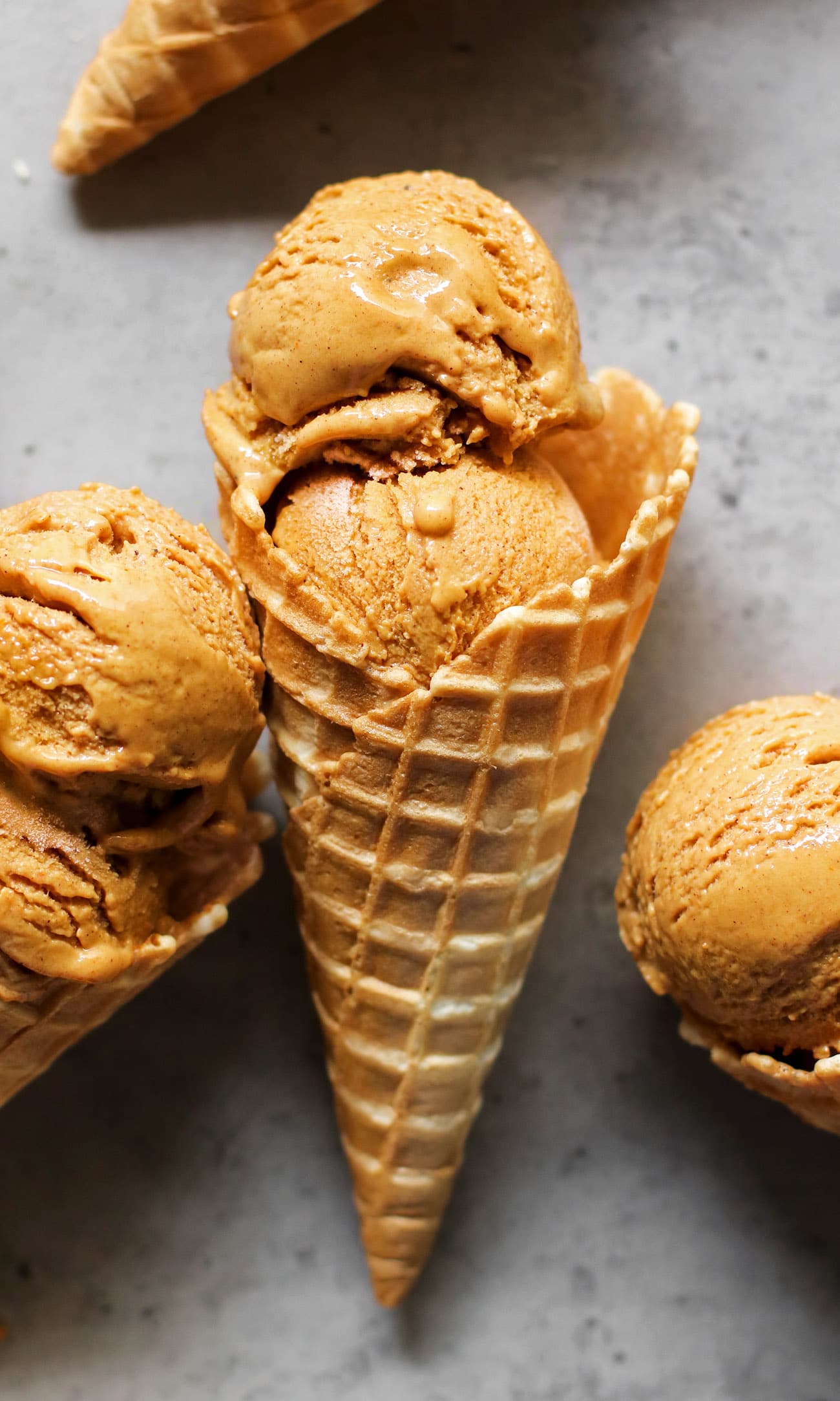 This Pumpkin Ice Cream is so good!  I'm still in shock that such a thing could exist.
After my first bite, all I could do was stare at the ice cream, grin, and scooped myself another (big) bite.  Dang, that is some good stuff right there!
If you're a fan of Gingersnaps and Mexican Spiced Coffee or anything with pumpkin pie spice, this is the ice cream for you.
And if you like tasty AND healthy desserts, then this is definitely for you too!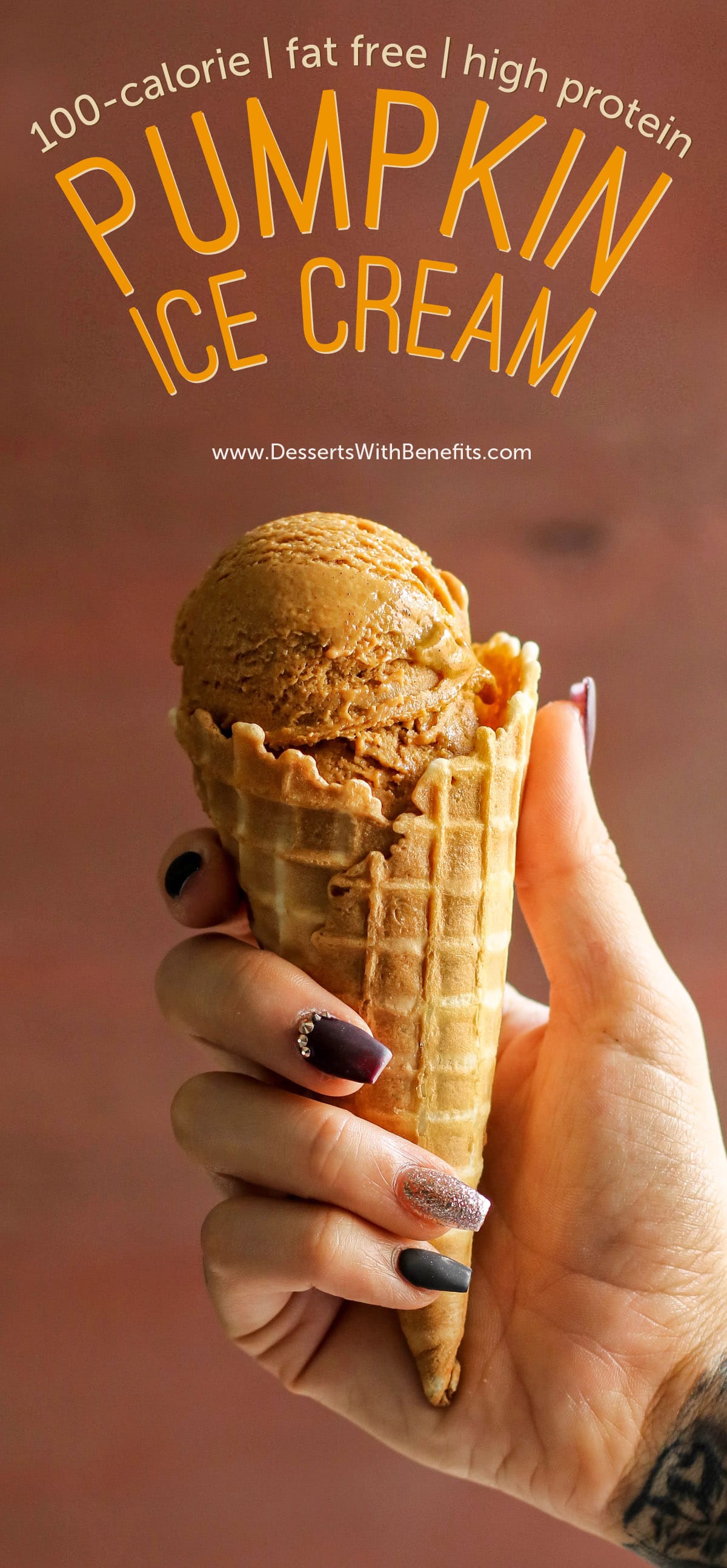 Enjoy!
.
With love and good eats,
.
– Jess
.