Healthy Nutella Fudge DIY Protein Bars
Need a quick breakfast/snack on the go?  Make these (secretly) Healthy Nutella Fudge DIY Protein Bars!  They're no-bake, easy to make, and super fudgy and sweet.  You'd never know they're sugar free, low fat, whole grain, gluten free and vegan!
My Healthy Homemade Nutella makes these super decadent protein bars as guilt-free as possible so you can feel good about eating them.  You can have all the taste of storebought Nutella but without all the nasty ingredients.
These are for serious chocolate lovers only  😉
You could also serve these protein bars as little cubes of fudge, just slice each protein bar into three or four.  Kind of like what I did with my Red Velvet Fudge.
These Healthy Nutella Fudge DIY Protein Bars are super healthy, packed with healthy fats, fiber, complex carbs and high-quality protein.  Yeah, I'll take twenty.
*whistles and looks away*
LOOK AT THE FUDGINESSSSSS  
You must make these protein bars as soon as you step foot inside your kitchen!  You will have quick and easy snacks all ready for you for the entire week!  If they last that long…
All by myself, these lasted me three days (there is NO such thing as taking things slowly).  I took them to school with me to snack in between classes.  So glad I did, they brought a huge smile to my face 😀
One protein bar for before my exam (for concentration, fuel and energy…  and a reward for all that studying!) and a protein bar for after my exam (as a post-exam reward, duhhh)
These protein bars keep very well in the fridge, but I wonder how long this chocolate-hazelnut goodness will last in YOUR home…
Not long, I'm sure.  Not long at all  😉
Healthy Nutella Fudge DIY Protein Bars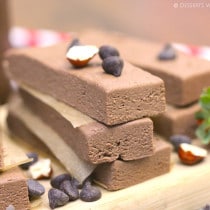 Ingredients:
Roasted Hazelnut Butter
Unsweetened Vanilla Almond Milk
Vanilla Crème-Flavored Liquid Stevia Extract
Chocolate Brown Rice Protein Powder
Oat Flour
Unsweetened Dutch Processed Cocoa Powder
Salt
Mini Semi-Sweet Chocolate Chips
Directions:
Notes:
I originally wasn't going to share the recipe here because I worked so incredibly hard on publishing 
DIY Protein Bars
.  But, I understand not having a recipe here can be frustrating.  So, I'll meet you halfway...  how does that sound?  I'll show you all the ingredients I use in the recipe.  That way, you can determine on your own whether or not the cookbook is for you!