Healthy Millionaire's DIY Protein Bars
Can you guess what's underneath that amazing, thick veil of chocolate?  Fudgy bars made with rich-tasting almond butter plus a luscious layer of caramel.  Is your stomach growling yet??  Mine sure is.  These sweet and decadent Millionaire's DIY Protein Bars don't taste healthy at all, they taste like candy bars full of sugar.
They actually taste like sin.  Pure sin.
These decadent Millionaire's DIY Protein Bars are chocolatey, caramelly, sweet, and rich.
Every bite will make you feel like a million bucks.  This is THE perfect treat to have on hand for snacks, dessert, or even a breakfast on the go — it's nutritionally balanced (with fiber, protein and zero refined sugar) so you will stay fuller for longer, unlike typical storebought candy bars.  What's not to love??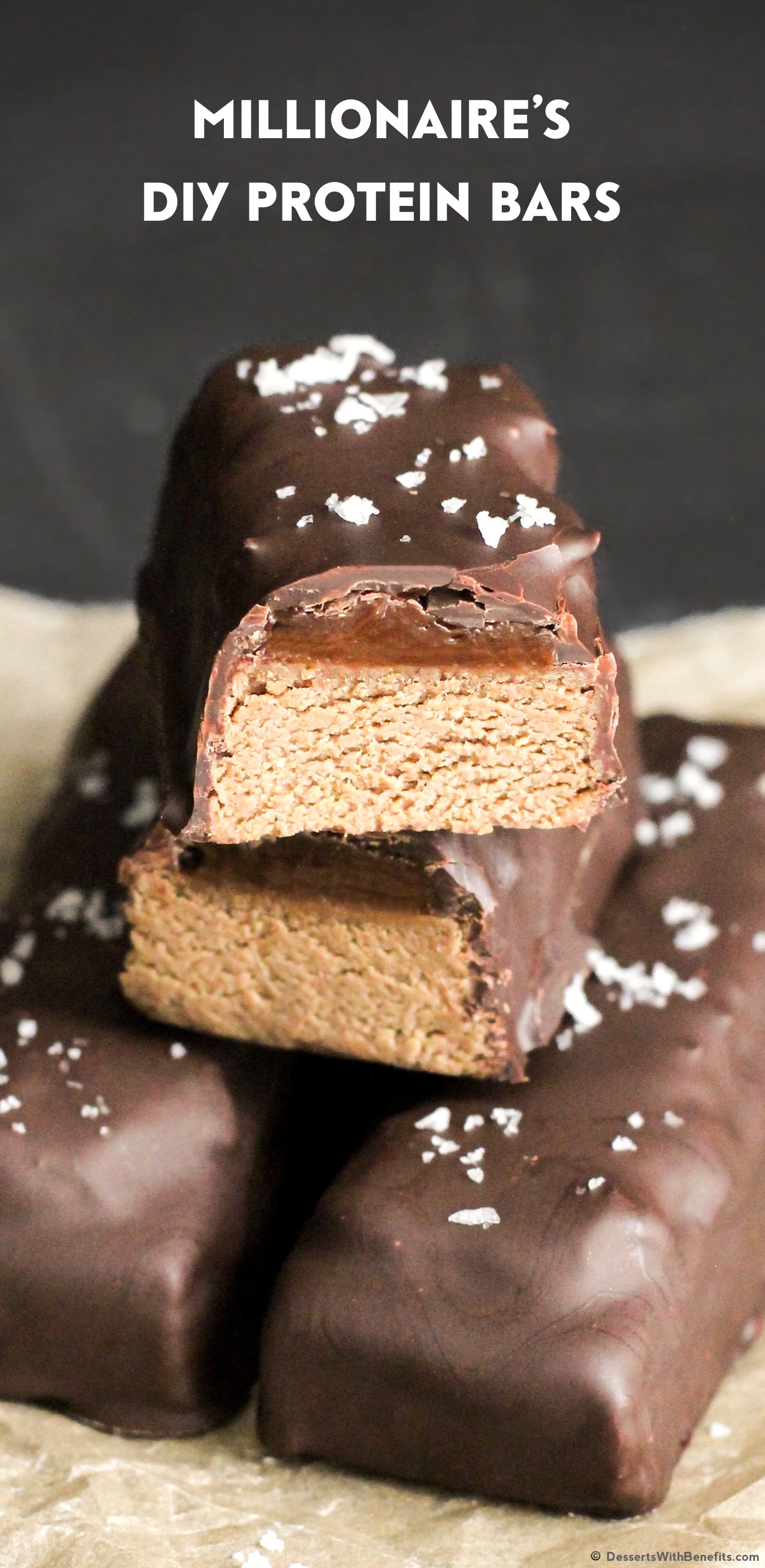 Healthy Millionaire's DIY Protein Bars
Prep Time: 1 hour
Cook Time: 0 minutes
Total Time: 2 hours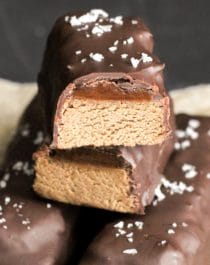 Fat per serving: 12
Calories per serving: 260
Ingredients:
Roasted Almond Butter
Unsweetened Vanilla Almond Milk
Vanilla Bean Paste (I use homemade!)
Oat Flour
Flaked Sea Salt
Caramel Sauce (I use Date Caramel Sauce)
Bittersweet Chocolate (70% Cacao)
Directions:
Notes:
I originally wasn't going to share the recipe here because I worked so incredibly hard on publishing DIY Protein Bars.  But, I understand not having a recipe here can be frustrating.  So, I'll meet you halfway…  how does that sound?  I'll show you all the ingredients I use in the recipe.  That way, you can determine on your own whether or not the cookbook is for you!
Do not use whey/egg/casein protein!  The mixture will be gooey and won't solidify.
All images and text © .
If you like this recipe, then you'll LOVE my DIY Protein Bars Cookbook!  With 48 protein bar recipes, you'll never buy protein bars from the store again.  To learn more about the book and see some sneak peeks, see this page!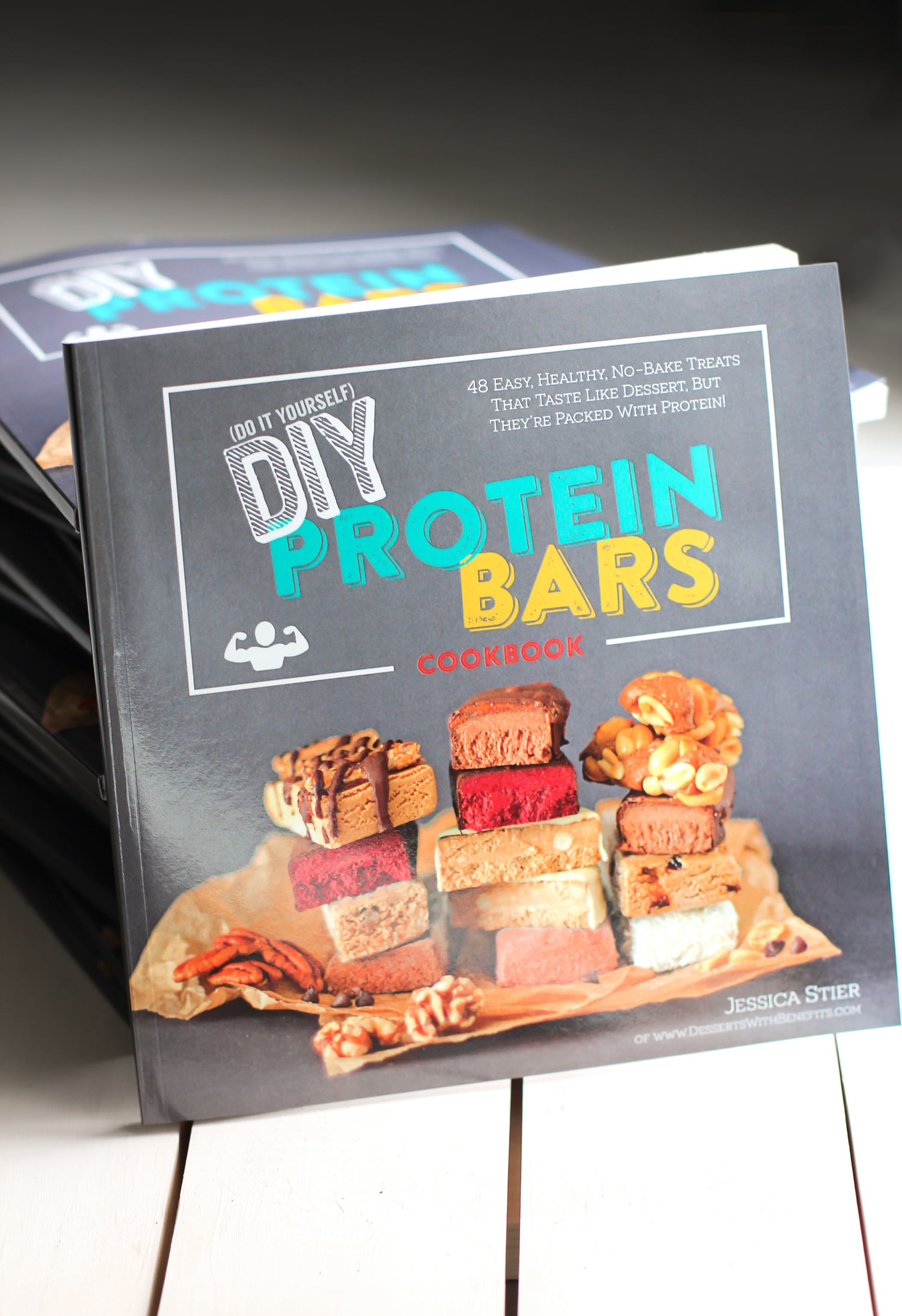 .

.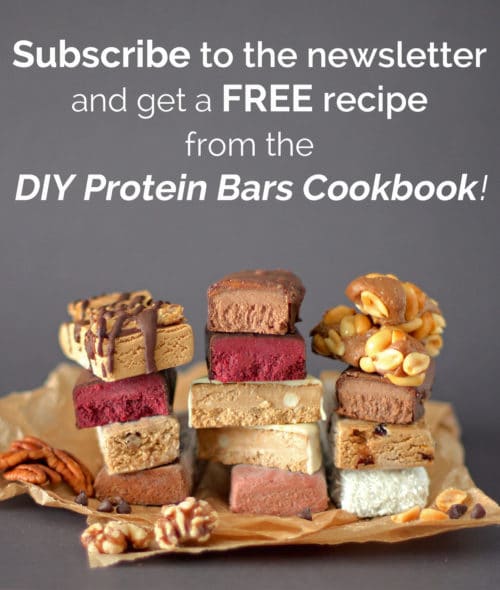 .
Here is the recipe's nutrition label:
Enjoy!
.
Be happy.
Live fully.
Eat protein bars.
.
– Jess
.