Healthy Peanut Butter Protein Balls
These Peanut Butter Protein Balls are definitely one of my favorite snacks — they are so easy to make, modify, and eat!  The recipe hasn't failed me yet (I don't think anything with peanut butter has failed me).  These are soft and fudgy and sweet and oh so rich, you're gonna love them 🙂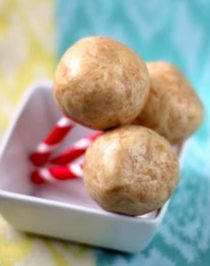 Print Recipe
Pin Recipe
Healthy Peanut Butter Protein Balls
Instructions
Put the protein powder in a bowl, then stir in the honey and peanut butter.

Stir until everything is incorporated (it takes a while).

Add any toppings you want (pictured below).

Roll into balls with your hands. Serve immediately or refrigerate for later!
Nutrition Facts
Healthy Peanut Butter Protein Balls
Amount Per Serving (1 batch)
Calories 440
Calories from Fat 153
% Daily Value*
Fat 17g26%
Cholesterol 5mg2%
Sodium 430mg19%
Carbohydrates 42g14%
Protein 31g62%
Calcium 40mg4%
Iron 0.4mg2%
* Percent Daily Values are based on a 2000 calorie diet.
Here are some possible mix-ins:
These are my favorite pairings:
dark chocolate chips and flaked coconut
ground flaxseed and rolled oat coating
raisins and crumbled walnuts
If you want to hide a surprise inside of the ball, you can flatten it out like pictured, wrap it and roll it into a ball.
These Healthy Peanut Butter Protein Balls make for a tasty, nutritionally-balanced snack with energy-providing healthy fats, long-lasting carbs, and complete proteins.  Low-glycemic foods provide constant and prolonged energy levels so your blood sugar doesn't spike and crash as it would if you were to eat a pop tart–both the pop tart and these protein balls taste really good, but the pop tart has no benefit, so choose the protein balls!  You won't get hungry right away and you'll feel good about eating them 🙂
So cute!
.
With love and good eats,
.
– Jess
.