Healthy Nutella Fudge Protein Cookies
For quite some time, I was making Peanut Butter Protein Balls on a daily basis!  They are just so incredibly easy to make and I love the short and healthy ingredient list.  Oh, and did I mention they taste sooo freaking good?
But sometimes it's good to change things up a bit.  Lulu commented on the Peanut Butter Protein Balls post saying how she made a maple-vanilla-cashew version, and it made me think of all the variations the recipe had to offer.
Naturally, the first thing that came to my mind was chocolate.  Then I thought of Nutella.
And that's when these Healthy Nutella Fudge Protein Cookies were born.  Just as tasty as the peanut butter version, only these have a little extra oomph…  chocolate!
These Healthy Nutella Fudge Protein Cookies are so rich and fudgy, it feels like you're eating something unhealthy.  It's hard to believe these are actually nutritious and full of vitamins, minerals, healthy fats, fiber, and protein!  Yes, all that in a cookie.
They may look small, but they are surprisingly filling and totally satisfying.  I added some chopped raw hazelnuts to the cookies because they add a nice crunch, but if you're really up for some decadence, add some mini chocolate chips instead…  because you deserve it  😉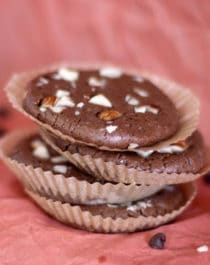 Print Recipe
Pin Recipe
Healthy Nutella Fudge Protein Cookies
Instructions
Add the protein powder to a small bowl, then add the hazelnut butter and syrup. Stir until protein powder has dissolved.

Scoop ¼ of the mixture and roll into a ball, and do the same with the rest of the mixture. Put the balls on a plate and freeze for about 30 minutes. Flatten the balls into cookies (or keep them in ball form).
Recipe Notes
Feel free to add ½ tsp of cocoa powder to the recipe!
Enjoy!
.
With love and good eats,
.
– Jess
.