Healthy Chocolate Peanut Butter Protein Balls
Oh no, I couldn't stop at Peanut Butter Protein Balls, and I certainly couldn't stop at the Nutella Fudge Protein Cookies!
Chocolate + Peanut Butter = Magic
… the combo just had to be done.
To tell you the truth, I was so happy with the basic peanut butter recipe I didn't even think of making a chocolate version until recently…  OH NO, is there something wrong with me?!?   *bites nails*
Well, if I could make these awesome treats, then there is definitely nothing wrong with me…
I'm sane, I swear!  (says the girl with crazy eyes and  melted chocolate all over her face)
Healthy Chocolate Peanut Butter Protein Balls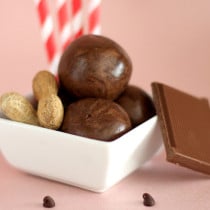 Ingredients:
32g (1 scoop) Chocolate Whey Protein Powder
½ tsp Unsweetened Dark Cocoa Powder
32g (2 tbs) Natural Peanut Butter (no sugar/salt/oil added)
42g (2 tbs) Honey, Pure Maple Syrup or Agave Nectar
Directions:
Put the protein powder and cocoa powder in a bowl and mix.
Add the peanut butter and liquid sweetener of choice and stir until moist and crumbly. Using your hands, form the mixture into one large ball and then divide that by how many servings you want.
Eat immediately or refrigerate for later.
Adorable little snack, you have met your fate:
Mwahaha
YUM.  Deliciousness.  Do you see how fudgy and chewy and decadent these are?  You must make these now, it's only 4 ingredients and 4 minutes away…  you will not regret it  🙂