Healthy Buckeye Balls
I proclaim these Healthy Buckeye Balls to be…  GUILT-FREE!
Yup, you heard me.  These sweet, soft, and fudgy, peanut buttery orbs of magic are surrounded by a luxurious layer of rich, decadent dark chocolate.  Once you have a taste, you'll have a hard time believing these no-bake treats are refined sugar free, low carb, high protein, and gluten free!
Unlike typical Buckeye Ball recipes, this healthified version contains:
No sugar-coma-inducing powdered sugar
No dangerous hydrogenated margarine or shortening
No unnatural peanut butter
Instead, these flavor bombs are made with:
organic stevia
natural peanut butter
wholesome protein powder
antioxidant-rich dark chocolate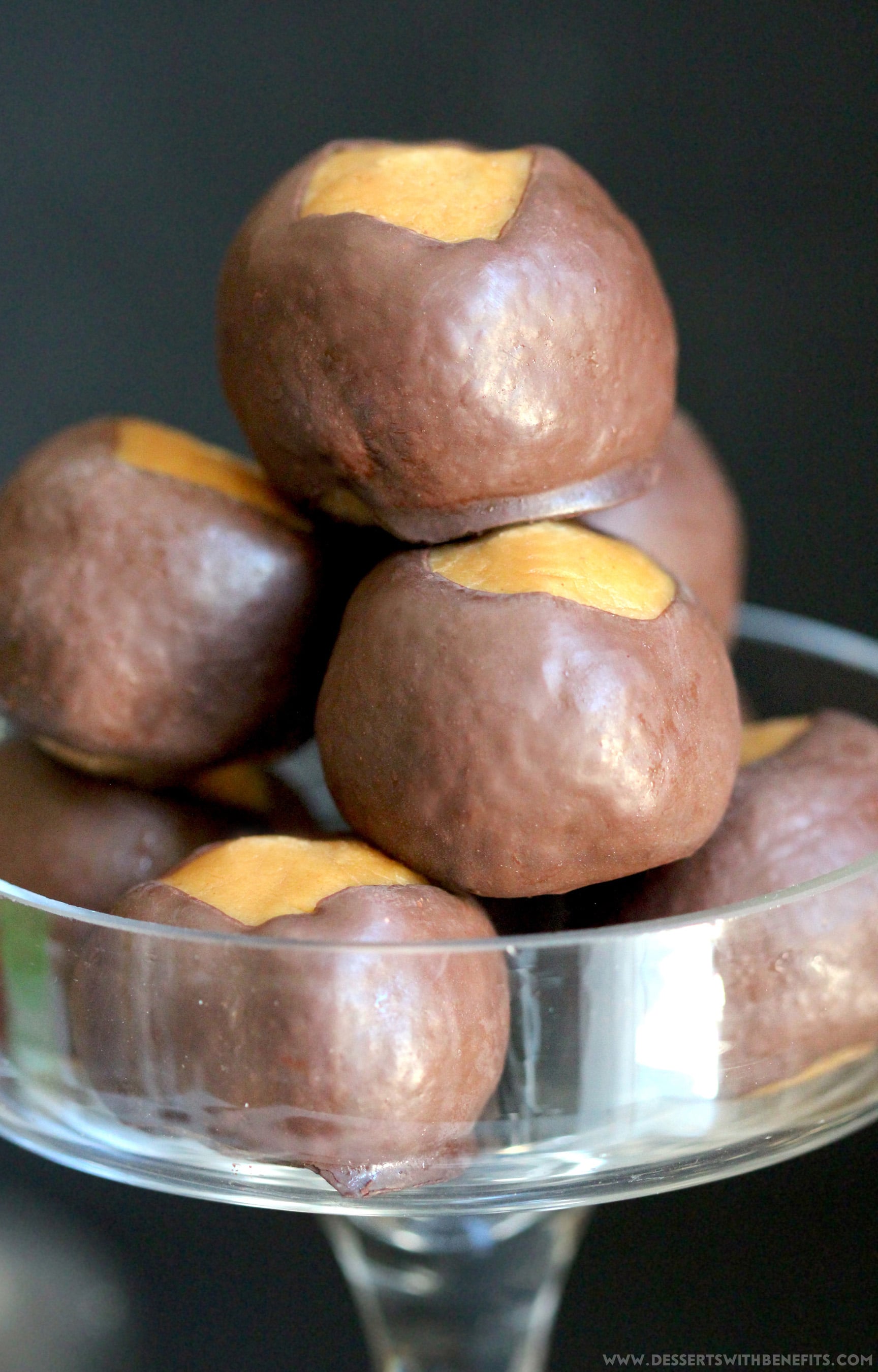 Although they may taste unhealthy, these Healthy Buckeye Balls are pure goodness in a bite-sized treat.
They're not calorie bombs or sugar bombs like the regular ol' Buckeye Balls.  Mine are itty bitty calorie firecrackers.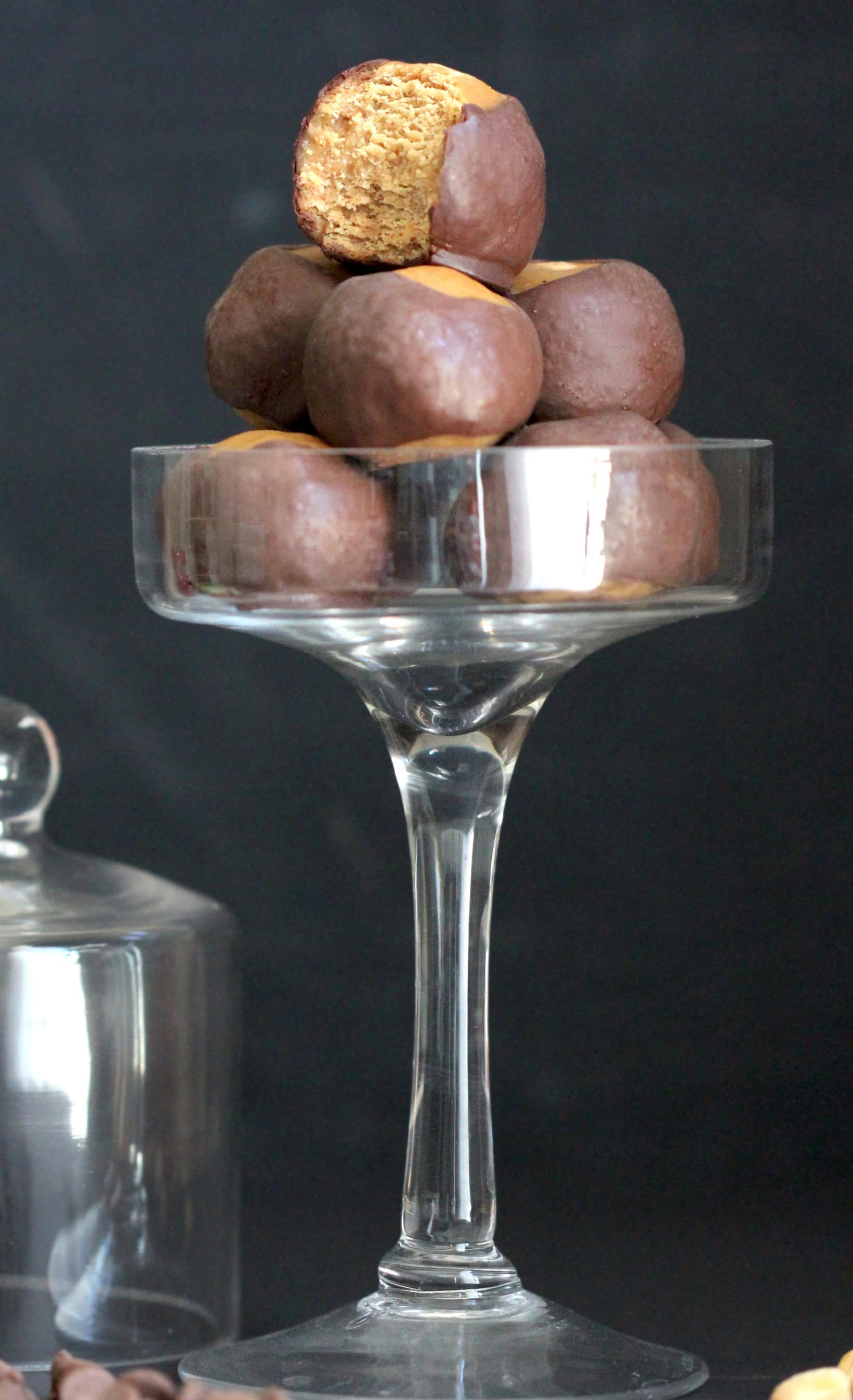 These Healthy Buckeye Balls are filled with good calories, healthy fats, satiating protein, and our oh-so lovable chocolate.  Everyone adored these!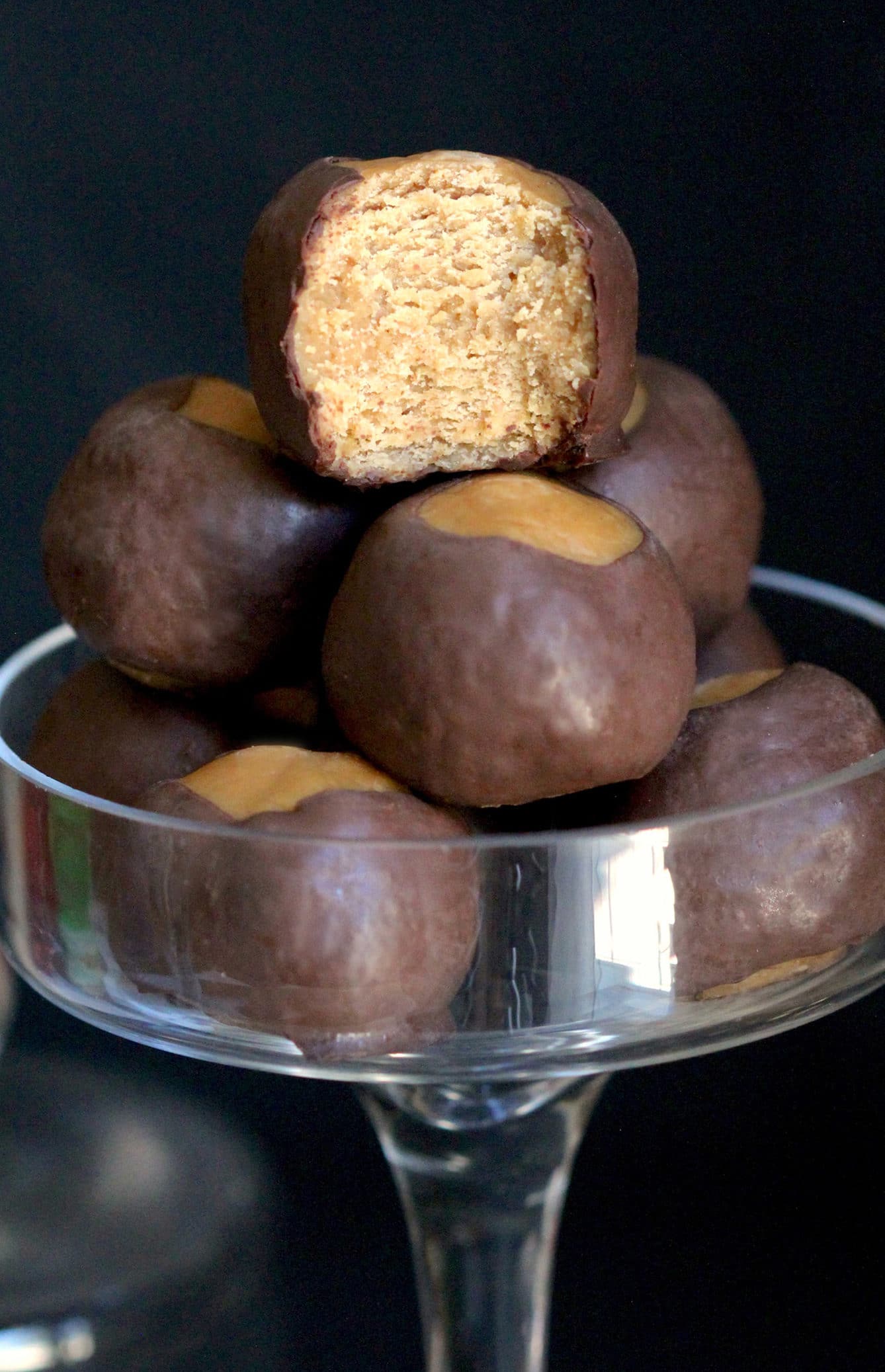 Taste?  Eye-opening and addictive!
Texture?  Supremely fudgy.
Appearance?  Mini and utterly adorable.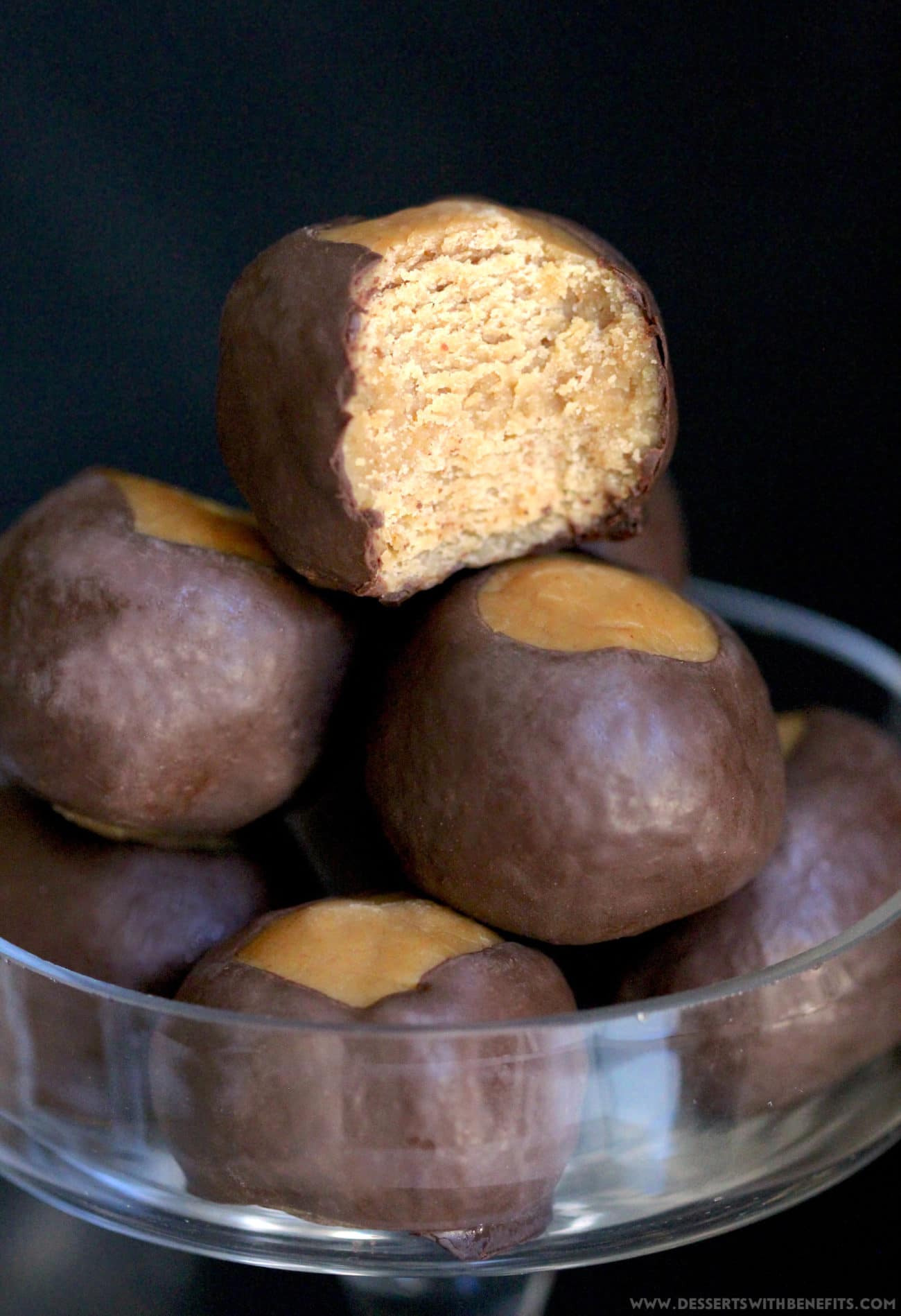 Healthy Buckeye Balls
Prep Time: 30 minutes
Cook Time: 0 minutes
Total Time: 30 minutes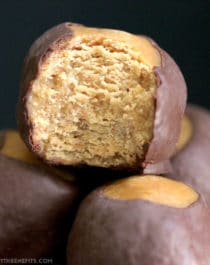 Fat per serving: 10
Calories per serving: 170
Ingredients:
Directions:
In a medium-sized bowl, whisk together the protein powder, peanut flour, and salt.
In a stand mixer bowl fitted with a beater attachment, add the almond milk, peanut butter, stevia extract, and vanilla extract.  Mix on low speed until completely mixed through.
Dump the dry ingredients into the stand mixer and mix until completely incorporated.  Scrape down the sides of the bowl if necessary.
Line a cookie sheet with parchment paper.  Use a cookie scooper to portion the mixture onto the cookie sheet.  Roll the scoops into balls and poke a toothpick into each ball.
Dip the balls in the chocolate, one at a time, and place back on the cookie sheet.  Refrigerate until firm.
Serve immediately, or store in a tightly sealed container in the fridge for up to 5 days.
Notes:
I originally posted a recipe for Buckeye Balls back in 2013.  Just in case you wanted to see the previous recipe, I'm providing the old recipe here:
**Do not substitute the casein protein powder.  Whey protein powder doesn't work.
All images and text © .
Here are some pictures of the Buckeye Balls I posted about in 2013.  Not much is different between the two recipes other than the fact that this new recipe makes a larger quantity and the peanut butter truffle itself is sugar free:
Both are equally as delicious.
.
Here is the recipe's nutrition label:
Yes, two decadent Buckeye Balls for only 170 calories, 6g carbs, and 3g sugar.  Plus, 3g of filling fiber, 14g of satiating protein, and 10g of purely healthy fats.
Compared to two typical Buckeye Balls made with powdered sugar, margarine, shortening, and unnatural peanut butter, these Healthy Buckeye Balls will save you:  238 calories, 14g fat, and a whopping 38g sugar.
That means you can have four Healthy Buckeye Balls for less calories than two typical Buckeye Balls.
Um, yeah, I'LL TAKE IT.
(Oh, and if you decide to skip the chocolate coating and make Peanut Butter Truffles instead, each truffle will have just 60 calories each.  Just thought I'd throw that out there since both my sister and dad aren't huge fans of chocolate — SACRILEGIOUS, I know — and requested that I leave a few truffles uncoated just for them.  I ended up trying one and they're honestly great both ways!)
These Healthy Buckeye Balls are perfect for parties and get togethers, but they're also perfect just for YOU.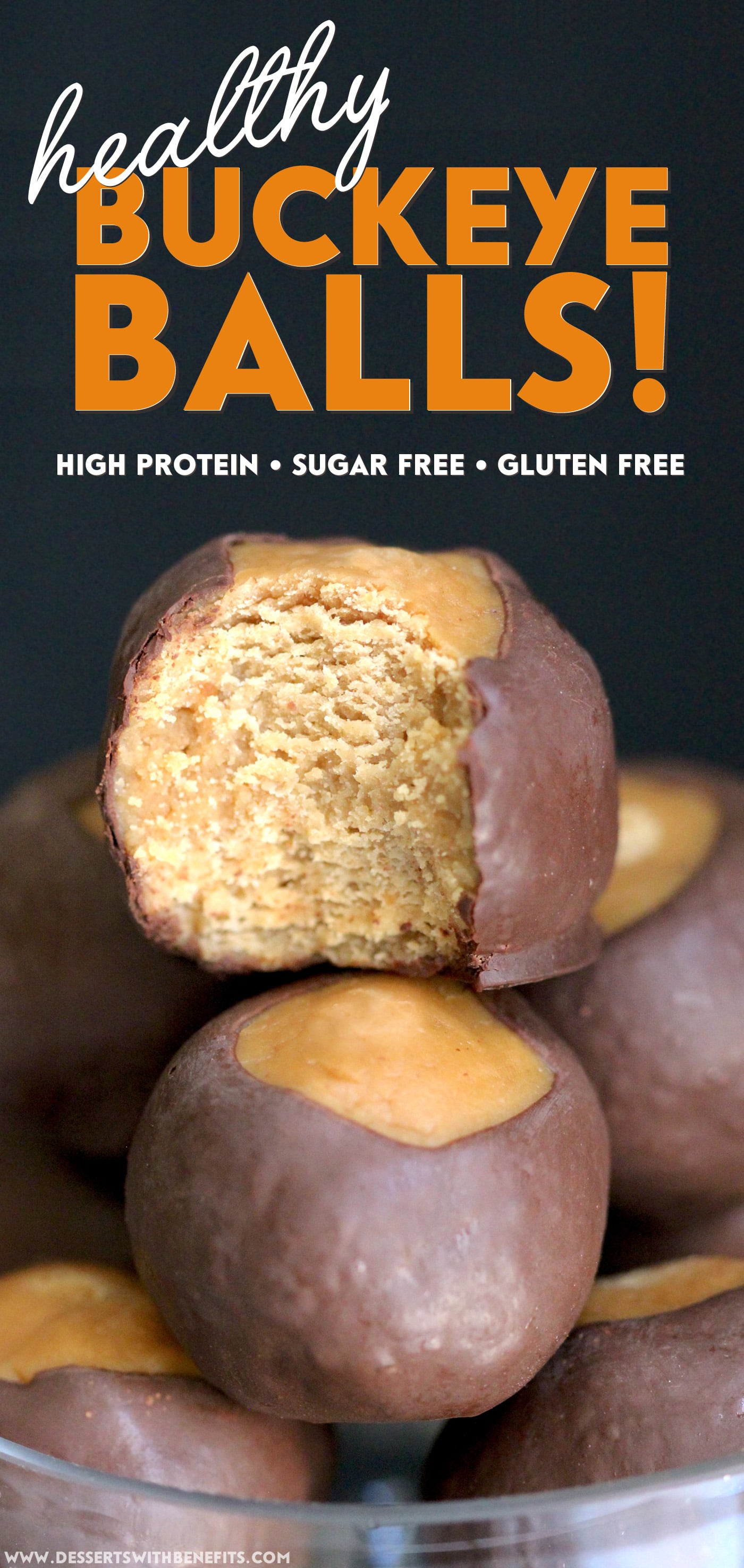 Enjoy!
.
– Jess
.