Healthy Graham Cracker Fudge
Healthy Graham Cracker Fudge has invaded my cookie jar dorm room!
They have also invaded my fridge, but I welcome such invasions  😉
Remember how I had some crust leftover from my Key Lime Pie?  Well, that was one delicious crust and it made for some great snacking — so moist and packed with flavor — too bad it only lasted me a couple days.  I knew I had to make the crust again, but I didn't have time to make a whole pie.  I needed something fast and easy, I needed something that I could take on-the-go.
These Graham Cracker Fudge Bites fit the bill.  I slightly tweaked the crust recipe and pressed the dough into a nonstick mini brownie mold and was awarded with twenty-eight cute baby bites for sweet snacking!  I crossed my fingers and hoped that they would last for more than two days.
They kind of look like square buckeye balls, but I swear, these are graham crackery, not peanut buttery.  I didn't get the hit of cinnamon that I was looking for so next time I'll add an additional 1/4 tsp.  Other than that, these adorable fudge cubes are perfect, they are simple and they are delicious.  And the fact that they are nutritionally balanced (have fats, carbs, fiber and protein), unlike regular graham crackers, makes me more than glad to eat them…
Which I did, four cubes one cube at a time…  yeah, they didn't last as long as I'd hoped…
Healthy Graham Cracker Fudge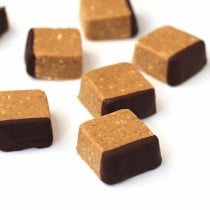 Ingredients:
Directions:
In a large blender, blend the oats and sucanat until flour-like and pour into a large mixing bowl. Whisk in the protein powder, cinnamon and salt.
Microwave the coconut butter, honey and molasses in a microwave-safe bowl at 15 second intervals, stirring between each one, until the coconut butter is melted. Add the extracts and stir.
Pour the microwave mixture over the dry ingredients and stir together until mixture is even (I used a rubber spatula, but you can definitely get in there with your hands).
Press the mixture into a brownie mold with 1 inch molds, or line a standard brownie pan with parchment paper and flatten the mixture into it. Freeze for 30 minutes.
Microwave the chocolate in a microwave-safe bowl at 30-second intervals, stirring between each one until chocolate is melted, let cool slightly.
Take your beloved fudge bites out of the freezer and pop each one out of the mold onto some parchment paper taped to a cookie sheet or large, flat plate. If using the standard brownie pan, slice the fudge into little squares with a sharp knife.
Dip each square into chocolate and place on the parchment paper. Return the bites to the fridge (or freezer if you want the express route) until chocolate is completely hardened.
GIVEAWAY IS NOW OVER!
How to Enter the Stevia Giveaway:  Leave a comment!
Giveaway Rules:  One (1) comment per person.  US residents only.  Giveaway starts now and ends Monday, November 21st at 11:59pm.  I will use this program to randomly choose a winner, and will announce the lucky individual on Tuesday, November 22nd!