Healthy Nutella Krispy Treats
Believe it or not, growing up, I was never really a fan of Nutella *gasp* — I preferred peanut butter.  I didn't like how Nutella was runnier than my favorite butterized nut, which was much easier to scoop with a spoon and eat out of the jar with.  I was the odd one out before but now I've joined the Nutella-loving club, thanks to this Healthy Homemade Nutella!  I can now fit in with the majority of the people on this planet who adore that classically smooth, rich, and sweet, chocolate-hazelnut spread.  Heck, February 5th is even dedicated to it as World Nutella Day.  Let's celebrate that a little early, shall we?  Because I made these Healthy Nutella Krispy Treats just the other day and I can't possibly wait until February to share the recipe with you!!
The base is a chocolate-hazelnut krispy treat and it's topped off with a thin layer of milk chocolate.  At first sight, all you see is a chocolatey-looking krispy treat.  But at first bite, you taste both the chocolate and hazelnuts.
These Healthy Nutella Krispy Treats are sticky and sweet and chocolatey and comforting.
Soon, you will be in Nutella bliss.  Bliss that doesn't involve breaking out the stretchy pants.
Yeah, these babes are good for ya.  They're low fat, low calorie, high protein, and gluten free, and don't contain that unhealthy sugar- and artificial ingredient-laden storebought chocolate-hazelnut spread, but instead, Healthy Homemade Nutella.  They're also made with whole grain rice krispies, raw honey, and the star ingredient, grass-fed whey protein powder.
Unlike typical dessert recipes that are comprised mainly of fat and carbohydrates, the addition of protein will make the recipe more nutritionally balanced, as well as more filling and satiating so you will be full and satisfied quicker and for a longer period of time.  Adding protein to dessert lowers the glycemic index of the recipe so your blood sugar won't spike and you'll have a steady source of energy (protein digests slower than carbs).
We've got a seriously healthy snack with these Healthy Nutella Krispy Treats — one treat has just 120 calories, 3g of fat, and 6g of protein!
I mean, C'MON GUYS.  Nutritionally-balanced KRISPY TREATS?!?  Have I died and gone to HEAVEN?!?  I think I have.  One bite of these, and you will have too.
One bite of these Healthy Nutella Krispy Treats and all your problems slip away.  One bite, and in that moment, there is absolutely nothing in the world that could make you happier.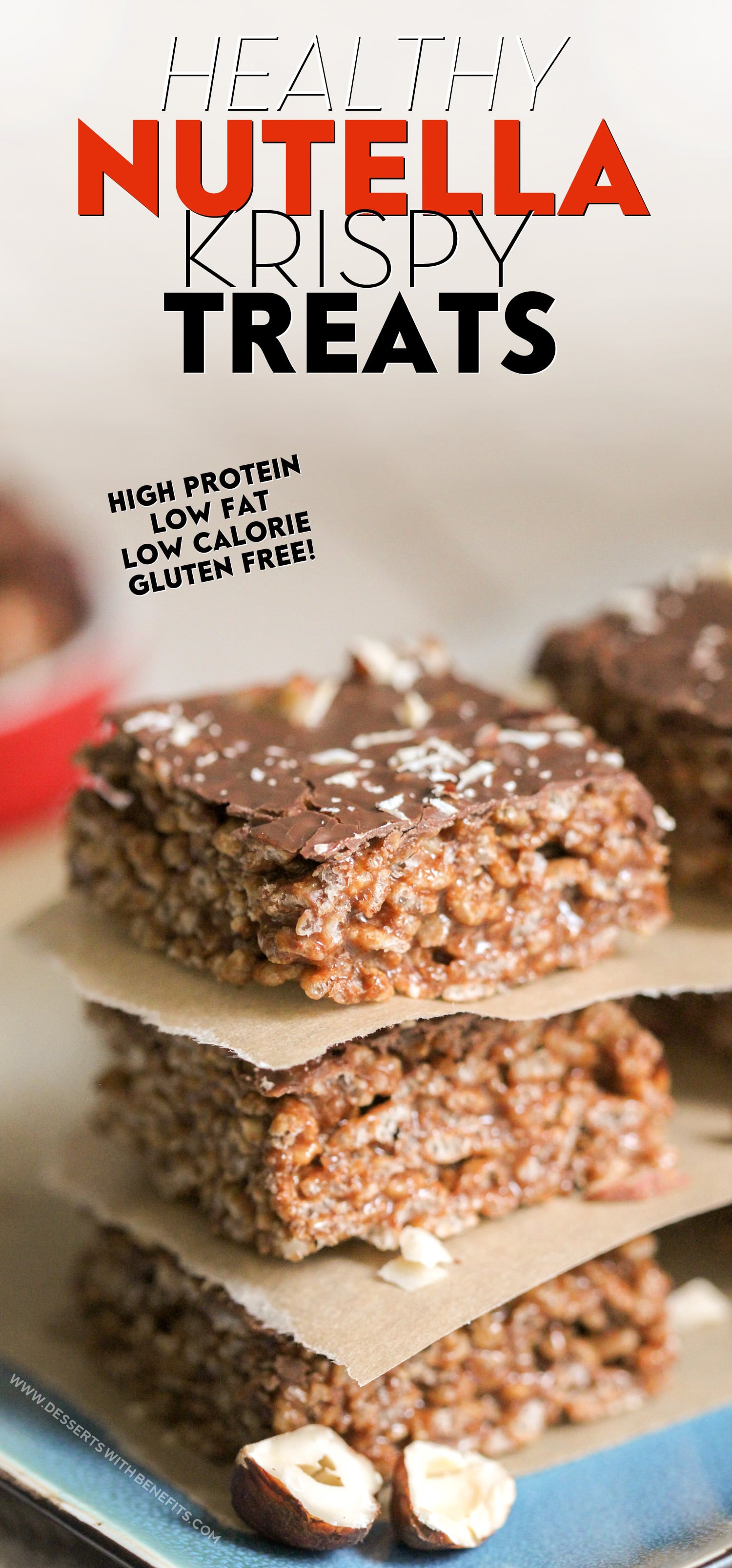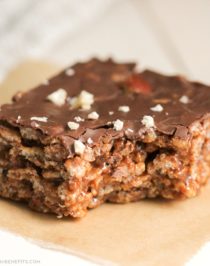 Print Recipe
Pin Recipe
Healthy Nutella Krispy Treats
Instructions
Line a 9x9" brownie pan with parchment paper both ways.

In a medium-sized bowl, add the crispy brown rice cereal and salt.

In a large bowl, stir together the honey, Nutella, vanilla extract, and stevia extract.  Stir in the protein powder.

Dump in the crispy cereal and gently fold together with a silicone spatula.  Scoop the mixture into the lined brownie pan and firmly press it down to make sure it's compact.

Spread the melted chocolate over the krispy treats (I used an offset spatula).  Feel free to sprinkle on chopped hazelnuts.  Cover the pan with plastic wrap for 3+ hours.  Slice and serve!
Recipe Notes
Store the krispy treats in a tightly sealed container in the fridge for up to 1 week.
Nutrition Facts
Healthy Nutella Krispy Treats
Amount Per Serving (1 krispy treat)
Calories 120
Calories from Fat 27
% Daily Value*
Fat 3g5%
Cholesterol 10mg3%
Sodium 105mg5%
Carbohydrates 19g6%
Protein 6g12%
Calcium 40mg4%
Iron 0.4mg2%
* Percent Daily Values are based on a 2000 calorie diet.
Only 120 calories and 3g of fat, plus a whopping 6g of protein PER krispy treat?!  I'll take two.  Or three.
WARNING:  May cause squealing of excitement.
Enjoy!
.
– Jess
.