Healthy Hazelnut Mocha Ice Cream
Get ready for the creamiest, dreamiest, SO-freaking-addicting-how-could-this-possibly-be-good-for-me??-you-must-be-lying ice cream recipe — this healthy Hazelnut Mocha Ice Cream!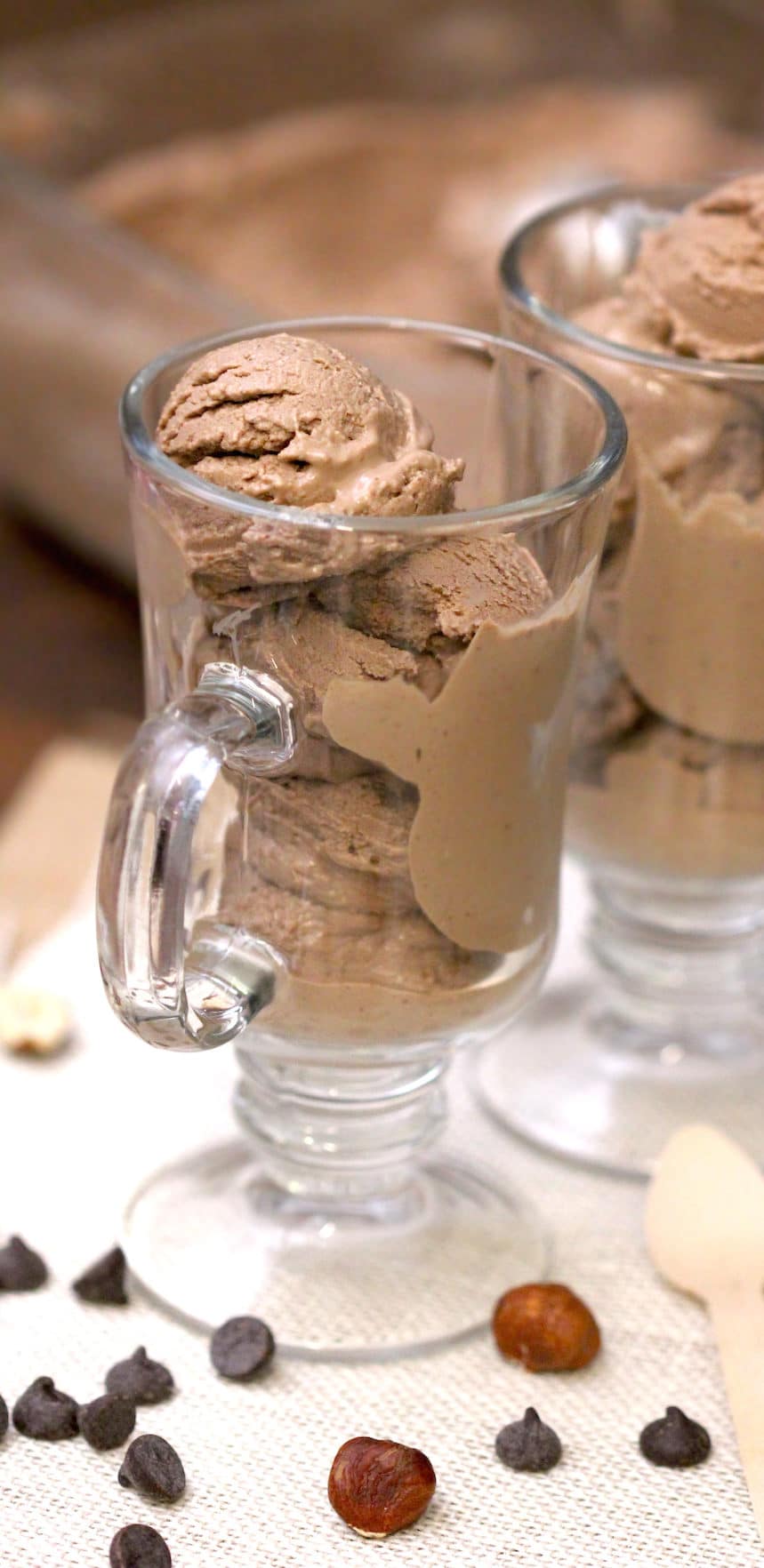 With chocolate + hazelnuts (aka Nutella) + coffee, this is pretty much ice cream at it's best.
But then add some "healthy" into the equation and you've got a recipe for heaven.  The kind of heaven you can eat with a spoon.
This Healthy Hazelnut Mocha Ice Cream took a few trials to perfect because I wanted a punch of coffee flavor without it being too overpowering.  Unfortunately, it's difficult to use a lot of coffee in ice cream recipes because too high of a water content will make the ice cream crystallize and turn icy.  Not something you look for in ice cream…  it's supposed to be creamy!
So, I ended up using espresso — concentrated coffee flavor without all that excess water.  I managed to burn three entire batches of espresso (I've never made espresso before, obviously) so I ended up just buying a bunch of espresso from Starbucks.  After asking for 5 shots of espresso in a small cup, I'm sure the barista thought I was a caffeine addict.
I'm not a caffeine addict.
*chugs coffee*
Of course not.
I believe that's the denial stage?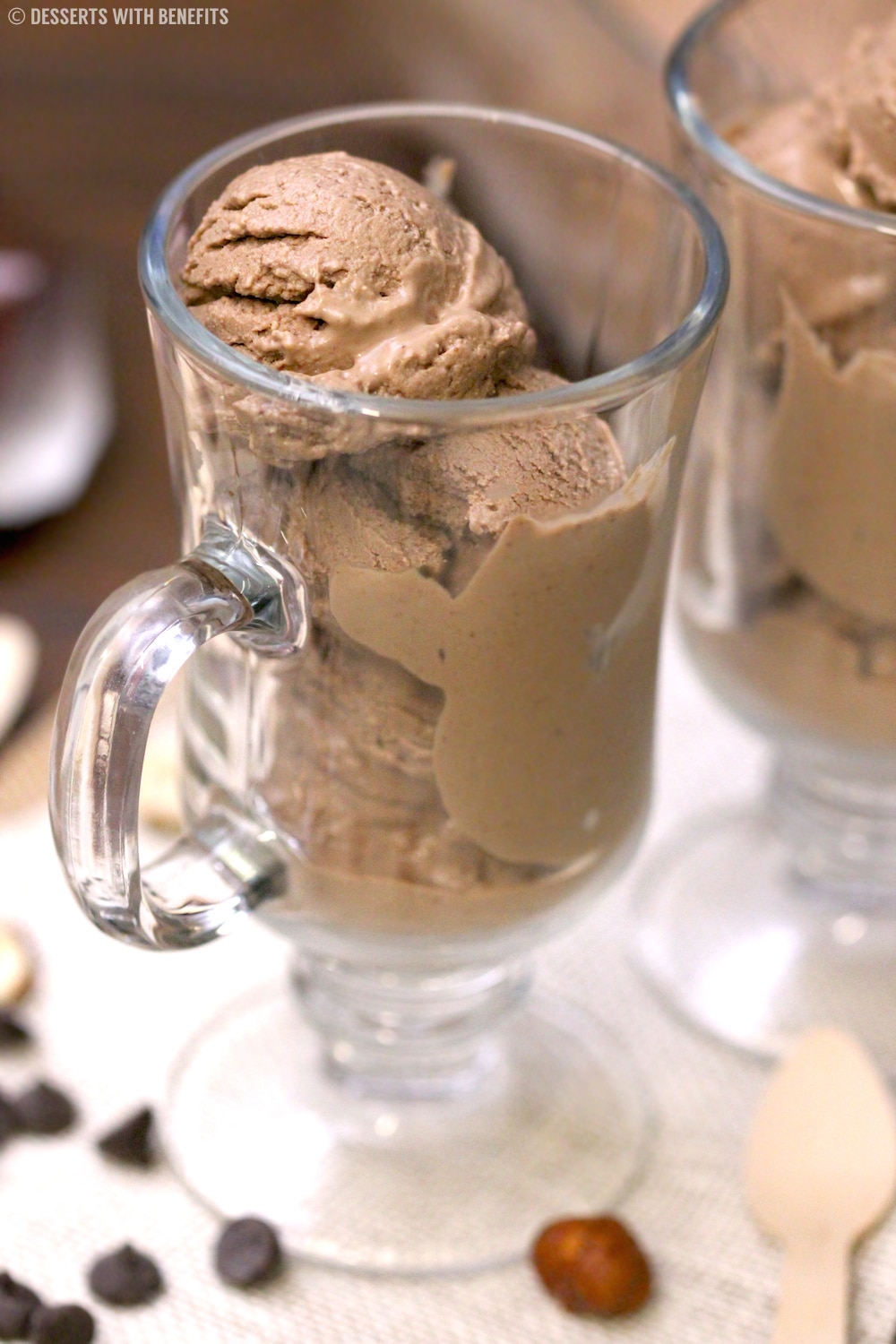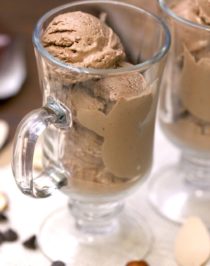 Print Recipe
Pin Recipe
Healthy Hazelnut Mocha Ice Cream
This healthy Hazelnut Mocha Ice Cream is ultra creamy and dreamy, you'd never guess it's refined sugar free, low carb, high protein, and keto friendly!
Ingredients
32

oz

Plain, Nonfat Greek Yogurt

295g

(1 cup + 2 tbs)

Homemade Nutella

⅔

cup

Espresso

(cooled to room temp (I used 5 shots of espresso))

⅛

tsp

Salt

1

tsp

Xanthan Gum
Instructions
In a stand mixer bowl with whisk attachment, add the yogurt, nutella, espresso, stevia extract and salt. Whisk on low speed.

Increase speed to medium/low speed, then slowly "dash" in the xanthan gum. Scrape down the sides of the bowl with a rubber spatula, then whisk the batter until the mixture is thick and even (it will be thick, kind of like pudding).

Cover the bowl and refrigerate overnight.

The next day, place the frozen ice cream maker bowl onto the stand mixer and turn the machine on the "stir" speed. Scoop the ice cream mixture (it will be really thick, kind of like mousse) into the spinning bowl and churn until soft-serve consistency.

Scoop the ice cream into a chilled dish and freeze until it is firm to your liking, then serve!
Nutrition Facts
Healthy Hazelnut Mocha Ice Cream
Amount Per Serving (1 cup)
Calories 230
Calories from Fat 99
% Daily Value*
Fat 11g17%
Sodium 140mg6%
Carbohydrates 13g4%
Protein 19g38%
Calcium 200mg20%
Iron 1.8mg10%
* Percent Daily Values are based on a 2000 calorie diet.
As a comparison, here is the nutrition label for Ben & Jerry's Hazed & Confused ice cream.  My recipe's nutrition label pretty much wins on all levels.  No need to fear the fat because it's all healthy fats (thank you, nutritious hazelnuts)!
Can you believe sugar is listed FIVE times in Ben & Jerry's ingredient list?  Liquid sugar, corn syrup, dried cane syrup, sugar, and honey.  Oh gosh, I need some good news to take my mind off of B&J's ingredient list.  I'll just take another look at my nutrition label to feel better.  Ah, 230 nutritious calories, 11g of healthy fats, 5g of filling fiber and 19g of satiating protein!  Okay, I feel better now  😉
I'm SO not gonna lie right now…  I ate this Healthy Hazelnut Mocha Ice Cream for breakfast.  Instead of leaving the ice cream out to thaw on the counter (which takes forever and I'm impatient and hungry), I've found that I can get the perfect texture by morning if I put the ice cream in the fridge overnight!  When I leave ice cream on the counter to defrost only the edges will scoop well, but when it defrosts in the fridge the texture is much more even  🙂
Just look at this deliciousness: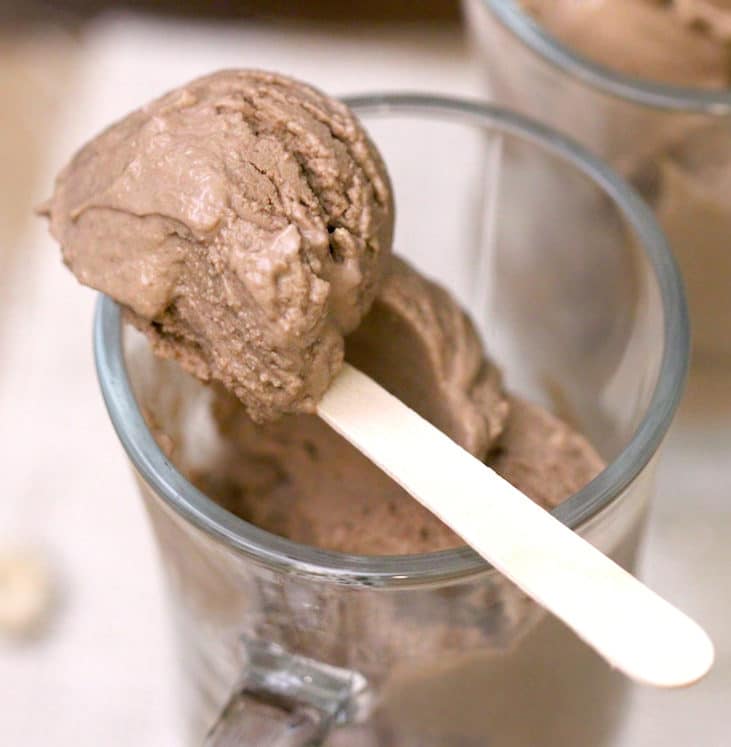 Enjoy!
.
With love and good eats,
.
– Jess
.