Healthy Banana Buckwheat Pancakes
I moved into my new place exactly one week ago.  Can you guess what I christened my new kitchen with?  These Healthy Banana Buckwheat Pancakes, of course!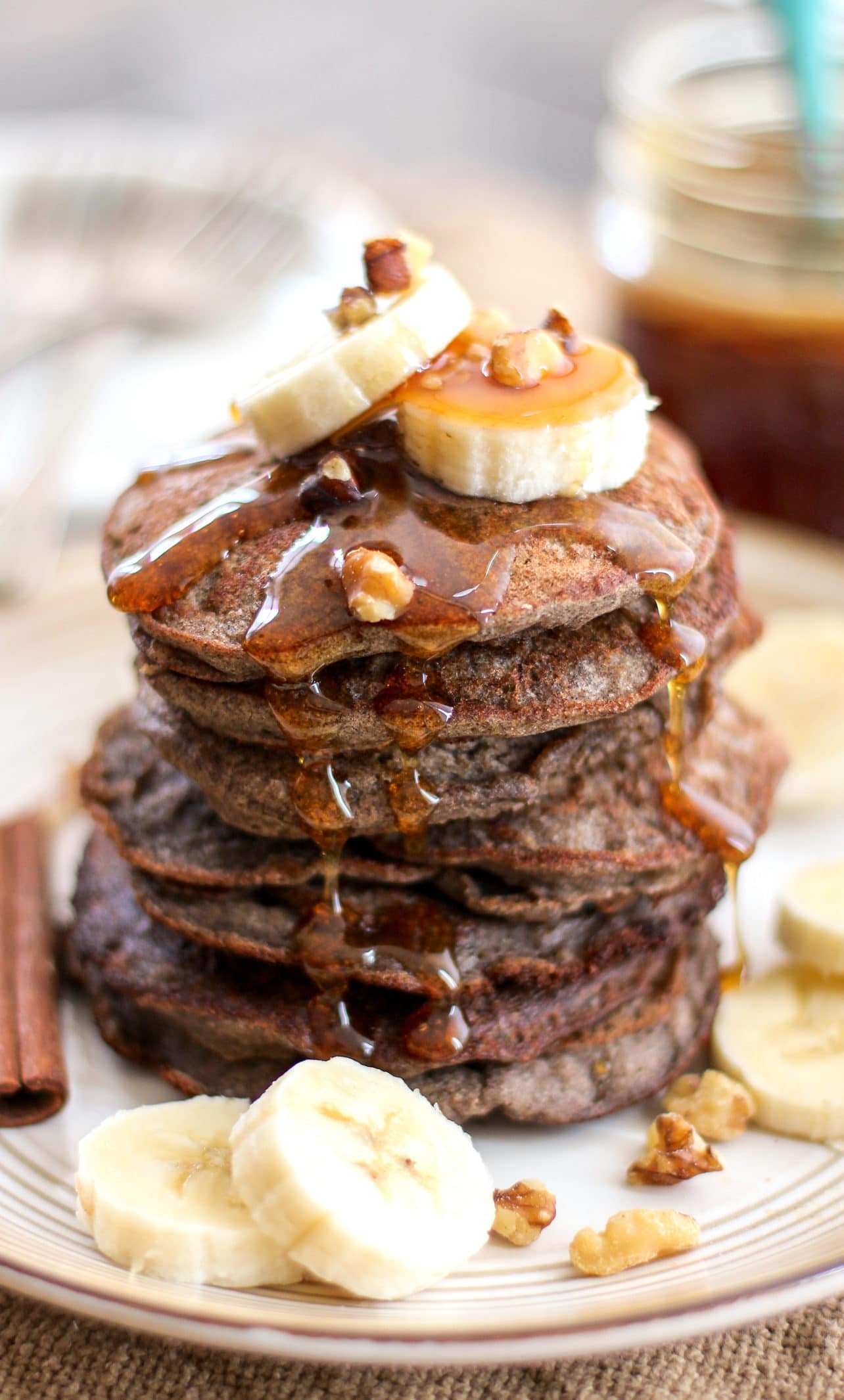 I got so caught up in the move-in process and getting all my new furniture built ASAP, that I didn't realize how tired I was.  Until I crashed.  At 7pm.  ON MY DAY OFF!  By the way, that's usually when I get ready for bed when I have an early shift at the bakery.  I'm clearly digging the grandma lifestyle  😉
Anyways, after a nice long sleep I took a much-needed break.  I cuddled with Cherry and finally got around to some "me time."
When you're exhausted, hungry and lazy, nothing seems as simple and comforting as Banana Pancakes.  To me, "me time" means indulging while taking care of yourself and your body.  So, I made Banana Pancakes that are good for you.
These Healthy Banana Buckwheat Pancakes are made with whole grain, naturally gluten-free buckwheat flour, and ripe, sweet bananas.  They'll comfort you with every bite!
Healthy Banana Buckwheat Pancakes
Prep Time: 10 minutes
Cook Time: 15 minutes
Total Time: 25 minutes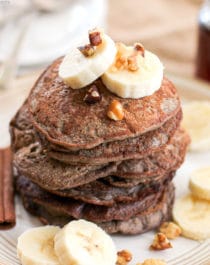 Fat per serving: 2
Calories per serving: 170
Ingredients:
60g (½ cup) Buckwheat Flour
1 tsp Double Acting Baking Powder
½ tsp Ground Cinnamon
⅛ tsp Salt
½ cup Unsweetened Vanilla Almond Milk
½ cup Mashed Ripe Banana
Directions:
Spray a flat, nonstick pan with cooking spray and place over medium heat.
In a small bowl, whisk together the buckwheat flour, baking powder, cinnamon, sweetener and salt.
Stir in the almond milk and mashed banana.  Stir in the optional vanilla, walnuts and/or mini chocolate chips, if using.
Scoop a large spoonful of batter onto the pan.  Cook until the edges look dry and bubbles no longer pop on the surface. Flip and cook for an additional minute or so.  Repeat until all the batter is used up.  Serve and enjoy!
Notes:
Feel free to add any of the following optional ingredients to the recipe:  ½ tsp Vanilla Extract, 2 tbs Crumbled Walnuts, 1 tbs Mini Dark Chocolate Chips
All images and text ©
.
Recipe adapted from Buckwheat Pancakes.
Up the ante and add some vanilla, crumbled walnuts and mini dark chocolate chips!  Or just lay on the pure maple syrup like you want to run Canada dry.  That's what I do, and it's delicious.  NO REGRETS.
.
Here is the recipe's nutrition label:
Now THAT'S what I call a healthy breakfast!  Delicious Banana Pancakes that are also secretly low fat, high fiber, high protein, gluten free and vegan with no added sugar.  BOOM.
I'll take that stack please.  And a big drizzle of pure maple syrup.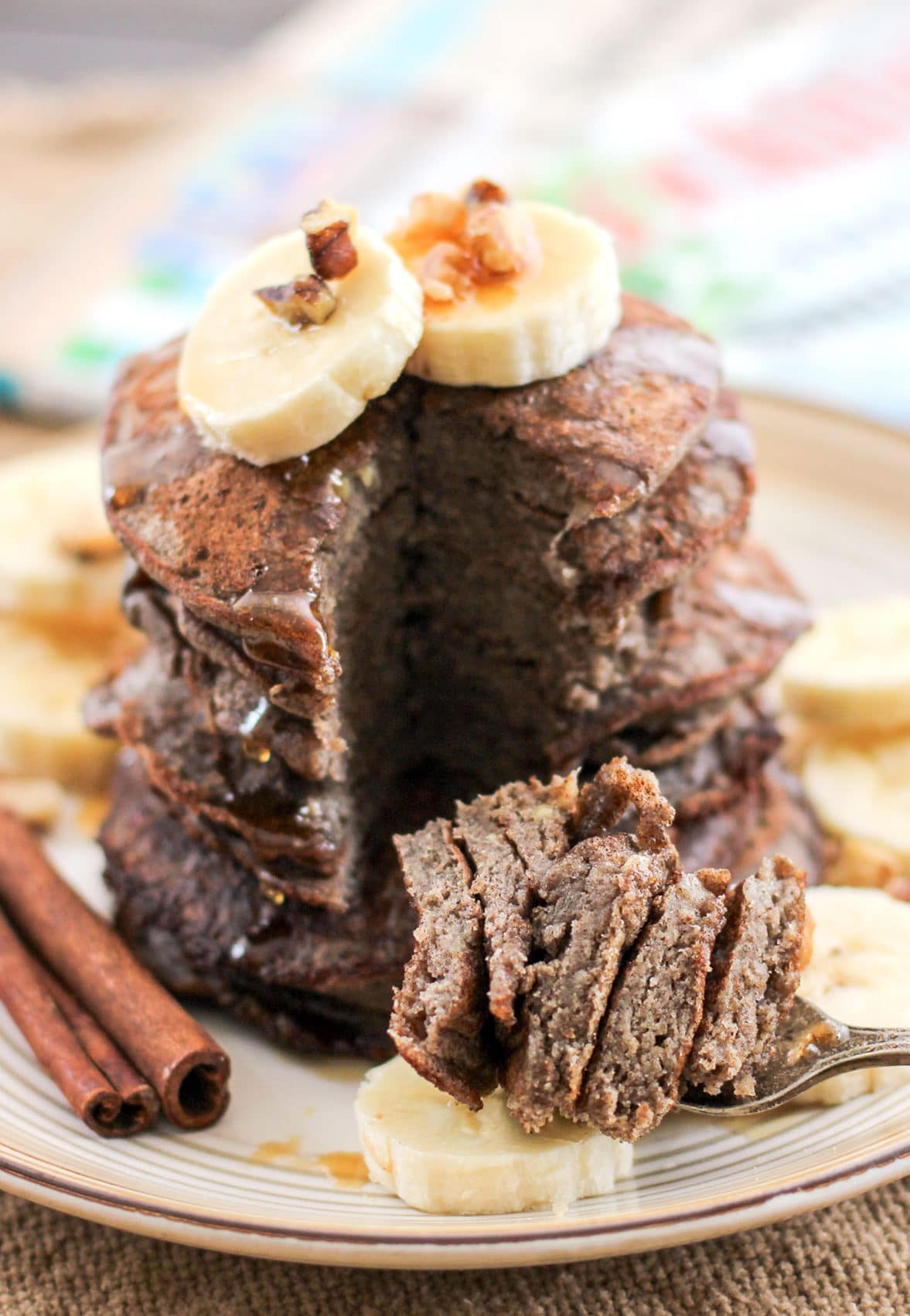 Enjoy!
.
With love and good eats,
.
– Jess
.