Healthy Birthday Cake Protein Bars (To Celebrate My 8th Blogiversary!) + Video!
These Birthday Cake Protein Bars are fudgy, sweet, and taste just like cake!  Except these are made without the white flour, butter, and excess sugar.
Now THIS is how I'd like to celebrate my 8th blogiversary!
…
Yes, ehem, I've been doing this whole "blog" thing for EIGHT SOLID YEARS.  My jaw has dropped.  My mind is blown.  I really don't know how to wrap my head around this concept sometimes?  What started out as a hobby slowly grew and grew, that by year four I was like, "Wow, this has the potential to be my full-time gig!"  And by year six, I was able to quit my day job and officially become self-employed.  And for that, I am so incredibly grateful to each and every one of you.
Without you, this (bombass) recipe post wouldn't be here.
Without you, this entire blog wouldn't be here!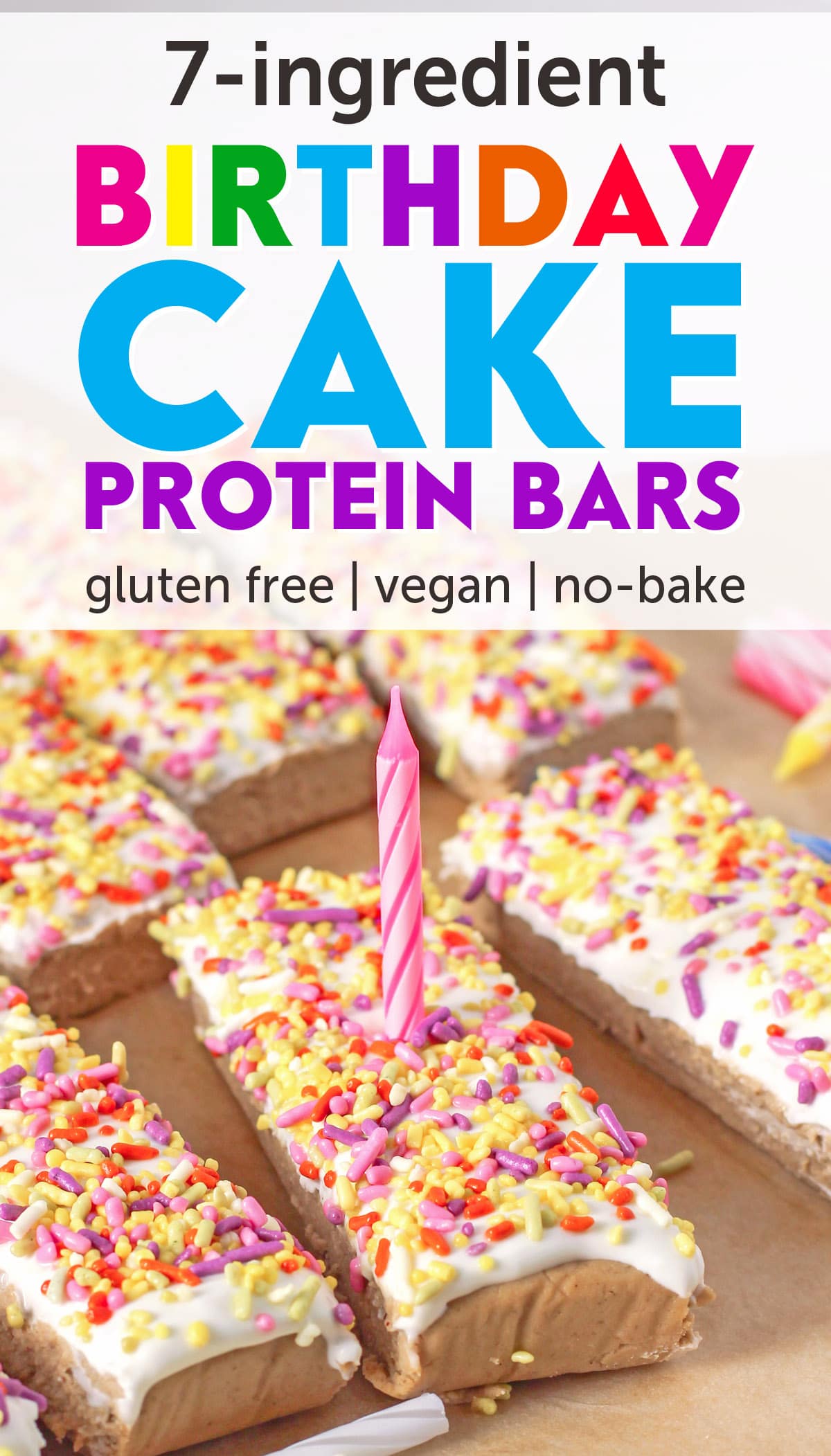 Before I get to the recipe, I wanted to say that these last eight years have been…  one helluva rollercoaster.  So many ups, so many downs.  There are times when the track is bumpy, and I swear there have been moments (read:  months) where it feels like the cart I'm in gets stuck upside down in a loop high off the ground, and the only thing keeping me together is a flimsy seatbelt.
To be honest, I've been struggling with blogging lately.  And by "lately" I mean well over a year.  I guess it's a combination of things:
insomnia
hormone changes (thanks BC)
stress about work (I've hired a few people for various jobs, and ¾ of the people I hire are…  utterly terrible -_-)
stress about money (hoping to buy a house this year…  eek)
anxiety and depression (which is scary to me because I haven't been depressed for nearly six years)
For those of you who may not know, I started this blog as a freshman in university — aka an eighteen-year-old who moved out of state (Connecticut to Arizona), to attend school when I didn't want to be there in the first place (pressure from the parents), who was also dealing with anxiety and severe depression.  Certainly not the best formula.  The first semester was a disaster, as I changed my major four times, finally settling on Nutritional Sciences.  My full-time course load consisted of boring prerequisites, plus ALL the math and science (my two arch enemies).  All I did was study and drown myself in school.  My mental state was so bad, I would cry out of nowhere.  Didn't matter where I was, in class, walking around campus, in my dorm.  I cried A LOT.  I visited home for the first time during winter break.  To give a little background, my family has never been close until recently, actually.  Talking and sharing feelings was never a thing.  But at one point I remember looking up how to admit myself into a hospital, and if I even could…  how much did it cost, did insurance cover it, is it put on your record somehow, would future employers know?  Even though it felt uncomfortable, I told my mom I was going to find a therapist.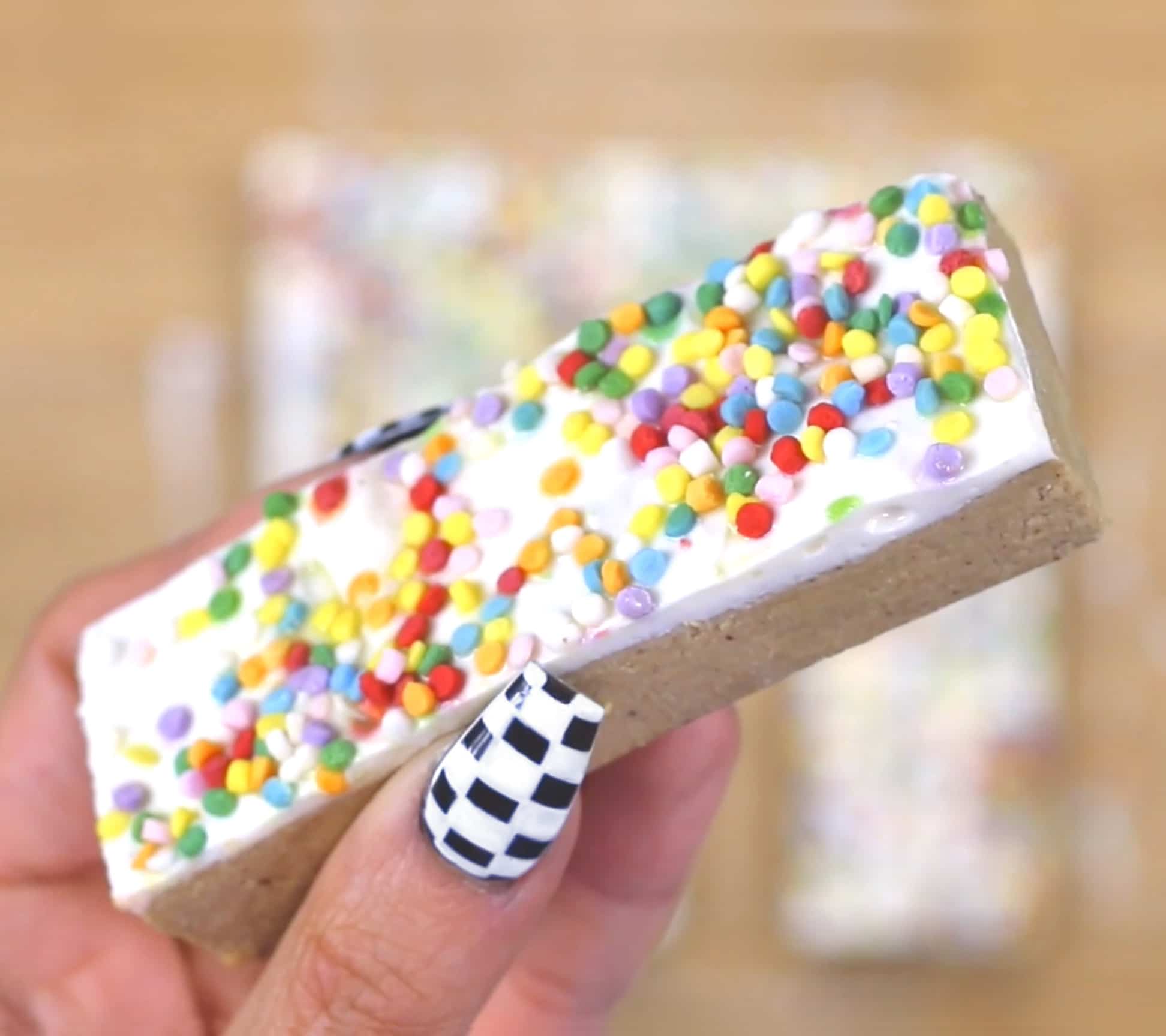 During the Spring semester, I started catching up on the food blogs I used to visit.  I started cooking for the first time and got back into baking.  As a Nutritional Sciences student, I tried my best to bake healthier desserts with less sugar, less butter and oil, and more whole grains.  It was incredibly difficult and I baked off some pretty terrible tasting "things" but it was all worth it when I finally baked a perfect batch of Banana Bread.
After almost a full semester of baking (and procrasti-baking), I started this blog.  I didn't know it at the time, but 4/20/2011 was a very special day 💕
For quite some time, my only source of joy was baking, posting recipes to the blog, and connecting with people all around the world, all thanks to the internet.
I so desperately want that passion back.  And I think I'll be able to very soon  🙂  because I'm currently in the process of moving out of my apartment, which I've always hated because of its VERY tiny kitchen.  My temporary place has a bigger and better kitchen, but again, it's temporary because I'm hoping to buy a place in a few months and can't be stuck in a year-long lease.
But ANYWAYS.  ON TO THE GOOD STUFF!  AKA THESE BIRTHDAY CAKE PROTEIN BARS!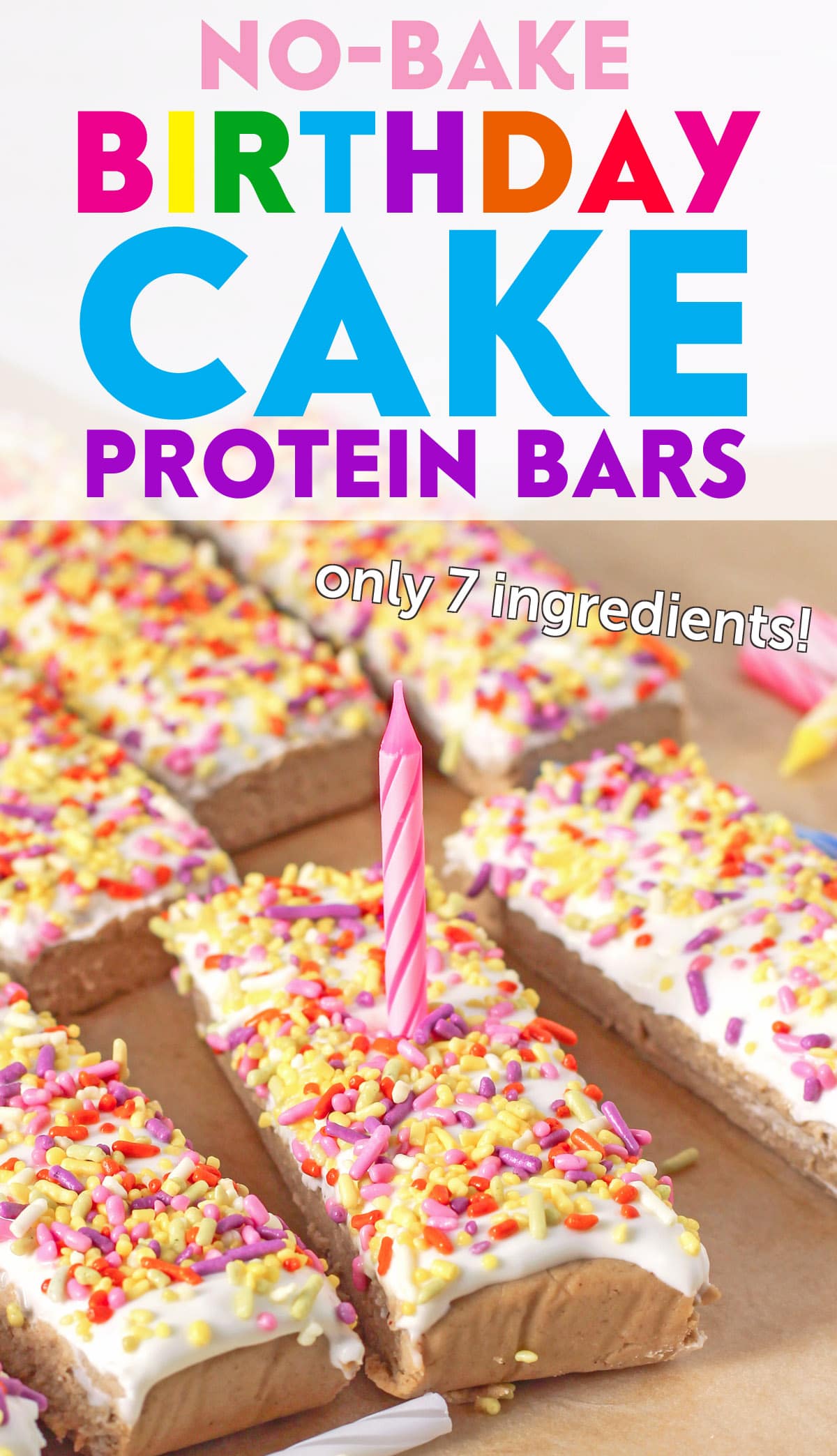 These Birthday Cake Protein Bars are the perfect snack for when you're craving something sweet, but don't want the excess calories, sugar, and fat that come with a slice of cake.
Instead of white flour, we use gluten free oat flour.
Instead of butter and oil, we use natural almond butter.
Instead of white sugar and corn syrup, we use organic stevia extract.
Thanks to these easy ingredient substitutions, these protein bars are gluten free, low in sugar, and can easily be made vegan (just use vegan cream cheese)!
I mean, can life get any better??  Could our taste buds be happier??  We literally have UBER soft and fudgy protein bars topped off with a layer of rich and creamy frosting!!  And they don't taste healthy in the slightest!!
Pardon my yelling.  I got excited.
…
FROSTING!!!!!!!!!
Okay I'm done  😉
These Birthday Cake Protein Bars are easy to make, don't require any baking, and take just 7 ingredients to whip up!
Watch me make a batch on camera:

Did you observe the fudginess at 2:44??  *drools*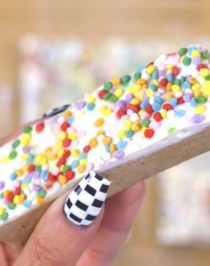 Print Recipe
Pin Recipe
Healthy Birthday Cake Protein Bars with Cream Cheese Frosting and Rainbow Sprinkles
These no-bake Birthday Cake Protein Bars are fudgy, sweet, and taste like funfetti cake! Except these are made without the white flour, butter, and excess sugar. These are gluten free, vegan optional, and low sugar!
Ingredients
Cream Cheese Frosting:
4

oz

Neufchâtel Cream Cheese

(or ⅓ Less Fat Cream Cheese; room temperature)

2

tbs

Unsweetened Vanilla Almond Milk

½

tsp

Vanilla Crème-Flavored Liquid Stevia Extract
Instructions
For the Protein Bars:
Line an 8x8" brownie pan with parchment paper. Set aside.

In an electric stand mixer bowl fitted with a beater attachment, add all of the ingredients. Mix on low speed until everything is fully incorporated.

Scrape down the sides of the bowl. Mix on medium speed for one last mix. Mixture should be thick and fudgy, like cookie dough.

Scoop the mixture into the brownie pan and flatten it out.
For the Cream Cheese Frosting:
In a medium-sized mixing bowl, whisk together the cream cheese, almond milk and stevia extract. Scoop mixture over the protein bar base and spread to the edges of the pan (I used an offset spatula). Place in the freezer uncovered for 1 hour.

Lift the mixture out of the pan. Slice into 12 bars.

Scatter the sprinkles on top. To store, simply place a sheet of parchment paper on top of a cake pedestal, arrange the protein bars on top, and cover with a cake dome (keeps for 1 week in the fridge or a few months in the freezer).
Recipe Notes
Do not use whey protein powder...  you'll get a gooey, sticky mess!
If you'd like to make an ingredient substitution, you'll have to test that in the kitchen on your own.  I tested the recipe above and feel it's perfect as is  😉
Nutrition Facts
Healthy Birthday Cake Protein Bars with Cream Cheese Frosting and Rainbow Sprinkles
Amount Per Serving (1 protein bar)
Calories 200
Calories from Fat 72
% Daily Value*
Fat 8g12%
Cholesterol 5mg2%
Sodium 140mg6%
Carbohydrates 16g5%
Protein 15g30%
Calcium 80mg8%
Iron 1.8mg10%
* Percent Daily Values are based on a 2000 calorie diet.
.
This Birthday Cake Protein Bar recipe is 1 of 48 protein bar recipes in my DIY Protein Bars Cookbook!
With flavors like Snickerz, Chocolate-Covered Strawberry, Caramel Macchiato, and S'mores, you'll never buy protein bars from the store again.
Click here to learn more about the book and see some sneak peeks  😉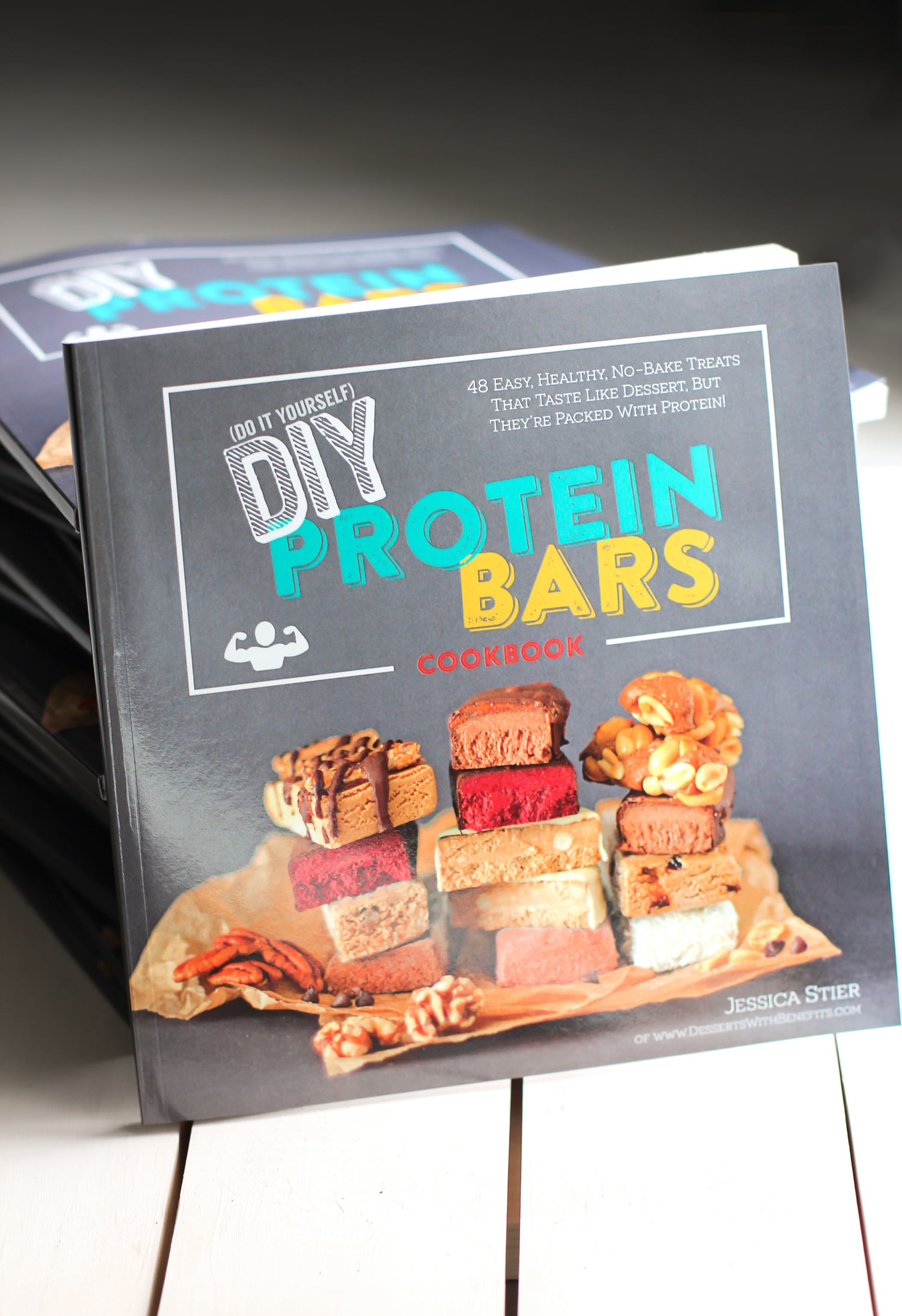 I think I know where to look for all my breakfast, snack, and dessert inspo  😉
These Birthday Cake Protein Bars are the perfect snack, sans the guilty aftertaste.
These homemade protein bars will be your go-to.  Whether you're running out the door or sitting at home and feelin' snacky  😉
With only 200 calories per bar plus 3g of fiber and a whopping 15g of protein, these protein bars are everything you need when hunger strikes.  And if those nutrition facts don't scream "breakfast-worthy" I don't know what does!
Keep some bars in the fridge and keep some in the freezer for safekeeping.  These freeze almost too well.  I always have a batch or two in the freezer in sandwich baggies so they're all set and ready to go if I have a busy day ahead.  Knowing that healthy snacks are on hand at the ready KEEPS. ME. SANE…  especially during super busy and stressful times.  You know, when all you can handle is opening the fridge door and grabbing food already prepped and ready to go?  I've been there, you've been there, we've all been there.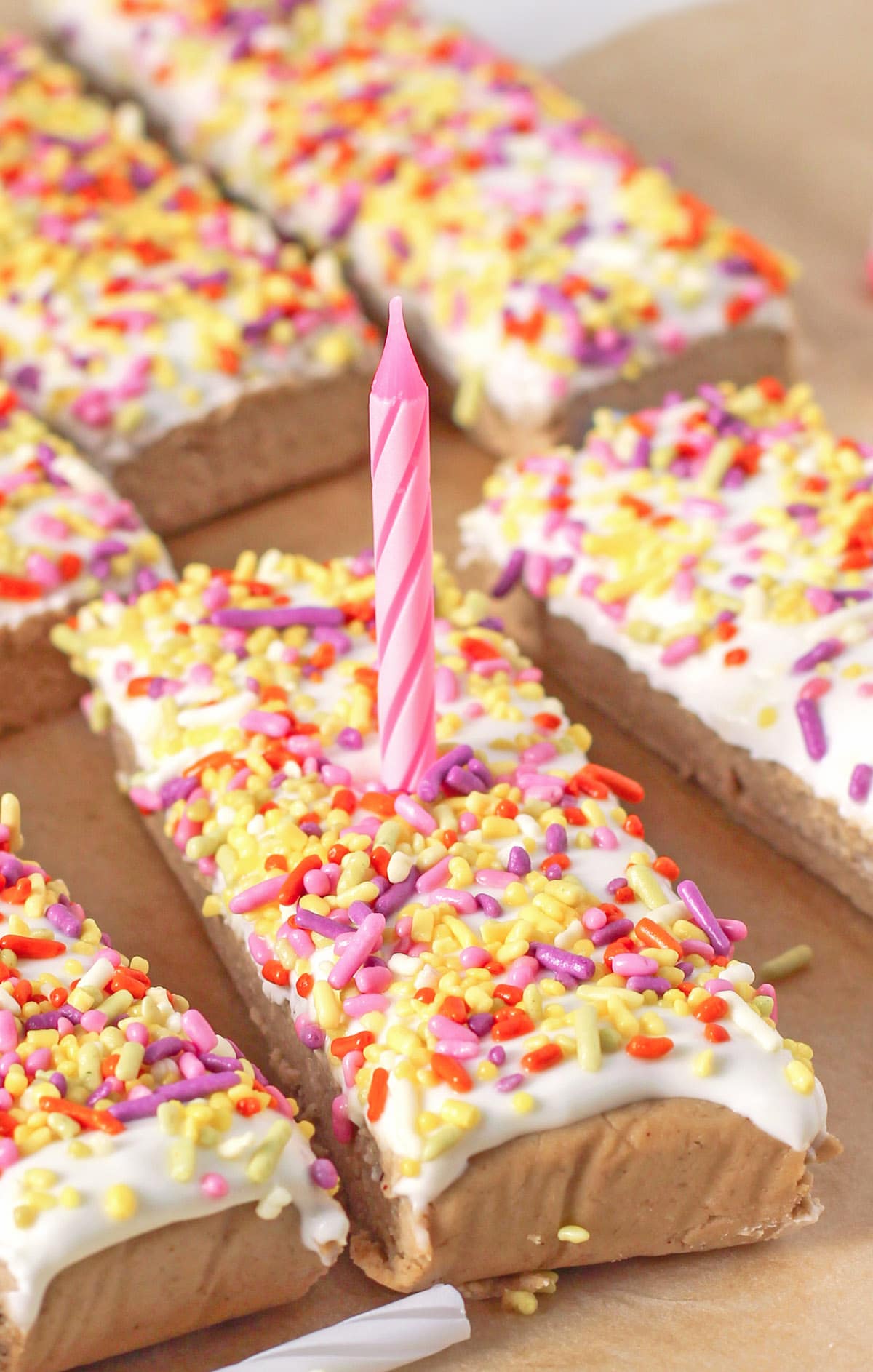 What's your favorite protein bar flavor?  Store-bought or homemade — lemme know down below!
.
Be happy.
Live fully.
Eat protein bars.
.
– Jess
.