Healthy Blueberry Bliss Krispy Treats
You'll be shocked at how good these Blueberry Bliss Krispy Treats are — they're crunchy, chewy, sweet, and fruity.  Every bite is 100% pure deliciousness.  You'd never know they're refined sugar free, low fat, and gluten free too!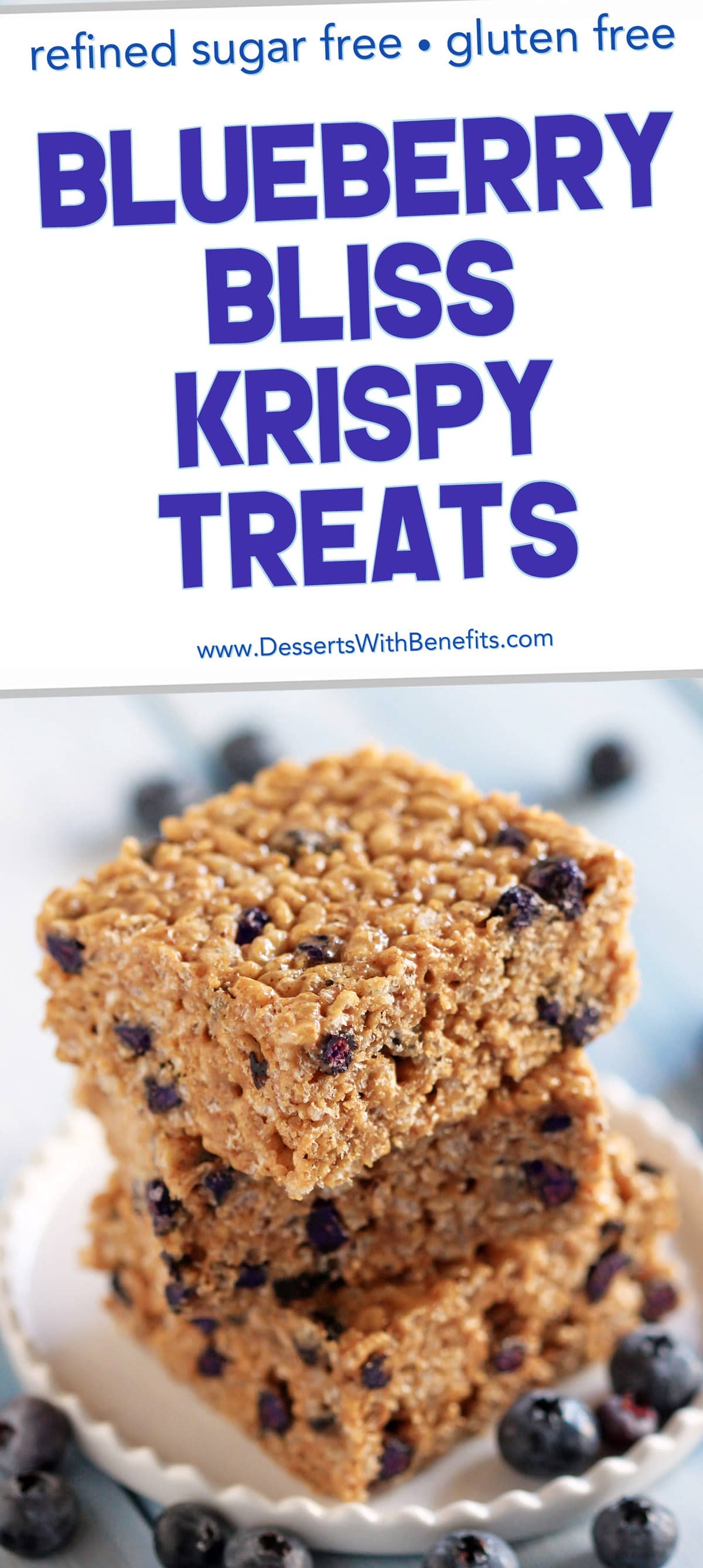 My father's coworkers are demanding asking for more desserts.  Those comments and little hints here and there at the workplace finally made their way to me.  What to make them??  Of course, the first thing that comes to mind is peanut butter.  Everyone loooooves peanut butter.  But after already making them Peanut Butter and Chocolate Krispy Treats, Peanut Butter and Jelly Shortbread Bars, and Chubby Hubby Fudge, I figured they might want something NON-peanut butter.
Okay, probably not…  since no one can tire from peanut butta, but I have had dried blueberries in my pantry for FAR too long and thought krispy treats would be a great way to use them up.  I used to eat Luna's Blueberry Bliss bars all the time back in college, so those were the inspiration behind this DIY version.
These Healthy Homemade Blueberry Bliss Krispy Treats are crunchy, chewy, and bursting with sweet blueberry flavor!
It's hard to believe that these are all-natural and good for you.  You gotta make a batch ASAP.
Everyone will be delighted to bite their way through a freshly made Blueberry Bliss Krispy Treat.  My dad said his coworkers gobbled these up right after he brought them out  🙂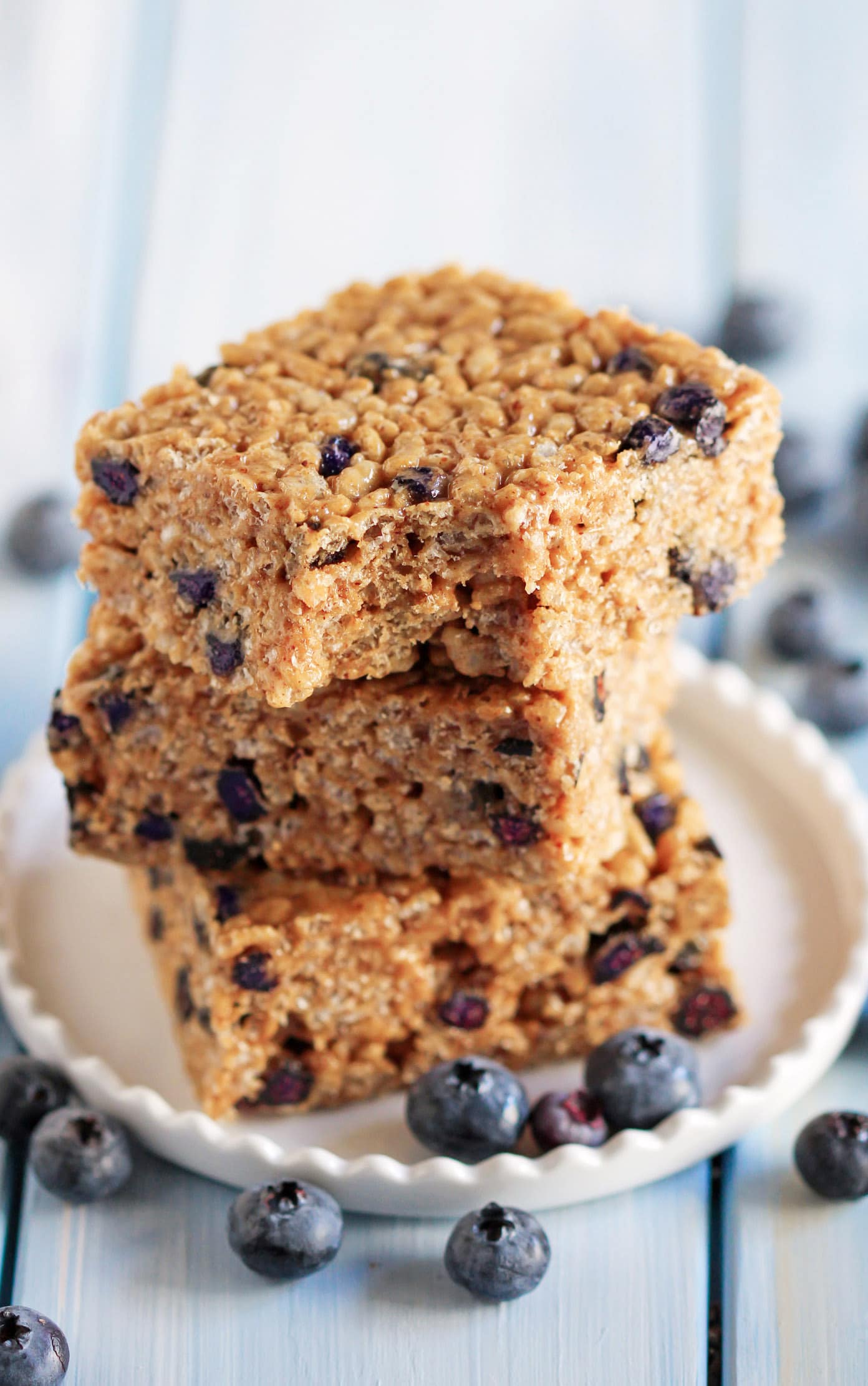 Healthy Blueberry Bliss Krispy Treats with Maple Icing
Prep Time: 30 minutes
Cook Time: 0 minutes
Total Time: 30 minutes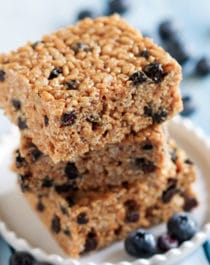 Fat per serving: 4.5
Calories per serving: 150
Ingredients:
Directions:
Line an 8×8″ brownie pan with parchment paper both ways.
In a medium-sized mixing bowl, add the crispy brown rice cereal.
In a large microwave-safe bowl, stir together the honey, almond butter, vanilla paste, stevia extract, blueberry flavor, lemon flavor, and salt. Microwave at 20-second intervals, stirring between each one, until warm and runny.  Then, stir in the protein powder.
Dump the rice cereal and dried blueberries into the large bowl and fold together.  Scoop the mixture into the prepared pan and flatten it out.  Cover and refrigerate overnight.
Slice, serve, and enjoy the next day!
Notes:
To make this vegan, use brown rice syrup in place of the honey and omit the protein powder.
All images and text ©
.
If you want to top your krispy treats with an icing, this is my favorite recipe:
30g (⅓ cup) Vanilla Whey Protein Powder
2 tbs + 1 tsp Pure Maple Syrup
1 tbs Coconut Oil, melted
.
Here is the recipe's nutrition label:
Compared to Luna Bars, the Desserts With Benefits recipe has:
40 less calories
1.5g less fat (and no saturated fat!)
4g less carbs
far fewer ingredients — below is the Luna Bar ingredient list:
Protein Grain Blend (Soy Protein Isolate, Organic Rolled Oats, Organic Rice Flour, Organic Roasted Soybeans, Organic Soy Flour), Organic Brown Rice Syrup, Organic Cane Sugar, Chicory Fiber Syrup, Vegetable Glycerin, Organic High Oleic Sunflower Oil, Organic Palm Kernel Solids, Palm Kernel Oil, Organic Apple Powder, Organic Soy Flour, Organic Blueberry Juice Concentrate, Dried Blueberries, Natural Flavors, Apple Juice Concentrate, Organic Corn Starch, Water, Organic Soy Lecithin, Organic Tapioca Maltodextrin, Citric Acid, Sea Salt, Pectin, Red Cabbage Extract (for Color).
… Super long ingredient lists make me nervous, even if it's from an "all-natural" product.  Although, I am happy that they revised their recipe from years ago (which listed sugar 6x and had way more ingredients).  Still, homemade is the way to go  😉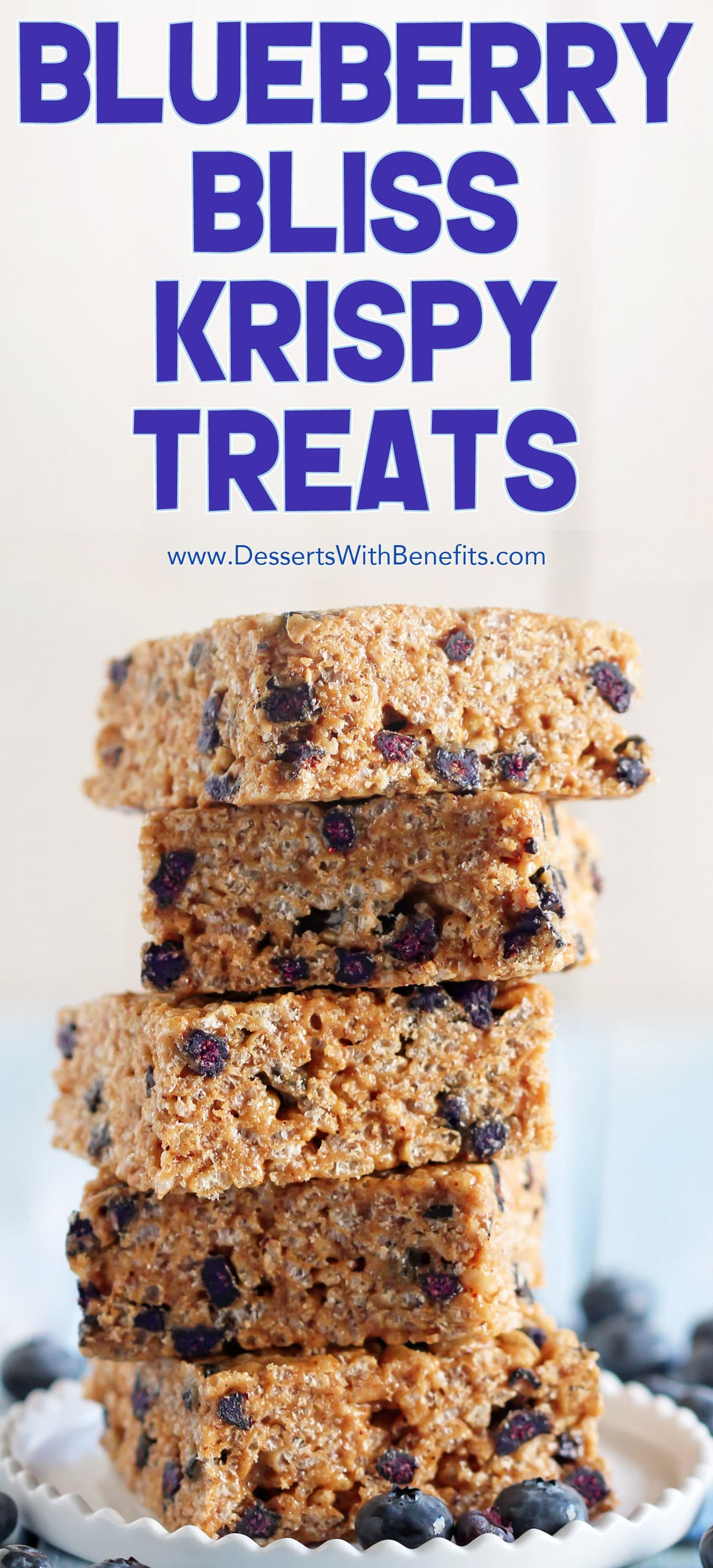 These Blueberry Bliss Krispy Treats are secretly healthy — made with whole grain brown rice cereal, low-glycemic raw honey, deliciously rich almond butter, and a sprinkle of protein powder.  They're crunchy, chewy, sweet, and fruity but without the butter and high-fructose corn syrup-laden marshmallows.  You'll be sure to love 'em!  🙂
.
With love and good eats,
.
– Jess
.