Healthy Blueberry Bliss Krispy Treats with Maple Icing
My father's coworkers are demanding asking for more desserts.  Those little tips and comments here and there throughout the day finally made their way to me.  Of course, the first thing I thought was peanut butter, but after these, these and these, I figured they might want something new.  Okay, probably not… since no one can tire from PB, but I had some fresh homemade walnut butter on hand and thought krispy treats would be a great way to use it.
These krispy treats are both crunchy and chewy with a fresh blueberry flavor and a warming maple icing drizzle.  It's hard to believe that these are all-natural and good for you!
Healthy Blueberry Bliss Krispy Treats with Maple Icing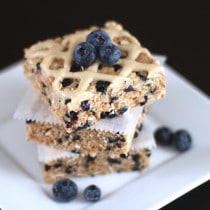 Ingredients:
Krispy Treats:
Maple Icing:
30g (1 scoop) Vanilla Whey Protein Powder
49g (2 tbs + 1 tsp) Pure Maple Syrup
14g (1 tbs) Coconut Oil, soft
Directions:
For the Krispy Treats:
Line a 9" brownie pan with parchment paper.
In a large mixing bowl, stir together the cereal, oats, flax and salt.
In a medium-sized microwave-safe bowl, stir together the rice syrup, walnut butter, vanilla paste, stevia, blueberry extract and lemon flavor. Microwave for 30 seconds, stir, then microwave for another 30 seconds. Slowly stir in the protein powder.
Scoop the wet mixture over the rice krispy mixture and fold together. Fold in the blueberries.  Scoop mixture into the prepared pan and flatten out.
For the Icing:
Mix together all the ingredients in a small bowl. Scoop mixture into a sandwich bag, snip a corner and design the treats.
Refrigerate for 10 minutes then slice.
Notes:
Here is the recipe's nutrition label:
Compared to Luna Bars, the Desserts With Benefits recipe:
has less saturated fat
is lower carbohydrate
has less sugar
has fewer ingredients… below is the Luna Bar ingredient list:
… super long nutrition labels make me nervous, even if it's from an "all-natural" product.
So make these homemade treats ASAP, everyone will be delighted to bite their way through a freshly made, healthy Blueberry Bliss Krispy Treat.  My dad said his coworkers gobbled these up right after he brought them out  🙂