Healthy Coconut Shortbread Truffles
Finally, a dessert where we can have eight four servings and not feel guilty one bit!  These Healthy Coconut Shortbread Truffles are sweet, sophisticated, satisfying, and packed with natural coconut flavor.
But these aren't your average truffles, these are made with ingredients you can feel good about eating.
And they look super fancy, don't they?
So lift your pinkie and grab a truffle.  Take a bite and melt into buttery, coconutty bliss.
Healthy Coconut Shortbread Truffles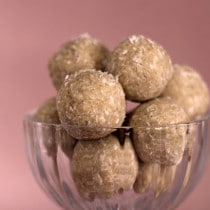 Ingredients:
Dry:
Wet:
one 15oz can Garbanzo Beans (drained and rinsed well; 1.5 cups beans)
¼ cup + 2-3 tbs Light Coconut Milk, canned
¾ tsp Natural Butter Flavor
¼ tsp Coconut Extract
¼ tsp Vanilla Paste
Directions:
In a large mixing bowl, add the dry ingredients and whisk to combine. Set aside.
In a blender, puree the wet ingredients. Pour over the dry ingredients and fold to combine. Press the mixture down in the bowl so the surface is flat, cover and refrigerate overnight.
The next day, scoop the mixture (it should be fairly firm) into equal size chunks and roll into balls.  Roll in more coconut or leave plain. Serve immediately or store in the refrigerator covered (serve chilled for best texture!)
Notes:
Feel free to coat these in white chocolate (yum!) or even add a couple tablespoons of coconut butter to the mix.
Grab onto something and put down your hot coffee…  and prepare to be shocked:
Okay, I guess it's not so shocking that you'd throw your hot coffee in someone's face, but it was pretty shocking to me.  Only 110 calories and 3.5g fat for 2 decadent truffles.  Plus, 6g protein and 3g fiber.  BOOM.
This reminds me of the day I walked into Godiva (I think I used to be their #1 customer) and asked the employee for the nutritional facts of my favorite chocolate truffle.  One small truffle had 180 calories and 15g of fat.  Yeah.
These Healthy Coconut Shortbread Truffles are a great replacement, and they don't leave you feeling deprived one bit.