Healthy Homemade Sugar Cubes (Sugar Free!)
These Healthy Homemade Sugar Cubes taste just like the storebought ones except this recipe is low calorie, low carb, sugar free, fat free, gluten free and vegan!
Healthy Homemade Sugar Cubes (Sugar Free!)
Prep Time: 10 minutes
Cook Time: 0 minutes
Total Time: 10 minutes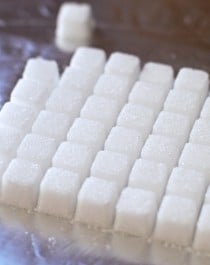 Calories per serving: 1
Ingredients:
Directions:
Add the erythritol to a bowl and add 1 tsp of water at a time, stirring between each addition, until it looks like wet sand/shaved ice/damp snow. Firmly press the mixture into a mini ice cube mold.
Place a cutting board over the ice cube mold. Press the two together and flip it carefully, making sure to keep the mold intact with the cookie sheet.
Gently tap on the mold to loosen the cubes. Let firm up overnight (do not touch!), and they'll be ready to use in the morning!
All images and text ©
.
.
Here is the (entire) recipe's nutrition label:
Yeahhhh, for an ENTIRE BATCH of 90 sugar cubes that taste exactly the same as the storebought brand, these Homemade Sugar Cubes have just 40 calories, 11g carbs, and 0g sugar.
As a reference, 90 storebought sugar cubes have 900 calories, 225g carbs, and 225g sugar.  That's shocking.  This DIY recipe has 860 fewer calories and no sugar (so no sugar-rush and sugar-crash, whoop whoop)!
Let's say you use three cubes in your coffee…  that's 1.3 calories rather than 30 calories of pure white sugar.  I WIN, mwahaha  🙂
These Homemade Sugar Cubes are definitely the better choice for coffees, teas, hot chocolate and other warm beverages.  Sweeten your day the guilt-free way!
I think I am going to package these into cute little jars (as seen in the first photo) and give them away as gifts for the holidays…  maybe along with some Healthy Homemade Gingersnaps!
.
With love and good eats,
.
– Jess
.