Healthy Figgy Oatmeal Bars with Vanilla Fondant
I have never really been one for dried figs, dates, apricots, etc (hence the thick fondant layer), but for some reason I bought a bag of dried figs at the grocery store on impulse  (I really do hate impulse buys!).  I didn't want to waste the figs so I knew I had to make something with them.  I have seen plenty of no-bake recipes that use dates as a binder, so I thought figs would be a great replacement.  Figs have a lower glycemic index than dates and they are higher in fiber.  Not to mention, figs are prettier… dried dates look like dead bugs.
So, getting off the topic of how ugly dates are, let's talk about something much better:  these Figgy Oatmeal Bars!  They are very sweet, so I would categorize them as a "dessert" rather than a "snack" or "breakfast."  Despite this, I am still eating them for breakfast…  A good breakfast means a good day, right?  😉  A delicious breakfast that includes a thick frosting-ish topping just guarantees that you're going to have a great day!  I mean, how else would you explain Arizona's seventy-degree weather?  And my history class being cancelled yesterday?  And me finding an extra jar of peanut butter in the back of my closet?  More peanut butter?  Yeah, today's a good day.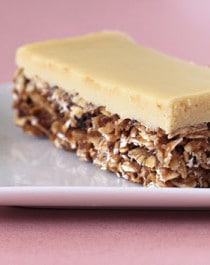 Print Recipe
Pin Recipe
Healthy Figgy Oatmeal Bars with Vanilla Fondant
Ingredients
Base:
2

cups

Old Fashioned Rolled Oats

1½

cups

Dried Figs

⅔

cup

Brown Rice Syrup

3

tbs

Coconut Oil

(melted)

2

tsp

Vanilla Extract

1

tsp

Hazelnut Extract

(or more vanilla extract)

½

tsp

Liquid Stevia Extract
Instructions
For the Base:
Put the oats in a large bowl.

In a blender, add the figs, brown rice syrup, melted coconut oil and extracts. Blend until there are just a few chunks of figs. Pour over the oats and fold together.

Line a brownie pan with parchment paper and flatten the mixture out.
For the Fondant:
In a medium-sized bowl, stir together all of the ingredients. Scoop over the base and spread out with the back of a spoon. Refrigerate for 1 hour, then slice into bars.
As I said above, I'm not much for dried fruit.  That is why I blended the figs to bind the oats, and then topped the bars off with a sweet and delicious fondant.  The fondant was definitely the main focus in this recipe, so I paid less attention to how much I despise dried fruits and more on this healthy fondant!
.
With love and good eats,
.
– Jess
???
.
Be sure to follow @DessertsWithBenefits on Instagram!  If you try this recipe, make sure to snap a picture of it, tag me @DessertsWithBenefits, and hashtag #DessertsWithBenefits.  I'd love to see it and feature you on #FanFaveFridays!
.