Healthy Fudgy Cocoa Brownies
Just like most foodies, I am totally obsessed with the Food Network channel.  Even though the chefs don't necessarily make any of the food I'm "into" — aka, nutritious food…  they throw around three sticks of butter like it's no big deal! — I just love each of their personalities and I love watching them cook and talk on camera.
Side Note:  How do they do that?!  If I engage in a conversation while I'm baking I forget what step I'm on and what ingredients I have already put into the mixing bowl.  So, I guess I watch the chefs because I am also jealous of their multitasking abilities.
The food each chef makes is inspiration for me to healthify.  Like Ina Garten's brownies.  A few years ago, I watched an episode of Barefoot Contessa where Ina was making brownies.  She said that "anybody who tries to make brownies without butter should be arrested."
Well, I think the opposite (sorry, Ina).
You will get the same fudgy results, same chocolate flavor, and same "oh-my-gosh-this-must-be-going-straight-to-my-hips" reaction from both Ina's butter-filled brownies and this healthified brownie.  And the good thing about these brownies is that they aren't heading anywhere near your hips.
Why?  Because these dense, fudgy and chewy cocoa brownies are low in calories.  It's hard to believe they are free of white sugar, refined flour, eggs and butter.  This recipe is so good that I've made it three times in the last two weeks, you need to try it  🙂
These are some brownies that you can sink your teeth into.  Fudgy, moist, chocolatey, rich — who needs the butter, sugar and eggs?!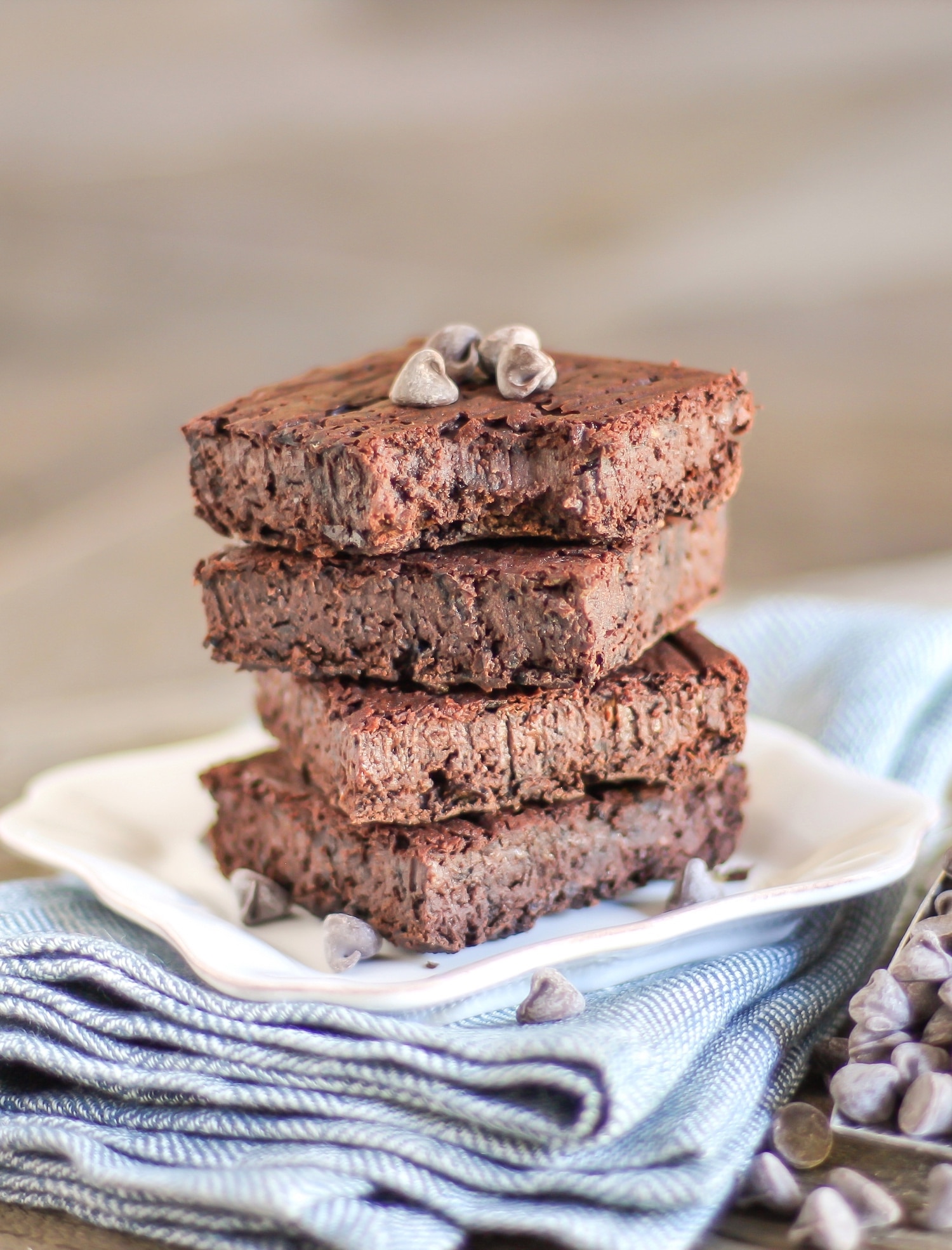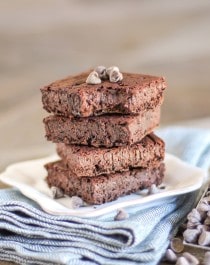 Print Recipe
Pin Recipe
Healthy Fudgy Cocoa Brownies
Ingredients
Black Beans

Fresh Blueberries

Unsweetened Vanilla Almond Milk

Vanilla Extract

Unsweetened Natural Cocoa Powder

Ground Flaxseed

Double-Acting Baking Powder

Baking Soda

Instant Coffee

(optional)

Salt
Recipe Notes
I originally wasn't going to share the recipe here because I worked so incredibly hard on publishing Naughty or Nice.  But, I understand not having a recipe here can be frustrating.  So, I'll meet you halfway...  how does that sound?  I'll show you all the ingredients I use in the recipe.  That way, you can determine on your own whether or not the cookbook is for you!
Nutrition Facts
Healthy Fudgy Cocoa Brownies
Amount Per Serving (1 brownie)
Calories 110
Calories from Fat 41
% Daily Value*
Fat 4.5g7%
Sodium 240mg10%
Carbohydrates 20g7%
Protein 4g8%
Vitamin C 1.7mg2%
Calcium 150mg15%
Iron 2.7mg15%
* Percent Daily Values are based on a 2000 calorie diet.
Enjoy!
.
Be happy.
Live fully.
Feel naughty, eat nice.
.
– Jess
.