Healthy White Chocolate Brownies
Brownies are great and all, you can never have too many brownies.  Or chocolate.  Or dessert of any kind, really.  BUT, what about the white chocolate lovers?  What about that creamy, milky, silky WHITE chocolate??  That's where these Healthy White Chocolate Brownies come in.  They're pure and white, fudgy and delicious, and sweet and chocolatey…  just without the cocoa powder or melted milk/dark chocolate.
These Healthy White Chocolate Brownies are da bomb.  No one would ever know they're sugar free, gluten free, dairy free, and vegan!
Seriously.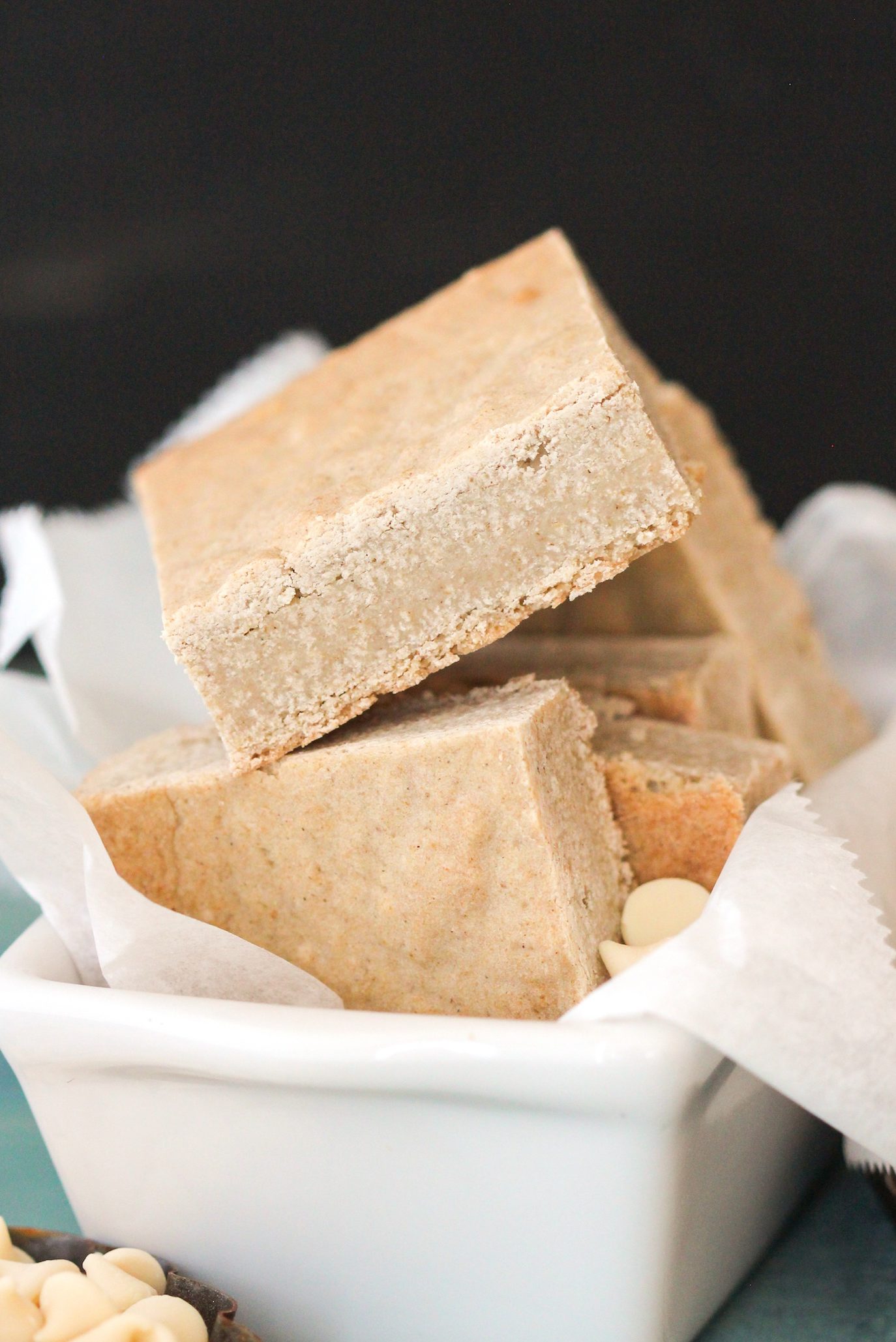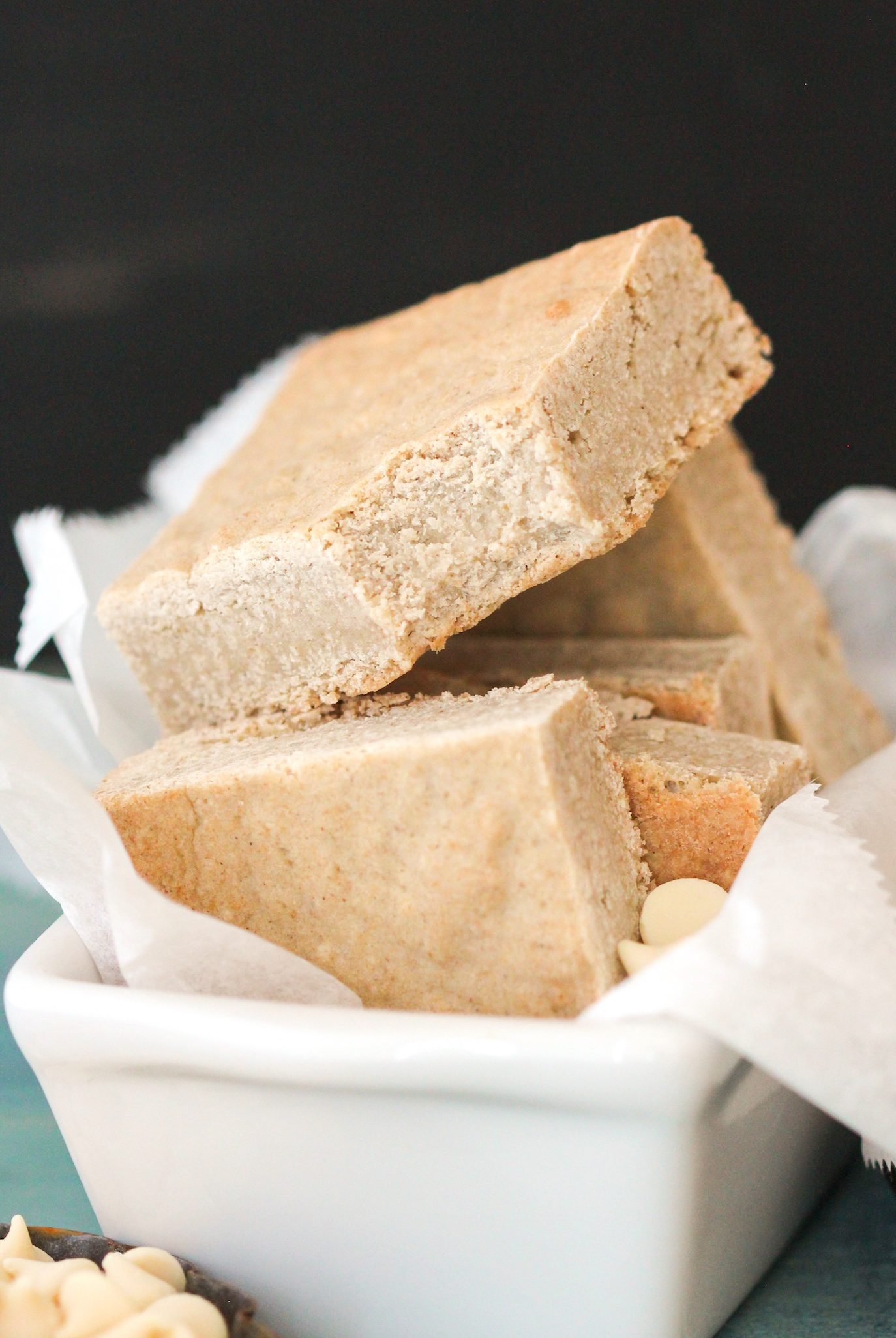 After finally perfecting a healthy brownie recipe, I thought I would make a little spin-off dessert recipe and make a delicious white chocolate version.  And guess what?  It is freaking ahhhmazing.
I love it.  Clearly.
I used gluten free sorghum flour instead of cocoa powder, I used cacao butter instead of butter and melted chocolate, and I added some more vanilla extract for a more intense flavor.
The result?  Absolutely mouth-watering brownies (blondies?) that are firm when you hold them but soft and fudgy once you bite into them.  You can taste that rich cacao butter too.  It really tastes like there is some white chocolate hiding somewhere inside the blondies!
This recipe is THE solution to your dessert craving.
Too much dessert?  IMPOSSIBLE.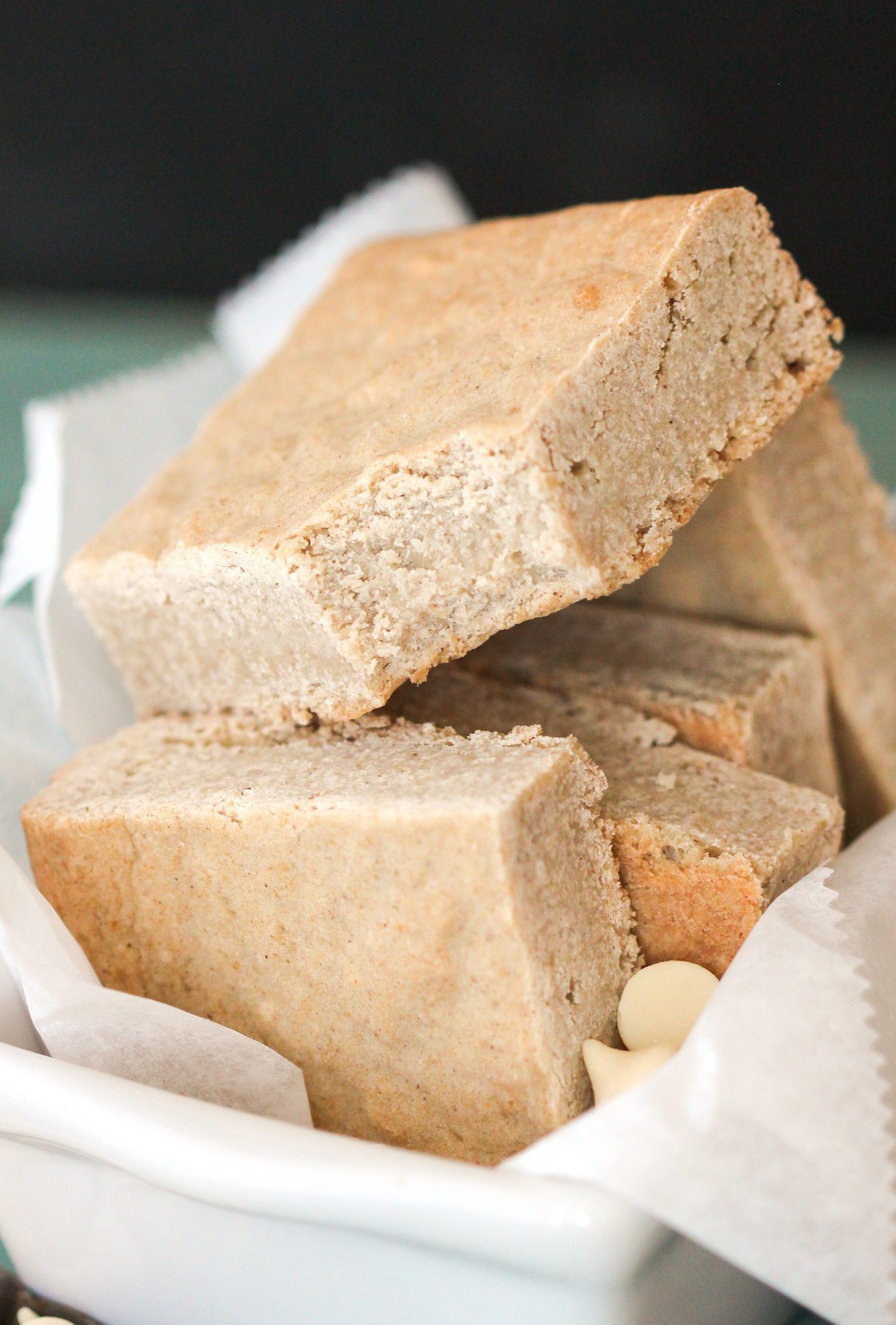 Healthy White Chocolate Brownies
Prep Time: 20 minutes
Cook Time: 40 minutes
Total Time: 1 hour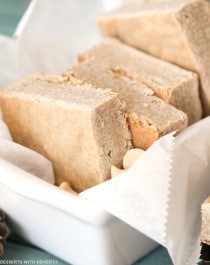 Fat per serving: 14g
Calories per serving: 220
Ingredients:
120g (1 cup) Oat Flour
85g (½ cup + 2 tbs) Sweet White Sorghum Flour
½ tsp Baking Powder
¼ tsp Xanthan Gum
154g (½ cup + 2 tbs) Unsweetened Applesauce
144g (¾ cup) Granulated Erythritol
112g (½ cup) Raw Cacao Butter, melted
⅓ cup Unsweetened Vanilla Almond Milk, warm
1 tbs Vanilla Extract
1 tsp Stevia Extract
1 tsp Natural Butter Flavor
½ tsp Salt
½ cup White Chocolate Chips, chopped (optional)
Directions:
Preheat the oven to 350 degrees Fahrenheit and line an 8×8″ brownie pan with parchment paper both ways.
In a small bowl, whisk together the oat flour, sorghum flour, baking powder and xanthan gum.
In a large bowl, whisk together the applesauce, erythritol, melted cacao butter, warm almond milk, vanilla extract, stevia extract, butter flavor and salt.
Dump the dry ingredients over the wet ingredients and whisk well.  Mixture should be smooth pourable.  Mix in the optional white chocolate chips, if using.
Pour the mixture into the prepared pan and tap the pan on the counter a few times to level it out.
Bake for 40 minutes, or until the center of the brownies spring back when tapped.  Let cool, then wrap with plastic wrap overnight to set.  The next day, bring the brownies out to room temp for about an hour, then slice and serve!  Store tightly wrapped with plastic wrap at room temperature for up to 2 days.  You may refrigerate or freeze them in sandwich bags, but they will harden when cold.  To soften them quickly, just pop them in the microwave for ~10 seconds!
Notes:
If you're in love with white chocolate, or if you're not used to dairy-free/vegan white chocolate treats, I'd suggest adding the ½ cup of white chocolate chips.  If you're vegan but want some more decadence, there are vegan white chocolate chips available!  You can also use chopped up Homemade White Chocolate (recipe in my Naughty or Nice Cookbook) — it's not vegan but it's sugar-free!
All images and text ©
.
.
Here is the recipe's nutrition label: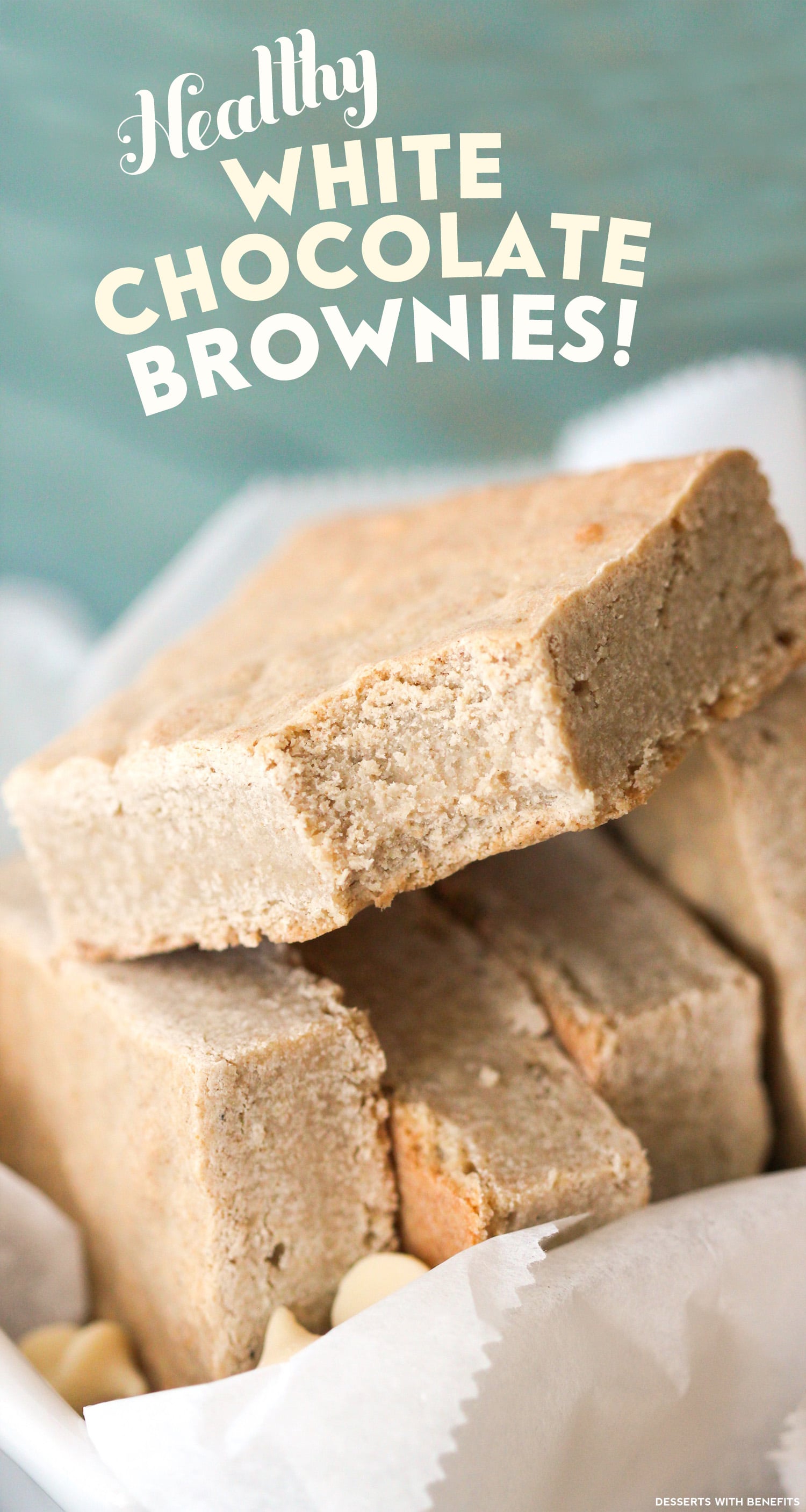 Prescription Directions:
Eat 1 brownie every morning (2 if needed), as directed by food blogger, Miss Jessica.  😉
.
With love and good eats,
.
– Jess
.