Grasshopper Brownies
What's chocolatey, what's minty, what's sweet, and what's fudgy?  These Grasshopper Brownies!  Made with the fudgiest of the fudgy brownie base, a thick and delicious layer of mint frosting, and the perfect amount of dark chocolate to top everything off.  This is one incredible, if not mind-blowing, dessert!
Thanks to Immaculate Baking Co. for sponsoring this post, and thank YOU for supporting the brands that keep Desserts With Benefits going!  All opinions are mine and mine alone.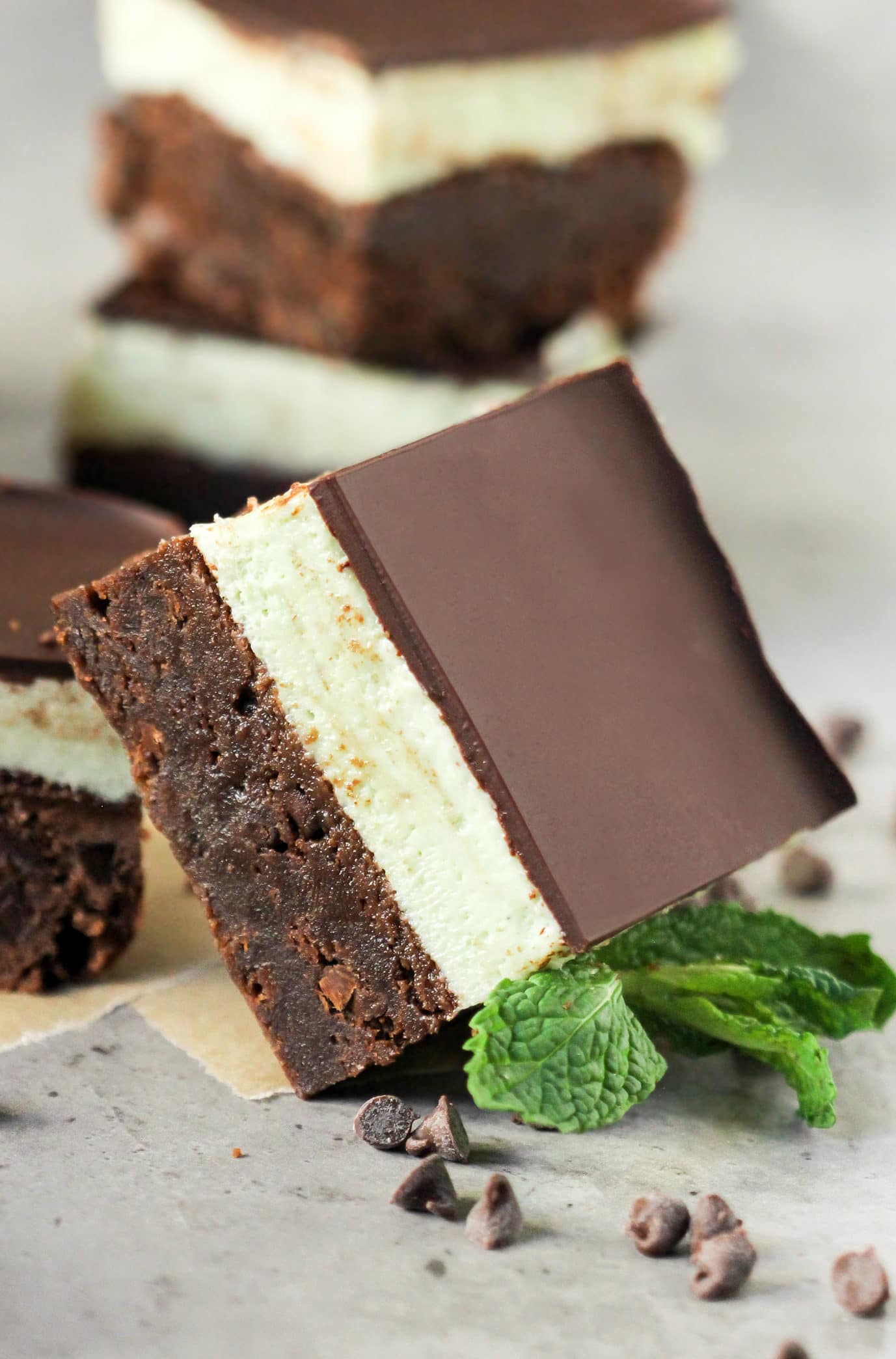 Over the last 6½ years that I've been blogging, I've come to (virtually) "meet" a lot of people who are looking for the perfect decadent dessert that is easy to make, but also something they can feel good about eating.  And, since it's the busy holiday season, making desserts really shouldn't make you feel stressed out, whether they're for friends, family, coworkers, neighbors, Santa…  😉
Now, I'm definitely not the type of person who runs to the store to get boxed baking mixes.  Definitely not.  I like making dessert from scratch.  But I know not everyone is like that!  I was at a Christmas pajama party (best party ever) this last Saturday and met so many people who love dessert but don't have the patience to make everything from scratch.
Well, my peeps, these Grasshopper Brownies are for you!  I wanted to provide a recipe that is suitable for everyone.  And anyone and everyone can make this!
A lot of people who buy baking mixes just go to the store and pick up the first box they see, but unfortunately, the majority of boxed mixes are made with — just being real here — deplorable ingredients.  I decided to look at the ingredient list of the brownie mix I used to use in high school and am seriously disappointed.  Partially in myself for never bothering to check the ingredients, but mostly in the company who makes it (they clearly don't care about the health of their customers…).
This is the ingredient list**:
Sugar, Enriched Bleached Flour, Partially Hydrogenated Soybean And Cottonseed Oils, Corn Syrup, Natural Cocoa, Cocoa Processed With Alkali, Lactose, High Maltose Corn Syrup, Soybean Oil, Chocolate Liquor, Wheat Starch, Genetically Modified Food Starch, Salt, Artificial Flavor, Sodium Bicarbonate, Potassium Sorbate (preservative), Sodium Benzoate (preservative).
**Artificial and/or highly-refined unhealthy ingredients are in bold.  And um, there are more bold ingredients than regular ingredients…  *shakes head in disappointment*
What's worse is that each brownie has 1g of dangerous trans fats  🙁
.
But let's move onto bigger and better things.  For one, THESE GRASSHOPPER BROWNIES!!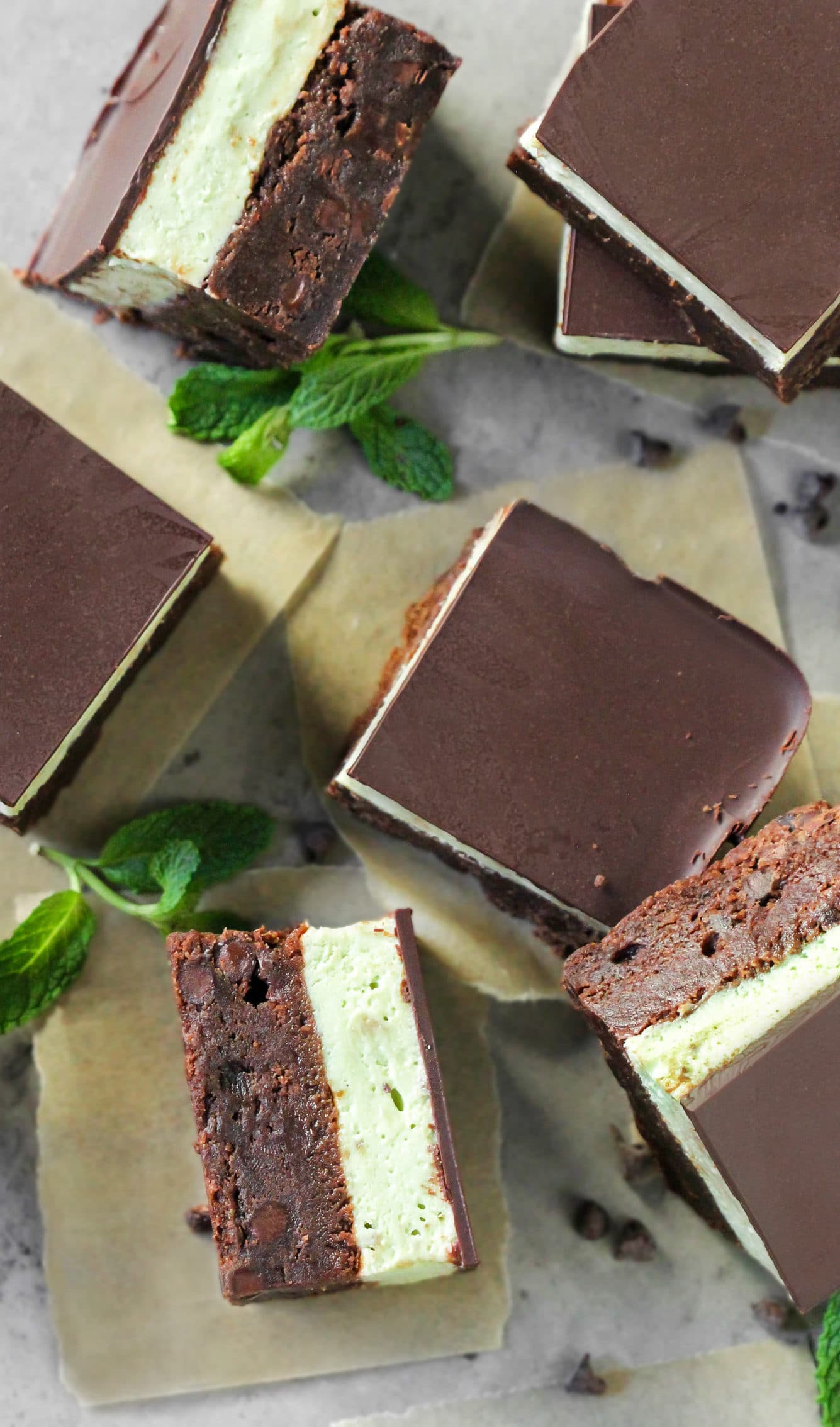 Starting top to bottom, we've got a not-too-thin, not-too-thick layer of dark chocolate, a thick layer of minty cream cheese frosting, and a decadent base of dreamy, fudge brownies.  Nope, these aren't made with those shoddy brownie mixes, these are made with Immaculate Baking Co.'s organic fudge brownie mix!
This is the ingredient list**:
Organic Cane Sugar, Organic Wheat Flour, Organic Chocolate Chips, Organic Cocoa, Organic Tapioca Starch, Sea Salt, Natural Flavor.
**Artificial and/or highly-refined unhealthy ingredients are in bold.  Oh, would ya look at that, no bold ingredients!  And yes, you're seeing that list correctly.  Immaculate Baking Co.'s mix has just 7 ingredients.
So deliciously chocolatey and so refreshingly minty, one bite and you'll know exactly what pure bliss feels (and tastes) like.  These Grasshopper Brownies are made with quality ingredients we can all feel good about indulging in.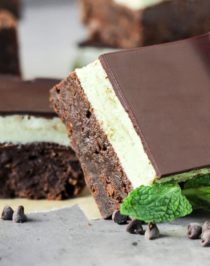 Print Recipe
Pin Recipe
Grasshopper Brownies
These Grasshopper Brownies are made with the fudgiest brownie base, a thick and delicious layer of mint frosting, and the perfect amount of dark chocolate to top everything off. This is an incredible, mind-blowing dessert!
Ingredients
Brownies:
½cup

(1 stick)

Organic Grass-Fed Unsalted Butter

(melted)

2

Large

Eggs

(room temp)

½

tsp

Peppermint Flavor
Chocolate Topping:
4

oz

70% Cacao Chocolate

½

tsp

Peppermint Flavor
Instructions
For the Brownies:
Preheat your oven to 350 degrees Fahrenheit and line a 9" brownie pan with parchment paper both ways.

In a large bowl, whisk together the melted butter, eggs, and peppermint flavor until completely combined.

Add the brownie mix and stir until smooth.  Scoop the batter into the prepared pan and spread it out.  Bake for 33-35 minutes.  Let cool completely.
For the Mint Layer:
In a stand mixer bowl with whisk attachment (a hand mixer works too), whip together the cream cheese, peppermint flavor, vanilla paste, and stevia extract.

Add the powdered erythritol and matcha powder and whip until the mixture is completely even.  Scrape down the sides of the bowl if necessary.  Mixture should be uber fluffy!  Scoop the mixture over the completely cooled brownies and spread it out (I used an offset spatula).
For the Chocolate Topping:
In a microwave-safe bowl, add the chocolate.  Microwave at 30-second intervals, stirring between each one, until the completely melted.  Stir in the peppermint flavor.

Drizzle the chocolate all over the mint layer and rotate the pan around so that the chocolate covers the entire surface.  Refrigerate overnight.

To slice the brownies-  Transfer the brownies to a cutting board, fill a pitcher with very hot/boiling water, and get a hand towel.  Dip a long, sharp knife in the water, dry off using the towel, and rest the knife over where you want to slice.  Let the heat of the knife soften the chocolate and allow you to slice through without it breaking.  Repeat until all of the brownies are sliced.  Serve and enjoy!
Recipe Notes
Peppermint flavor is 

not

the same thing as peppermint extract.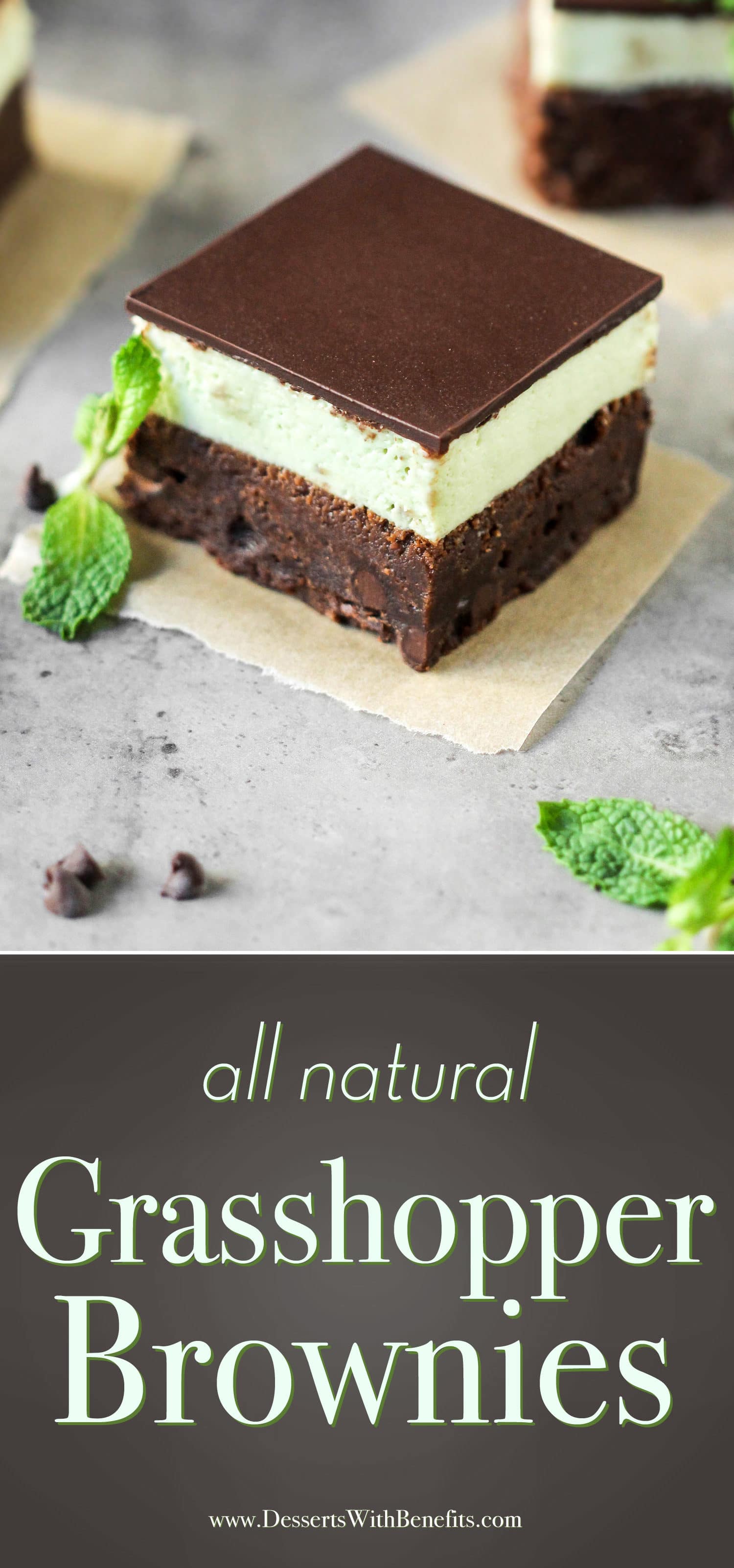 Enjoy!
.
With love and good eats,
.
– Jess
.