Healthy Blueberry Lemon Rosewater Chia Seed Pudding
Healthy Blueberry Lemon Rosewater Chia Seed Pudding — naturally sweet, seriously refreshing, subtly floral, and ultimately unique and delicious!
The bakery I work at has this suuuper delicious Lemon Rosewater Ice Cream, which is a huge hit during the hot summer months.  On my first day at work, I was tasked with making that oh-so-popular ice cream.  Before that day, I had never tasted, let alone smelled, rosewater.
As I opened up a new bottle of rosewater for the first time, I was totally shocked.  The scent is so potent, it's as if someone is shoving dozens of roses in your face and up your nose.  Basically, whatever you do, DO NOT stick your nose anywhere near an open bottle of rosewater…  the scent will find you on its own.
Do as I say and not as I do.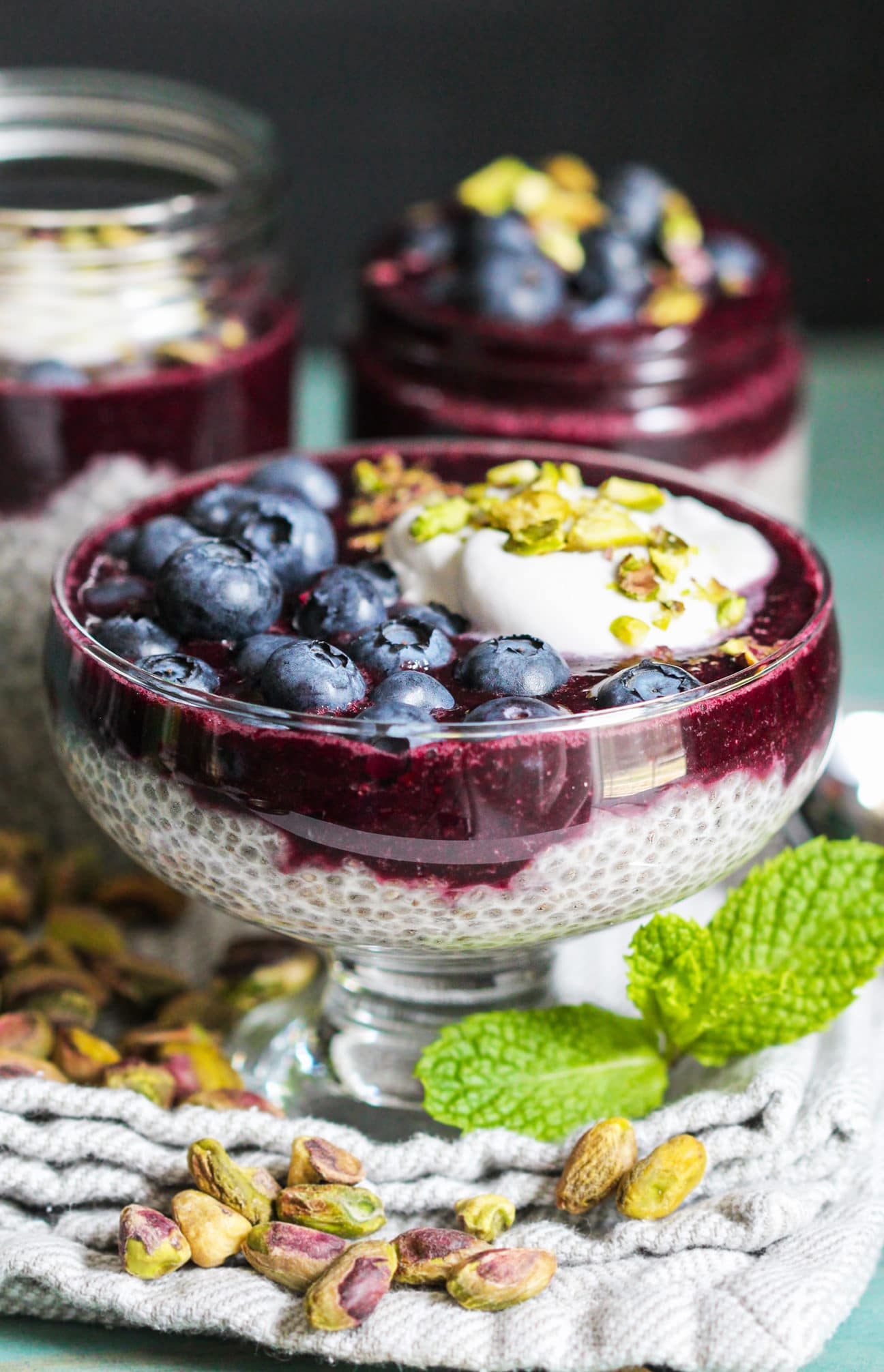 ANYWAYS.
In my opinion, rosewater isn't that great on its own.  Some people love it and some people hate it.  I'm in between.  It tastes really good when it's paired up with something — lemon, pistachios, strawberries, blueberries…  you get it.  Just be sure not to use too much!  Take it from me.  It's strong.  This recipe took a couple trials to get right.
The bottle of rosewater I have says to mix 2 tablespoons of rosewater with a glass of cold water.  So, I thought, maybe I can replace some of the almond milk in the chia seed pudding with rosewater.  Let's say, ¼ cup?
BIG MISTAKE.
It was like choking down part rose and part candle.  I had to mix it with about 3x the blueberry puree that I originally used to get through that batch because I didn't want to waste it.  Thankfully, I revised the recipe and now it's 100% delicious perfection.  The blueberry lemon puree is both tart and sweet, and the chia seed pudding is infused with vanilla and just a hint of rosewater.  A hint, not a punch.
This Healthy Blueberry Lemon Rosewater Chia Seed Pudding is seriously diviiiiine.  It's definitely new territory for me, using a foreign ingredient like rosewater, but I'm so glad I did.  I can sense a lot more rosewater-infused recipe testing in the future!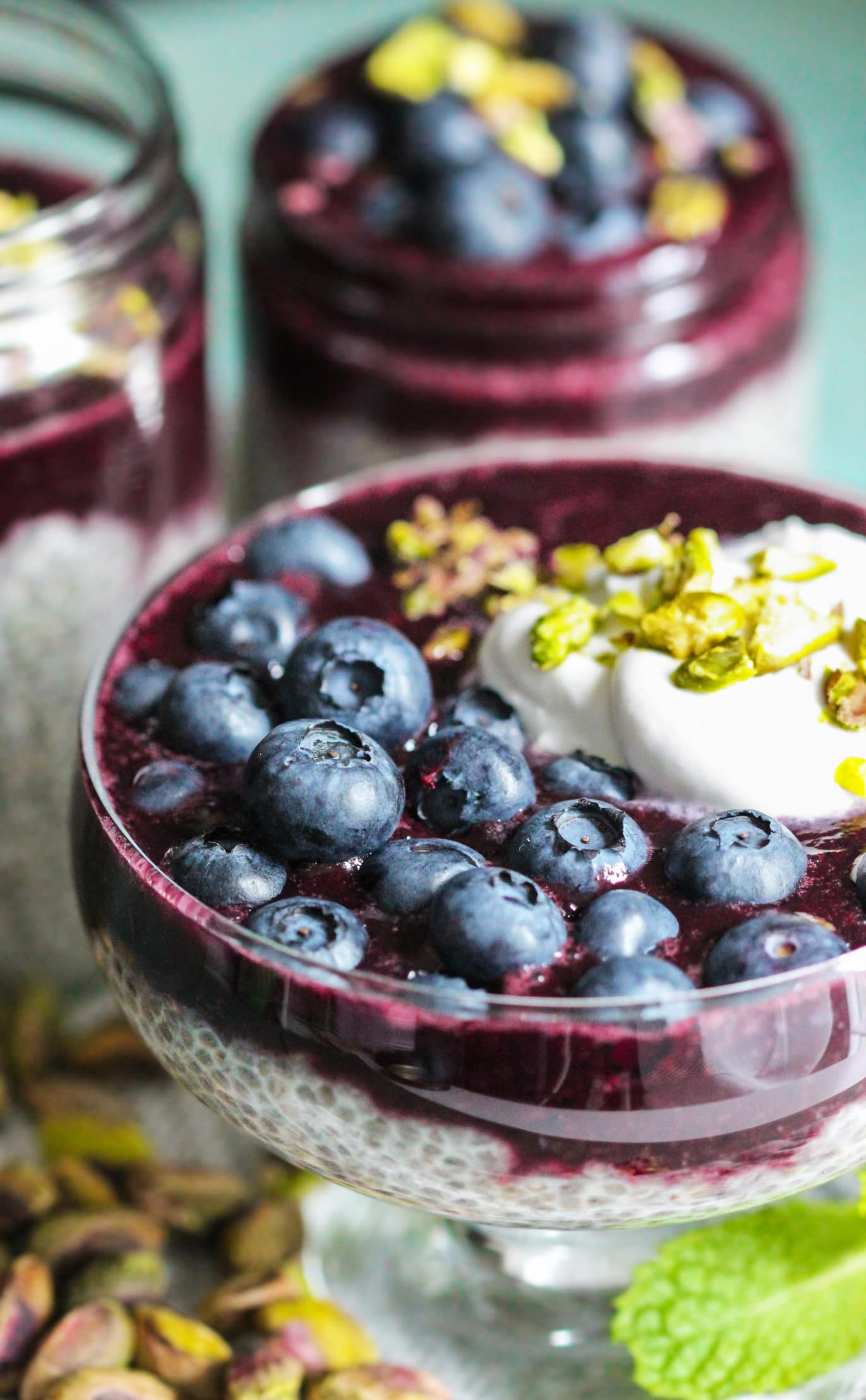 Healthy Blueberry Lemon Rosewater Chia Seed Pudding
Prep Time: 10 minutes
Cook Time: 0 minutes
Total Time: 10 minutes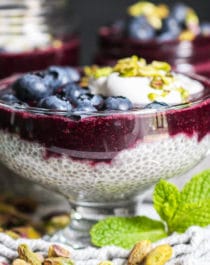 Fat per serving: 6
Calories per serving: 160
Ingredients:
1½ cups Unsweetened Vanilla Almond Milk
2 tsp Rosewater
1 tsp Vanilla Extract
5 tbs Chia Seeds
6oz Frozen Unsweetened Blueberries
Juice of 1 Lemon
Directions:
In a shaker cup, add the almond milk, rosewater, vanilla extract, chia seeds and sweetener.  Cover with the cap and shake.  Pour into jars, seal tightly, and refrigerate overnight.
In a small blender (I used my NutriBullet), puree the blueberries and lemon juice.  Pour the puree evenly into the jars.  Serve and enjoy!
All images and text ©
.
.
Here is the recipe's nutrition label: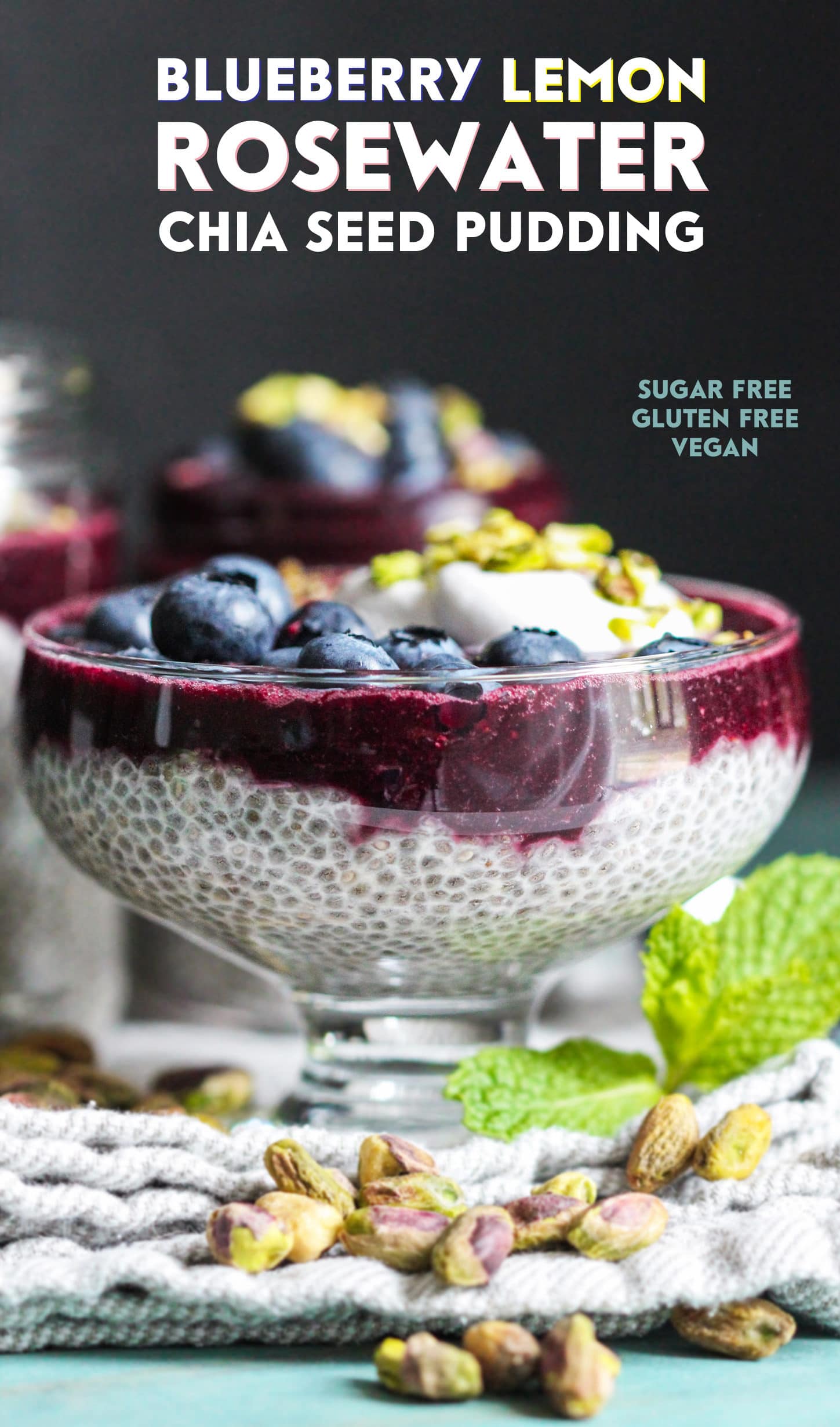 I hope you like this recipe just as much as I do  🙂
Enjoy!
.
– Jess
.