Healthy Brown Sugar Spritz Cookies
Experiment #1:  SPRITZ COOKIES!
What just popped into your head when I typed shouted that?  I don't know about you, but the first thing that came to my mind was butter.  Then sugar.  And then refined white flour and "unhealthy" and toootally not nutritious.
Experiment #2:  HEALTHY SPRITZ COOKIES!
So what came to your mind this time?  Personally, my mind kind of scrambled at that statement.  It just doesn't make sense, like, healthy cookies are enough of a stretch, but healthy spritz cookies just sound too good to be true…
Oh, but it isn't.  I promise.  I know these guilt-free cookies exist for a fact, because well, I ate them.
A lot of them…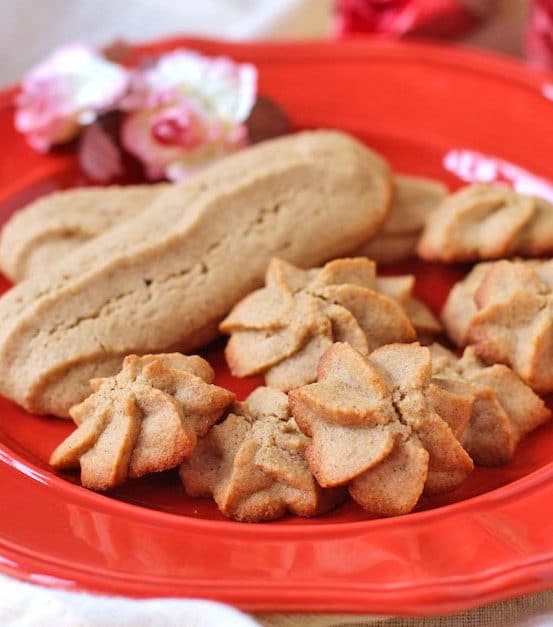 These Healthy Brown Sugar Spritz Cookies are sweet without the white sugar and they are rich without the butter.
The entire recipe only calls for 4½ tbs of oil which is far less than the typical cookie recipe that requires cups upon cups of butter).  These are just as tasty as regular spritz cookies with the same "crumble-factor," but are secretly good for you!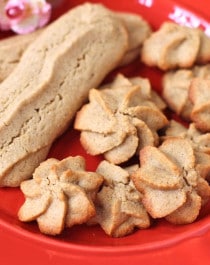 Print Recipe
Pin Recipe
Healthy Brown Sugar Spritz Cookies
Instructions
Preheat the oven to 350 degrees Fahrenheit and line 3 cookie sheets with Silpats or parchment paper.

Prepare a large pastry bag with star tip and place into a large/tall mug.

In a large bowl, stir together the soy milk, coconut oil, sucanat, extracts and salt.

In a small bowl, whisk together the oat flour, sorghum flour, ener-g egg replacer powder and baking powder.  Dump the dry over the wet and fold together well.

Scoop the batter into the pastry bag and refrigerate for 20 minutes.

Take the pastry bag out of the fridge and pipe short "fingers" or spritz cookies. Bake for ~14 minutes, or until the edges have browned. Transfer cookies to a wire cooling rack to let cool completely.
Recipe Notes
*I made quite a variety of shapes when I made these cookies so I'm not sure of the exact amount of cookies it made, but the recipe will make A TON of the star-shaped bite-sized cookies seen pictured in the post. A ton of healthy cookies = the best cookies 🙂
**These cookies are best THE DAY THEY ARE MADE. I stored my cookies tightly covered at room temperature and they softened quite a bit and turned a bit crumbly. Not a total loss though, these cookies were great on top of yogurt and oatmeal!
I imagine you are probably wondering why I have both star-shaped cookies on the plate along with finger-shaped cookies.  As embarrassing as this is, I was actually attempting to make Healthy Homemade Churros.  Yeah, didn't work out so well.  So while these cookies totally failed as churros, they totally succeeded as cookies and I needed to post the recipe for you all.  Thankfully, the successful Churros were made after all, phew!
.
– Jess
.