Healthy Cherry Fruit Snacks
Healthy Cherry Fruit Snacks — a new take on the old classic!
Instead of artificially flavored, synthetically colored gummies shaped like strawberries, oranges and grapes, we've got all-natural DIY Fruit Snacks in the shape of cutie patootie bears (though you can use whatever mold shape you want).  These also happen to be super delicious and uber good for ya too!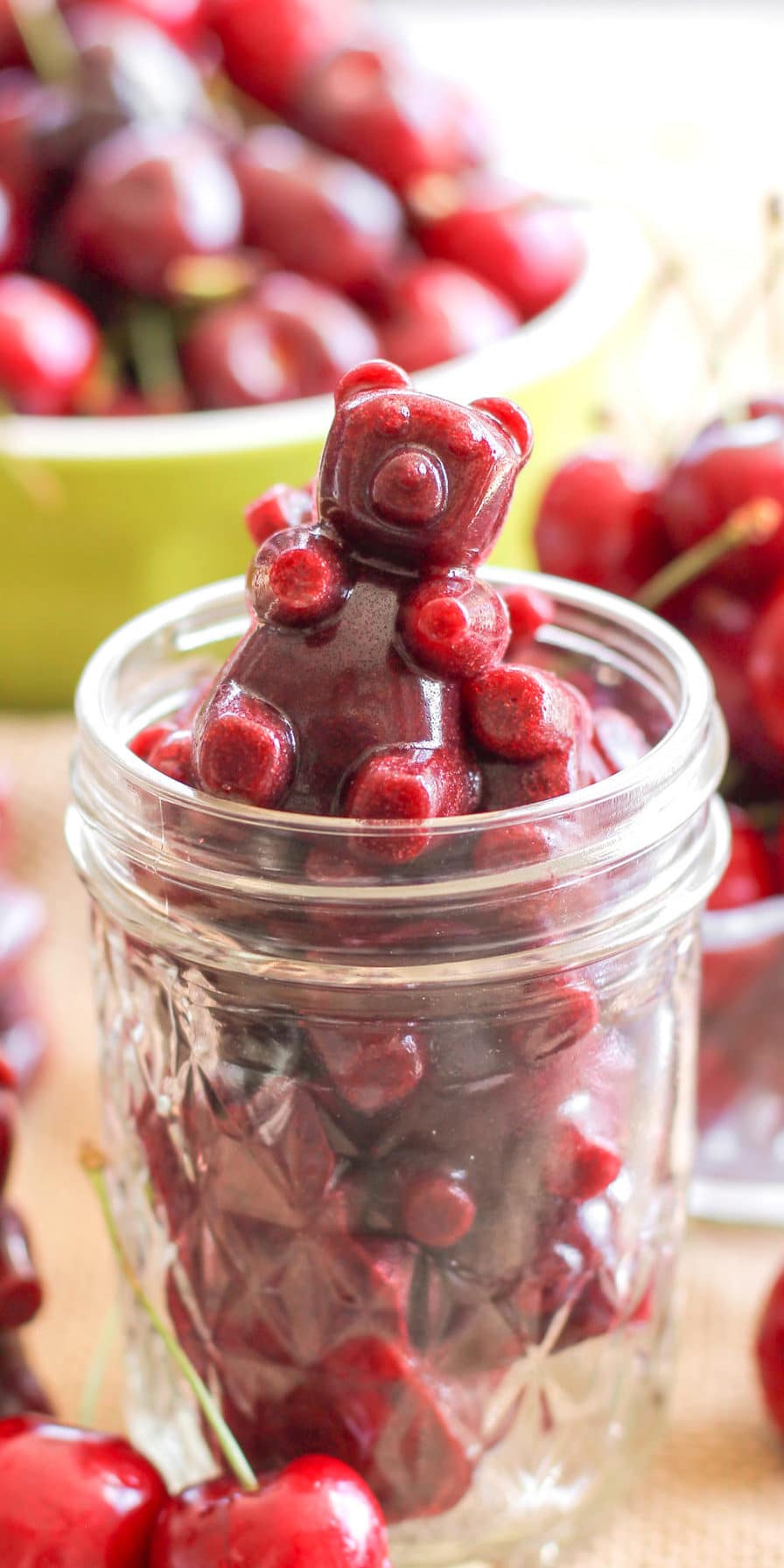 These unique treats are packed with a sweet and enticing cherry flavor, an addicting yet natural sweetness, and soft and irresistible chew.
The storebought varieties of gummy bears and fruit snacks always contain high-fructose corn syrup, refined white sugar, genetically modified starch, artificial flavorings, synthetic food dyes, and a ton of excess empty calories, carbs, and sugar.  But not these.  Oh, not these babies!
These Healthy Cherry Fruit Snacks are made with real cherries, a little splash of lemon juice, and grass-fed gelatin.  And since these are so good and easy to make, I also made a batch of my Strawberry Gummy Bears.  Both were DA BOMB by the way  😉
As a kid, cherry- and strawberry-flavored gummy candies were my favorite, so these Cherry Fruit Snacks are quite nostalgic for me.   I hope you enjoy them as much as I do.
EDIT:  I hope you enjoy them as much as I did.  Past tense.  Because I ate them all…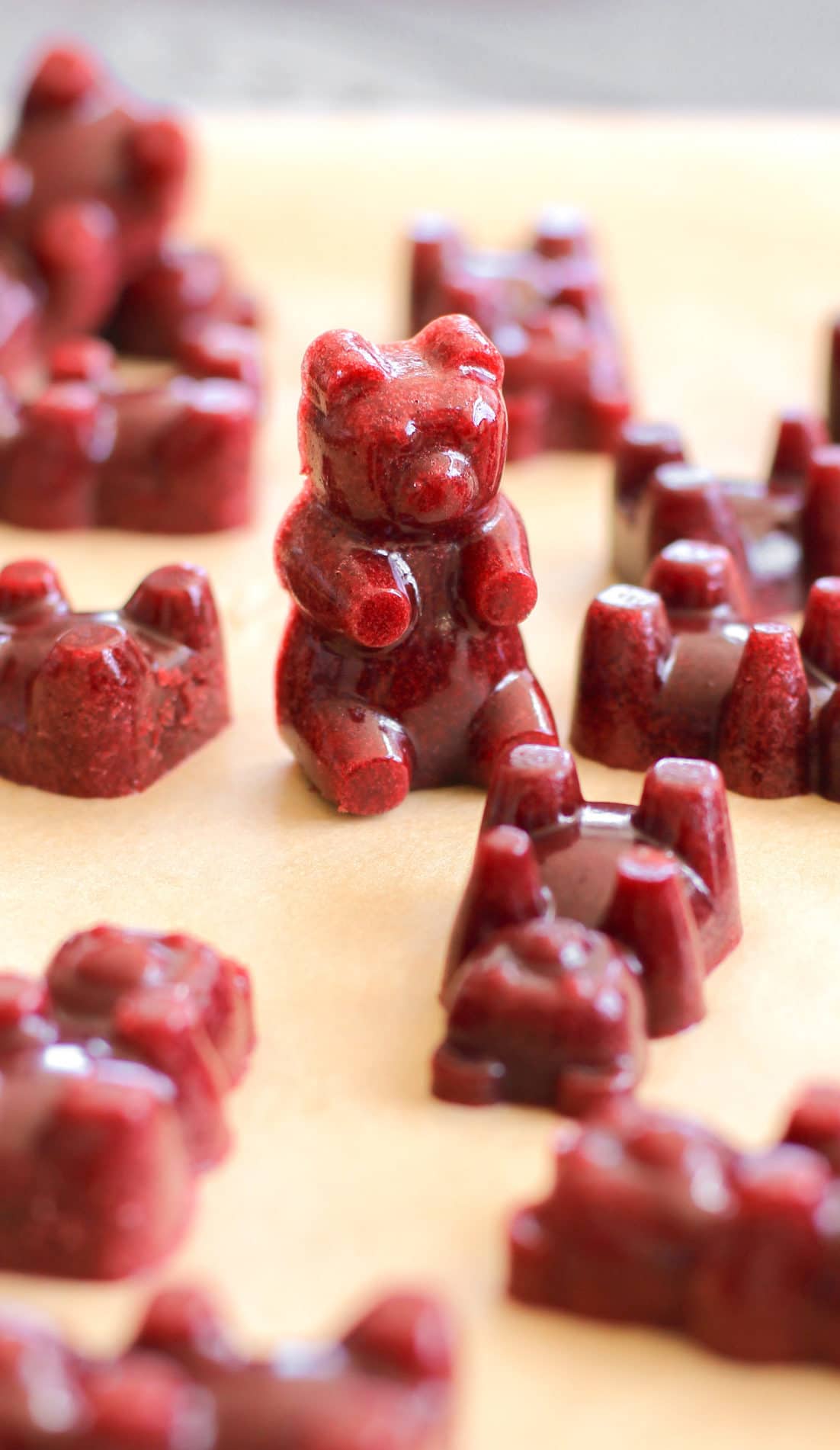 Healthy Cherry Fruit Snacks
Prep Time: 30 minutes
Cook Time: 20 minutes
Total Time: 1 hour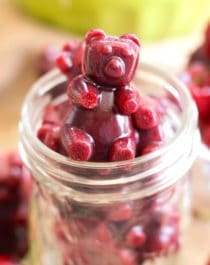 Calories per serving: 90
Ingredients:
Directions:
In a blender, add the thawed cherries, lemon juice and stevia extract.  Blend on high speed until completely smooth.
Pour the mixture into a nonstick saucepan and sprinkle on the gelatin.  Let sit for 5 minutes.
Place the pan over medium-high heat and whisk frequently.  When it starts to bubble, remove the pan from the heat.
Fill your gummy bear molds with the mixture (I used a ¼ cup measuring cup to keep the process mess-free).  Let the molds cool on the counter for 1 hour, then carefully transfer them to the fridge.  Refrigerate until firm (3+ hours).  Serve and enjoy!
All images and text ©
.
.
Here is the recipe's nutrition label:
These super simple 5-ingredient Healthy Cherry Fruit Snacks make for the perfect guilt-free treat!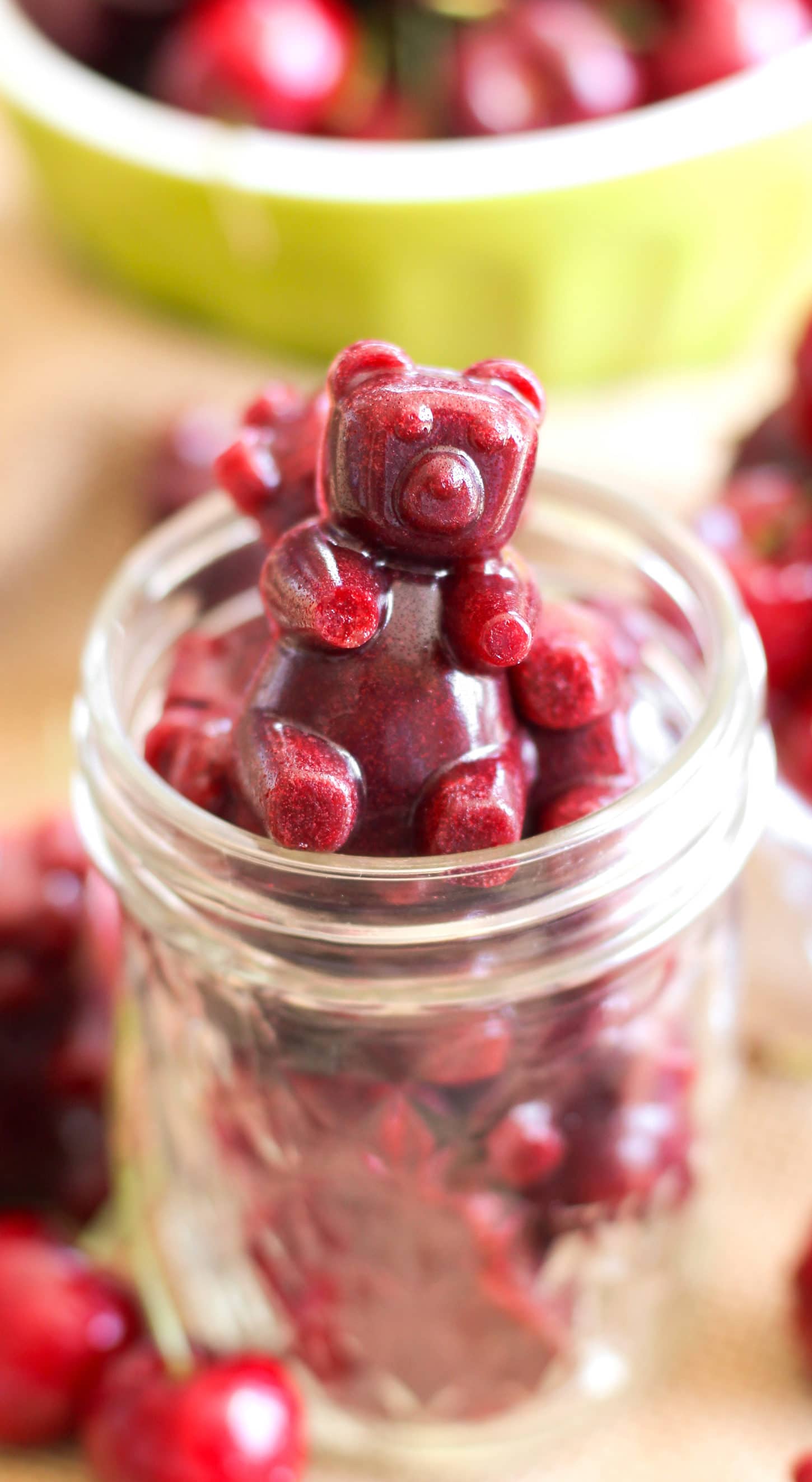 Welch's ain't got NOTHIN' on these soft and sweet cherry-infused fruit snacks.
.
With love and good eats,
.
– Jess
.