Healthy Chocolate Banana Chia Seed Pudding
This Chocolate Banana Chia Seed Pudding recipe is perfectly sweet from the bananas, deliciously chocolatey from the cocoa, and surprisingly filling thanks to the chia seeds!
This makes for a great breakfast because it's full of healthy ingredients such as chia seeds (high in omega-3 fatty acids) and bananas (high in potassium), and it also happens to be refined sugar free, high fiber, gluten free, and vegan too!
Seriously, this is HEAVEN.  I made it a few days ago and ended up having a bowl for breakfast every day since.  It's just so chocolatey and banana-y and delicious, it's hard to put the spoon down.

Oh, and with a few extra banana slices on top and mini chocolate chips?  You've got yourself a winner.
Winner, winner, chicken dinner chocolate-banana breakfast.
For a "chunky monkey" variation, feel free to scoop some creamy peanut butter on top so you get some PB with every bite.
Are you drooling at the thought of that?  Or is it just me?  😉

Healthy Chocolate Banana Chia Seed Pudding
Prep Time: 15 minutes
Cook Time: 0 minutes
Total Time: 15 minutes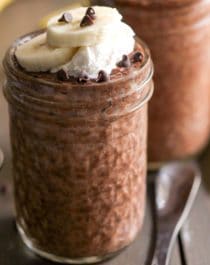 Fat per serving: 6
Calories per serving: 170
Ingredients:
Directions:
In a large bowl, mash the bananas.  Whisk in the cocoa powder.
To the bowl, add the almond milk, vanilla extract, chia seeds, sweetener, and salt.  Whisk thoroughly until even, the cover and refrigerate overnight.
Serve the next day!
Notes:
Store covered in the refrigerator for up to 4 days.
.
Here is the recipe's nutrition label:
Wow, definitely wasn't expecting this Chocolate Banana Chia Seed Pudding to have so much protein and fiber!  The protein and fiber, along with the healthy fats and no added sugar, will power you through your day.  *flexes*

Enjoy!
.
With love and good eats,
.
– Jess
.