Healthy Chocolate Flax Crackers… And A Sneak Peek Inside the Healthier Chocolate Treats eCookbook!
Healthy Chocolate Flax Crackers 🍫 — crunchy, chocolatey, and slightly sweet crackers that'll satisfy the snack monster that lives in all of us.  Who needs storebought crackers when you can make these simple 5-ingredient squares of goodness?  💁🏻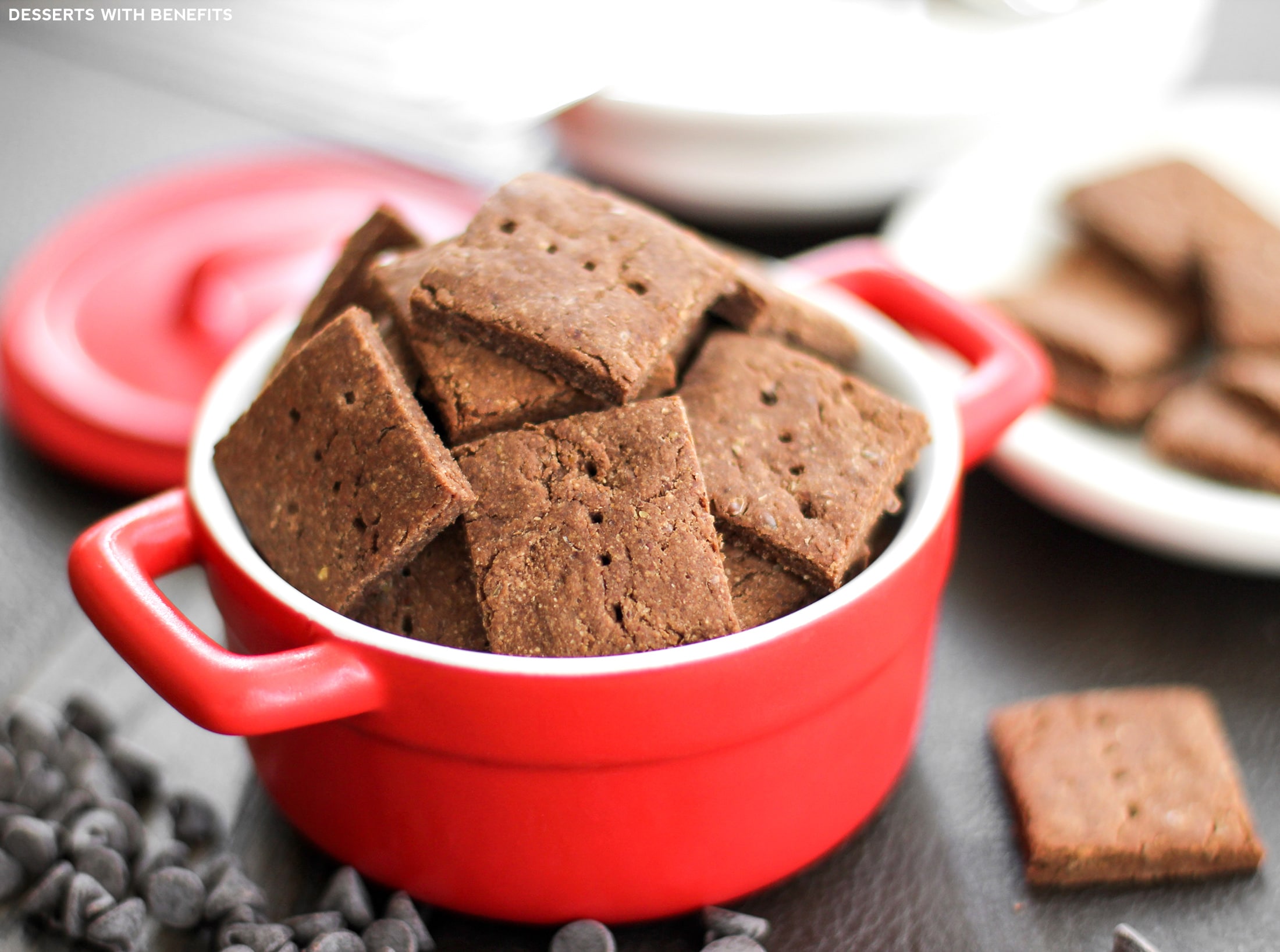 Storebought crackers are generally never 100% whole grain…  they usually cheat and say they're whole grain, when really they just use a whole grain flour somewhere down the ingredient list.
But not these delicious homemade Healthy Chocolate Flax Crackers.  These are 100% whole grain!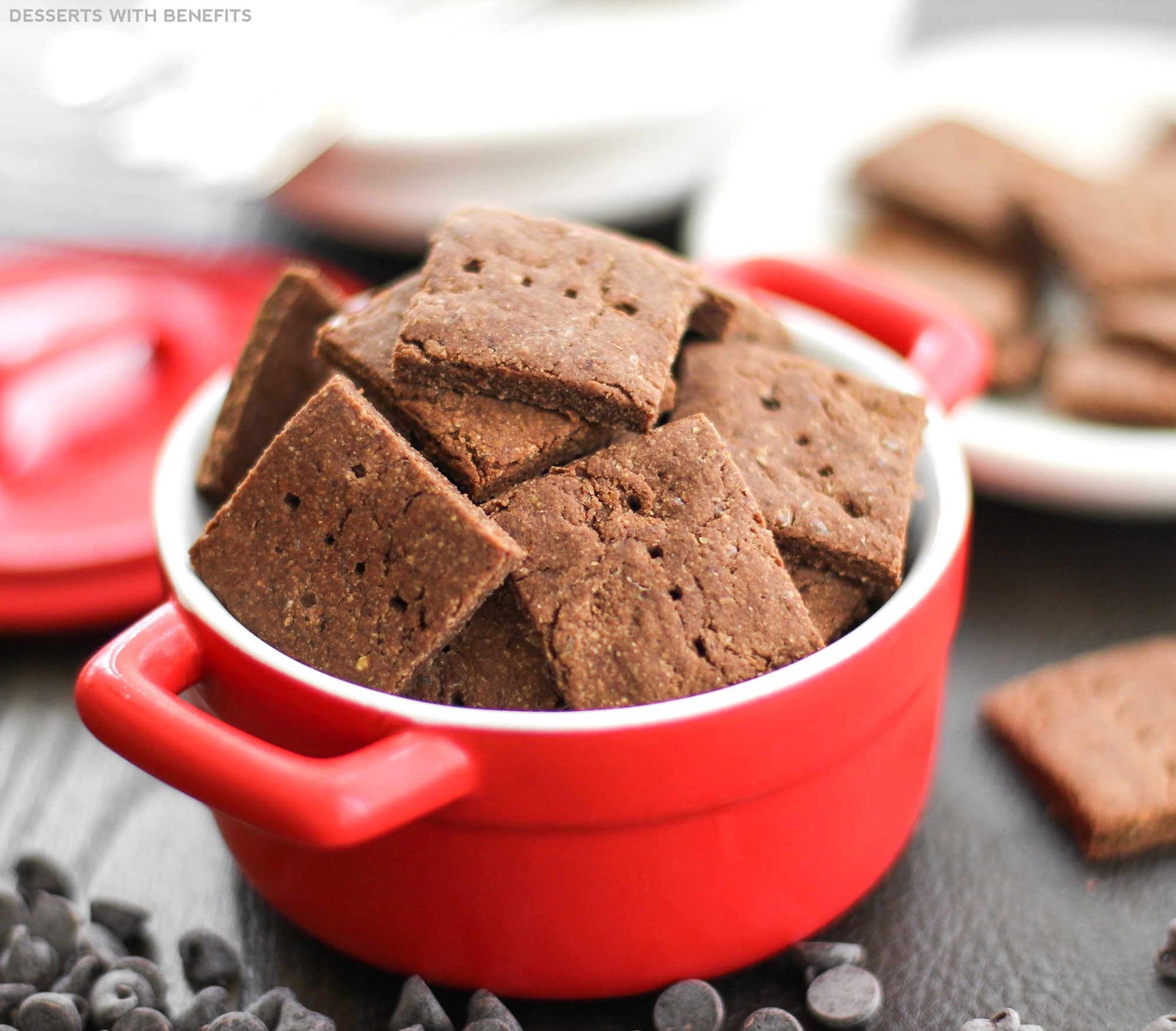 They're firm and crunchy, just a tad bit sweet, and completely addictive.  Thank goodness they're low in sugar, 100% whole grain, gluten free and vegan.
Because that means you can have MOOOOREEEEE  😜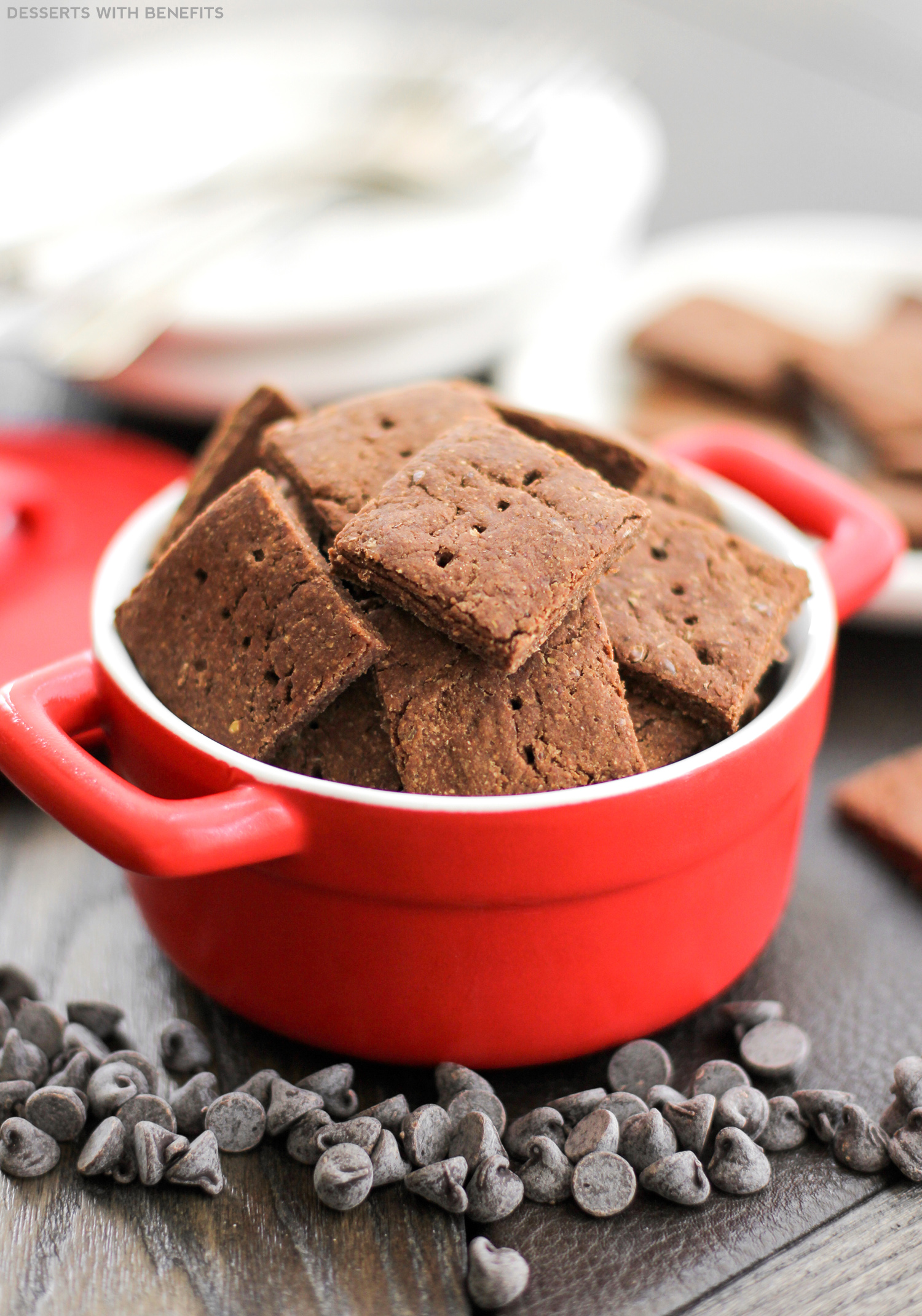 Healthy Chocolate Flax Crackers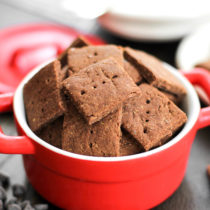 Ingredients:
210g (1¾ cups) Whole Wheat Flour (I used Oat Flour)
26g (¼ cup) Ground Flaxseed
20g (¼ cup) Unsweetened Natural Cocoa Powder
½ tsp Salt
½ cup Water
84g (¼ cup) Agave Nectar (or Pure Maple Syrup)
10g (2 tsp) Coconut Oil, melted
Directions:
Preheat the oven to 350°F.
In a medium-sized bowl, whisk together the oat flour, ground flaxseed, cocoa powder and salt.
In a stand mixer bowl with beater attachment, add the water, agave and melted coconut oil.  Dump in the dry ingredients and mix on low speed until fully incorporated.
Roll the dough in between 2 silicone baking mats until 1⁄8" thick.  Remove the top silicone baking mat, and using a pizza cutter or a sharp knife, slice the dough into 1"-thick vertical strips, followed by 1"-thick horizontal strips, to create square crackers.  Dock the center of each cracker with a fork.
Transfer the silicone baking mat with the dough onto a baking sheet. Bake for 30-35 minutes or until the crackers are firm and crunchy.  The crackers will naturally separate from each other along the pre-sliced lines in the oven.  Let cool completely on the baking sheet.
Notes:
*~8 crackers per serving
Here is the recipe's nutrition label: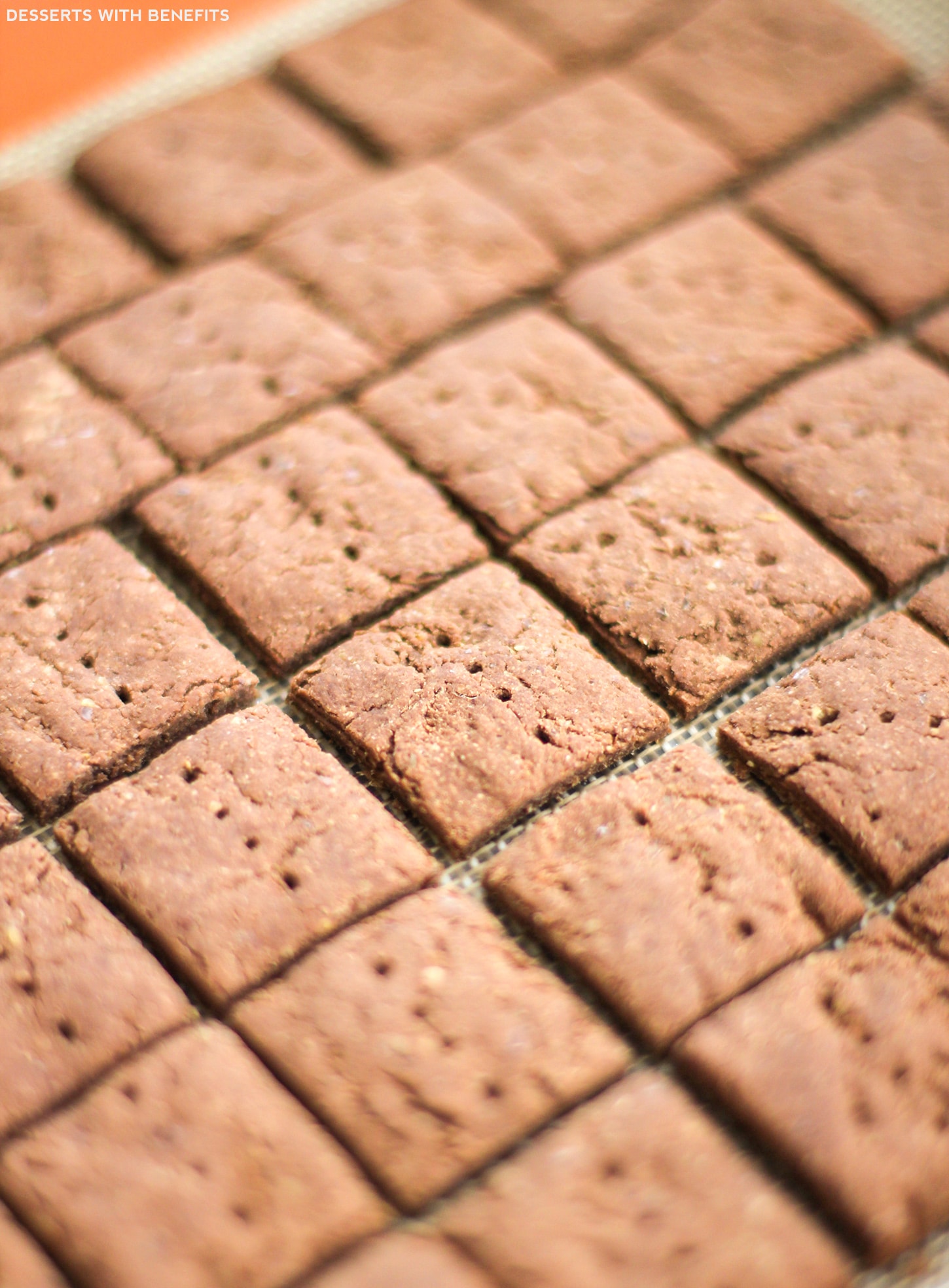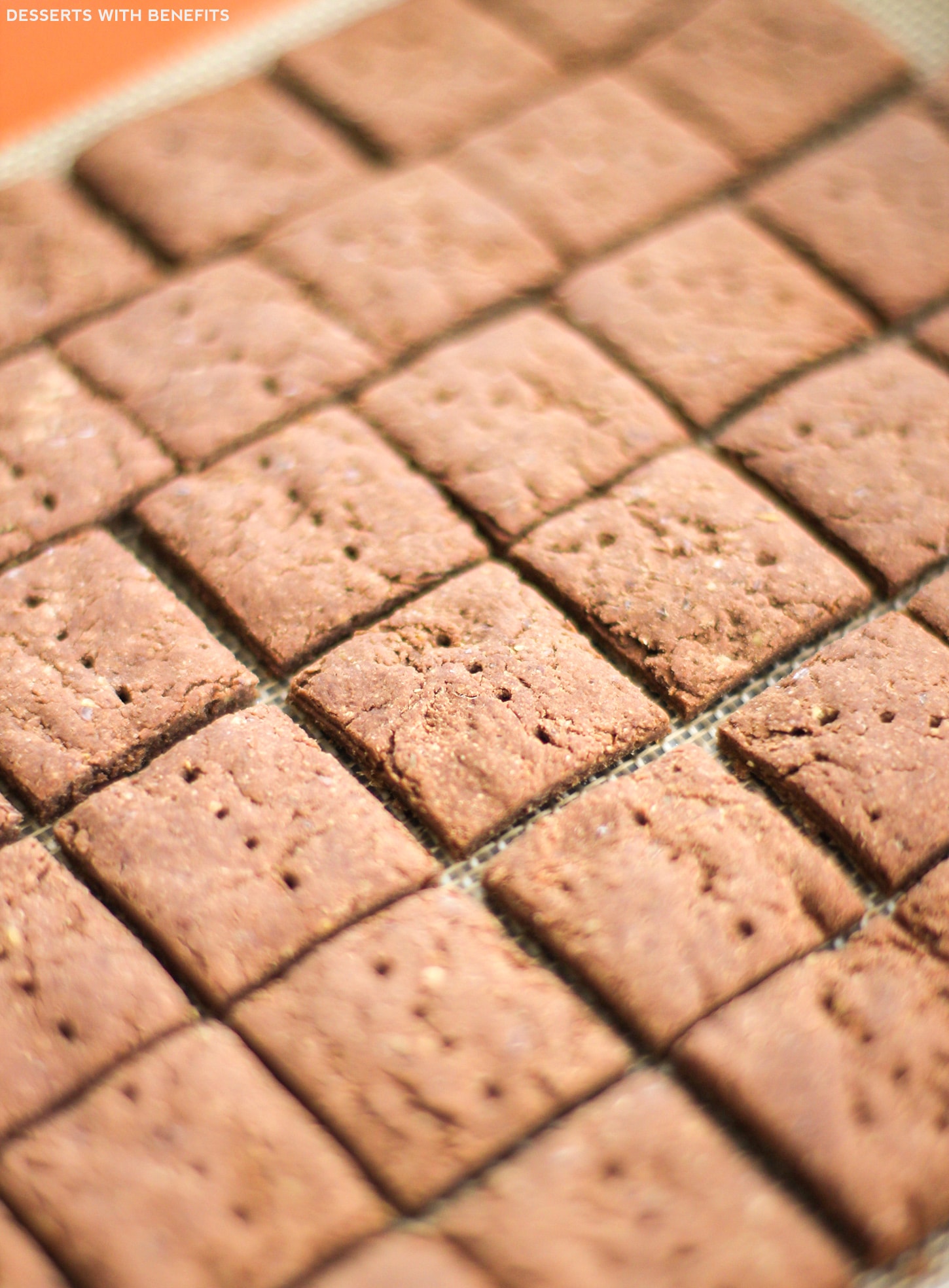 This fantastic crunchy, chocolatey goodness comes from Healthier Chocolate Treats, the stunning, newly released eCookbook (work of art?) written by my good blogger friend, Amy, from Amy's Healthy Baking.
Whether you treat yourself to some chocolate once in a while or whether you eat it on a daily basis, Healthier Chocolate Treats is THE cookbook for you!  It's got 50+ recipes and up close and personal photos for every single treat.
From white chocolate to semisweet to dark and everything in between, Amy's recipes are a chocoholic's dream come true  🍫🙌
This is the first recipe I tested from the cookbook: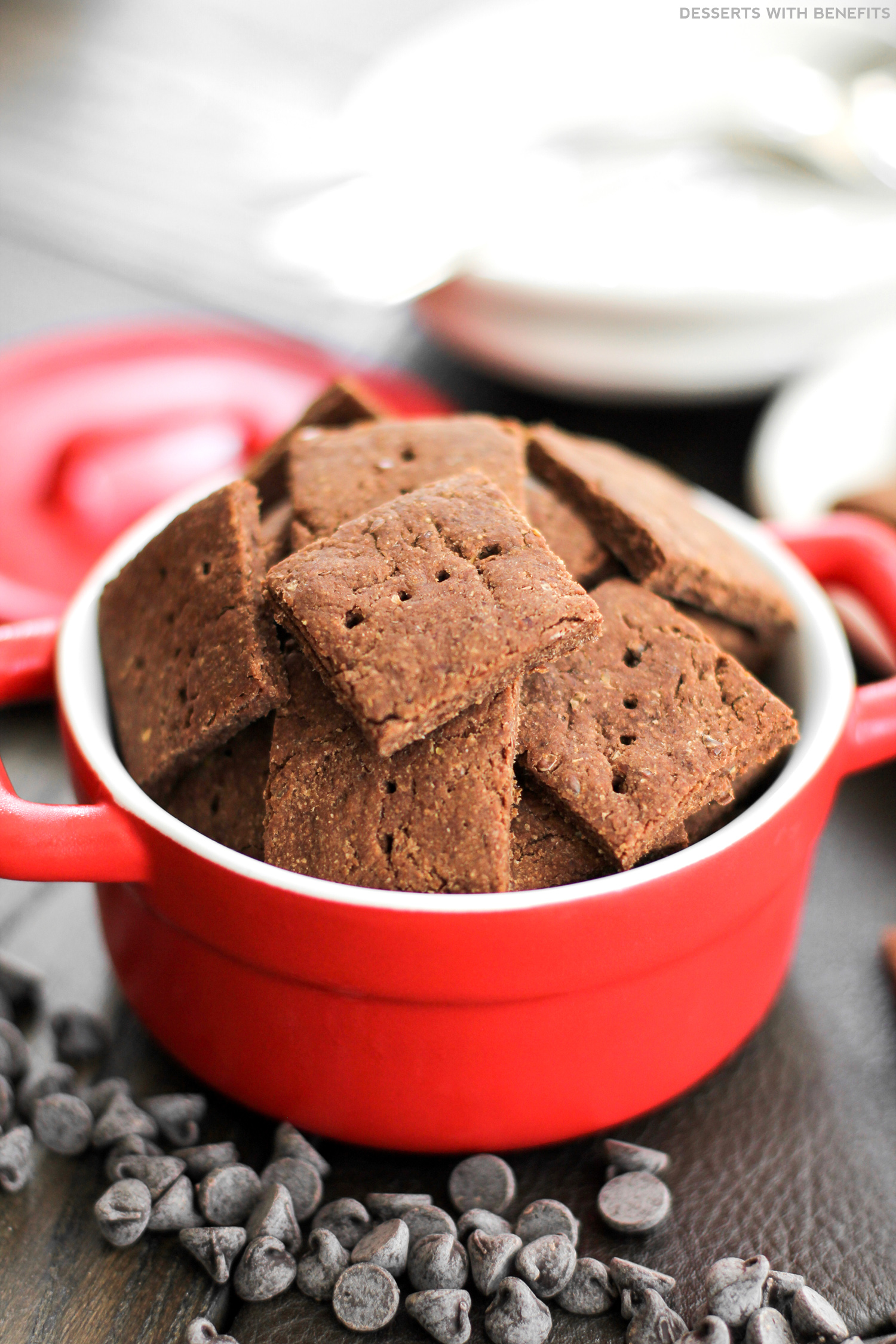 These Healthy Chocolate Crackers are slightly sweet and completely addictive.  Kind of like the chocolate graham crackers you can buy from the store, but without all the unhealthy ingredients and excess added sugar.
This and many more chocolate-infused recipes can be found in Amy's eCookbook.  You can find out more information about what is included in her cookbook on her website.  If you are someone who reaches for chocolate on a regular basis, I highly suggest you get this book  👌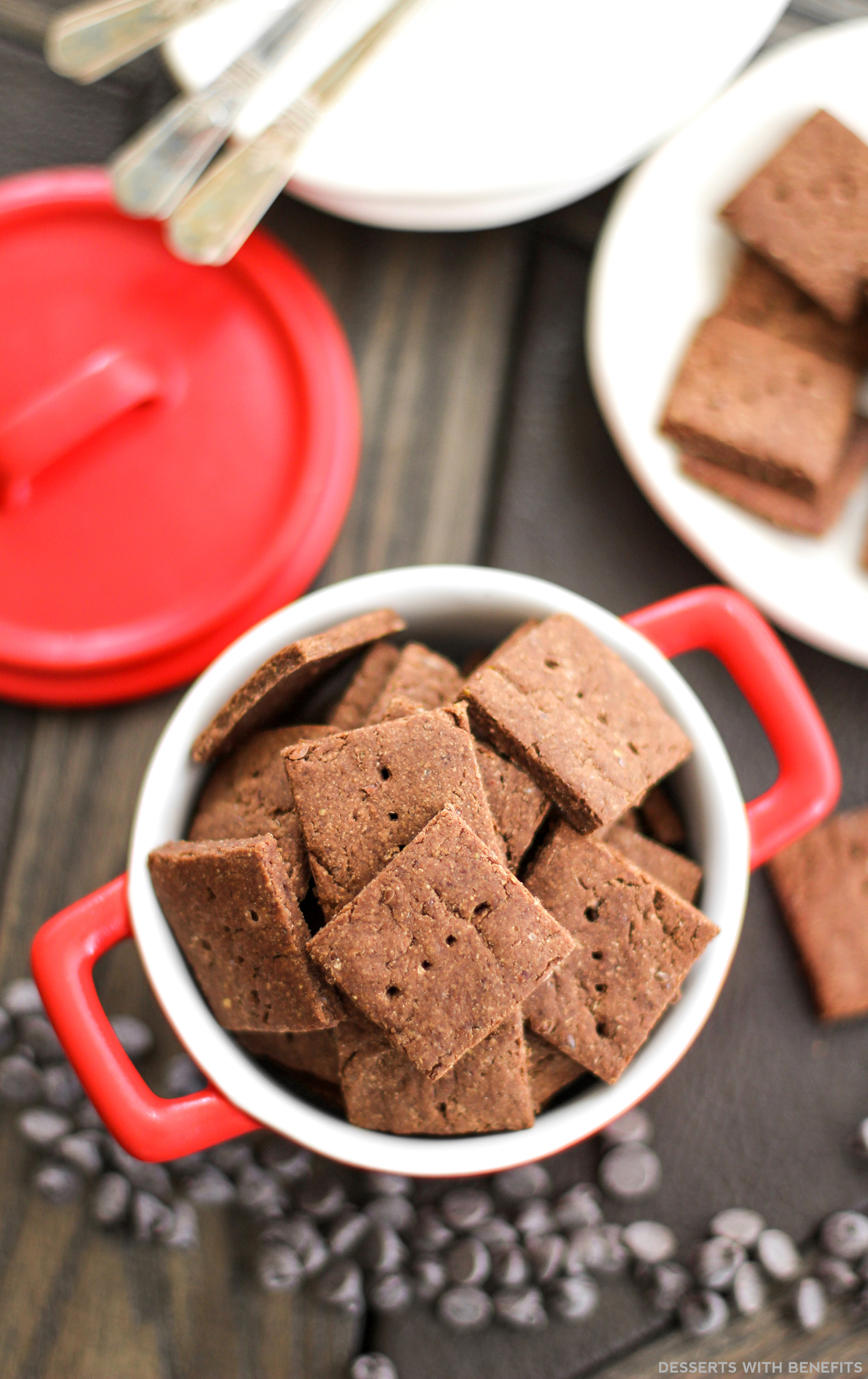 Next stop?  The Skinny Double Chocolate Frappuccino!  And the Peanut Butter Cup Cheesecake.  And the Double Chocolate Zucchini Muffins.  My kitchen will be a dessert factory over the next few weeks while I pump out basically every recipe from this cookbook  😍