Healthy Single-Serving Chocolate Peanut Butter Banana Microwave Cake
You can make this healthy-without-the-healthy-taste Single-Serving Chocolate Peanut Butter Banana Microwave Cake in five minutes flat!  It's so light, fluffy, moist, and PACKED with flavor, it's hard to believe it's also refined sugar free, high protein, high fiber, gluten free, and vegan.  Yep, that's right — no added sugar, butter, oil, flour, or eggs!
I wish I could be baking right now, half because I like love desserts and half because the oven warms up my entire apartment.  I'm weird and like my apartment SUPER WARM…  like, if money and energy were no issue, I'd have it at a constant temperature of 78-80℉  😉
Unfortunately, I've been really busy and only have time for quick meals and snacks.  I feel like I haven't been in the kitchen for weeks.  I'm creating content for other companies as well as Desserts With Benefits, I'm busy editing photos and cooking videos, and I'm trying to stay on top of answering emails and responding to comments and DMs.  Guys, this is so much harder than you think…  especially when you get 100+ per day, and you want to take the time to respond to each and every one with the care and time each deserves.  If you skip a day, then that's just more on your plate for tomorrow  🙁
Last week was a whirlwind, and this week will be too.  Last week was full of meetings (literally one every single day), but I also got to celebrate my boyfriend's birthday by taking him to see his favorite band (The Killers!).
This week, I'm traveling to New York for the BlogHer Health Conference.  I don't even own any winter clothes anymore, so this trip should be fun!  *nervous laugh*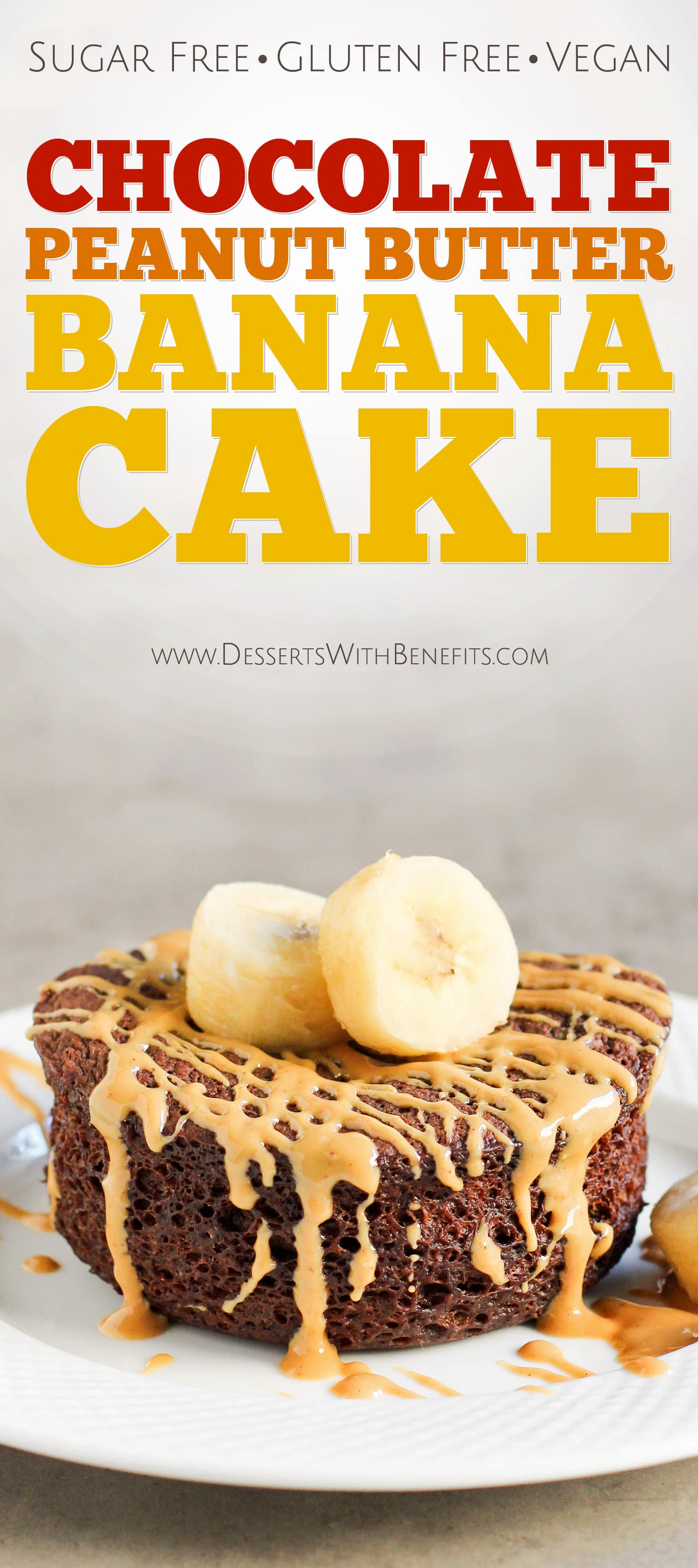 In my book, quick meals = quick desserts, so I have been back to my mug cake recipes!  They take only 5 minutes to make and 5 minutes to "bake."  I was in the mood for chocolate…  and peanut butter…  and then I had some ripe bananas on hand, so I made this Single-Serving Chocolate Peanut Butter Banana Microwave Cake.  It's cakey, soft, moist and full of flavor.  I could eat this every single day.  It doesn't taste healthy in the slightest!

Healthy Single-Serving Chocolate Peanut Butter Banana Microwave Cake
Prep Time: 5 minutes
Cook Time: 5 minutes
Total Time: 10 minutes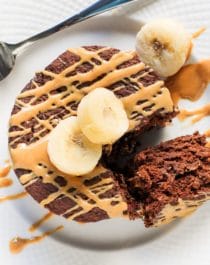 Fat per serving: 9
Calories per serving: 310
Ingredients:
1 tbs Ground Flaxseed
⅓ cup Unsweetened Vanilla Almond Milk
⅓ cup Mashed Banana
⅛ tsp Salt
2 tbs Unsweetened Natural Cocoa Powder
23g (3 tbs) Oat Flour
23g (3 tbs) Peanut Flour
1 tsp Double-Acting Baking Powder
Directions:
In a medium-sized bowl, whisk together the flaxseed, almond milk, mashed banana, sweetener, and salt.
Whisk in the cocoa powder.
Add the oat flour, peanut flour, and baking powder, then whisk until smooth.  Pour the batter into the prepared baking dish and microwave on high for 4½ to 5 minutes, or until surface springs back when tapped.
Serve with homemade maple syrup, sliced bananas, mini chocolate chips, a drizzle of natural peanut butter, or whatever toppings you want.  Dig in and enjoy!
All images and text ©
.
.
Here is the recipe's nutrition label:
What a lovely nutrition label to match such a delicious recipe.  This Single-Serving Chocolate Peanut Butter Banana Microwave Cake is my kind of breakfast — a whopping 19g of satiating protein, 14g of filling fiber, and ZERO added sugar!!
No wonder this cake kept me full for hours.  And I have a record fast metabolism.  This is definitely going to be a staple meal for me for the next couple of weeks.  Yes, weeks.  It's that good.

This Single-Serving Chocolate Peanut Butter Banana Microwave Cake is the perfect recipe to have on hand.  It's much faster than baking a normal-sized cake, so it'll save you time AND get you pumped up for the day!
Enjoy  🙂
.
With love and good eats,
.
– Jess
.