Healthy Chocolate Protein Pancakes
These Healthy Chocolate Protein Pancakes are uber light and fluffy, and they're perfectly sweet and chocolatey too.  One bite and you won't be able to tell they're gluten free, sugar free, low fat, and packed with a whopping 18g of protein per serving!
Thanks to Wholesome™ for sponsoring this post, and thank YOU for supporting the brands that keep Desserts With Benefits going!  All opinions are mine and mine alone.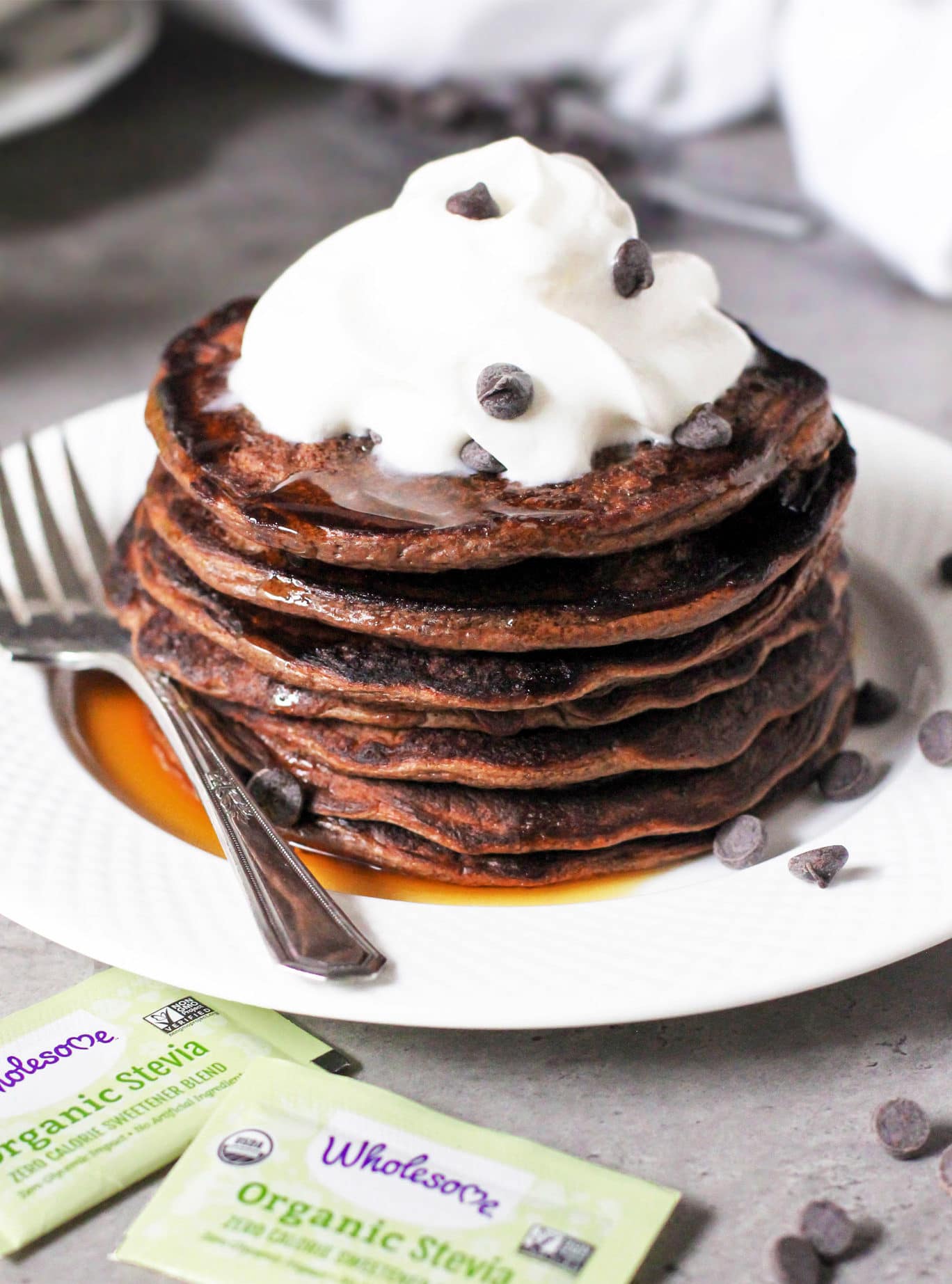 These Chocolate Protein Pancakes are super easy to make.  Easy peasy.  And we don't need the highly refined white sugar or nutritionally deficient white flour either.  Here, we've got cocoa powder and chocolate protein powder for a chocolate double whammy, a mix of whole grain oat flour, flax, and egg whites to create a light and fluffy texture, a splash of vanilla for a rounded out flavor, and Wholesome Organic Stevia for some all-natural sweetness!
I've been using Wholesome Organic Stevia for a couple of years now.   I absolutely love the smooth taste and flavor, and how it adds sweetness without the sugar rush and sugar crash (thanks to being zero calorie and having no glycemic impact)!  It's great in coffee and to sweeten seltzer water into a guilt-free soda, but you know what's also great?  Using it in recipes such as overnight oats, single-serving cakes, and of course, PANCAKES.
You've probably seen this stevia already at your local grocer or health food store, but here's a store locator to find it near you.  I get the in the baking aisle.  They even have a coupons online!

I hope 2018 has been treating you well so far.  It's been a huge joy to make and post recipes for you over the last seven years that I've been blogging, and I can't wait to share more recipes with you all throughout 2018.  I've got soooo many awesome desserts comin' your way (did someone say Tiramisù Brownies, Matcha Green Tea Coconut Macaroons, Chocolate Cheesecake Dip, Raspberry French Macarons, AND MORE?)!  😉
Constantly baking and running this blog over the years have inspired me to put a little more effort into living a healthy, active lifestyle.  I am always motivated to continue my nutrition education (considering getting my Master's degree!), go to the gym, and always reward myself with healthy sweet treats.  Since many of us make New Year's resolutions to live a healthier lifestyle, I thought that sharing this healthy pancake recipe would help us all get that foot in the "healthy-for-2018" door!
Becaaaaause if you're like me, you spoiled yourself silly over the holidays with treats.  Not ashamed one bit, nor do I regret anything.  Christmas comes once a year and I am lucky to have spent it with my family (and our total of FIVE dogs combined).  But, I am definitely ready to get back into the healthy food rhythm!
Did you make a new year's goal to eat healthier, or treat your body well, or make more mindful and nutritious choices?  I sure did.  I'm just here to help us all bring some good-for-you sweetness back into our lives.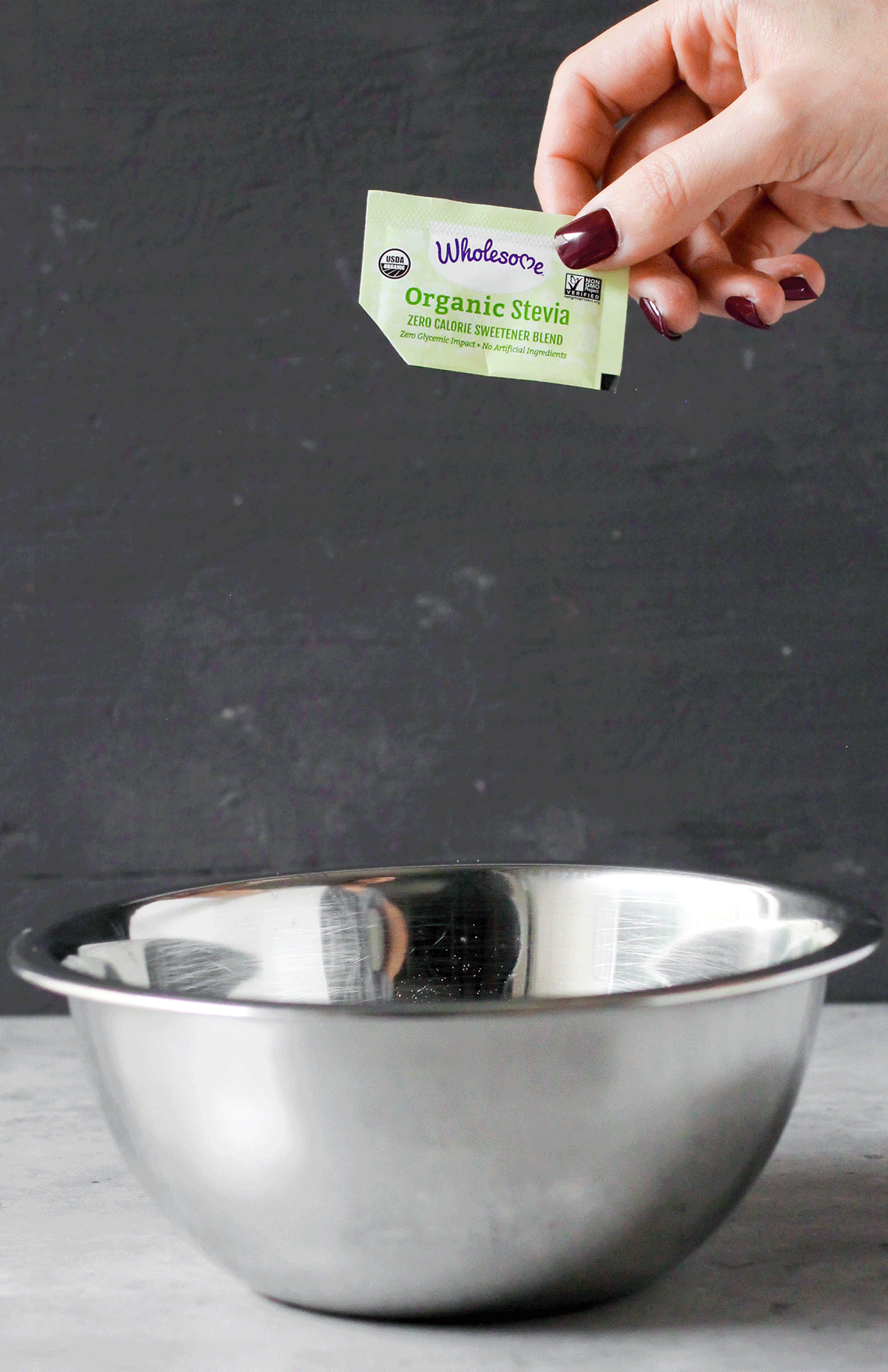 Unlike typical pancake recipes out there, these Healthy Chocolate Protein Pancakes are made without any added sugar, butter or oil, or bleached white flour whatsoever!  YASSSSS 🙌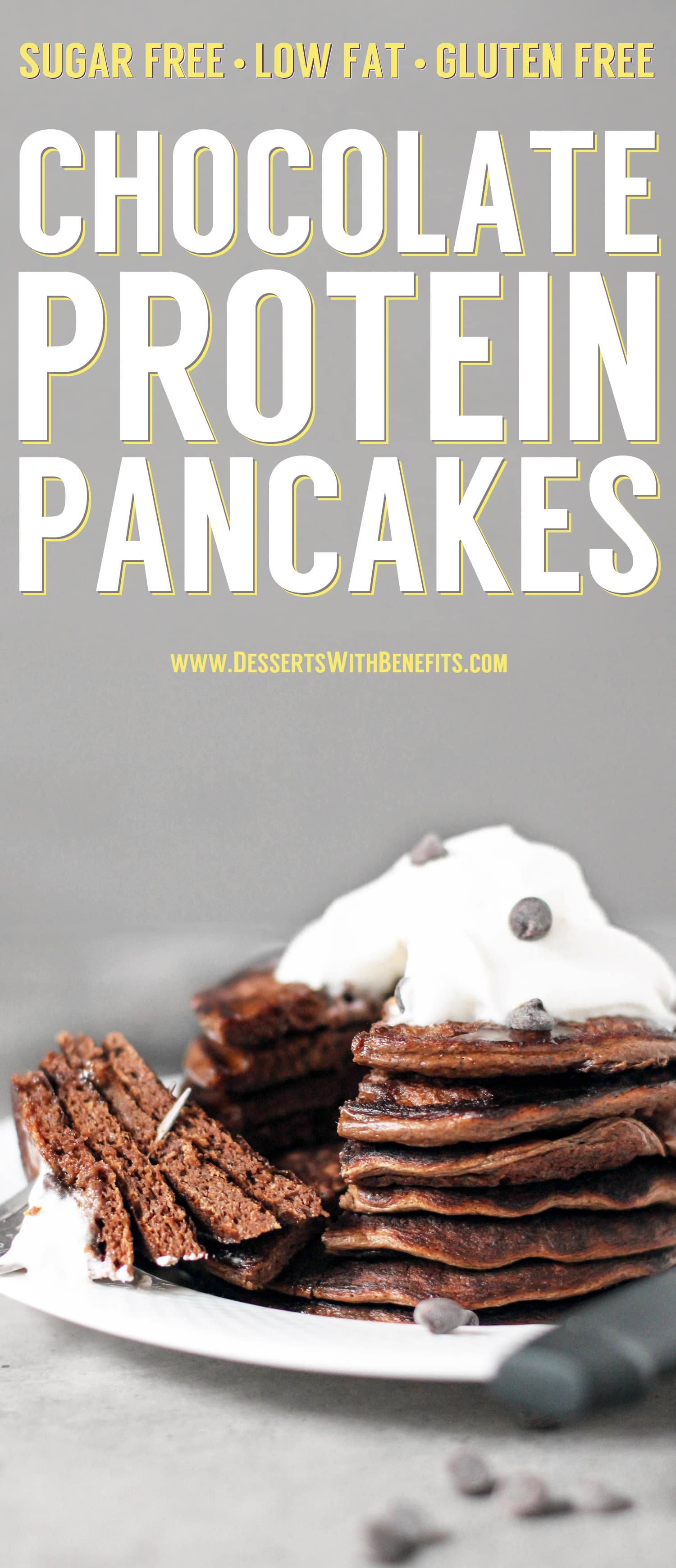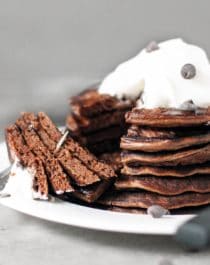 Healthy Chocolate Protein Pancakes
These Healthy Chocolate Protein Pancakes are uber light and fluffy, and they're perfectly sweet and chocolatey too. One bite and you won't be able to tell they're gluten free, sugar free, low fat, and packed with a whopping 18g of protein per serving!
Ingredients
30g

(⅓ cup)

Chocolate Whey Protein Powder

30g

(¼ cup)

Oat Flour

1

tbs

Unsweetened Natural Cocoa Powder

5

packets

Wholesome Organic Stevia

1

tsp

Double-Acting Baking Powder

¼

teaspoon

Baking Soda

tiny pinch

of

Salt

62g

(¼ cup)

Unsweetened Applesauce

¼

cup

Unsweetened Vanilla Almond Milk

2

Large

Egg Whites

1

tbs

Ground Flaxseed

1

tsp

Vanilla Extract
Instructions
In a small bowl, whisk together the protein powder, oat flour, cocoa powder, stevia, baking powder, baking soda, and salt.

In large bowl, whisk together the applesauce, almond milk, egg whites, ground flaxseed, and vanilla extract.  Let sit for 5 minutes.

Dump the dry ingredients into the wet ingredients and whisk vigorously until smooth.

Spray a nonstick griddle with cooking spray and place over medium/medium-high heat.

Scoop ~¼ cup of the batter onto the griddle.  Cook until bubbles no longer appear on the surface and the edges appear dry.  Flip and cook the other side. Continue until all the batter is used up.

Let cool slightly, then serve with mini dark chocolate chips, my homemade chocolate syrup, homemade maple syrup, and/or my healthy peanut butter icing!
Nutrition Facts
Healthy Chocolate Protein Pancakes
Amount Per Serving (1 serving)
Calories 180
Calories from Fat 36
% Daily Value*
Total Fat 4g 6%
Cholesterol 30mg 10%
Sodium 650mg 27%
Total Carbohydrates 18g 6%
Protein 18g 36%
* Percent Daily Values are based on a 2000 calorie diet.
Tons of protein, lots of fiber, plus complex carbs and healthy fats with zero added sugar — this is a nutritionally balanced breakfast we can feel good about.  These Healthy Chocolate Protein Pancakes are fluffy, sweet, and totally addicting.  Like chocolate cake in pancake form.  It's seriously hard to believe these are good for ya.
Wholesome Organic Stevia is definitely my sweet tooth's saving grace.  And if your sweet tooth is always on the hunt for more healthy recipes like mine always is, they've got a database of recipes, from cookies to cakes to pies, even bread and entrées and savory sides!

You can always count on a stack of these Chocolate Protein Pancakes for a fast and filling, energizing breakfast!  Or dessert.  Or lunch or dinner…  😉
I'm definitely looking forward to a spending another healthy-dessert-filled year with you.  Enjoy!
.
With love and good eats,
.
– Jess
.
PS:  Don't forget to use a coupon for Wholesome products in a store near you!
.